By

Nate Adcock
Sun, 03/22/2015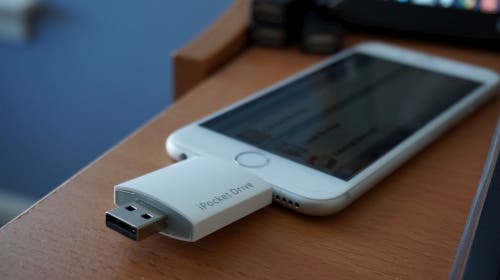 This is the follow-up post to our first edition of the Indie Project corner, where we talk to indie product developers who are crowdfunding and implementing a new project related to iOS. In Part 1, we interviewed Gene Aikens of the Power Company on the early success involving his recent campaigns on Indiegogo. In this edition, we are following that up with a product review of his iPocket Drive.
I tested the iPocket Drive on my home PC running Windows 8.1 (64-bit), and even connected to a Debian Linux development board I have been working on recently (the CI20 from Imagination Technologies). Both allowed me to transfer, access, and edit files on the drive as with any typical storage medium. The drive specs tout a write speed of 7.5 Mb/s, and I registered around  6Mb/s under Windows 8.1 when copying over a large video file. All file formats supported by the iPocket Drive were accessible on my device (see specs below):
Technical Specs:
Capacity: 8 GB, 16 GB, 32 GB, 64 GB, 128 GB (depending on unit purchased)
Connectors: Standard USB 2.0 and Apple Lightning Connector
iPocket Drive-to-USB Speed: 12 MB/s (Read), 7.5 MB/s (Write)
iPocket Drive-to-iDevice Speed: 2.5 MB/s (Read), 1.9 MB/s (Write)
Construction: ABS Plastic
Dimensions:  30.6 mm x 51.8 mm x 9.8 mm 
Weight: 8.5g
Compatibility: iPhone 6 Plus/6/5s/5c/5, iPad (4th Generation), iPad mini, iPad mini with Retina display, iPad Air, iPod touch (5th Generation)
Supported File Formats:
• Video: .mp4, .m4v, .mpv, .mov, .mpg, .mkv, .avi, .wmv, .rmvb, .flv, .3gp, .gif
• Audio: .wav, .aac, .aif, .aiff, .caf, .m4a, .mp3
• Images: jpg, tiff, gif
• Documents: .doc and .docx (Microsoft Word); .htm and .html (web pages); .key (Keynote); .numbers (Numbers); .pages (Pages); .pdf (Preview and Adobe Acrobat); .ppt and .pptx (Microsoft PowerPoint); .txt (text); .rtf (rich text format); .vcf (contact information); .xls and .xlsx (Microsoft Excel); .zip; .ics
Once you have uploaded your files (movies, music, pictures, contact backups, docs, etc.) to the drive from a computer or another iPhone, you can then connect and access them on your iDevice of choice. The free app (iFlashdrive HD) also allows you to backup your contacts for migration between devices, and includes basic Dropbox integration to move files to the cloud as well. Once inserted and recognized by the app, you can use the software to browse, copy, edit, and move files to Dropbox, the local storage on the iPhone, or access them in place on the iPocket Drive. You can also encrypt them using the app.
The experience wasn't all roses, however. There is at this time no auto-syncing or updating of files when connecting, and you cannot currently charge and connect the device at the same time. The iPocket is not very case friendly; I had to remove my devices from their cases to get it inserted. The app integration in this early version is a bit clunky (e.g. you can't simply open files from other apps directly), and the app did crash more than once on the older iPad mini. There is no searching, filtering, or indexing of the files, so you have to self index them into folders when you transfer them from another source. I was able to lock/encrypt files, but this markedly increased the size, and I could not get specs on the level of encryption employed. I have a query in to Gene to determine this info.
Gene reminded me this is really an early test unit example. During the review I discovered that the app was designed for a similar hardware product called the iFlashDrive from PhotoFast. Gene's company has worked out terms with the original manufacturer to license and use the app, and he informs me they are working on their own improved version.
Pros:
Backup contacts and files from most any desktop source
Access external data on iPad/iPhone
Compact size and larger capacity selections
Cons:
Anemic app integration
Slower USB 2.0 interface
Final Verdict
The iPocket Drive does what it was designed to do: Allow you to backup or transfer your files and contact data to external storage and access them on the go. I can see this as an easy way to add several gigabytes of extra storage for movies, and music to my already maxed out iPad mini. A few wrinkles should be ironed out first, but it is my opinion that it will be a viable product. I'll wrap up our first Corner edition with a paraphrased comment Gene made during our interview which I think sums up some of his best advice in crowd-funded efforts like the iPocket Drive: Develop the reliable contacts and experience to manufacture on a larger scale before jumping too soon into a campaign. Bottom line, the devil is in the details, and you need to be aggressive about making your product a success!
iPhone Life Rating: 3.5 out of 5 stars