By

Nate Adcock
Fri, 03/27/2015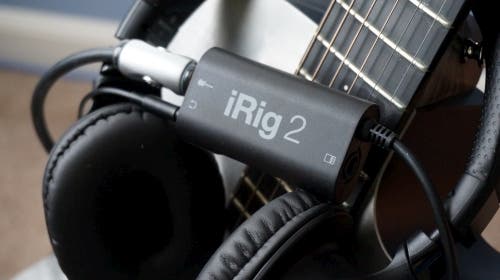 IK Multimedia made the iRig 2 ($39.99) product available last week and sent us a review unit to test out. The iRig is a guitar interface that allows you to process signals from any electric guitar and listen to the output on your headphones. It now can send signal out to an amp or PA. I tested the iRig with several of my guitars running into a Line 6 Flextone and a Roland guitar amp, as well as with headphones. I also tested it up against the iRig Pro HD model, and have to say it performed nearly on a par with the fancier iRig model!
The problem with practicing on the go, particularly if you want to plug and play almost anywhere, is the need for an amp, pedals, and all the rest. It's a pain! I usually just drag my Martin Backpacker around, but that thing has a neck on it like a block of wood (it's a Martin after all), and it plays tough too with the heavier strings and sound of a small acoustic. Good for toughening up your hands, but hard to use much finesse on it. Once you plug in the much more travel-friendly iRig and put on the headphones, you can rock out with impunity on your electric! Here's a tip for mobile jammers that want to go electric without suffering a huge transit case. Pair an iRig 2 up with iPhone, a portable Roland amp, and one of these travel electrics and you can crank it up anywhere!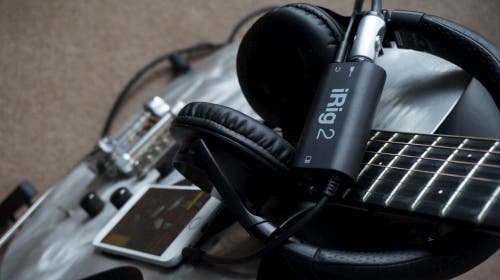 When setting up iRig 2 (which is dead simple), connect headphones first. Then connect guitar to the 1/4-inch jack on the side clearly marked with a guitar icon. Connect the audio dongle cable that hangs off the iRig to your iPad/iPhone. Download the Amplitube app. Connect headphones to stereo headphone jack AND/OR connect 1/4-inch instrument output jack to your amp input jack. Last step, turn up guitar volume and commence rocking, strumming, picking, or whatever it is you do with your guitar.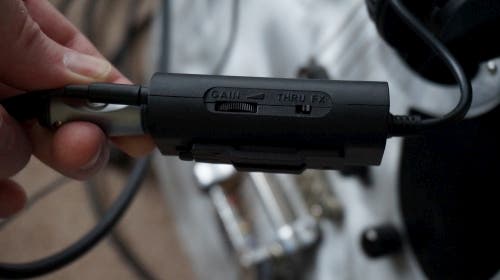 Let's talk about the gain control, which is new to iRig 2. The app has gain anyway, but the hardware does provide some extra boost. On the iRig Pro HD, gain is assigned a better designed knob that smoothly turns and is mounted on the face. With a lot of gain on, both iRigs produce a heck of a lot of distortion, even at moderate levels, running into either headphones or my Line 6. Once you boost that with Amplitube filtering, it sounds like you are torturing small animals or playing a bug zapper. The best I came up with was to turn the gain way down or adjust it in very minute increments, which is difficult with it being jammed up against the side and recessed on the iRig 2. The knob itself seemed a little hard to move as well.
The dip switch next to the gain control allows you to either bypass effects to go straight out (to an amp or PA), but it must have been defective, because I had to constantly tap or push on it to get the signal to go to my amp in that mode. It worked fine in the FX position, which allows for the Amplitube app's processing to join in the fun and add effects like delay. In a way, the bypass is a superfluous feature, because if you are using iRig, you are probably also using Amplitube, but the shorting was an annoyance. I also noted just a tad bit of hiss, which I didn't detect with the iRig Pro HD.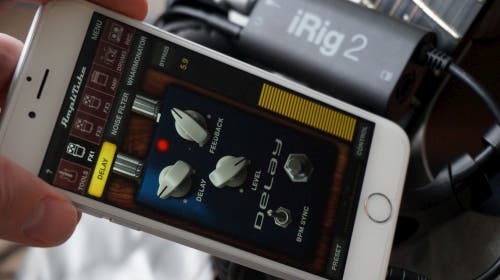 AmpliTube has been covered ad nauseum here and in the mag. It is a great mobile music program, and the shining force behind the IK audio gadgets. It loops, it tunes, it records, it lets you add and edit backing tracks, drums, and select different amps and filters...BUT. (You knew there was a but.) Adding all the bells-n-whistles and effects you want can be a money sink! Of course a good software package and kit to do this outside of the iOS realm would cost a lot more money, so it's really down to what you want this for. For playing live, I likely wouldn't use it, though I am guessing you could. My Line 6 Flextone II has a ton of pre-built amps and effects already and they sound amazing. However I can't drag that heavy thing everywhere (of course I could use one of the POD models...hmmm, still bulkier). I digress. At $39.99 and the basic starter AmpliTube app at free, this is a rock-bottom price for traveling jammers who just want to practice and create their own riffs and maybe record them while on the run. It is hard to beat now that iRig supports universal plug-n-play and multiple outputs.
Pros
Affordable way to produce and practice on the road
Powerful app integration
Cons
Gain button a little 

wonky

 and hard to get at
Final Verdict
The iRig 2 works well for personal jams, and travel situations and is head and shoulders above others I have tried (except iRig Pro HD). The shorting switch on the unit I was sent was a problem, but that was probably due to the fact it was a review model, so I will cut IK some slack on that aspect. I might still go for the iRig Pro HD even though it is a tad bulkier, but the sound output between either was close to a toss-up, honestly (minus the slight hiss on the iRig 2). The controls are better on the Pro model of course (but it costs like three times as much too), and if you convert the output from the iPad or iPhone, you can still run it to your amp. It also supports MIDI, and can be used with a variety of instruments. For basic mobile jamming with your electric, iRig 2 is still the king!
iPhone Life Rating: 4 out of 5 stars