By

Dig Om
Wed, 02/26/2014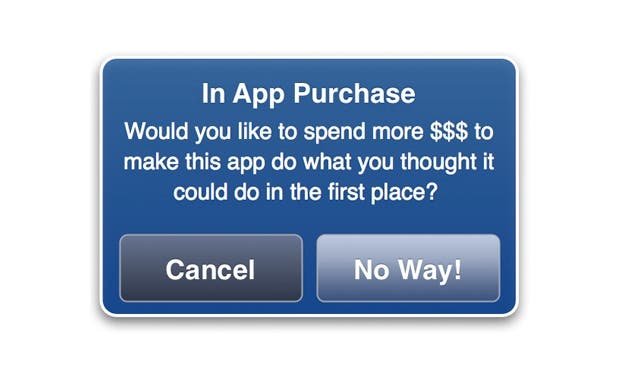 The success of the freemium model is impossible to deny. Taking a look at the top grossing games in the App Store paints a clear picture. In 2013 all ten of the overall top grossing games were freemium titles. The highest grossing paid game, Minecraft ($6.99) only ranked 18th in overall top grossing games.
If you migrated to iOS gaming from a dedicated gaming device like XBox, Playstation, or even PCs then the freemium game model is most likely not that appealing. Likewise, if you came into iOS gaming as a veteran gamer of the 90s or early aughts, then overall the freemium game system is very likely viewed by you as a travesty.

Discover your iPhone's hidden features
Get one daily tip each day (with screenshots and clear instructions) so you can master your iPhone in just one minute a day.
And yet, this hotly debated new gaming modality is undeniably bringing in the big bucks, at least for certain developers and gaming houses. Enough game developers are making money exploiting the freemium model that the trend continues much to the dismay of what seems like the majority of dedicated gamers.
It seems as if, for those who are newer to gaming and iOS (or Android) this is all they know. This new system that's riddled with obligatory and compulsory microtransactions is a very recent trend. Young and new gamers simply don't have much to compare this freemium model of game play with, and my fear is that this new model will become accepted as standard or the norm.
Actually, the concept of giving a portion of a game away for free is nothing new to the world of video games, and freemium for trial purposes is an excellent idea. Games that have free versions and fully unlocked premium versions are a great and welcome App Store offering. They essentially let you try a game before you buy it.
I recently read that to unlock everything in Gameloft's Asphalt 7 you'd have to lay down around $3,500.00, and that people do just that, perhaps unwittingly, over time. I know I for one have shelled out close to $50 dollars on another popular "free" racer, Real Racing 3, a game I swore I'd never pay a penny for, and yet, I just couldn't resist the tempting allure of a new, virtual Lamborghini, or buying a specific car to unlock a specific event series. For around $500 US dollars you can purchase all the cars necessary to compete in all of Real Racing 3's events, or you can spend an estimated 500 hours grinding away at various lower and slower levels, dealing with repair costs and race crew salaries. But throwing down $50 for a game that I still haven't even fully unlocked (not even close in fact), that's nuts! That much money could buy me a premium PS4 (or comparable console) game that has no in-app purchases. Not to mention the fact that Real Racing 3's predecessor, Real Racing 2, originally priced at $6.99, was every bit as good as RR3, in terms of gameplay, but without the frustrating wait-to-play and pay-to-play freemium trappings.
Personally I would rather pay a one-time fee upfront to buy a game (whether that fee was $0.99 or $14.99) and not be hobbled by what have become aggressive hawking or advertising campaigns. The system of heavily encouraged in-app microtransactions limit one's progress to either a snail's pace and make the game an incessant grind, or they pressure the gamer into making microtransactions within the game, which as you may know, often gets spent faster than you can make significant progress.
There are of course, exceptions to the rule. the Plants vs Zombies series has always had an even-handed approach to their freemium titles, and while gameplay can certainly be enhanced by making in-app purchases, at the same time, gameplay is not hindered if you don't make these purchases. Likewise, the Zynga word games all have free and paid options, but gameplay itself is never hindered as a result of in-game ads or pressure to make in-app purchases. I played many Zynga titles for years before I ever paid any money for them. Eventually after years of playing Words With Friends I could see that I was loyal to the game and eventually I grew tired of the ads, so when a Zynga sale finally came around I snatched up my favorite title.
So there are some games out there that don't totally exploit the freemium game model and let you enjoy the game without making it a case of wait-to-play, or pay-to-play. I feel that ultimately it's up to the developers to discontinue this practice of giving a game away with the intention of continually attempting to pander to the gamer's competitive drive while bleeding untold millions from the iOS gaming community at large. Of course, the developers have every right to make whatever kind of games they want, so unless we as gamers, somehow come together in a massive boycott of these exploitive freemium titles, we have no one but ourselves to blame for the massive trending popularity of these games.