By

Dig Om
Updated 04/26/2016
The rugged, waterproof case market has exploded this year, and now that summer is in full effect, people keep asking me, "Which waterproof iPhone case should I get?"
This time last year, Lifeproof had excellent offerings, and... well, that was really about it in terms of quality waterproof iPhone cases. This year, however, there is no shortage of top-quality waterproof cases for your iPhone. Read on for a quick roundup of the best of the best available. And while I can't tell you which one is best suited to you, I can turn you on to some great options (some of which you may not have known about), and let you decide.
The cases had to meet a few basic requirements to make it onto this prestigious list:
* The case MUST be "full-time use." This is a term I picked up from conversations with Gary Rayner, former CEO of Lifeproof. It refers to a case you never have to take off your iPhone. In other words, you can access everything from the headphone jack, charging port, and each and every control while the iPhone is safely within the case.
* Aside from being waterproof, the case must also be shock-proof and crush-resistant.
* Only cases you can submerge in depths approximately 6 feet for at least a half-hour need apply. You will find there are many cases out there that market themselves as waterproof that should be labeled as splash proof. It's always a good idea to pay attention to IP ratings.
* I consider the thin, relatively flimsy screen protectors most waterproof cases employ to be their Achilles Heel. No matter how well-designed a waterproof case may be, the thin PET screen just can't take the abuse the rest of the rugged case can. That is, unless it incorporates a tempered glass touchscreen protector, or as is the case with the Lifeproof nüüd models, a "Compression Lock" O-Ring seal between the front bevel of the case and the perimeter of the iPhone's touchscreen.
Lifeproof nüüd
Simply put, Lifeproof offers some of the best iPhone cases you will find. The Lifeproof team is a dedicated group of detail-oriented perfectionists who have taken the design of Lifeproof cases to the next level with the nüüd and frē. It has now reached a level where you barely notice you're using a case and not just holding your iPhone. As Rayner said, Lifeproof designed the cases to be an enhancement to the naked iPhone, not an encumbrance. If you are looking for a top quality iPhone case, Lifeproof is my number one recommendation.
Lifeproof frē
If you want the added protection of a screen protector to cover your iPhone's touchscreen, the frē is the one for you. If you'd rather have unobstructed access to your iPhone's touchscreen while keeping all the other attributes of a rugged, waterproof case, then the Lifeproof nüüd for iPhone is your best bet.
Rating: 5 out of 5 Stars
The OBEX is an excellent waterproof case. It is simple and straightforward to use, and looks great with its slim, streamlined profile. The OBEX has plenty of traction on the outside to ensure a secure grip when wet, and the overall design of the OBEX is both sleek and stylish. I would be hard pressed to find fault with this iPhone case; it rivals the best of them in terms of price, function, and design. This case would be an excellent choice for anyone interested in a waterproof and rugged case, and I don't hesitate to give this case a full 5-Star rating.
5 out of 5 Stars

UPDATE (3/3/2016): The following product is designed for the iPhone SE/5s and not available for the iPhone 6/6s.
Incipio has introduced a stellar waterproof case into the mix with the Atlas. The first and most significant difference you will find with the Atlas is its built-in glass screen. No other waterproof case on the market is offering a tempered glass screen option. And if that weren't enough to set this particular case apart from the crowd, it also comes with a free one-year warranty included. That's unique! The only drawback to this case is that its door, which snaps shut over the headphone jack and charging port, is almost impossible to open with your fingers. I needed the help of an inanimate object every time, but that may not be a bad thing if you want a guaranteed secure latch.
5 out of 5 Stars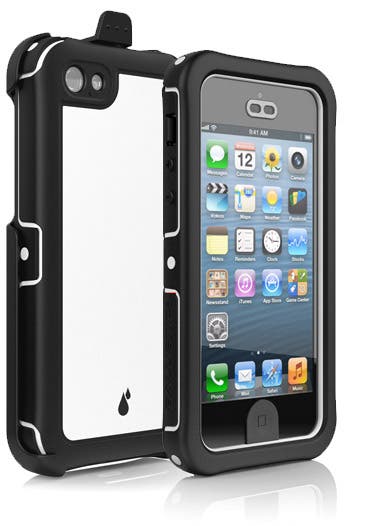 UPDATE (3/3/2016): The following product is designed for the iPhone 5/5s and not available for the iPhone 6/6s.
This is the only case featured here that I haven't actually had some hands-on time with. Nonetheless, from my research, this case meets or exceeds all the criteria on this list. Furthermore, while I haven't actually been able to test this case in action yet, I'm very familiar with Ballistic as a company, and it's known for its high-quality products and rugged case alternatives. I poured over the specs for the Hydra, and it certainly is an impressive entry into the waterproof case arena. The Hydra certainly seems poised to give some if the more established brands of waterproof cases a solid run for their money.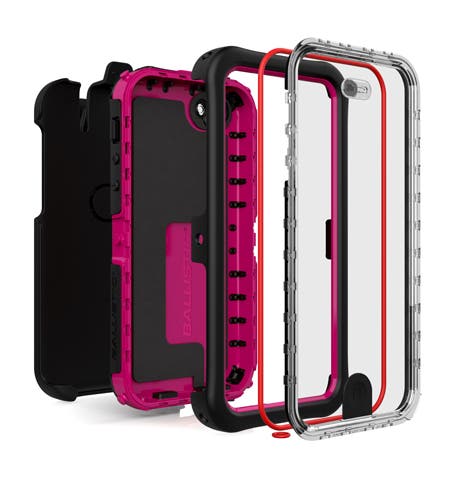 Based on what I've seen of the Hydra iPhone 5/5s case so far, I feel confident in giving it a positive rating. I'll keep you posted as to whether or not I want to bump up my rating of the Hydra once I get to experiment with it.
4.5 out of 5 Stars
UPDATE: The following product is designed for the iPhone SE/5/5s/. You can purchase the SLTough Waterproof Case for iPhone 6/6s HERE.
The SnowLizard SLXtreme is the first rugged waterproof iPhone charging case to incorporate a solar panel into its design. Even though this behemoth of a case doesn't meet all of the above-mentioned criteria, (it doesn't have headphone access) I've included it here because it is so unique and is bound to peak interest. This case features a great overall design and is indeed rugged as well as waterproof. But when it comes to its solar panel, it falls short of what I'd expected. First of all, the panel puts out such a nominal charge, it should be considered more of an emergency backup (and an excellent one for that purpose I might add) as opposed to a true source of reliable power for your iPhone. Secondly, every time I tried to leave it exposed in the sun, I was greeted with the iPhone's temperature warning, which indicates your iPhone has overheated and keeps the device from working until it's cooled down. As a frequent outdoor adventurer, this case has limited usefulness in my opinion until the problem is solved with the iPhone overheating when, by necessity, it sits in full sun to charge.
If SnowLizard is able to resolve the issue with the iPhone overheating from exposure to direct sunlight on a warm summer's day and if it includes access to the headphone jack in the next iteration of this case (most likely for the iPhone 5), then I will likely up my rating to a 4-Star (maybe even 5-Star) rating for the SLXtreme. So stay tuned for more from me on this case, I feel its design has great potential.
3 out of 5 Stars
UPDATE (3/3/2016): The following products were featured in our original post but have since been discontinued. 
This minimalist case would be in second place, but for the fact that it to has a plastic screen protector. I suspect that before long, a tempered glass touchscreen protector instead of the standard, less durable PET/Plastic version will become more commonplace. That said, its slim, almost invisible profile make the Survivor Catalyst one of my favorite new waterproof cases. This case rocks, and if anyone out there feels the majority of waterproof cases look too industrial or masculine, take a closer look at this one. If you think the iPhone by itself, naked to the world, is a sexy thing, you're gonna love the nearly invisible Survivor Catalyst.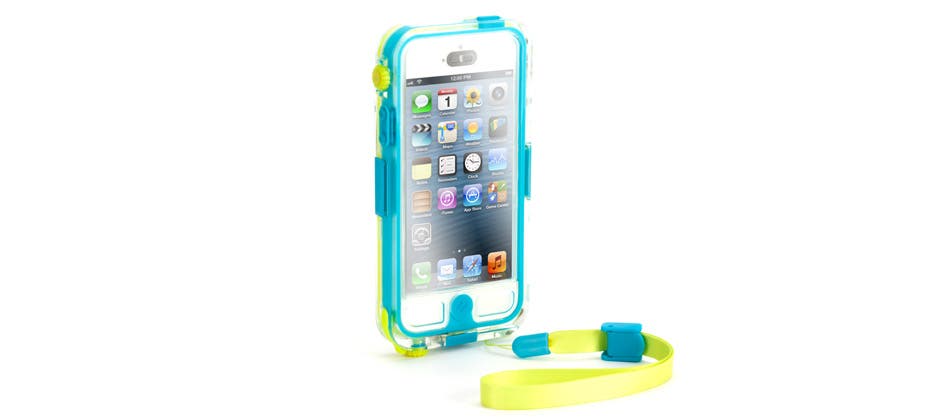 If I could modify the Survivor Catalyst case in any way, it would be to incorporate some kind of grippy rubber into its design on the outside of its shell (as noted HERE). As of now, the Survivor Catalyst is as slick as ice and it's a little too easy for it to go slip sliding out of one's hand when wet.
5 out of 5 Stars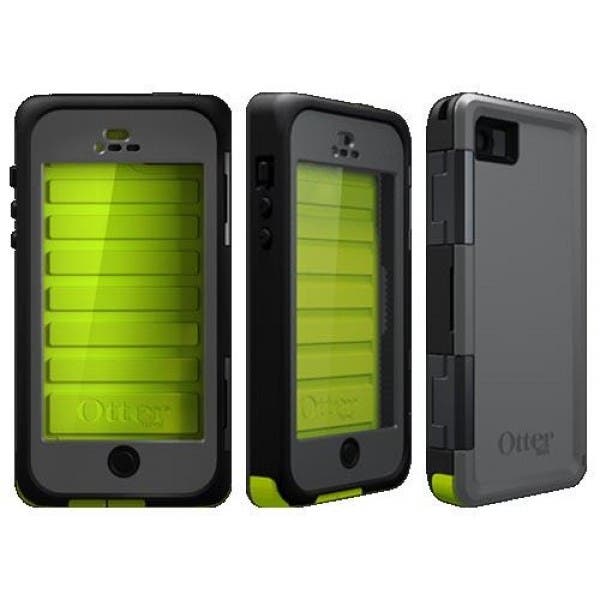 This is a good waterproof case, and in my testing of the Armor, I've beat the heck out of it without sustaining any damage to my iPhone. It is however, a big, bulky and heavy case. While it's true that part of the Armor's heft is due to its ability to withstand extreme impact and compression, I believe that unless you're expecting really extreme circumstances with hard impacts likely, the Armor may be a bit overkill when it comes to the bulk and weight factor.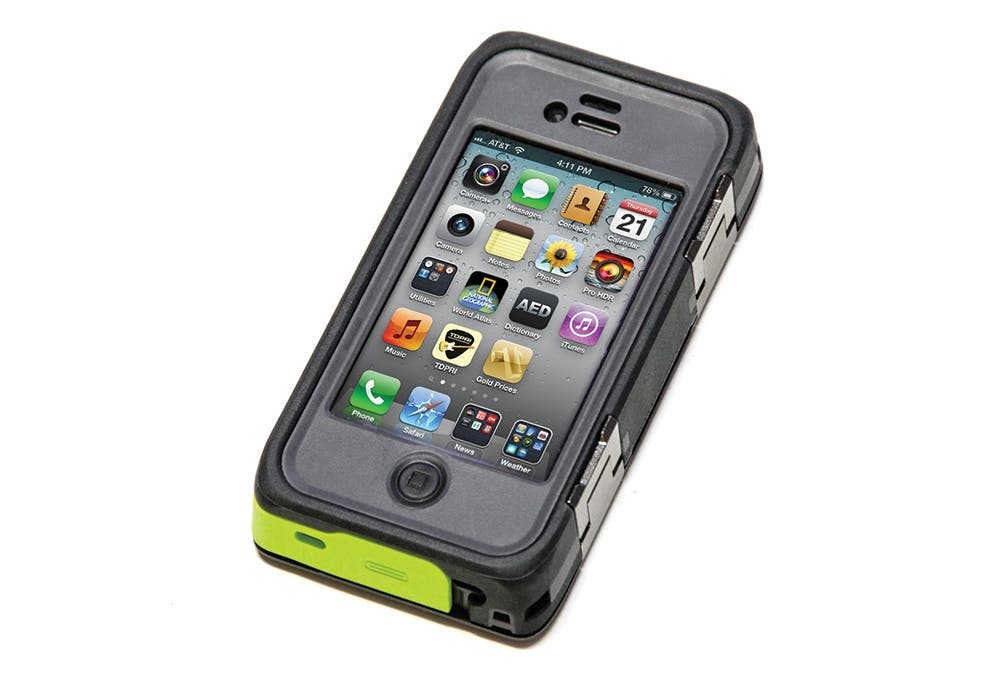 4.5 out of 5 Stars
If you've tried any of the cases featured here and want to share your feedback, I invite you to do so in the comment section below.