iOS 16 has brought SharePlay to iMessage! Here's how to use SharePlay over Messages.
By

Amy Spitzfaden–Both
Mon, 09/26/2022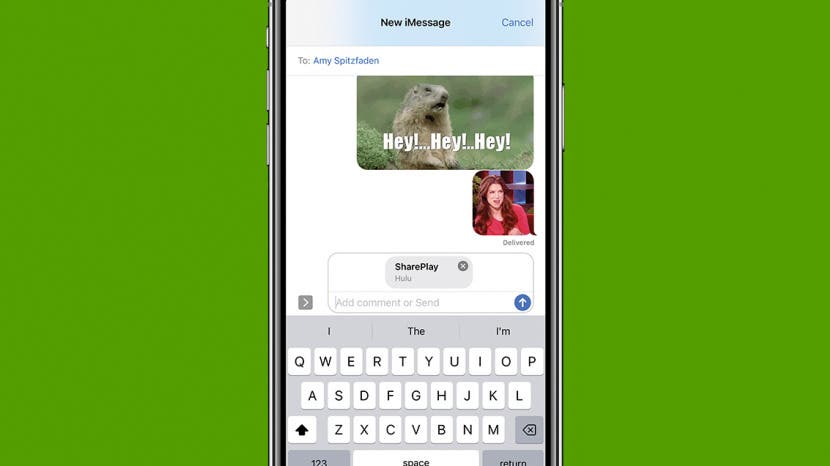 While SharePlay has been around since iOS 15.1, it was only possible to use in the FaceTime app. With iOS 16 you can now use it in the Messages app too. For those who aren't familiar, SharePlay can be used for two or more people to watch content from apps such as Neftlix, Spotify, etc., together simultaneously. Here's how to use SharePlay in iMessage.
How to Use SharePlay in iMessage
For SharePlay to work, both you and your contact need to have an iPhone running iOS 16 or later. Everyone involved will also need to have the app downloaded to enjoy the content together, and if the app requires a subscription, everyone will need to have one and be signed in as well. For more great ways to get the most out of iOS 16, check out our Tip of the Day.
Related: How to Add Multiple Stops to Apple Maps Route
To use SharePlay, you have to start by opening the app you wish to watch or listen from first. For this example, I'll use Hulu.


Find the show you wish to watch and find the Share button. In Hulu, you will have to press the More menu to find it. Tap Share.


Tap SharePlay. The first time you do this, you'll have to set it up. Tap Continue. If you've done this before, you won't get this popup.


Select a contact. If you don't see them in the suggested list, tap the plus icon or type their name.


Tap a contact to add them.


If you wish to add multiple contacts, tap the plus icon and add more.


Once you have selected your contacts, tap Messages.


This will take you to your Messages thread and will show a link with a link to the SharePlay. Tap the send icon to send the invite.


If you don't see the Messages only and only see FaceTime, this means that your contact(s) don't have iOS 16.


If you are trying with multiple contacts, try this with one by one to see which of your friends hasn't updated their iPhone yet, or just shoot them all a group text to tell them to update before you can SharePlay with them.
Pro Tip: If you've sent a text to someone and wish to unsend or edit it but you're not sure if they will still see it because you don't know if they have iOS 16, you can use the steps above to check.