By

Elisabeth Garry
Updated 10/31/2022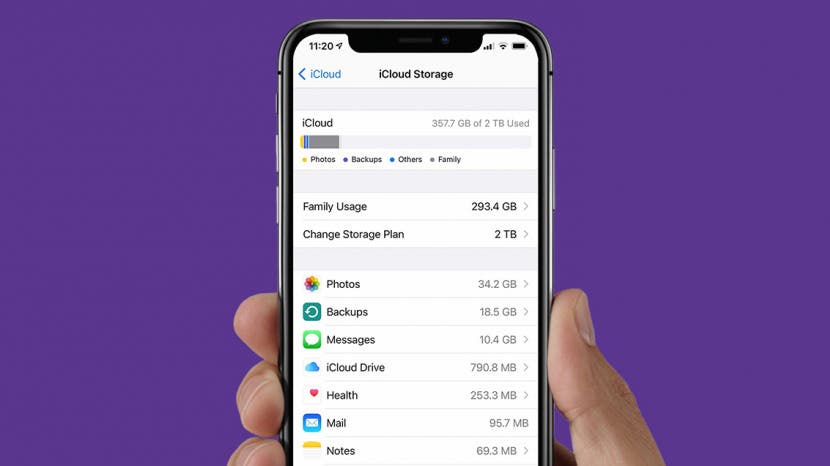 If you have an Apple device, like an iPhone or iPad, you have access to iCloud, whether you know it or not. You can back up your iPhone to iCloud and sync your data across all your devices. Knowing this, why would you need an external hard drive for your iPhone? Well, even with iCloud Backup, there are a few reasons why you might consider investing in an external hard drive. We'll go over them in this article.
Jump To:
What's the Difference between iCloud Drive & iCloud Backup?
What is iCloud? How does iCloud work? What even are Backup and Drive? Before you decide which backup and storage option is right for you, let's make sure we understand the difference between iCloud Backup and iCloud Drive.
iCloud Backup does what it says on the tin: it backs up data from your Apple device. This data includes: app data, device settings, home screen and app organization, messages, photos and videos, ringtones, and purchase history from Apple services. Crucially, iCloud Backup also saves your purchased content, so when you restore your device from a backup, all of your previous purchases will be waiting for you.

Discover your iPhone's hidden features
Get one daily tip each day (with screenshots and clear instructions) so you can master your iPhone in just one minute a day.
iCloud Drive, on the other hand, is less about creating a restorable backup and more about saving your documents to access across multiple devices. Think of it as Apple's version of Dropbox. Once you've set up iCloud Drive, you can access it through the Files app on your Apple device.
Related: How to Back Up Your iPhone to iCloud
When Do I Need an External Hard Drive?
When you sign up for iCloud, you get your first 5 GB of storage free. This 5 GB is for anything you need to store in iCloud—both your backup and any other documents.  If that doesn't sound like a lot, it's because it's not. For perspective, I've currently got about 7 GB of photos alone on my iPhone, which is dwarfed by the collections of many of my more photographically inclined friends.
The good news is, you can easily upgrade your iCloud storage plan—50 GB is $0.99 monthly, 200 GB is $2.99, and a whopping 2 TB is $9.99 a month. Good luck filling that up with pictures of your dog wearing cute holiday costumes.
This method is convenient, but it does mean that you'll be paying monthly for your storage in perpetuity. It also means that you're entrusting all of your data to the cloud (which is really just a network of other people's computers, when you think about it). Don't get me wrong, Apple's iCloud is very safe, but if you'd rather have your backups sitting pretty on your bookshelf or desk, safely disconnected from potential hackers, that's a valid reason to turn to an external hard drive. For more guidance on how to use iCloud, you can sign up for our free Tip of the Day newsletter.
External hard drives come with their own list of pros of cons. First, the cost upfront is going to be higher. You can find small, 80 GB external hard drives for around $20, or you can go big, and get a 4 TB or more hard drive for around $100 and up. These initial costs outstrip that of iCloud Drive by a lot, but the thing is: you only have to pay them once. Once you buy your external hard drive and have it on hand, it's yours to do with as you please. No monthly subscription rates apply, so the cost of iCloud Drive can quickly surpass what you spent on your external hard drive for the same amount of storage.
While you won't have to worry about your files and data being hacked with an external hard drive, they can still get stolen if someone gets their hands on your physical hard drive. An external hard drive is also vulnerable to physical damage like being caught in a fire, dropped from a great height, or smashed with a hammer in a home renovation incident (don't ask). Some external hard drives are built tougher than others, but that's something to keep in mind if you decide to go that direction.
Whether or not you need an external hard drive if you're already using iCloud Backup and iCloud Drive is really a matter of personal preference. If you like the convenience of just upgrading your storage space through Apple and paying a monthly fee to keep your data and documents safe in the cloud, stick with iCloud. But if you prefer having a physical hard drive on hand, so you can keep an eye on it yourself and not worry about data breaches, an external hard drive might be for you.
Before you spend any money on iCloud or an extrenal hard drive, though, make sure you're not getting the error where a notification says iPhone storage is almost full when it's not.