By

Anonymous (not verified)
Updated 05/27/2021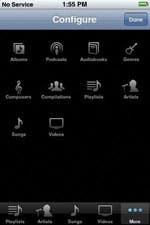 You can replace any of the first four browse buttons in iPod with other options as follows:
Open iPod and tap on the More icon.
Tap on Edit in the upper left corner.
Use your finger to drag the desired icon (Audiobooks, Genres, Composers, Compilations, etc.) into the browse bar at the bottom of the screen. Position it over the button you want to replace and lift up your finger.
Tap the Done button in the upper right.