By Jamie Rhoades on Mon, 07/01/2013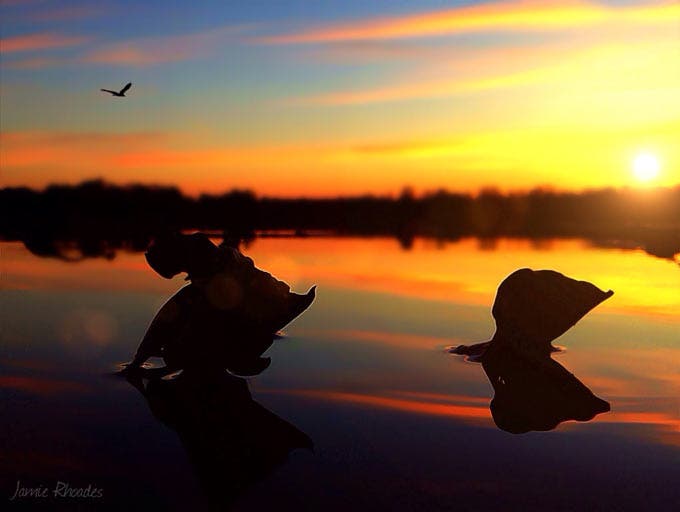 Welcome to my iPhoneography workflow. Here, I'll share the images I create with my iPhone and the hand-picked, trial-and-error methods I use to capture and edit them with.
This image I took recently, titled "Sunday Serenity," is a very easy-to-approach iPhoneography photo. I want to share a few quick tips first off. Using your iPhone to take professional-looking photos involves a little manipulation. Trying to get those far-away landscape shots with your iDevice can be difficult compared to using a DSLR camera.
Master your iPhone in one minute a day:
Sign up to iPhone Life's Tip of the Day Newsletter and we'll send you a tip each day to save time and get the most out of your iPhone or iPad.
In this photo, the sun was about to come up, which is THE BEST time to catch sunrises (for sunsets, the best time is right after the sun goes down). It all relates to lighting, and colors are more intense before or after the sun makes an appearance.
I saw the wonderful landscape and wanted to use it as a backdrop here. These cool lily pads were right in front of me, and I had to crouch down quite a bit on this one to catch the right angle.
I started by taking the photo in my go-to app Camera+ ($1.99). As I advised in my last tutorial, you must use your focus/exposure option by tapping the screen on Camera+. Make sure your focus is on the right object, in this case the lily pads. You may have to start the focus about a foot away from the object, and work your way in. It will stay in focus. I put the focus on my friendly lily pads and then adjusted the exposure. Moving the exposure around will lighten or darken the photo to your liking. Remember, take multiple shots on everything you shoot, just in case you have any issues.
After I snapped this shot, focused on the lily pads with the awesome sunrise in the background, I stayed in Camera+ for a little processing. I used the "vibrant" photo fx, and adjusted it to about 25 percent. I suggest always adjusting the effects to your liking. Next, after saving to my camera roll, I brought this photo into PS Express (free). This will give your photo that crisp professional look. I believe you have to make an in-app purchase for the "reduce noise" and "sharpen" tool. It's a MUST HAVE. Like I said before, I bring ALL my photos here to reduce noise and sharpen. That's what I did on this photo as well. While it will automatically adjust itself, make sure it's not too much or too little. I'd like to add, PS Express is also a great app for straightening up a crooked shot, cropping, and making light adjustments. 
After you've finished in PS Express and saved to camera roll, I bring the photo into another must have, LensLight ($1.99). You have many, many great options here. I used the basic sun option, then placed the sun right where it was about to come up. I adjusted the color of the sun and the brightness. You must use your adjustments to give an authentic feel to your photo. Save it to camera roll.
Next, I thought this photo could use a bird or two, so I brought the photo into Distressed FX ($0.99). This is a great app. It has a lot of texture blending filters, bu I don't use those too much. I love that it has a filter that lets you add birds to your photo!!! Yep...birds! There are only three controlled bird settings, meaning you can't move them around freely. I used the "soulmate" option, which added two little birds and saved it to camera roll.
Next, I brought the photo into iPhoto ($4.99). This app is wonderful in all editing ways. I use it the most to make things disappear in my photos. For example, in this photo, I wanted to eliminate one of the birds. I used the "repair" paint brush. I zoomed in on the bird and put a light stroke over the one I wanted to remove....and boom!! Bird Gone. Then I saved to camera roll.
Last, as always, I sent it off to iWatermark ($1.99), which I use to sign every photo I post. I saved it to camera roll, ready for the world.
I hope these tips are helpful. If you read and follow each of the steps, it is actually very simple. If anyone has any questions or comments, feel free to ask. Thank you to all who have taken the time to learn a little iPhoneography, and I wish you luck on your next photo.