By

Dig Om
Updated 12/18/2013

A reliable protective case not only comes in handy to ward off scratches and scrapes, and a good, heavy-duty protective case can make the difference between a catastrophic, life-ending event for your iDevice and a mere bump in the road. Whether you are a bathtub iBook reader or an outdoor adventurer who always has their iPad in tow, a ruggedly protective case that offers a high measure of insulation from outside elements can be a very worthwhile investment.
With that in mind, check out these ultra-protective iPad cases, each with its own unique features and advantages, yet all designed to absorb and redirect the shock and potential damage to your iPad.
Although technically many cases made for the original iPad mini may indeed fit the new iPad mini with Retina, they don't account for the placement of the new mini's secondary microphone on the back side, or its ever-so-slightly (only 3/10ths of a millimeter) thicker body. And you have to be careful when shopping online for rugged cases for the iPad mini with Retina display. I've seen several sites offering rugged cases that were designed for the original mini as compatible with the iPad mini with Retina. While technically the mini with Retina may indeed fit inside a rugged case designed for the original mini, what about the new microphone that would get covered up? I could see this being a big issue for some folks.
So in this roundup I'm focusing on cases specific to the iPad mini with Retina display and the iPad Air. I actually started out with a list of ten case manufacturers who I figured would have their iPad Air and iPad mini with Retina cases ready by now. I was a little surprised to have ended up with such a relatively short list of iPad Air and iPad mini with Retina heavy-duty cases currently available (I think Apple caught the case manufacturers off guard with the introduction of this new mic on the mini's backside). But I will update this article early in the new year since I know that a lot of new rugged iPad case options will be hitting the market very soon. For further information on exceptional rugged cases for the original iPad mini, (if you just can't wait, or, just don't care about that second mic being exposed) click HERE or HERE.
Criteria:
The cases featured here must protect the iDevice with a minimum  MIL-STD-810, meaning they provide a required level of protection from drops, shock, liquid, dirt, and other debris. For a rugged iDevice case to come with a MIL-STD-810 rating is fairly standard, so it isn't particularly excessive to expect a rugged case to meet this ratings standard. Additionally, while being waterproof is not a prerequisite, it goes a long way in helping a case receive my highest rankings.

Each case must be a full-time use iPad case—no glorified

Ziploc

 bags or cases with no charging ports or headphone access here.

The less bulky a case manages to be, while still offering the maximum protection and convenience, also factors into my ratings.
1. Pelican Pro Vault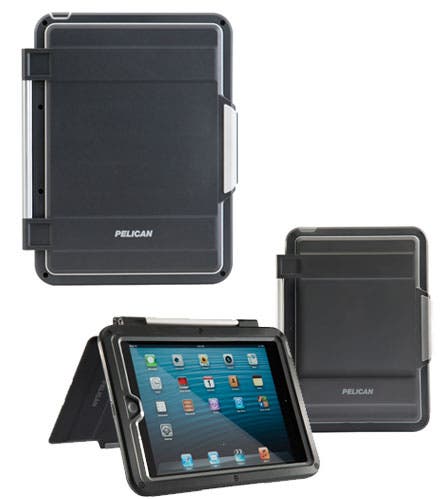 If you are looking for a catastrophe-proof case for that new iPad mini the Pelican ProGear Vault totally fits the bill. This case features a uniques and inventive, multifunctional design, that is both rugged and unobtrusive. In fact, when I was testing the ProGear Vault, one of the first things that I noticed was that this case has no built-in plastic screen protector, so for anyone who doesn't care for having a sheet of plastic interfere with their interaction with their iPad mini's touchscreen, this is the case for you. Here's the cool thing; while the ProGear Vault may not have a plastic screen protector incorporated into its design, what it does have is a hard plastic hinged cover that serves as an iPad easel-style stand, a privacy shield, a shade screen and of course, protection for your iPad's screen when closed. Furthermore, the Pelican ProGear Vault has a thin layer of silicone rubber lining the inside of the screen cover so that when the screen cover is closed it seals tightly and creates a water-resistant seal. Its all around exemplary protection places Pelican's ProGear series at the top of my rankings of the best rugged/heavy-duty cases currently available for the new iPad Air and iPad mini with Retina.
2. Griffin Survivor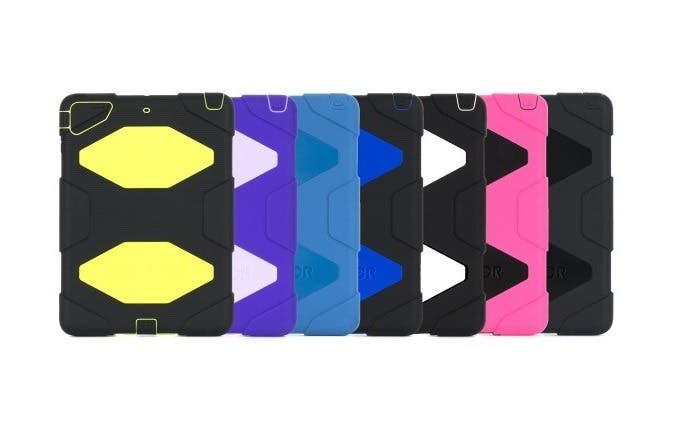 Available now for the iPad Air, the Survivor provides the highest level of protection for the iPad Air of any of the cases for the Air. In terms of reliable protection and sheer ruggedness the Survivor is tough to beat; and it's my favorite extreme-duty case for the Air currently available. The Survivor is the most watertight of the current crop of cases for the new iPad Air, which goes a long way to securing it the top spot in this roundup. It's multi-layered design provides solid protection from most crises that could foreseeable befall your new iPad. The Survivor also has a handy little stand that clips on to the case's shell which detaches for conveniently propping the iPad up in landscape mode for movie watching or typing. I expect the Griffin Survivor for the new iPad mini with Retina to become available any day now.
3. Otterbox Defender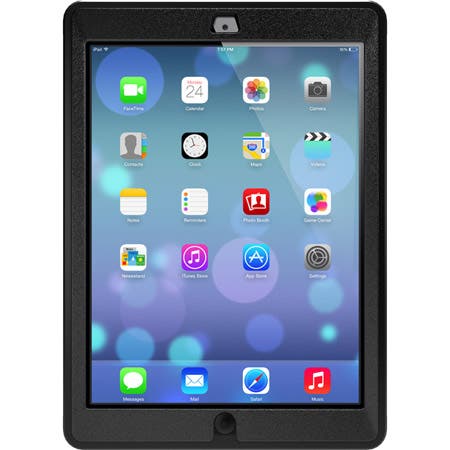 For iPad Air ($89.95)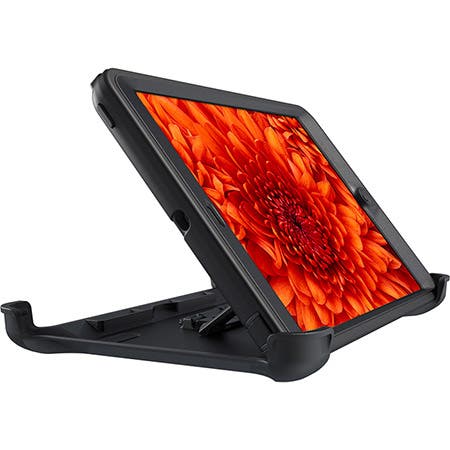 For iPad mini with Retina ($79.90)
Otterbox was once again, the first to market with their impeccable protective cases for BOTH of the newest iPads. The Defender series for the iPad Air and the iPad mini with Retina display offers some the best and most comprehensive protection for the new iPads currently available. In addition to the rugged protection of the case itself, with it's shatter-resistant inner shell and shock-absorbing exoskeleton, the Defender for the new iPads also comes with a rigid plastic screen shield which doubles as an iPad stand, as seen in the photo of the iPad mini with Retina above.
4. The Joy Factory aXtion Bold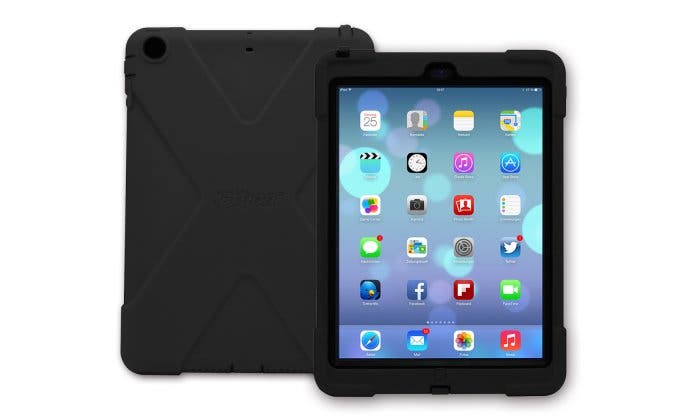 iPad Air ($59.95)
The aXtion Bold for the new iPad Air is an inventive and attractive new design from a company that I've written favorably about many times in the past. Joy Factory has a solid reputation for manufacturing top-quality iDevice cases and accessories, and the new aXtion Bold continues in this tradition. With its snug port covers, incorporated touchscreen protection and streamlined design the aXtion Bold is an excellent and affordable option for top-notch heavy-duty protection for that new iPad Air. Currently available in black and red models, the only thing the aXtion Bold lacks compared to its competition is a wider selection of color options and a kickstand.
5. Trident Kraken A.M.S.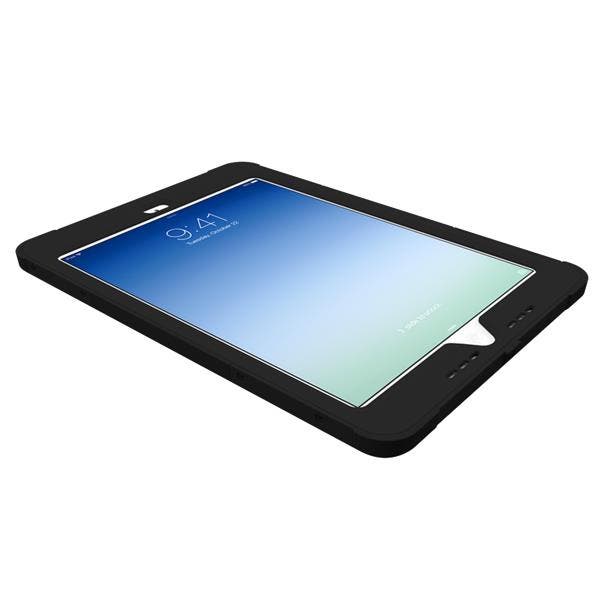 iPad Air ($69.95)
The Trident Kraken A.M.S. is a sturdy and well-tested rugged case for the new iPad Air. Unlike many of its competitors, the Kraken has it's layer of silicone protection on the inside of its shell, with the polycarbonate layer serving as it's exoskeleton. It also features a built-in screen protector for that extra level of ruggedized protection. The Kraken's A.M.S. (Adaptive Modular System) feature also allows you to easily mount your iPad on the various A.M.S. accessories that Trident has available, including their Arkon heavy-duty C-clamp mount ($75.95) and their Arkon extendable car headrest mount ($49.95).
---
Enjoy your new iPads everyone, and if you want the most reliable in protective cases to secure your prized possession, this roundup should help you find something that fits your specific needs. And if you are looking for a rugged case for the iPad mini with Retina display, keep your eyes open, I expect all of the case manufacturers featured above to be carrying heavy-duty cases for the iPad mini with Retina any day now. I'll update this roundup early in the new year and I am sure I'll have a lot more to add to this category, especially after CES 2014 in January! Stay tuned...