By

Steve Young
Mon, 02/02/2015
The 
Wants and Needs
 app aims to help users prioritize what they really need in life. The goal is to bring balance in the users' lives.
You have three categories to fill in when you download Wants and Needs app: Wants, Needs, and Thanks categories. The Thank" category serves as a healthy reminder to appreciate and notice the small blessings in your life.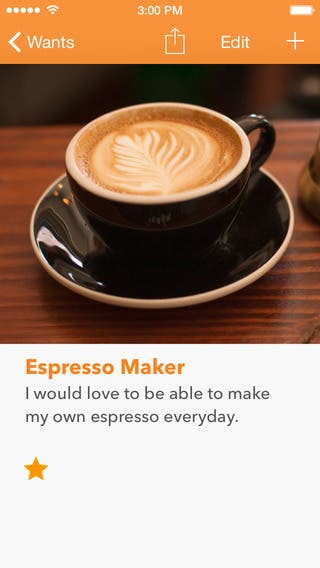 To add in details in the app, simply tap the plus sign at the upper right screen, decide whether the item is a Want, a Need, or a Thanks. You can also add a photo or mark an item with a star if you want the item to stand out from other entries. Once saved, you will get a glimpse of your entry when you click on each category. Everytime an entry is entered, you will see a snapshot of how each category is ranking in different types of charts: a bar graph, a pie chart, and a line graph. You will also see your progress in a regular basis as the charts will show you how you are trending.
You can also sync your Wants and Needs data across all your iOS devices and set up reminders on a day and a time of your choice. The latter is handy if you need to be reminded to thank someone at the right time.
Wants and Needs can be downloaded for $2.99 in the App Store.