By

Leanne Hays
Wed, 04/11/2018
The numbers in the Cambridge Analytica Facebook scandal just keep climbing, from an original 55 million to a new estimate of nearly 87 million account holders who have had their data breached. This is because the quiz, "This Is Your Digital Life," collected data not only from Facebook users who completed it, but from all their Facebook friends as well. Facebook has barred the personality quiz from the platform and sent a message to all account holders who took the quiz, but if you'd like to make sure your data wasn't also breached, there's a way to find out. Let's check and see if our Facebook accounts have been compromised by Cambridge Analytica; it's easy to do right from your iPhone. 
* This post is part of iPhone Life's Tip of the Day newsletter. Sign Up. *
Related: How to Delete Privacy-Invading Facebook Apps on iPhone 
Master your iPhone in one minute a day:
Sign up to iPhone Life's Tip of the Day Newsletter and we'll send you a tip each day to save time and get the most out of your iPhone or iPad.
This tip is written for those logging in through the Facebook app, not Facebook.com. To find out if your Facebook account information was shared with Cambridge Analytica:
Open the Facebook app and tap on the three bars at the lower right of your display.
Now scroll down and tap on Help & Support.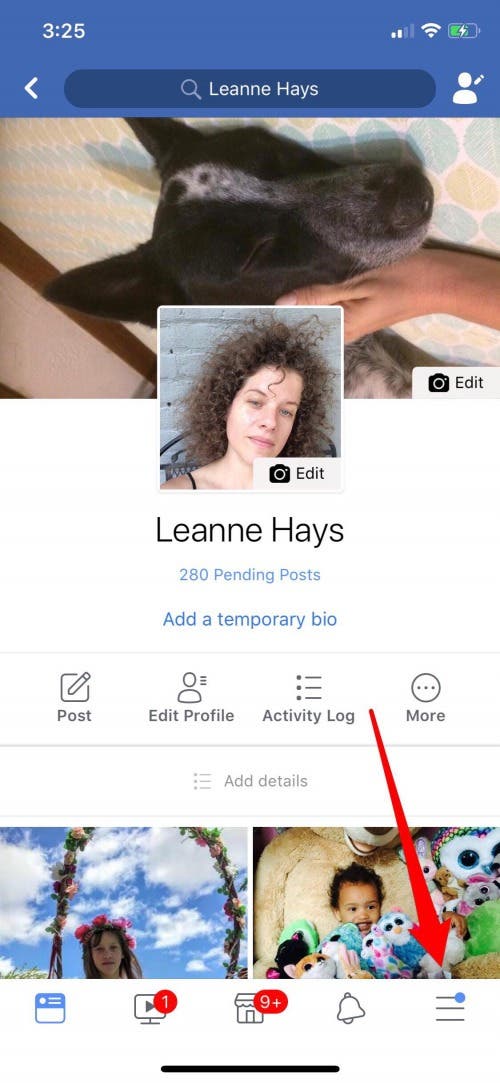 Tap on Help Center.
Now type Cambridge into the Search bar.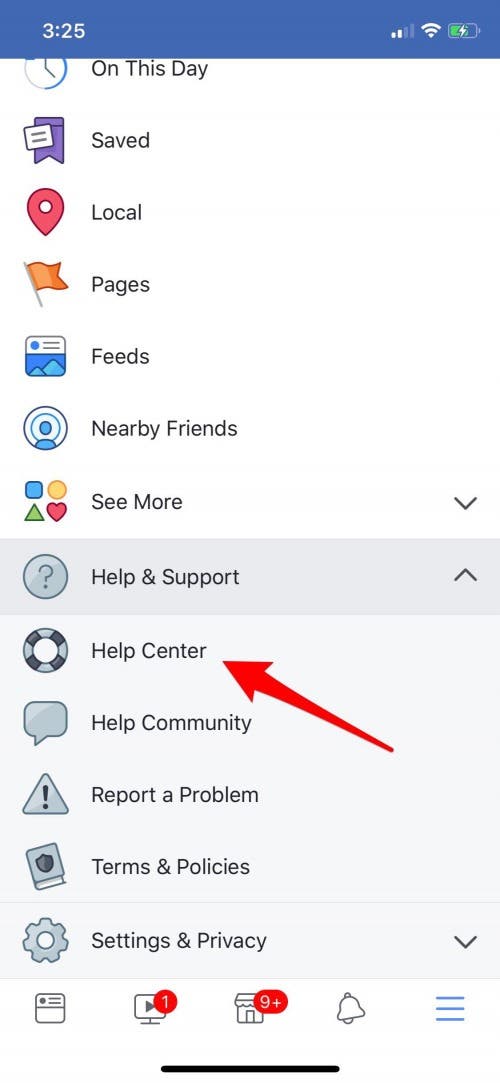 Tap on the top result, "How can I tell if my information was shared with Cambridge Analytica?"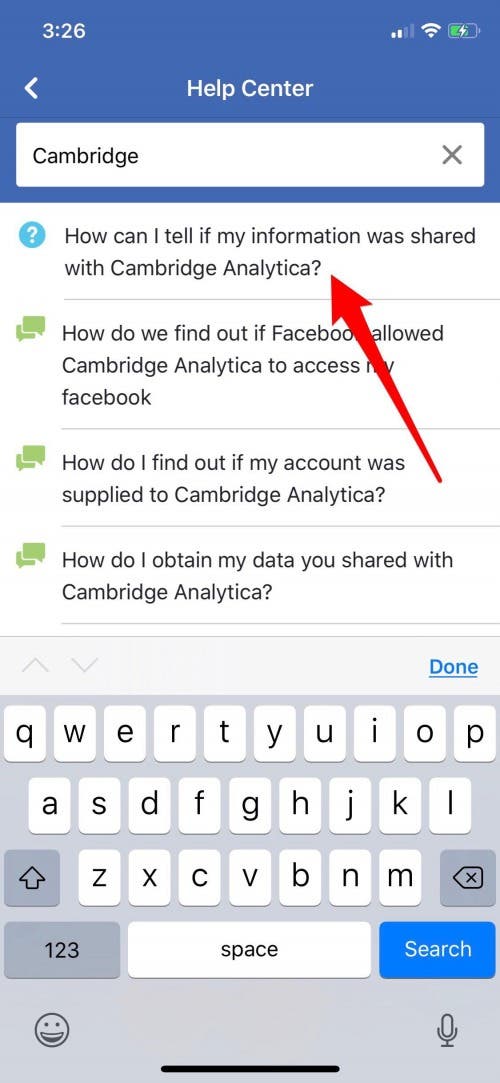 This message will pop up on your iPhone's screen.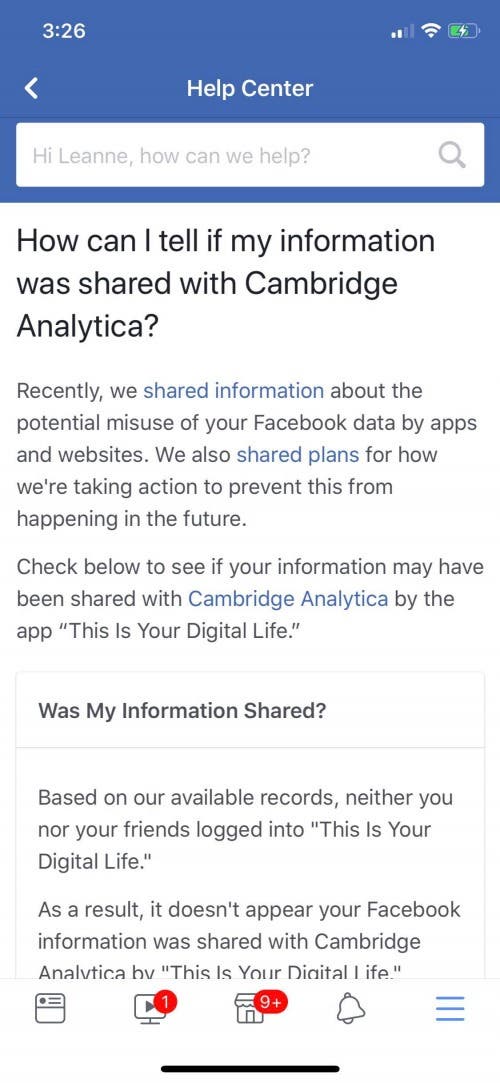 Scroll down to check whether or not your data has been shared with Cambridge Analytica.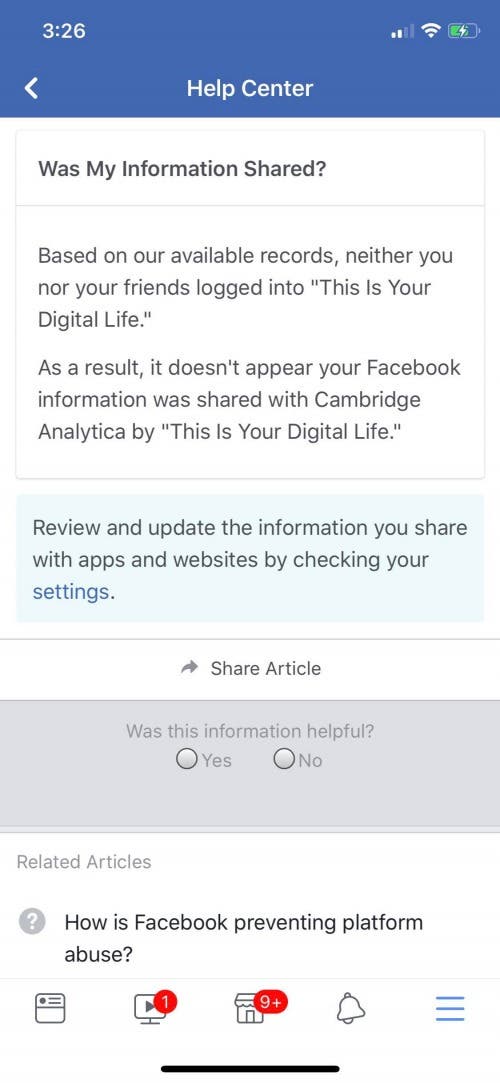 It's reasonable to assume that even if your account wasn't breached by this particular quiz, your data has been or is currently being mined by other Facebook apps and games. I highly recommend following this tip to see how many apps you've allowed to access your Facebook account, and deleting all but the ones you really need.