By Daniel Rasmus updated on 08/21/2013
Before writing this iPad stand comparison, I never considered all of the potential ways an accessory can help you hold an iPad in your lap, on a desk, on a coffee table, etc. The iPad accessory, iProp brings up some good points. Can you use your stand on your lap, in bed, and while in a recliner? Can you wash it? Is it kid-friendly?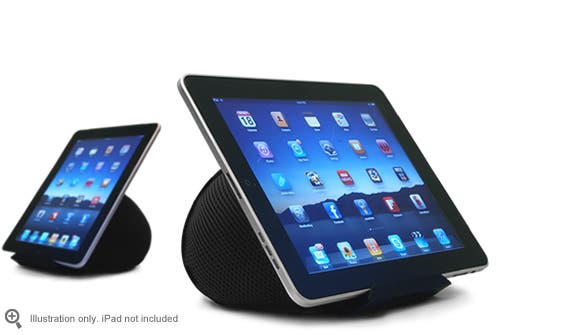 Master your iPhone in one minute a day:
Sign up to iPhone Life's Tip of the Day Newsletter and we'll send you a tip each day to save time and get the most out of your iPhone or iPad.
At its core, the iProp is a microbead bag with durable mesh wrapped around it that protects the inner-bag and is a mounting material for the plastic face of the stand. Unlike other stands with adjustable arms, gravity and friction do the work here, using the weight of the iOS device and stand to facilitate multiple angles. The iProp does a fine job of just sitting there once positioned.
If you ever soil your iProp, you can remove and wash the microbead bag and the exterior bag. The non-slip silicon plate on the bottom doesn't require removal for washing.
iProp provides universal support for iPad, iPad mini, Kindle Fire, Samsung Galaxy Tab — all tablets are welcome at the seat of iProp. With that fact in mind, the one item missing from the list of features is security. Unless you have your device plugged in, there is nothing holding it to the iProp — though it will work with tablets with covers, whereas other solutions require naked iPads to work. Keep this in mind. If you tend to be clumsy or in an area with a lot of activity, the iProp is not going to stop your iPad from getting knocked about.
Overall, the iProp is a good stand, but it isn't as secure as some, and its selling point of being a small footprint is both good and bad. It does work is smaller space, but it also feels a bit more precarious. On my desk, I tend to use the iProp to hold alternative devices I am reviewing that don't have cases with their own stands. The iProp places displays in good position and it fits well among my menagerie of tablet hardware.
2. Tablet Pal Pro ($29.99, $24.99 for mini )
Tablet Pal Pro represents another take on the tablet-as-plush, though it's a bit more snuggly that iProp. Tablet Pal's wedge shape positions devices as a slight angle. Its non-slip bottom panel prevents it from, well, slipping. The Pro version ($34.99, iPad — $29.99 iPad Min) include a gel pad that sticks to almost anything, including the underside of the Tablet Pal. It will even adhere to some car dashboards as a kind of plush GPS holder. And like the iProp, Tablet Pals can be cleaned via hand washing if necessary. The durable neoprene covers aren't indestructible, so iPad Pal suggest mending torn ones like a doll.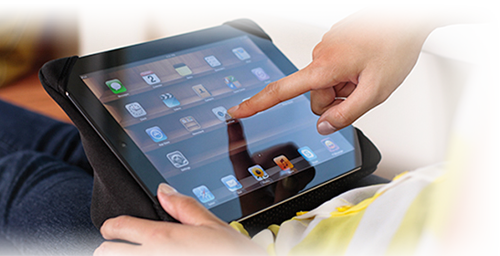 The products four corners differentiate the Tablet Pal. Where the iProp uses a plastic try and gravity to hold the device, the Tablet Pal securely wraps its neoprene corners around the edge of the device to securely hold it in place. I suggest a good screen protector for face flops should the Tablet Pal be hit from behind by an errant football during Sunday afternoon rough housing.
Tablet Pal Pros are designed for horizontal/landscape mode, not vertical/portrait mode (the iProp is non-restrictive, working just as well in either orientation).
My wife loves using her Tablet Pal Pro. It's a great companion for doing a little work or browsing Facebook during commercials.  The well-constructed product includes a little compartment to stash headphones or other accessories, a nice attention to detail for a product that just wants to be hugged.
The iKlip Stand from musical accessory company IK Multimedia holds an iPad so that it stands, not on the desk where you need to bend your neck to see it, but at nearly eye level, even for tall people like me.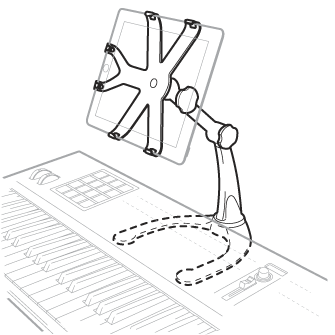 This precision engineered, Italian made stand can be adjusted a number of ways to accommodate almost any use through the two rocker arms. The stand is big, but it is sturdy. It is also thin enough to fit under other items, like a musical keyboards. While reviewing these products, I have the iProp tucked between the feet of the iKlip holding another tablet while the iKlip held my iPad. If you don't want to take up desk space, and have a flat surface available, an optional clip secures the iKlip arms and iPad holder to the side of a desk.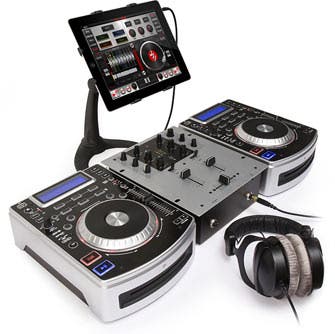 iKlip is a professional, well-made product with a number of uses from education, to music to transforming the iPad into a real second-screen at a desk. As a precision product, the iKlip requires a naked iPad, which slides into a holder with exactitude.  This is the best, most adaptive general purpose stand for work environment's I have reviewed to date.
4. Nimblstand ($49.95, w. Wacom Bamboo stylus, $66.95)
Finally a first look at the Nimblestand, which is designed to accommodate content creation on the iPad with a very light-weight, but well-conceived stand that transforms a small amount of surface area into a self-contained, and well-appointed, workstation. The Nimblstand assumes ownership of an Apple wireless keyboard, which it slots in to create an integrated feel. The iPad sits above, at either a forward or backward angel, depending on if you want to use it in writer's position or what I would call sketch or architect position, as it reminds me of the sketching tables of yesteryear. Since iPads don't accept mice, Nimblstand partnered with Waccom to offer a version with included stylus (the slot for the stylus exists on either version, so if you already have a Waccom Bamboo, you are set).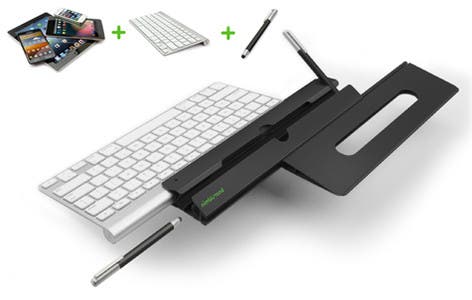 A full review after I have more time to integrate it with an Apple keyboard and experience the full experience.