By

Jim Karpen
Thu, 03/21/2013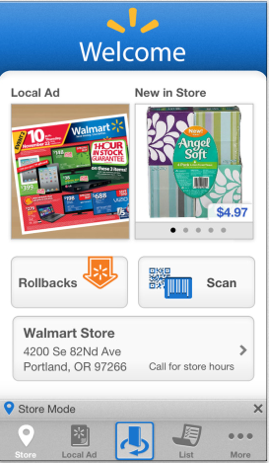 Walmart's iPhone app, simply called Walmart (free), has a great feature allowing shoppers to use their phones to scan barcodes of the products they're purchasing. The app totals the cost and lets you quickly check out via the self-checkout lane. The app provides both an electronic and paper receipt. You still have to pay in the traditional way, and according to a Reuters report, Walmart isn't saying whether shoppers will eventually by able to make payment via the app. The Scan & Go program began as a pilot program last year in 70 of Walmart's 4,000 stores in the United States. And yesterday's Reuters report said Walmart is expanding its Scan & Go program to an additional 200 stores in the U.S. this year.
Those cities that can expect to see Scan & Go include Denver, Phoenix, Omaha, Dallas, Austin, Oklahoma City, Tulsa, Bozeman, Seattle, San Jose, and Portland.
It's great to see Walmart moving in this direction. I love the idea of scanning products as I put them in my cart and having my iDevice keep track of the total. I think mobile payment is the obvious next step, such that I could simply tap my iPad as I leave the store to make my payment.
Even if your local Walmart doesn't offer Scan & Go, the app, which is also available for the iPad, is quite useful, especially for its in-store features. The price of items is often unclear, because of messy shelves or lack of labels. When you use the app to scan the barcode, it will show you how much the item costs. The app also lets you see whether particular items are available in the store and directs you to the aisle where they're located. 
The app also has the store's local ad circular so that you can see what items are on sale. And it includes coupons.
Of course, you also can use the app to shop at Walmart's online store. And you likely know that if you order online, you can have your item shipped for free to your local Walmart store where you can pick it up.