By

Paula Bostrom
Tue, 07/04/2017
* This post is part of iPhone Life's Tip of the Day newsletter. Sign Up. *
Owning an iPhone makes it very convenient to complete a variety of tasks, including those that require writing. The iPhone's keyboard is acceptable for writing quick emails or jotting down notes, but if you have more in-depth work to accomplish, like in your Pages app, it's easier to use a regular-size keyboard. There are various keyboards you can get. Some are made to travel, so they fold up. Others attach to your iPad for productivity. And there's always the option to use an Apple keyboard. Regardless of your choice, setting up the keyboard is easy to do within settings. Here's how to set up a Bluetooth keyboard on iPhone or iPad.
Related: Best Bluetooth Accessories for Your Summertime Travels
How to Set Up a Bluetooth Keyboard to Work with an iPhone
Make sure your Bluetooth Keyboard is on. This may be a power button you need to press or a switch you need to flip depending on the keyboard you own.  

You'll also need to make sure the keyboard is disconnected from any devices you'e previously used it with. If you're using a new keyboard, don't worry about this step.

Now, Open Settings on your iPhone.

Tap Bluetooth.

If not already on, toggle on Bluetooth.

Locate the name of your Bluetooth keyboard under My Device. Tap on it.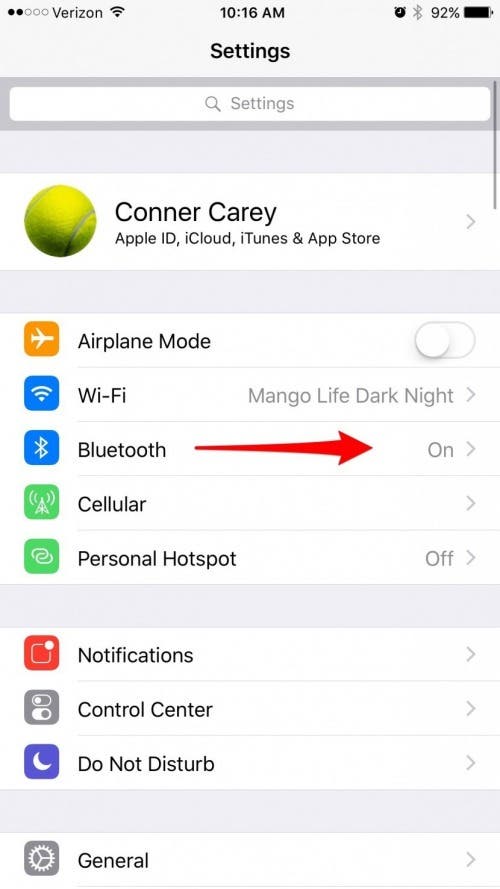 If you're pairing an Apple Keyboard, you'll be prompted to type a four-digit code on the keyboard to verify the pairing request.

Otherwise, the device should say Connected and be ready to use.

If for whatever reason it doesn't pair, make sure your device is charged, turned on, and within range of your iPhone.