By

Dig Om
Mon, 07/22/2013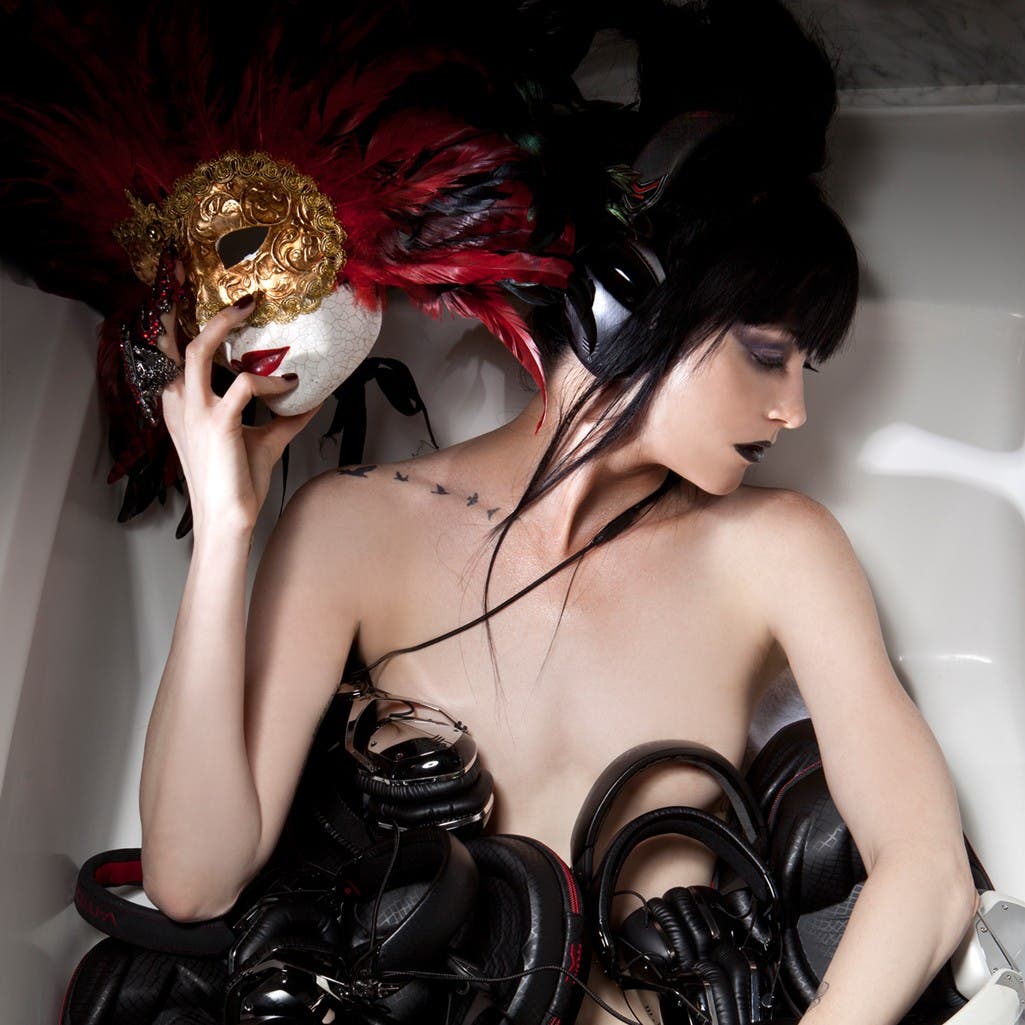 Apple is preparing to upgrade its mobile operating system to iOS 7, and with that, we can expect to see a host of new features on our iDevices as well as significant improvements to already-existing features and apps. One of the things I'm excited to see is how mobile gaming evolves with iOS 7. On that note, it seems appropriate to feature a serious gamer's headphone. Hardcore gamers and audiophiles alike will appreciate the quality of sound of the V-Moda Crossfade M-100s ($310) over-the-ear headphones. 
While many companies develop great headphones, very few pour as much time, energy, and resources into research and development as has V-Moda. The Crossfade over-the-ear headphones are very much the product of extensive crowdsourcing and feedback from a variety of audio experts and connoisseurs.

First of all, the V-Moda Crossfade M-100s are the first headphones I've reviewed that are actually rated to Military Standard MIL-STD-810. This translates to a pair of headphones that, short of exposure to water, will withstand just about any abuse you can throw at them. The Crossfades have a two-year warranty, an unrivaled 60-day trial period, as well as a lifetime guarantee, where you'll receive 50 percent off a replacement pair if you should ever need it..
V-Moda Features:
Virtually Indestructible STEELFLEX Headband
 
Steel Frame and Interchangeable Aircraft Grade Metal Shields
 
Exoskeleton Form-Fitting Case
 
Tested Beyond Military-Level Quality MIL-STD-810G Test Standards

Kevlar Reinforced Cable/Plug Bend: Cables and 45-degree plug can bend over 1 million times (100x industry standard)
Concrete Drop: Survives 70+ drops on concrete from 6 feet (10x industry standard)
Headband Bend: Steelflex can bend 10+ times flat
Environmental: High and low temperatures, humidity, salt spray and UV exposure

Sound Specs:
The rugged integrity of the V-Moda headphones is one thing, but their acoustics are equally impressive. Not your average headset, the M-100s feature advanced, precision-crafted materials and take advantage of the latest in audio technology and the science of sound.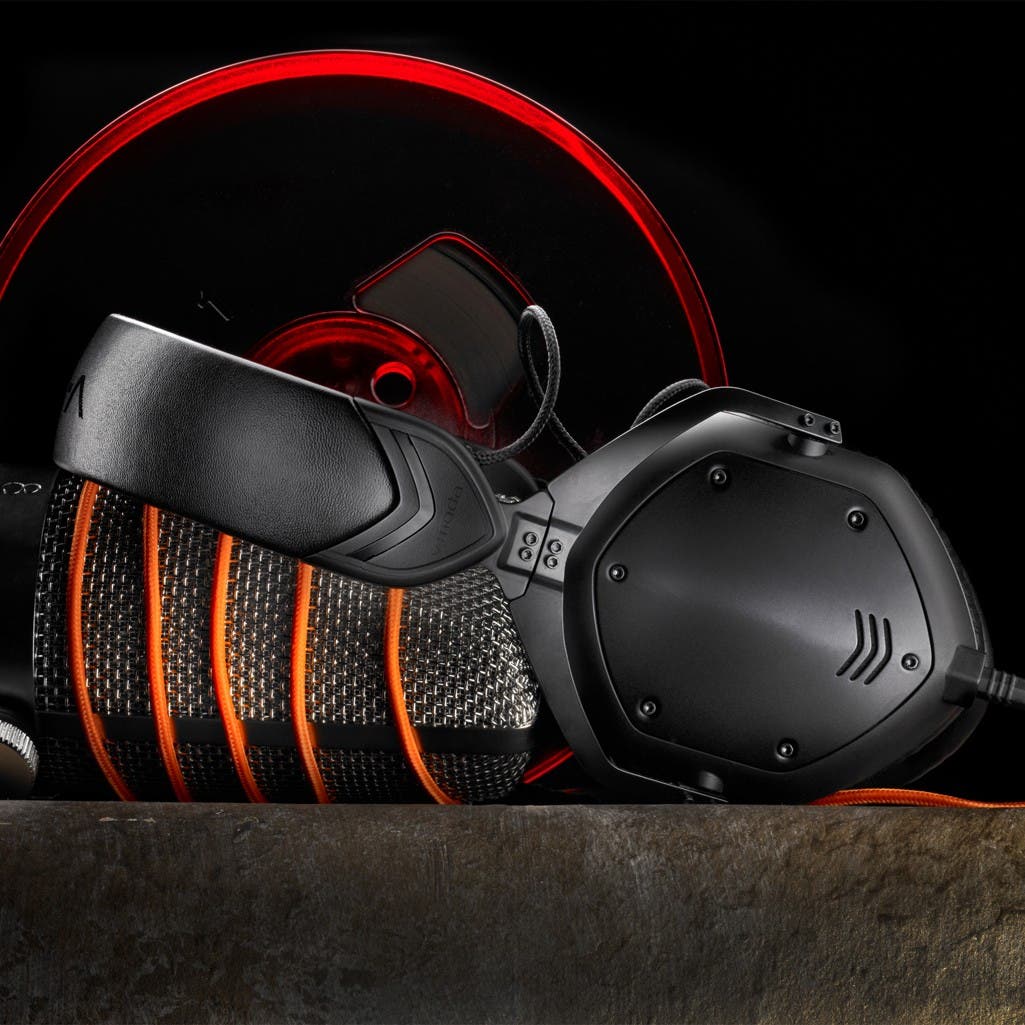 The Crossfade M-100 speaker shells are constructed to precision specs for high performance resonance, and they boast powerful, 50mm Dual-Diaphragm Drivers, which are factory tested at six frequencies to ensure strict acoustic consistency. With such meticulous and demanding standards, the M-100s manage to successfully stand out from the ever-growing crowd of headphones in this same price point.
With excellent analog noise isolation (the ear cushions use memory foam for the most perfectly contoured fit possible) to cut external sounds, and minimal sound leakage (so as not to disturb bystanders), the M-100s are a most excellent and luxurious solution for your self-contained audio.
These headphones craft a pristine sound stage like few others can do. Their sound is deep, full, and rich, without getting muddy or distorted and have powerful bass and clearly defined mids and highs. Even though their price may seem high to some, the M-100s actually feature more expensive drivers and components than other peer headphones sold for a similar price!
Design Details:
These headphones sport an impeccably elegant and modern design. They remind me of something off a futuristic space crusader in a high budget Sci-Fi movie. They have a low profile and sport only top quality materials. You can even customize them by choosing from a wide array of colors for the metal shields, or by purchasing custom laser-engraved designs.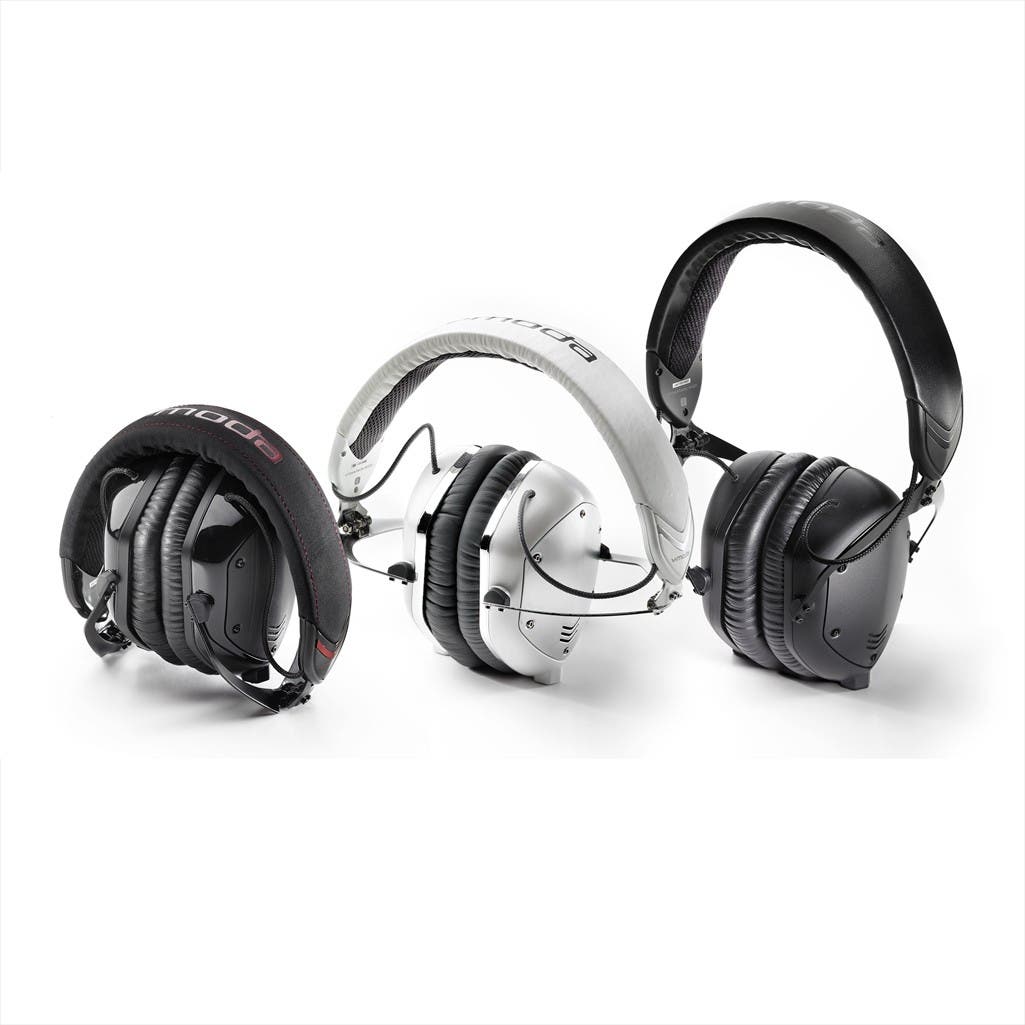 Utilizing only top quality materials, the M-100s are lightweight and fold down to an extremely compact size. They also come with a rigid exoskeleton case for unbeatable headphone protection.
My only issue with the V-Moda headphones is that the foam cushions surrounding the ear aren't thick enough to keep the hard speaker driver from clamping against my earlobe (and I don't have unusually large ears by the way). This limited the amount of time I could comfortably wear them without feeling uncomfortable or cramped. I think an option to purchase a slightly thicker foam cushion, for those of us with tender ears, would be a welcome addition to the Crossfade accessory catalog.
The Gamer's Edge:
What really set the V-Moda apart from the crowd is its gaming microphone options. Although the V-Moda already comes with a heavy-duty, fabric-covered, tangle-free cable with an in-line mic, which is ideal for phone conversations, all gamers know that a stationary boom mic that sits close to your jaw is a big plus when using voice-chat features in your multiplayer games.
When you're in the heat of intense battle, you'll appreciate the convenience of the BoomPro ($30) microphone, with its crisp, clear response and steady mic that stays put wherever you position it. At $30, the BoomPro may prove to be a very worthwhile investment, especially if the price of the M-100s themselves isn't exorbitant for you. You'll be hard-pressed to find a better-sounding pair of headphones, much less gaming headphones. Additionally, when you purcahse the V-Moda BoomPro you also recieve a VoIP/PC adapter allowing you to turn your headphone into a PC-compatible gaming headset. If you are a fan of multiplayer games with voice-chat features and don't want to sacrifice a drop of sound quality in your headphones, then the Crossfade M-100s with the BoomPro will make the perfect accessory.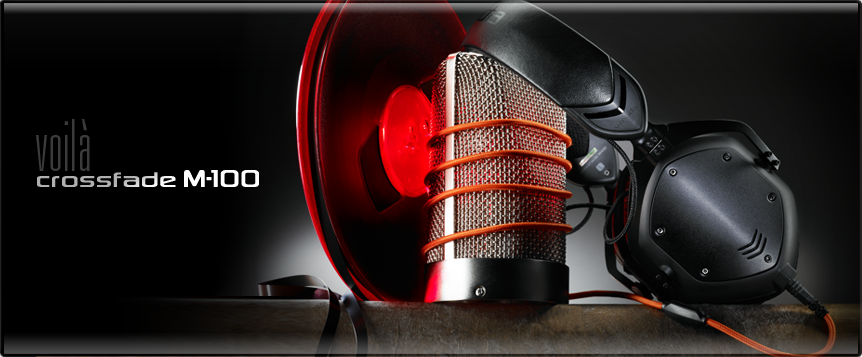 Conclusion:
I've tested and reviewed enough headphones over the years to know that some certainly live up to their lofty claims more than others. The V-Moda Crossfades are all that they claim to be in terms of sound and design, and more! They are some of the best headphones I've come across. They are on the pricey side if all you are looking for is a pair of gaming headphones, but if you'd like a set of top-quality, durable, dual-purpose headphones for gaming and music alike, then consider the V-Moda M-100s. Furthermore, considering the superior quality and performance, they are completely worth the price. I give the V-Moda a very respectable 4.5 out of 5 Stars.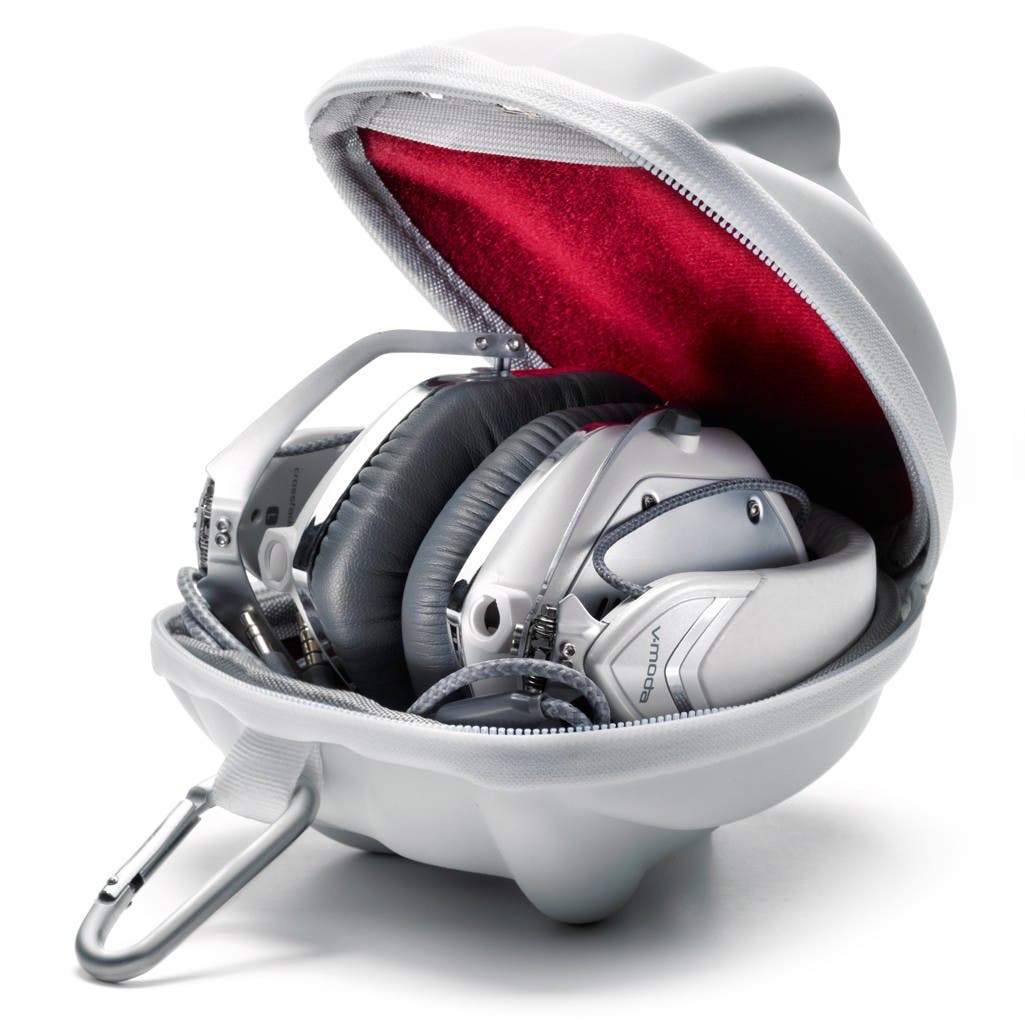 Pros:
Excellent, top-quality sound with an immersive, 3D soundstage, bass enhancements, and a unique driver design that really makes the sound come alive;
 
Top quality, rugged design. The only headphones I've encountered boasting a Military Standard rating of durability and reliability. These are some well-made, super tough cans;
As rugged as they are, they manage to sport sleek and stylish design with a lightweight, minimalistic profile.
Cons:
Ear cushions could be a bit thicker, which would keep the speaker driver away from the earlobe and would help reduce the "ear clamp" sensation.