By

Daniel Rasmus
Thu, 01/02/2014
It used to take forever for new iPad cases to arrive. Now it takes days, at most weeks. Many of the new iPad Air cases got the size and shape right, but a few missed the magnets on folios that enable sleep/wake. This first batch of iPad Air cases doesn't offer any new twists or innovations, instead continuing mostly with cases that are one-offs of earlier iPad cases. The variety does, however, suggest that iPad Air owners will have plenty of options to choose from.
Look for CES announcements to greatly expand the number of options available.

Discover your iPhone's hidden features
Get one daily tip each day (with screenshots and clear instructions) so you can master your iPhone in just one minute a day.
Tips
Know what you want your case to do before you invest.
Read the analysis below carefully so you can find the right quality, features, and price to meet your needs.
Analysis at a Glance
Best case if you only buy one: Otterbox Defender ($89.95)
Best case for everyday use: Moshi VersaCover ($60.00) or Dodocase Original Bookbound iPad Case ($84.90)
Worst case:  Cygnett Paradox ($39.99)
1. Incipio Watson ($49.99)
3 out of 5 stars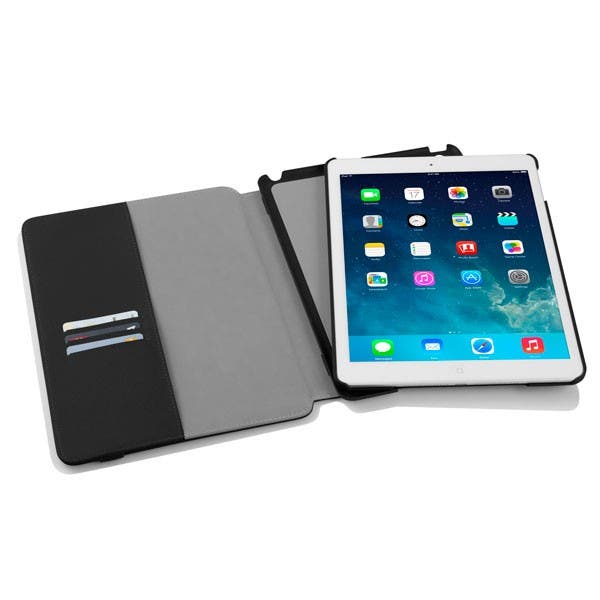 Pros
Clever dual insert design provides a light back cover for iPad Air that snaps into a folio for improved protection when traveling. Includes slots for business cards, ID or credit cards.
Cons
Snap-in tray design adds convenience, but also weight.  No sleep/wake.
2. Incipio Lexington ($39.99)
3 out of 5 stars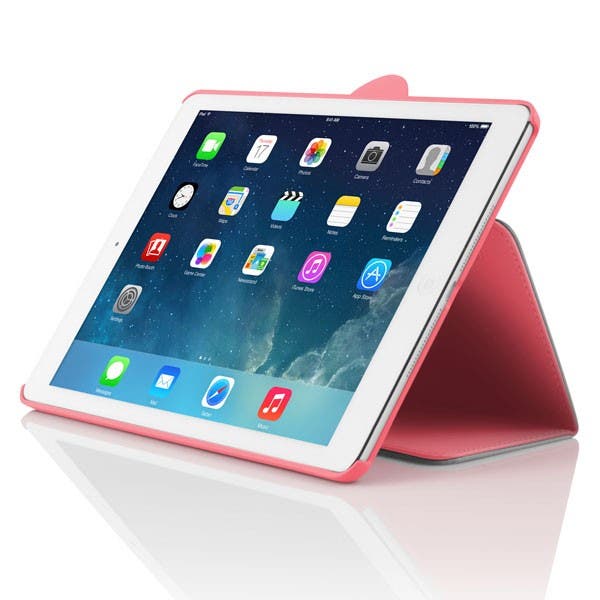 Pros
Good basic case with wrap around design. Leaves ports open but protects exterior surface. Flap closure keeps the case sealed when the iPad isn't being used. The flap keeps the footing steady when in use as a stand.
Cons
Flap kind of gets in the way when the case is being used. No sleep/wake.
3.  TYLT RUGGD ($49.99)
2 out of 5 stars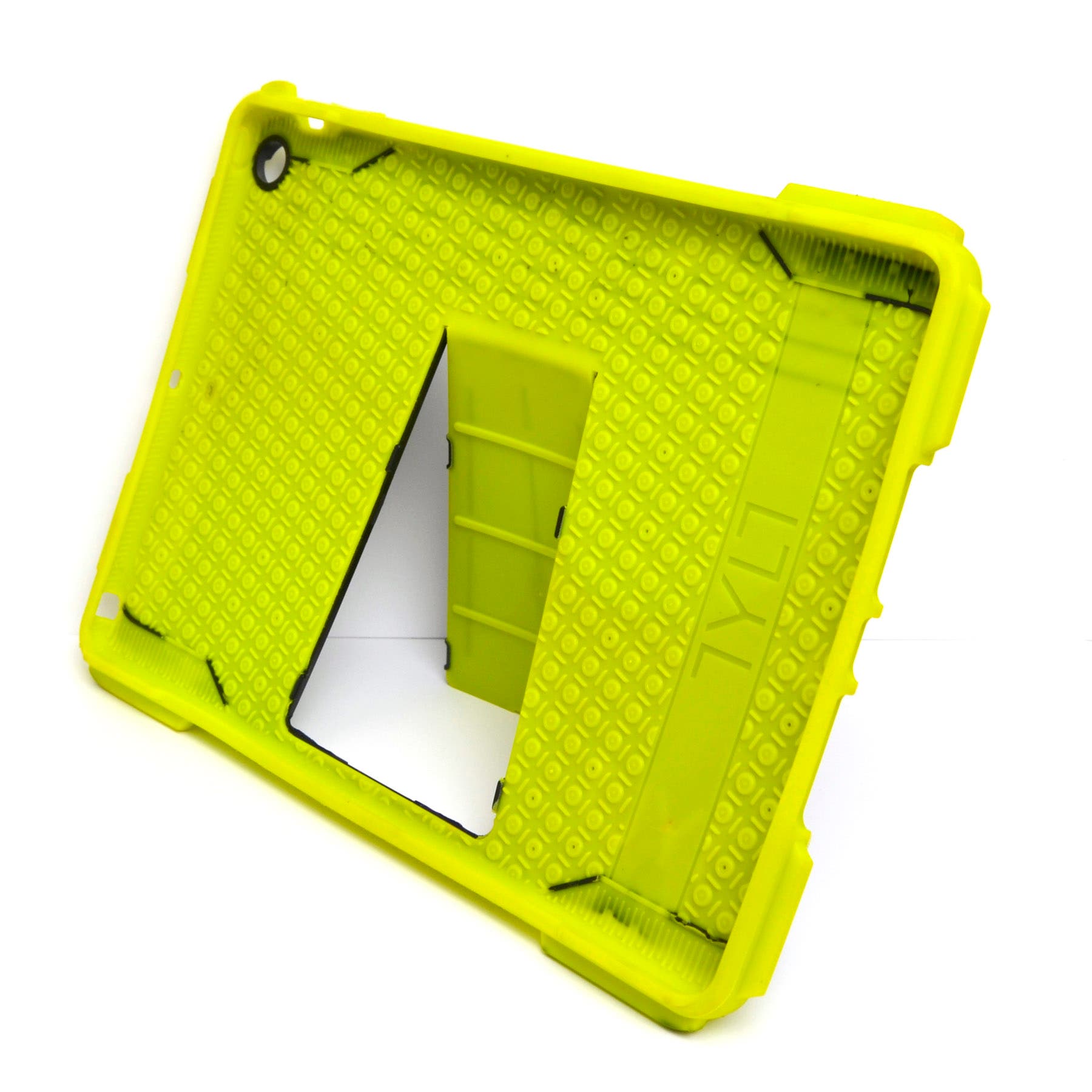 Pros
Designed as heavy duty protection. Space age materials and style.
Cons
Integrated stand doesn't sit flush and has a tendency to pop out. Very thin front bezel on charger/button end of case isn't snug and feels like it will easily break if snagged. When stand is deployed a section of the back of the iPad is exposed.
4. Otterbox Defender ($89.95)
5 out of 5 stars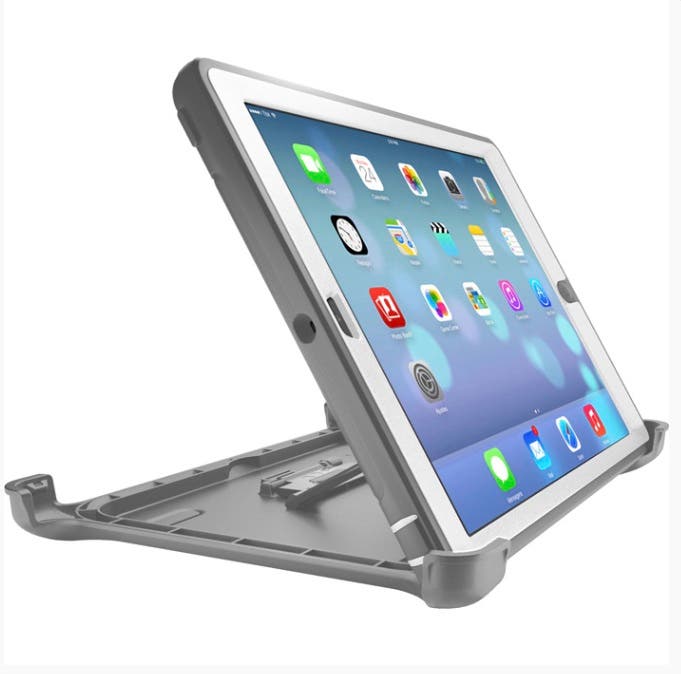 Pros
Otterbox continues to make the most elegantly engineered of the rugged cases. Protects front and rear of iPad with high-grade materials, perfect fit complete with tough, integrated screen protection. If you want one case for all environments, the Otterbox defender should be that case. Removable cover offers double-duty protection when iPad isn't in use and a flexible stand when it is.
Cons
Heavier than most cases and the most difficult of the cases to remove. Not the right case if you swap out cases often, as it is difficult to remove. Keep the original box to store the components. A film can form between integrated screen saver and iPad screen that creates a moire pattern that degrades visuals a little bit.
3 out of 5 stars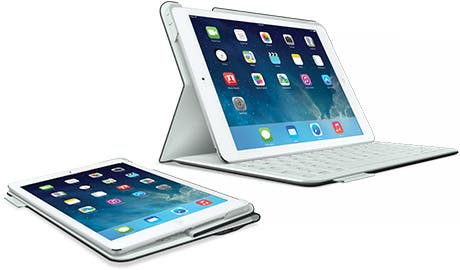 Pros
Good all-in-one Bluetooth keyboard in folio style.  Protects entire iPad when closed. Keyboard is sealed, so you don't need to worry about spillage. Interesting material makes iPad feel like its wearing a wetsuit.
Cons
A little on the heavy side. Doesn't match Logitech's usual high standard for key layout design (small right shift key).
3 out of 5 stars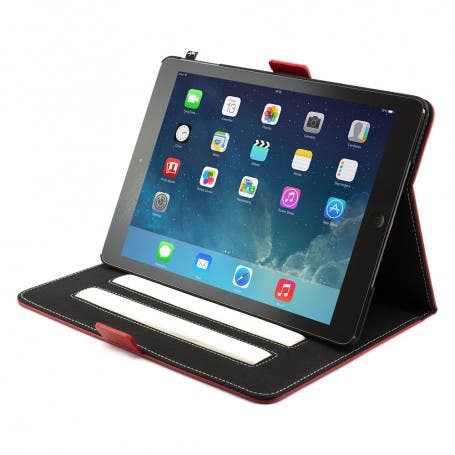 Pros
Elegant, leather-like cover with unique magnetic closure. iPad fits securely in integrated back case. Folio base includes raised areas that offer two viewing angles. Nice stitching makes it look very professional.
Cons
Feel of leather-"style" material clearly betrays that the case isn't leather.
7. Cygnett Node ($39.99)
2 out of 5 stars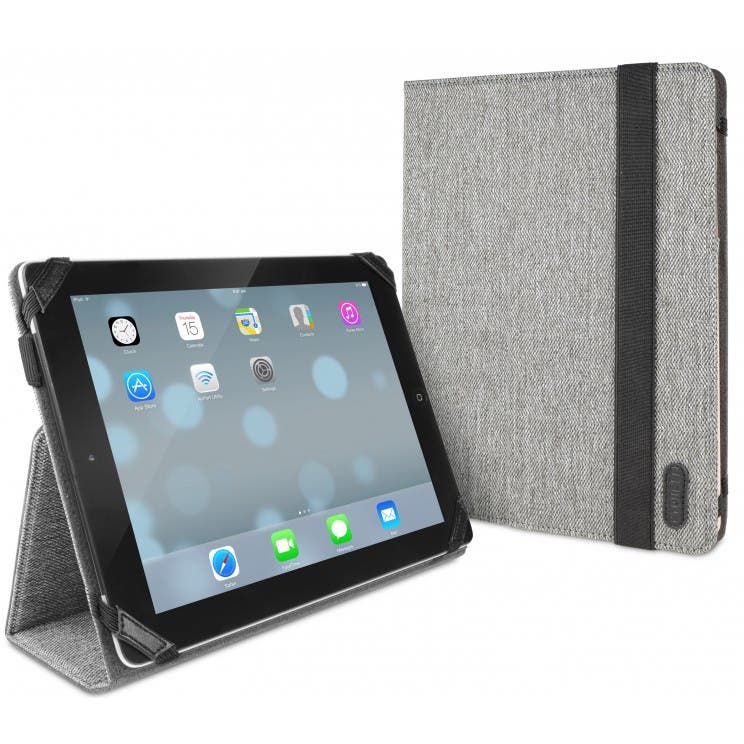 Pros
Thin and light and nice looking, with nice "collegiate" styling. Inner document pock and integrated flap to transform into a stand.
Cons
Very light-weight material for minimal protection. Only elastic on the corners to hold iPad.
8. Cygnett Paradox ($39.99)
1 out of 5 stars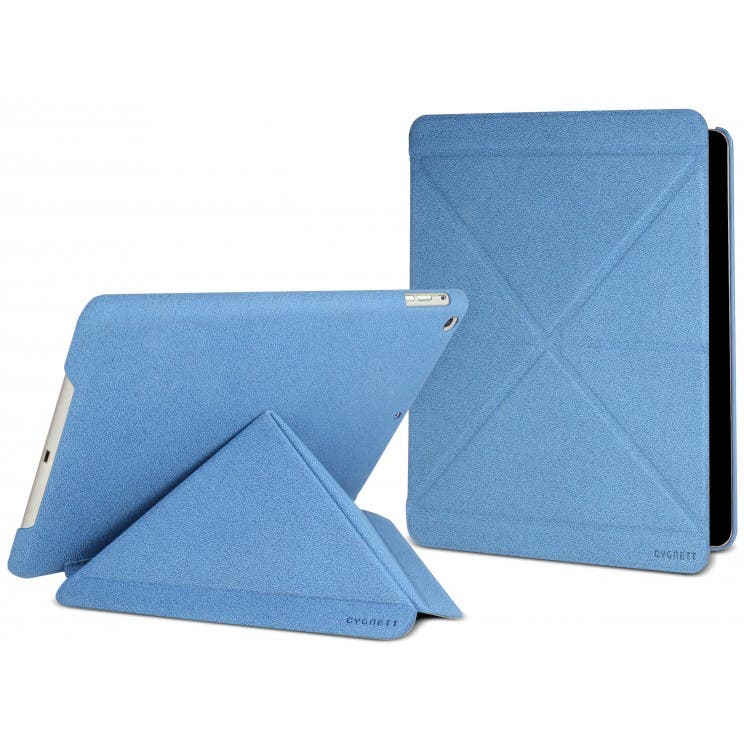 Pros
Good basic back cover with integrated "origami" style stand that also covers the iPad for a folio look.
Cons
Integrated stand easily collapses when in use.
3 out of 5 stars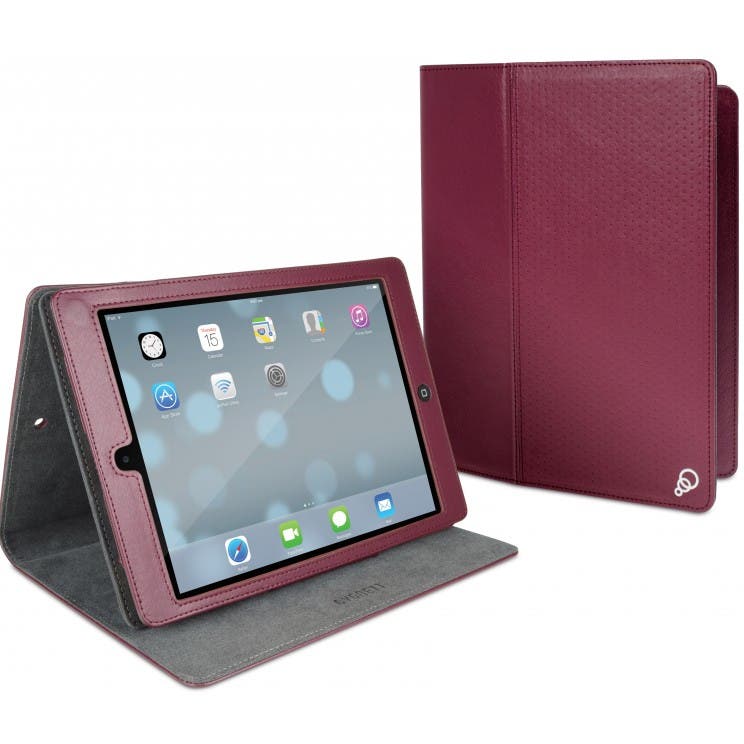 Pros
Professional looking folio style case with magnetic closures to improve security on minor drops, and it keep cover closed in a bag.
Cons
Not a fan of the feel of the exterior material. Relies on weight of iPad and friction to hold it into position when used as a stand. No sleep/wake.
4 out of 5 stars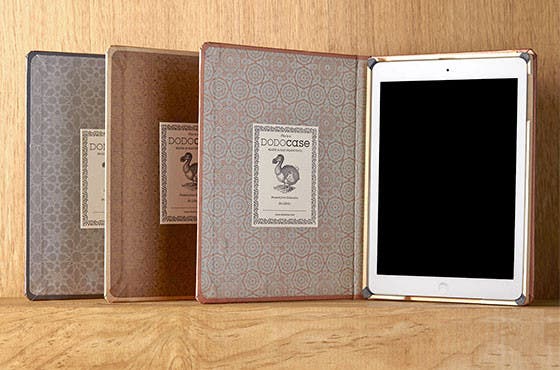 Pros
Beautiful, elegant, book-like case with bamboo frame. New metallic version particularly attractive. Sturdy and light-weight. Book bindery quality. Includes integrated magnetics for automatic sleep/wake. Even has a book plate.
Cons
Not sure about long-term wear of fabric covering the case. Elastic strap gets in the way. Same strap is used to hold case in place when used as stand, but it doesn't feel secure and seems contrived.
3 out of 5 stars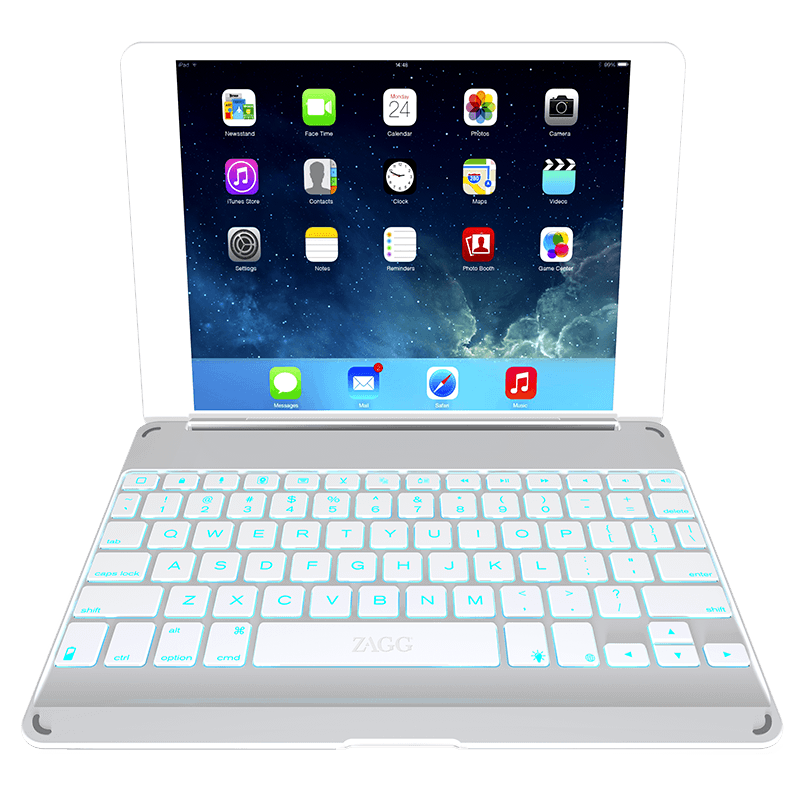 Pros
Well-designed Bluetooth keyboard with unique rubber seating edge that provides for almost any viewing angle. Well-spaced keys, even on small profile iPad Air—with good key travel. Love the multi-colored LEDs that let use select his/her own backlight color. Long-lasting battery. Metal construction is rugged and matches iPad styling well. Better keyboard than case.
Cons
Heavy. More than doubles iPad eight at 18.87 oz. Leaves back of iPad Air exposed. Recommend ZAGG's folio version (not received for review) if complete protection is required. Alternatively, use a skin to protect back of iPad.
12. NewerTech Nuguard KX ($49.99)
4 out of 5 stars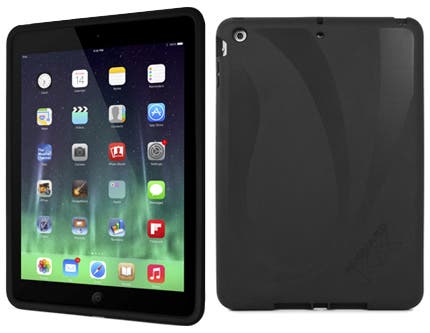 Pros
High impact protection all in one piece, which makes removal easy. Feels good in the hand. Shock material on case surrounds iPad (it is even tucked along all of the edges.
Cons
Good for drops, not for water or dirt protection. No integrated screen protection to "seal" the deal, though NewerTech sells complementary Nugaurd KXs "screen armor" to protect the screen with three layers of clear film.
4 out of 5 stars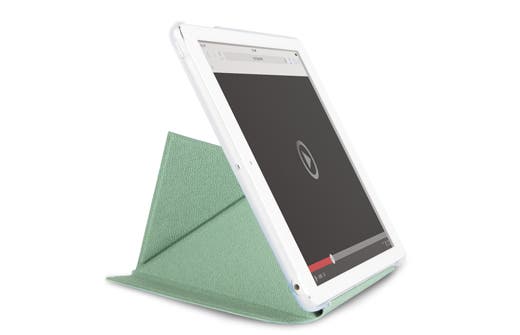 Pros
Clear back and origami-style folio cover make for appealing combination of looks and functionality. Origami stand folds for different angles, including standing portrait and typing. Magnets securely keep stand in place while in use. Rear metal branding strip act as magnet to hold cover in place when folded back. This is the case my iPad is sporting after completing this round-up. Sleep/wake integration.
Cons
Cover material doesn't return to flat fast enough.
14. Moshi Concerti ($55.00)
3 out of 5 stars out of 5 stars
Pros
Portfolio-style case with swivel base snaps iPad in for secure fit. Slots permit decent, but not adjustable, viewing angles for landscape and portrait orientations. Interesting "hand pocket" design helps make case easier and more comfortable to hold.
Cons
Odd material on exterior of case looks and feels like rubberized seaweed. Heavy.  Not a fan of elastic straps for closure.
3 out of 5 stars

Pros
Basic folio with two-position standard. Slip-in design makes for easy extraction of iPad. Looks professional. Light-weight. Comes in a lot of bright, fun colors, along with basic black/brown.
Cons
A magnetic snap would have been a better choice so people wouldn't have to push the old-fashioned snap against iPad face to close (though it does have layers between snap and glass, still makes me cringe). No wake/sleep.
3 out of 5 stars

Pros
Does what it is designed to do, strap an iPad Air on the back of a headrest to provide children with things to watch and do while traveling. Integrated pocket on back holds cables.
Cons
Would benefit from an integrated screen cover to protect iPad from sharp flying toys, snick fingers and other random goo.
4 out of 5 stars

Pros
Rugged, heavy duty, and well designed to fit the iPad Air snuggly and protect it from almost anything you can throw at it, or throw it in (dust, dirt, rain, vibration, drops). Integrated screen cover. Multiple colors to choose from. Improved fits between top and bottom of case compared to previous versions.
Cons
Difficult to take on and off. Not a big fan of the separate stand, which although nicely integrated, feels a bit cheap when in use (and as a part, it makes for something that can be lost).
4 out of 5 stars

Pros
Bluetooth keyboard in folio design. Integrated stand secured by magnetic flap so it doesn't deploy when it isn't wanted. Magnets also secure corners of the folio.  Good key layout.
Cons
iPad fits snuggly, but perhaps a little too snuggly, as it is hard to get it all the way in. Poor closure between the top and bottom of case when iPad is inserted. Stand is only secured by thin ribbons that may not wear well. Compact keyboard design may prove a bit small for those with bigger fingers. No wake/sleep.
19. Kensington Comercio ($39.99)
3 out of 5 stars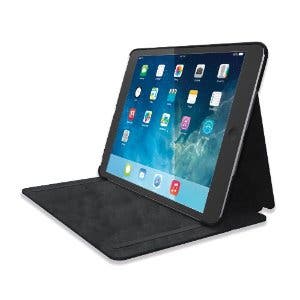 Pros
Solid snap-on case protects edges of iPad Air, while softer bounded material offers a bit of shock absorption and a better grip than on cases that are hard only. Unique non-slip strips on cover hold iPad in place for multiple viewing angles. Includes protected business card slot for identification.
Cons
As a basic case at a reasonable price, not much to complain about.