By

iPhone Life Team
Updated 12/06/2017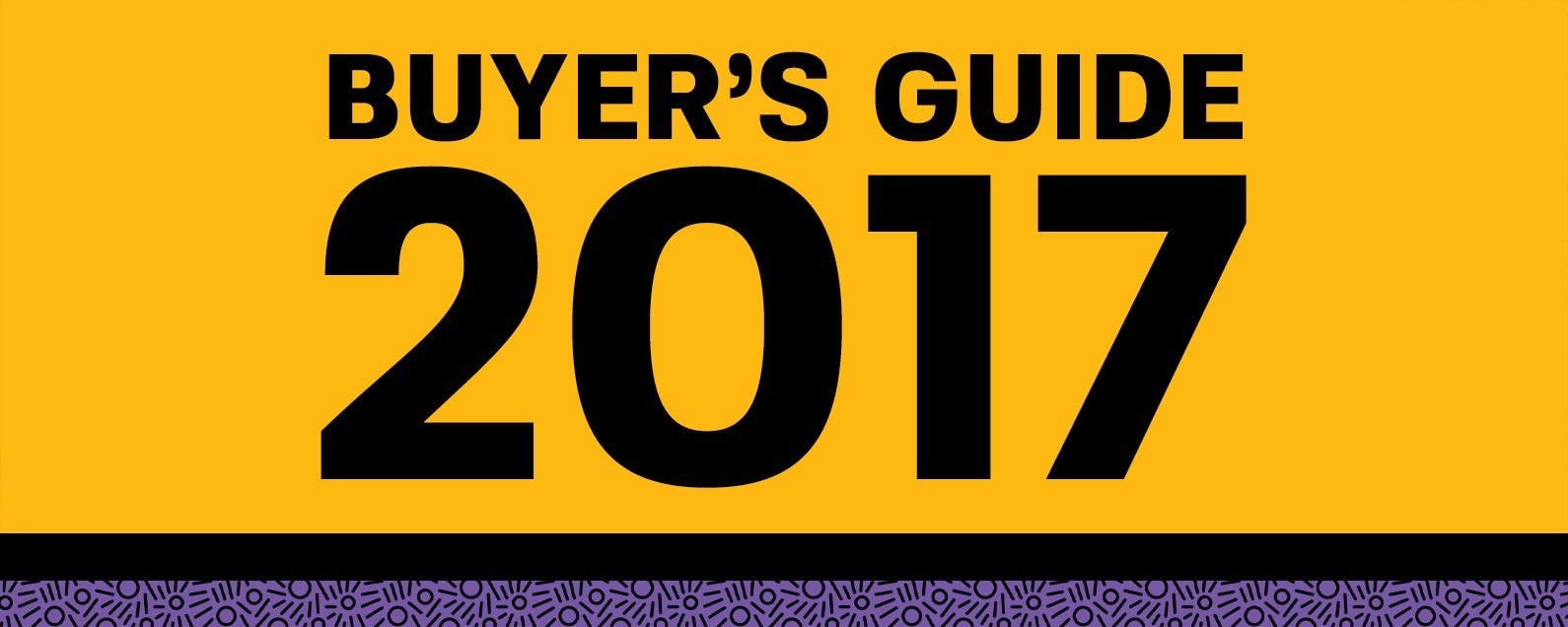 With the tech market saturated with so many gadgets, how can you know what's worth your time and money? At iPhone Life, we know a good product when we see one. After testing out stacks of protective iPhone cases, Bluetooth wireless headphones, rugged Bluetooth speakers, iPhone and Apple Watch chargers, and more year-round, we can appreciate the difference when a company goes the extra mile to make an iPhone or iPad accessory that works seamlessly and is a pleasure to use. This holiday season, we've compiled our very favorite 47 tech gifts that we know anyone on your list is going to love. 
Whether you or a family member are upgrading and you're unsure of which protective iPhone X case to buy or you simply need advice on the best portable Bluetooth speakers, true wireless headphones, Qi wireless chargers, and Apple Watch fitness gear available, we have you covered!
Go Straight to the Gear You're Searching for:
Best Bluetooth Headphones: From True Wireless Earbuds to Noise Cancelling Headphones to On-Ear Headphones
Best Bluetooth Speakers: Waterproof Speakers, Loud Bluetooth Speakers, Portable Bluetooth Speakers & More
Essential iPhone & iPad Accessories: Bluetooth Keyboards, iPhone Screen Protectors, Lightning Cables & More
Docks & Chargers: Best Gear for Charging Your iPhone, iPad & Apple Watch in Style
Best Apple Watch Gear: From Stylish Apple Watch Bands to Fitness Accessories
Best iPhone Cases: Protective iPhone Cases, Wallet iPhone Cases, Leather iPhone Cases & More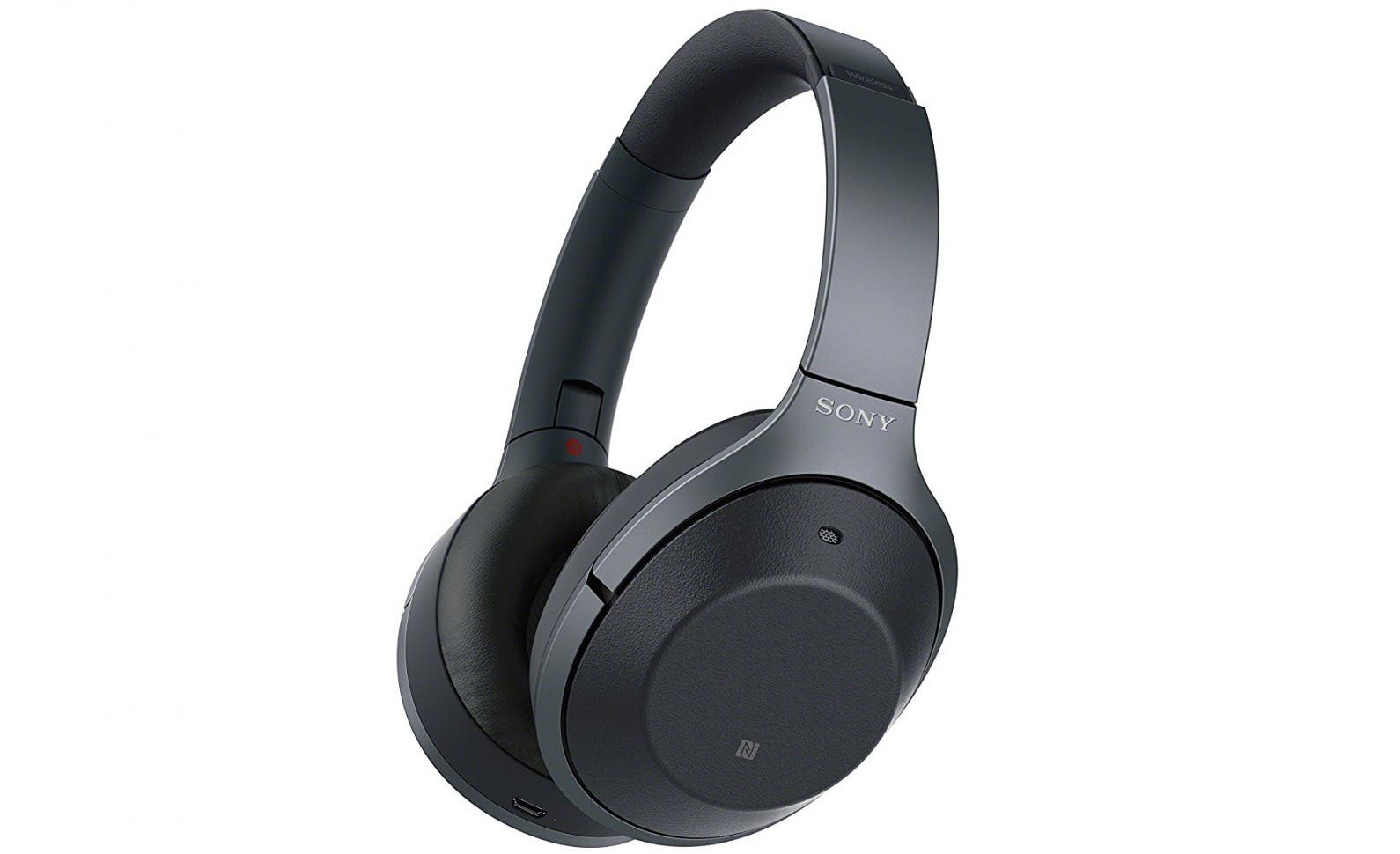 Sony headphones hold a special place in my heart. Not only did the legendary Japanese corporation dominate the headphone market for years, but it provided my first pair of headphones too. Recently, Sony has struggled to keep up with the cutting edge of headphone technology. This makes the WH1000XM2s a breath of fresh air. They come packed with amazing noise cancelation, superb sound, and tons of innovative features. The WH1000XM2s have an ambient noise mode that amplifies outside noise while listening to music, and a "Personal NC Optimizer" that analyzes the shape of your head in order to create a more personalized sound experience. The touch controls can be fidgety at times and the design isn't for everyone, but overall they have very few drawbacks. When choosing between the WH1000XM2s and PXC 500s, you really can't go wrong. The Sonys have a slight edge on noise cancellation and are slightly more feature-rich while the Sennheissers have slightly clearer sound quality.
Libratone headphones are renowned for their Scandinavian design, and the Q Adapts are no exception; they are polished and highly functional. Similar to the Jabra Moves, the Q Adapts are lightweight and sport a fabric headband. However, the Q Adapts are made from higher-quality material and have a much sleeker look. But what really sets the Libratone Q Adapts apart is that they offer high-quality noise cancelation. Using the Libratone app, you can select from four tiers of noise cancelation ranging from blocking out 20 percent to 90 percent of the background noise. I tend to use my headphones in noisy environments such as coffee shops and airports, so noise cancelation is high on my list of must-have features. While the sound quality and noise cancelation are not quite on par with Sennheiser's PXC 500s or Sony's MDR 1000xs, at $249, the Q Adapts are one of the most affordable wireless noise-canceling headphones available.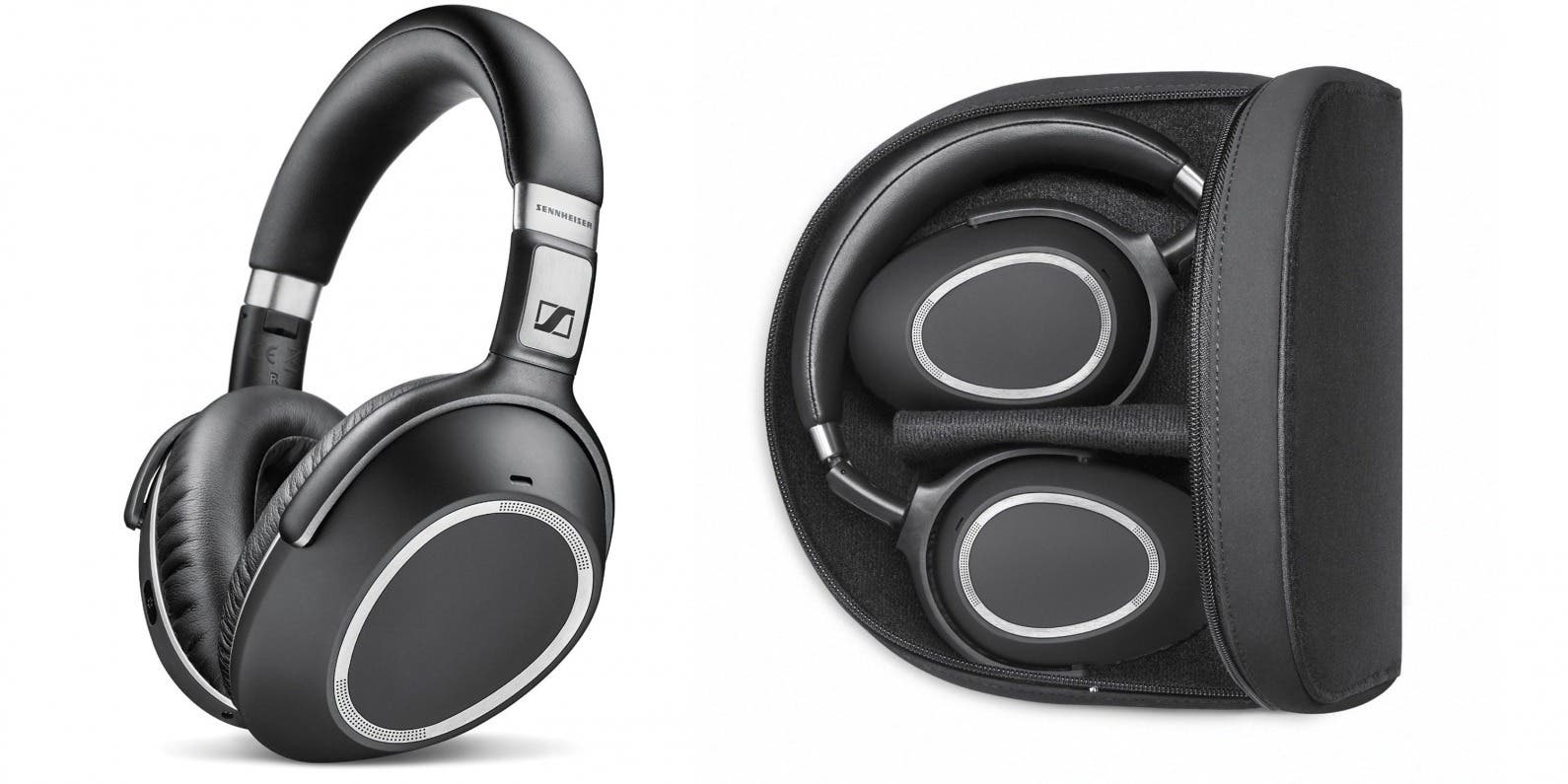 Founded in 1945 and still family owned, Sennheisser knows a thing or two about making headphones. The PXC 550s are really light and fold up, making them incredibly portable. The sound quality is excellent, with clear, crisp mid-tones and trebles, a full rich bass, and effective background noise cancelation. If the professional look isn't for you, the  Sennheisser HD1 Over-Ears ($349) offer comparable sound quality and noise cancellation with a more sleek retro look.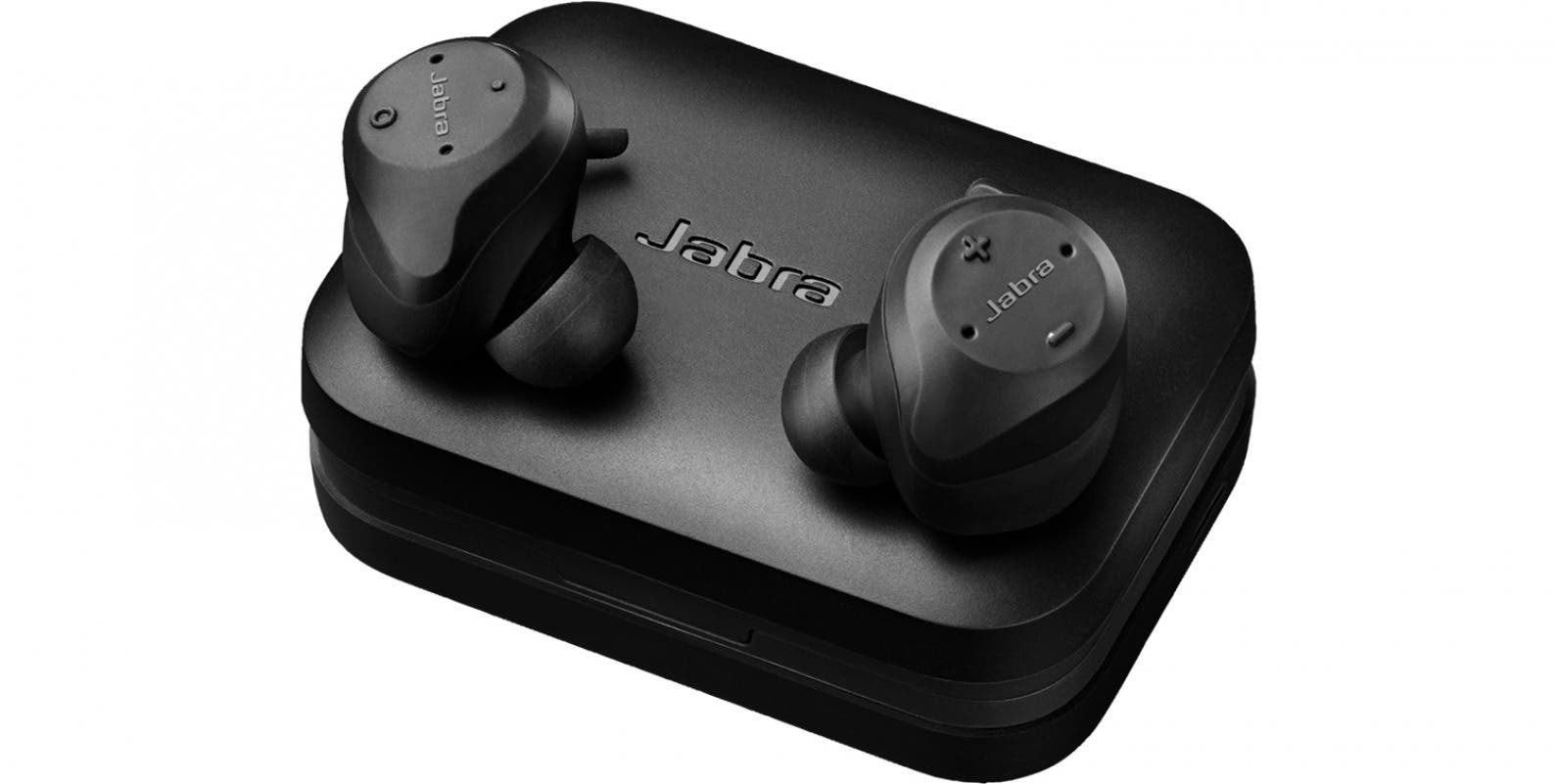 The Jabra Elite Sports are a truly wireless earbud designed specifically for working out. The earbuds have a built-in heartrate monitor that can automatically sync with your favorite workout apps, including Strava (free) and RunKeeper (free). The sound quality is mediocre for the price point, and as with most wireless earbuds, the battery life isn't amazing (three hours). But if you primarily use your earbuds for working out, these are a great option for you.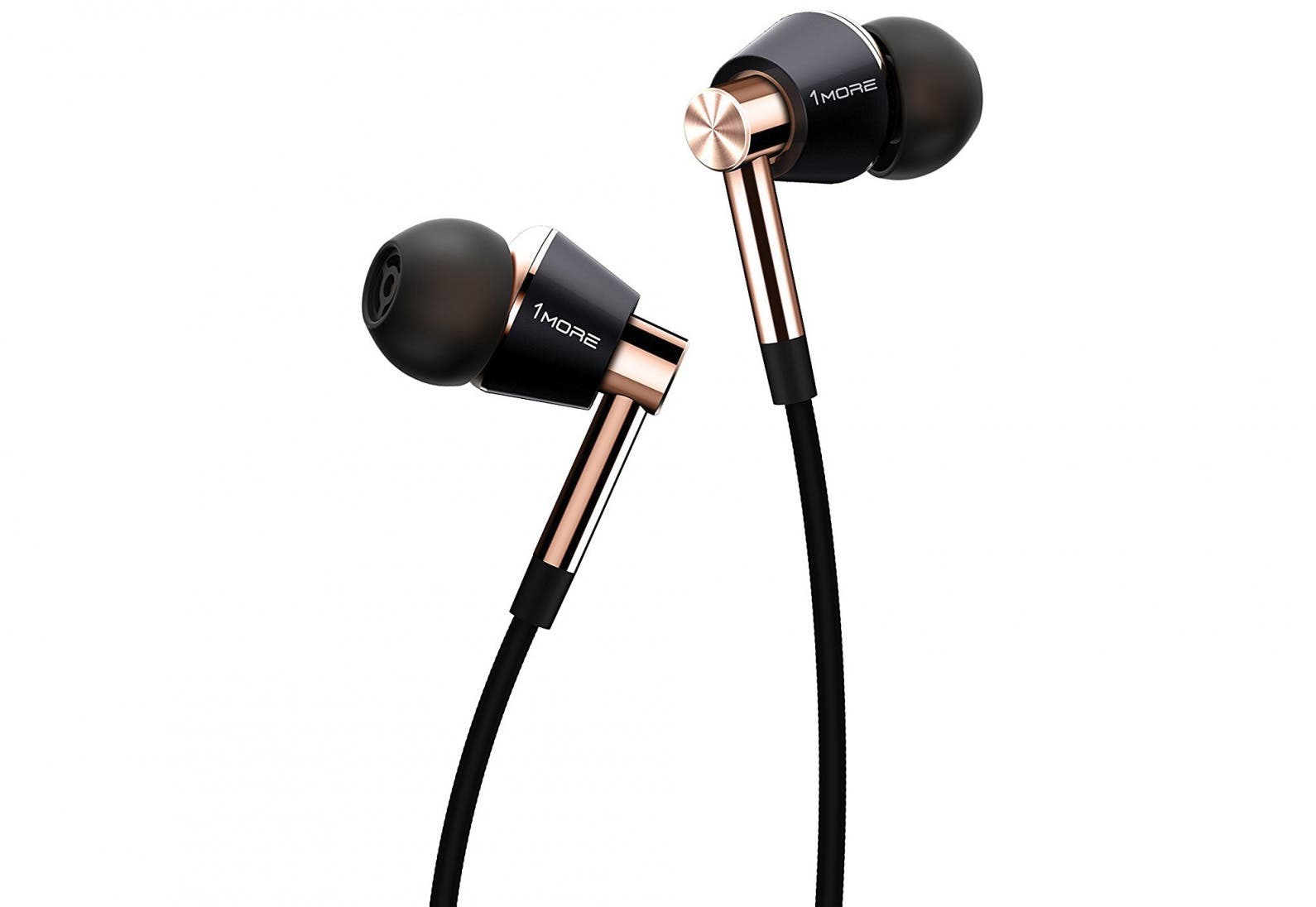 A driver is part of the headphone that converts the electrical signal into sound. Think of it as the tiny speaker in your headphone. Most earbuds such as Apple's EarPods come with just one driver. As the name implies, the 1More Triple Drivers have three drivers in each earbud: a tweeter for the high tones, a midrange for the midtones, and a woofer for the bass. Having three drivers isn't just something audiophiles care about, it allows these earbuds to have a much fuller sound than their cheaper counterparts. At $99, 1More's Triple Drivers offer hands-down the best value for earbuds. The wires and the thick remote can make it a bit clunky for working out, but if you want an ultra-portable pair of headphones that can fit in your pocket but still deliver great sound, these are your best bet. If you want to splurge, 1More also makes a pair of quad drivers for $199 that are even better!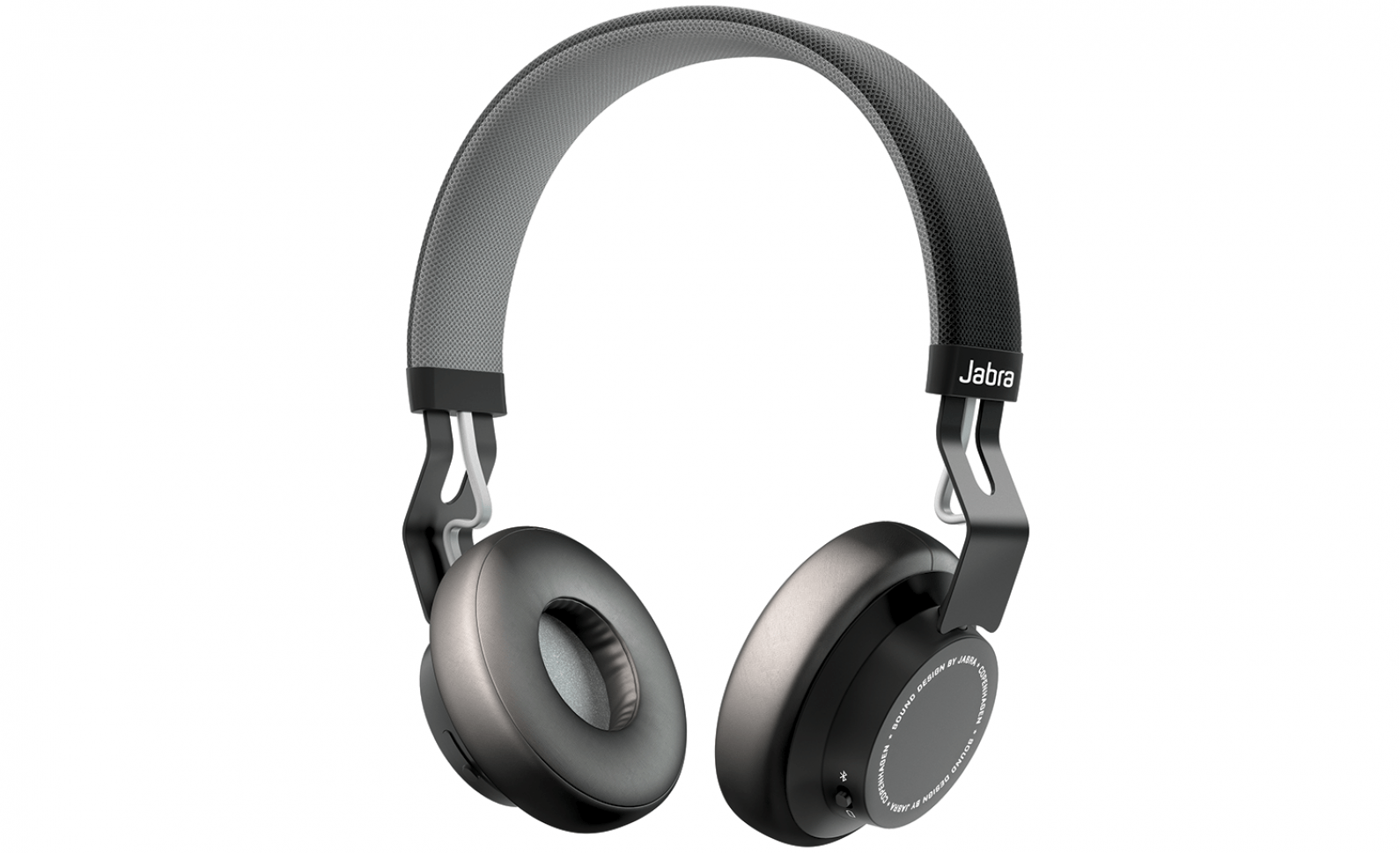 The Jabra Moves offer some of the best value in the industry. They lack many of the bells and whistles of some of the other headphones on this list, including premium materials and noise cancelation, but if you're looking for a no-frills, affordable pair of headphones, I can't recommend these enough. The Jabra Moves boast reliable wireless streaming, an eight-hour battery life, and a lightweight, comfortable build. Most importantly, the Moves deliver sound quality comparable to many headphones priced exponentially higher (I'm looking at you Beats!)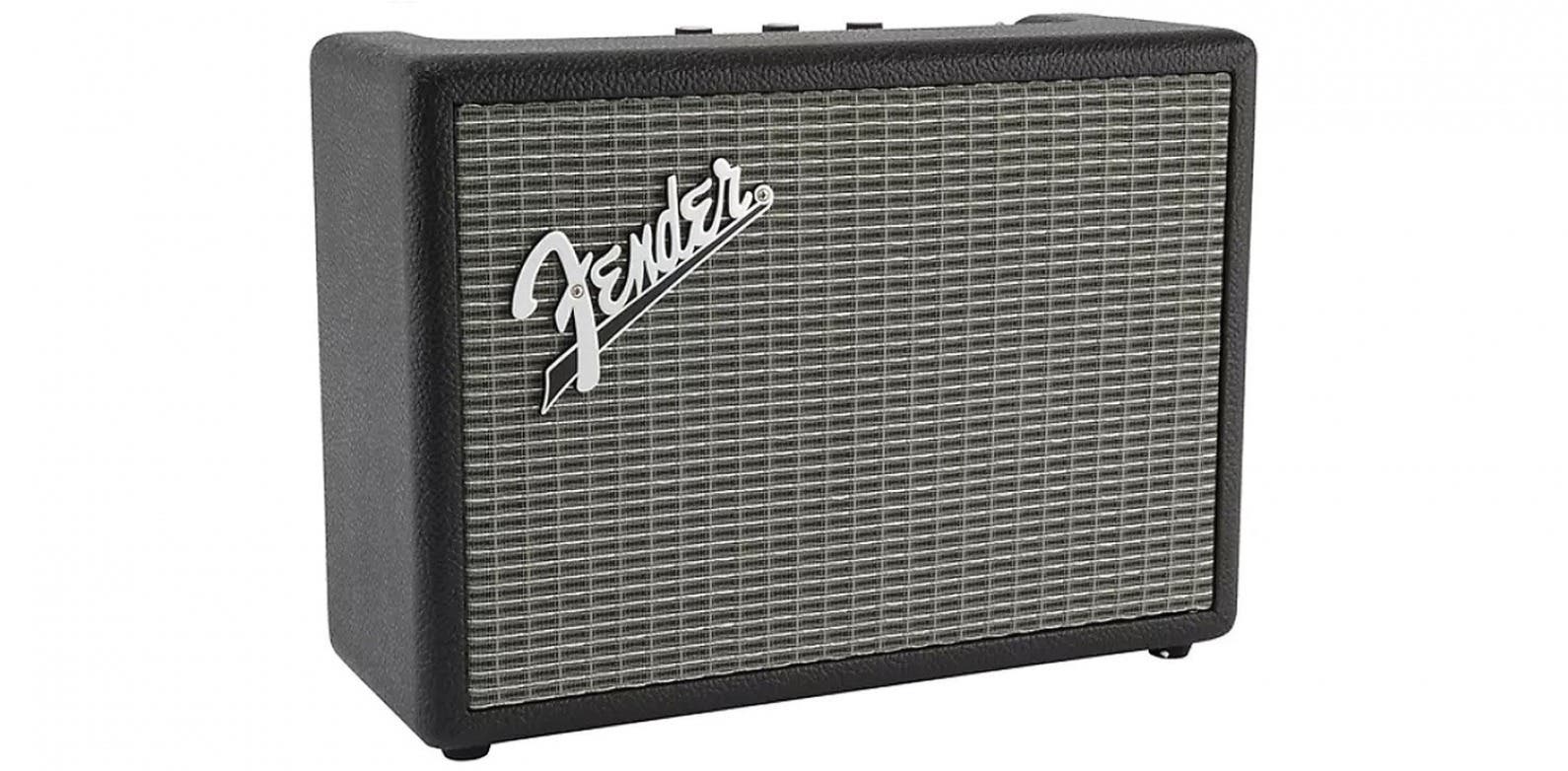 Fender prides itself on its clear sound, and after playing with the Monterey for a weekin the office, we're believers. The Monterey plays off Fender's long history in the industry with its old-school amplifier design and wood casing that lends a natural quality to the sound. We tried listening to Beyoncé at maximum volume and bass and playing Bob Marley with a more balanced audio mix and were amazed at how incredibly clear the sound remained at all volumes and settings. The best thing about the Fender is that you can adjust the treble and bass manually to create a floor-thumping, dance-party vibe or relaxed dinner-party feel with a quick turn of the knob. Read our full review of the Monterey to find out more.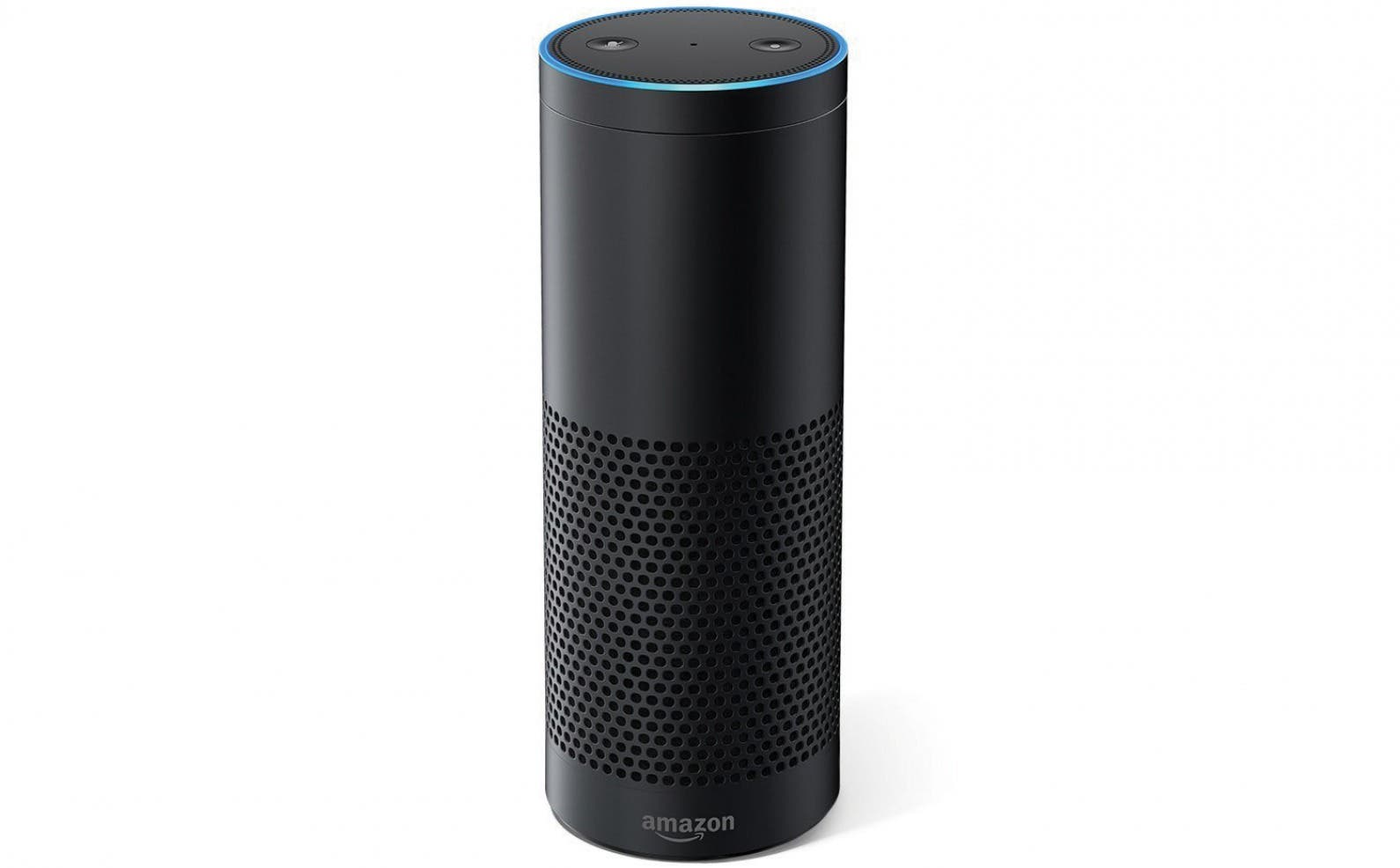 Our editor in chief Donna set up Amazon's smart speaker in her kitchen this summer and says, "While I'm late to the Echo party, so far I've been impressed with its sound quality and wide range of "skills" (third-party voice apps) which allow me to do things like call an Uber, listen to inspirational quotes, get my daily news briefing, or call other Echo owners, to name a few." She loves that, unlike Siri on her iPhone, Alexa can hear her commands even when it's playing loud music. She's also found herself taking better advantage of Amazon's music library, which comes along with a Prime membership, since you can say things like "play Bob Marley," and immediately hear top hits from the legend. However, if you have a Chromecast or are tied in to other Google services like Calendar or Maps, you might want to check out Google Home instead.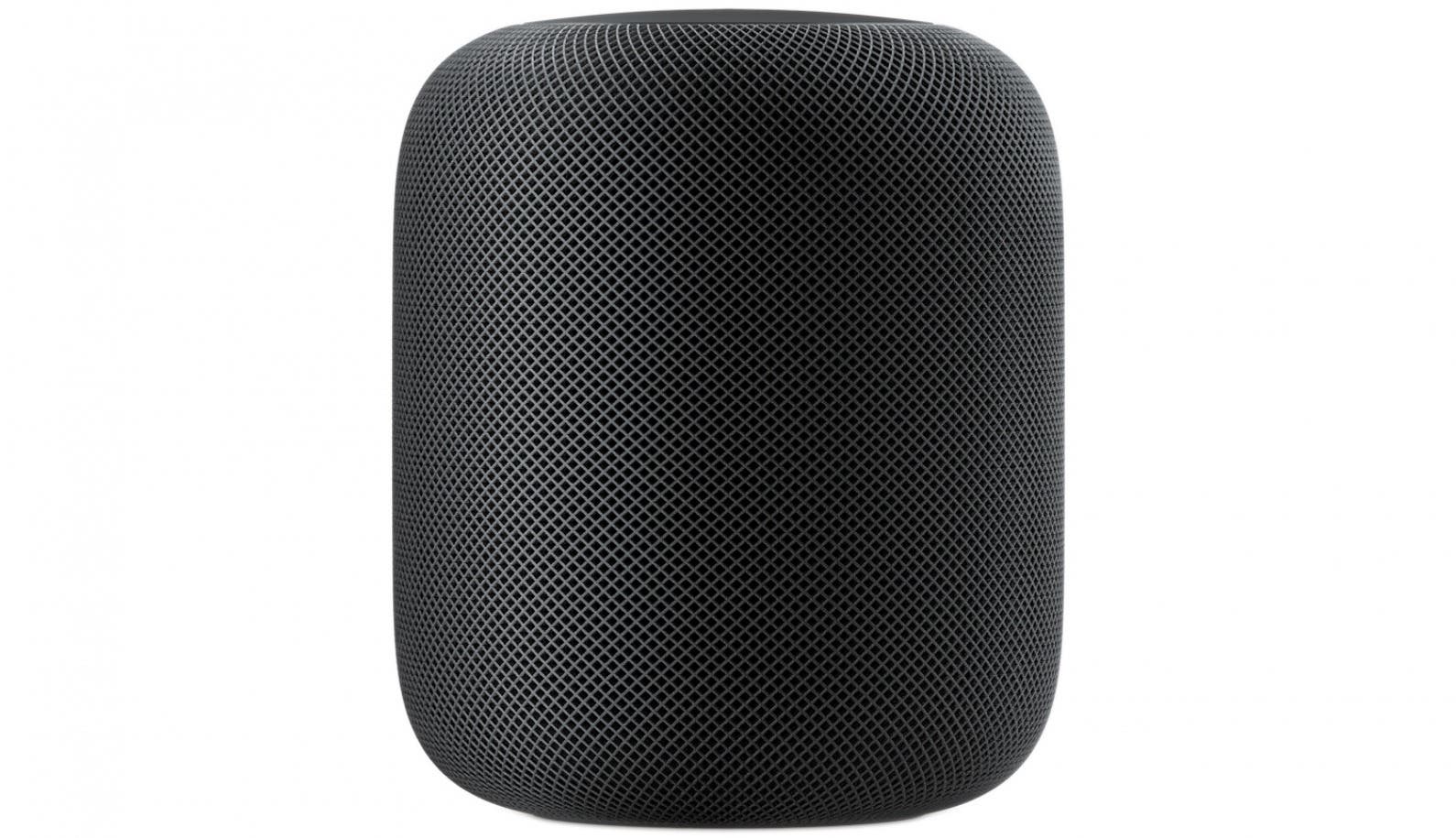 We've got our eye on the HomePod, Apple's new spatially aware smart speaker that was set to be released in December 2017 when we published this list, but now will be available in early 2018. While this Siri-enabled smart speaker will compete with the Alexa-powered Amazon Echo, Apple has been touting the HomePod's merits as a high-end speaker over its AI smarts. The HomePod is said to handle high volume levels with zero distortion and tailor its sound experience to fit the size and shape of the room it's in. While the HomePod may be able to deliver a full surround sound experience from one small speaker, it will likely be a while before it can compete with the over 10,000 skills the Amazon Echo has in its arsenal.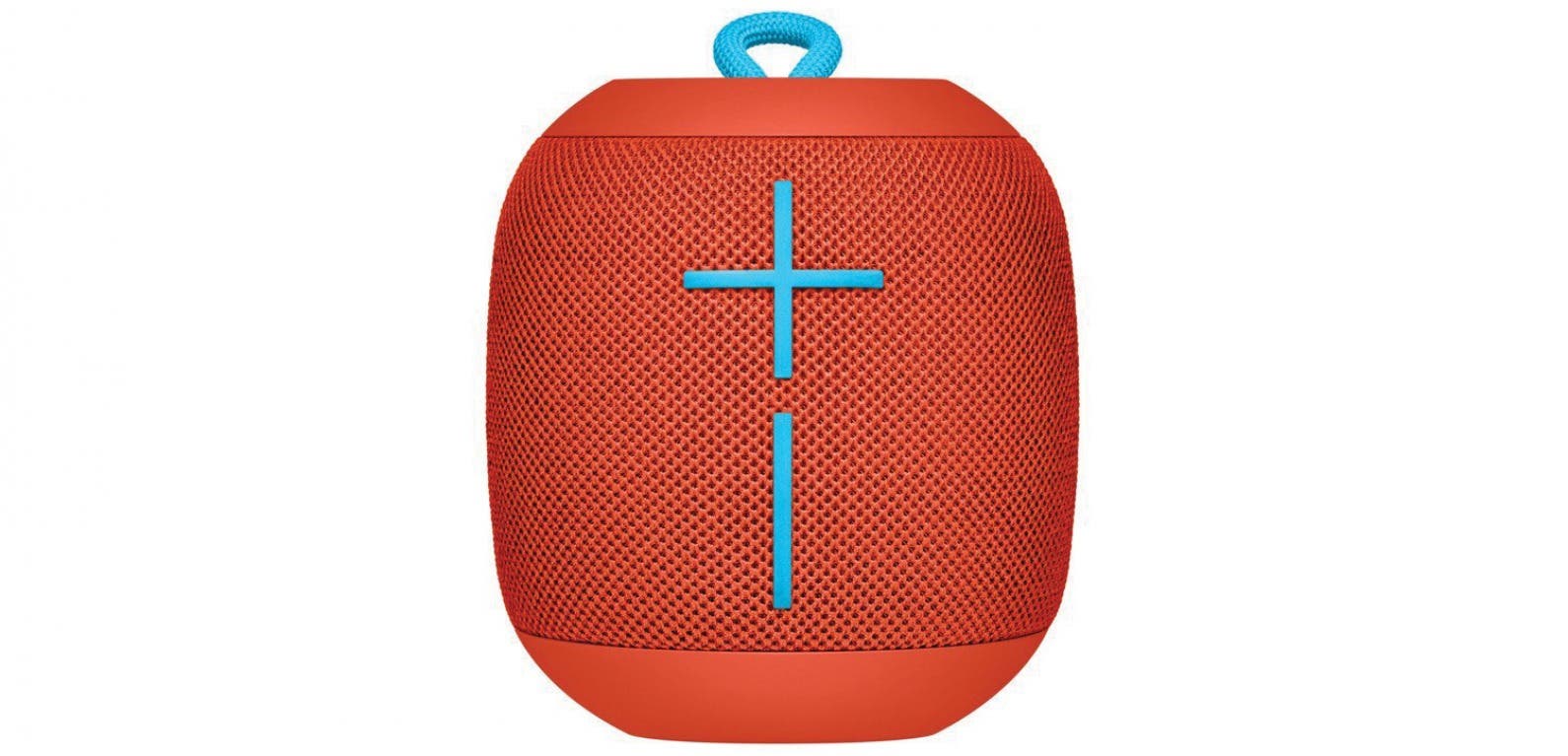 With the Wonderboom, Ultimate Ears has successfully engineered a tiny speaker with surprisingly strong bass and volume—not the tinny sound you've probably come to expect from other mini Bluetooth speakers. Add to that its IPX7 waterproof rating, 10-hour battery life, and 5-foot drop protection, and you've got yourself a solid holiday gift for your audiophile friends and family members. While you'll sacrifice some features of the $300 UE Megaboom, like the big sound and ability to connect up to 50 speakers (the Wonderboom lets you connect two), you'll gain extra portability, a fresh set of colors, and a loop so you can tote it on your backpack or bike.
11. Braven 1100 ($119.99 – $249.99)
The smallest of Braven's Premium Home series, the 1100 is a sophisticated-looking wireless speaker that compliments any home (especially the white and gray version). While Braven makes a larger 2200 model, the 1100 is small enough to easily move from your bookshelf to your kitchen counter, but is large enough to deliver clear, room-filling sound that isn't too overpowering. It also packs a 28-hour battery life, thanks to its built-in 8,800 mAh battery, and it even has an extra USB port so you can use it to charge your iPhone or iPad (which comes in handy when you're traveling). The sound gets a little fuzzy at loud volumes compared to speakers at a similar price point, but if you can get it on sale and want something that looks sophisticated for your home or apartment, the Braven 1100 is a good choice.
Thanks to the large feature set and low price, the JBL Charge 3 is our latest home favorite. While the treble and mid-tones aren't quite as clean as the more expensive ones from Fender or V-MODA, that's where our complaints end. The Charge 3's sound is just as powerful and doesn't distort at maximum volumes, boasts a 20-hour battery, is iPX7-rated waterproof, can connect to multiple units for surround sound, and comes with a built-in speakerphone so you can take calls without disconnecting. If you want an all-purpose Bluetooth speaker at a decent price, look no further than the JBL Charge 3.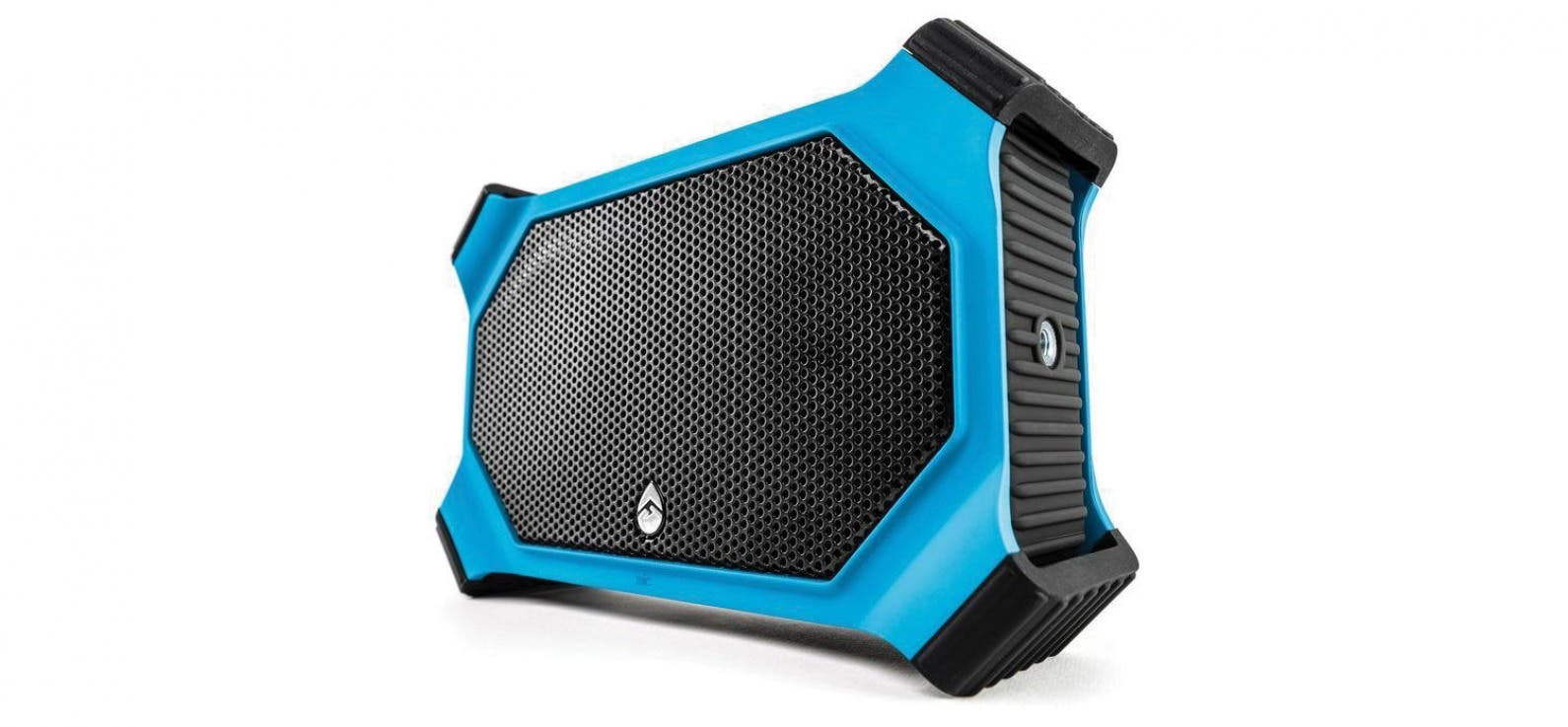 If you're looking for the best rugged Bluetooth speaker that holds up against dirt, drops, and water, this waterproof speaker by ECOXGEAR is your safest bet. With an IP67 dust-proof and waterproof rating, you can confidently take the EcoSlate with you whether you're backpacking in the wilderness or river tubing with a group of rowdy friends. ECOXGEAR designed the EcoSlate with the outdoor enthusiast in mind. It makes a great camping companion, with a built-in lantern that can light up your tent and a 12-hour battery that doubles as a charger for your iDevices.

If you're looking for a durable yet sophisticated-looking Bluetooth wireless speaker to provide a soundtrack for your active life, the Style-S is hard to beat. Not only is the Style-S IP67-certified waterproof and shockproof, but it also includes an inset mounting socket so you can use a Fugoo mount to attach the speaker to your bike, tent, stroller, tree, or whatever else is in your vicinity. It comes with a big battery for such a lightweight speaker, so you can go up to 15 hours off grid without running out of power. Our biggest criticism of the Style-S is that while it sounds great at moderate volumes, it distorts when you get really loud. You can always pair two together for stereo sound, but we still wouldn't recommend the Style-S if you're looking for big sound.
If you're looking for the best affordable Bluetooth speaker, a little money will go a long way with the BoomBotix Pro. Not only does it pack a punch for its size, but it also includes a surprising number of features, including an IPX7 waterproof rating, a built-in mic, a respectable 6-hour battery, and a clip so you can attach it to your backpack. Our managing editor Rheanne Taylor has been using the Pro for years, and says it's filled her apartment with sound (and only minimal distortion) and has survived camping trips and even being dropped on rocky terrain.
Audiophiles of all stripes have loved V-MODA's premium headphones for a long time, but it was only earlier this year that the company ventured into the Bluetooth speaker market. As expected, the Remix delivers vibrant audio quality and impressive bass as well as a 10-hour battery and built-in mic for speakerphone calls. As is the tradition of V-MODA, the Remix also comes with interesting customization options. While some may like the base aluminum and vegan leather options, others may find the 3D custom grills and shells a little gaudy and not worth paying extra for.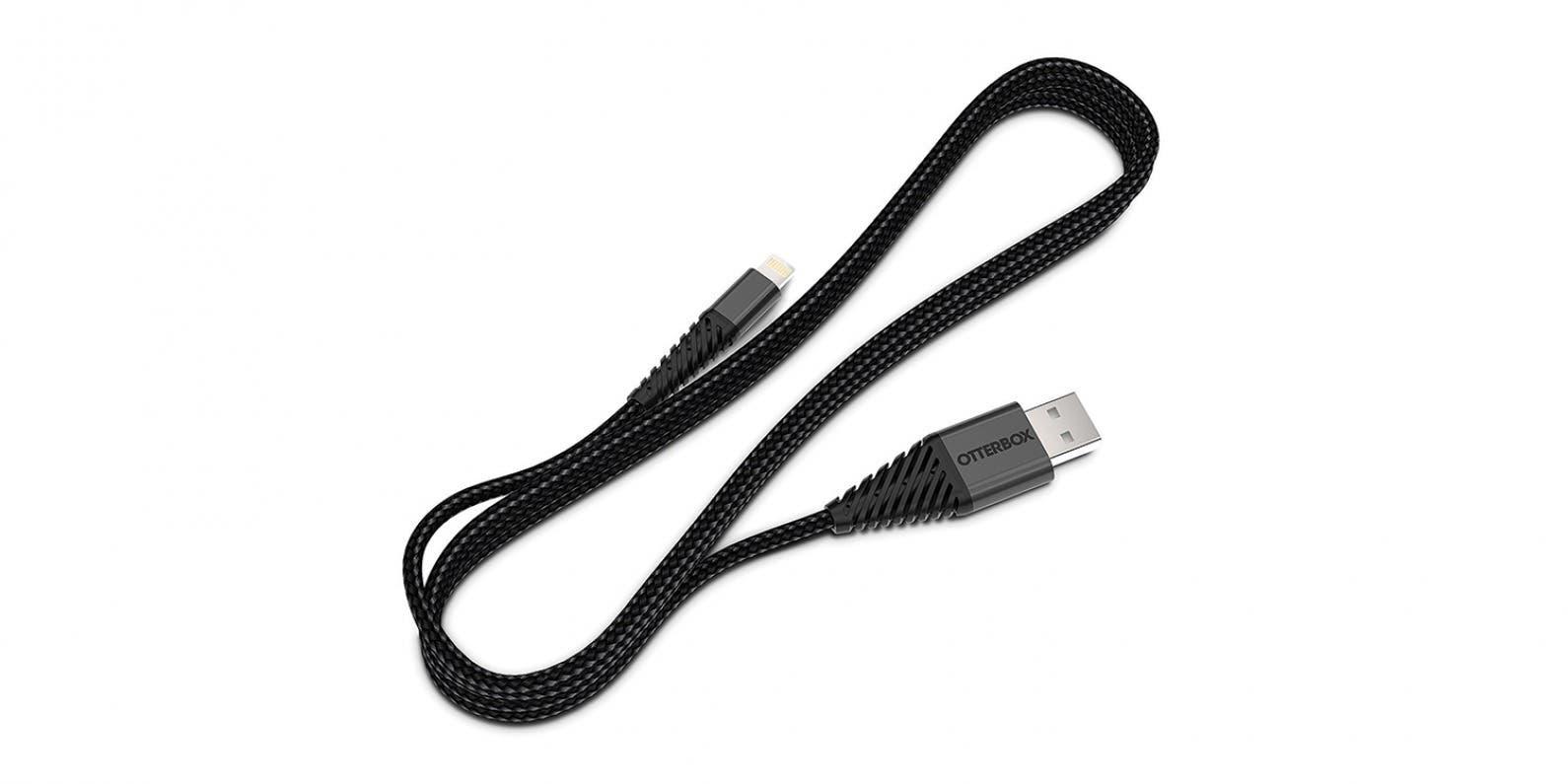 Charging cables aren't the most exciting purchase, but they are essential nonetheless. Most iPhone and iPad users don't have much luck with Apple's included cable, as it ends up fraying way too quickly. If you've had the same experience, and you don't plan on upgrading to an iPhone 8 or the iPhone X, then you will want a sturdy Lightning cable to see you through. Unsurprisingly, OtterBox has just the cable you're looking for, featuring a rugged, braided nylon cord designed to stand the test of time.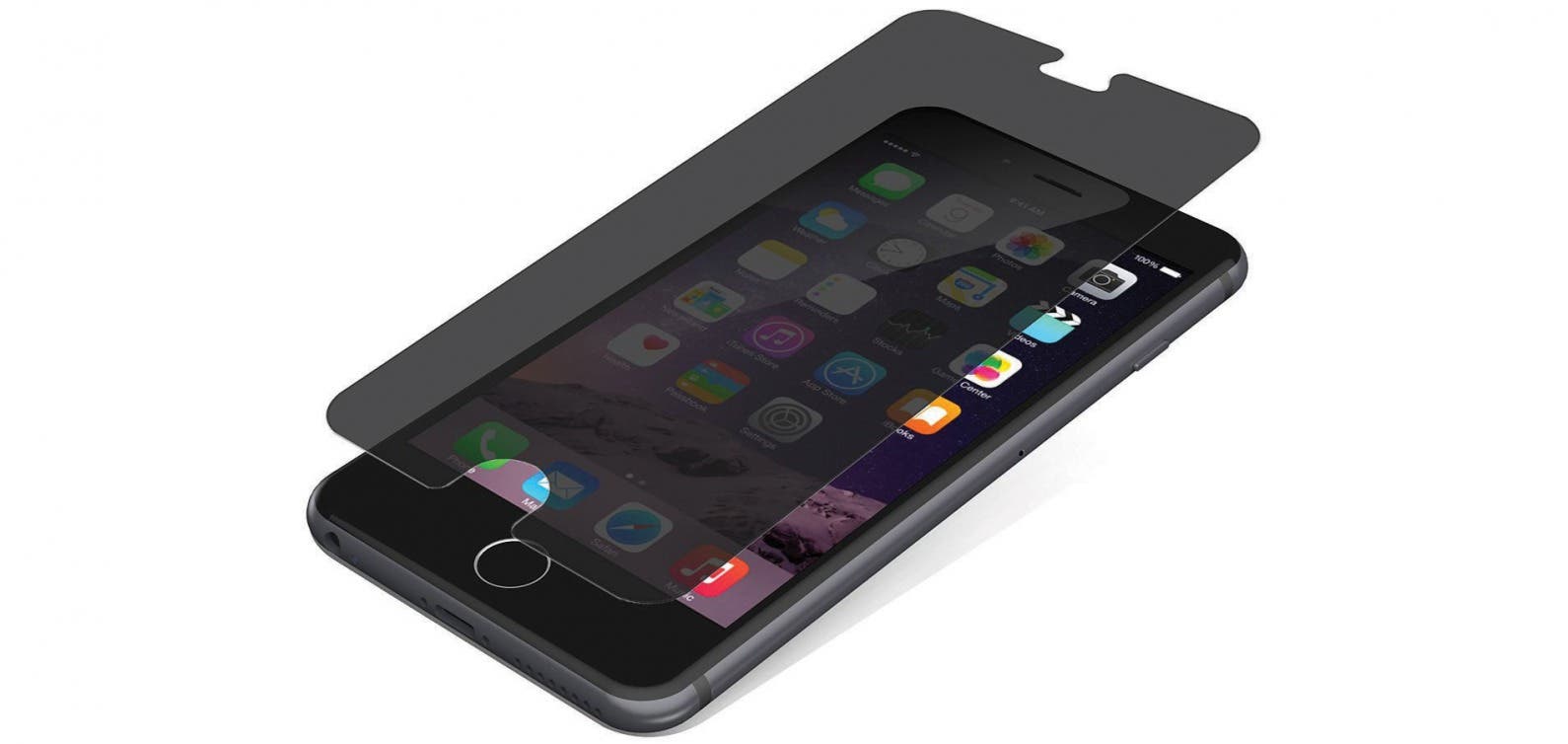 If you do a lot of traveling, you know that can mean being crammed inside planes and buses with a lot of other people. Using your phone is a great way to pass the time, but it's awkward knowing that the people next to you are nosily watching your every move. This screen protector by Zagg is not only super protective against drops and scratches, but its side-view privacy filter prevents people next to you from seeing what you're looking at, which is useful, especially if you're viewing private information such as your bank account or credit card account.
A quality, easy-to-use keyboard case is one of a few must-have accessories for iPad Pro users. Our editor in chief, Donna, loves the Logitech Slim. She says it offers adequate protection and that the keyboard is super simple to use—all you have to do is attach the iPad Pro to the Smart Connecter and the keyboard will pair right away. When you're ready to go keyboard-free, then you can easily disconnect the keyboard and use the iPad solely with your hands. She also really appreciated the Apple Pencil slot at the top of the case, since Apple's magnetic connection isn't very strong.
If you use your bike to get around, then this kit is an absolute must-have, especially if you have a hard time following turn-by-turn directions from your bike. It's not always wise to use headphones, since you'll want to stay tuned in to your surroundings, and having your phone blaring directions from your backpack isn't ideal either. This mount allows you to place your phone on your handlebars so you glance at Maps and see when to take your next turn without ever having to touch your phone, which is much safer.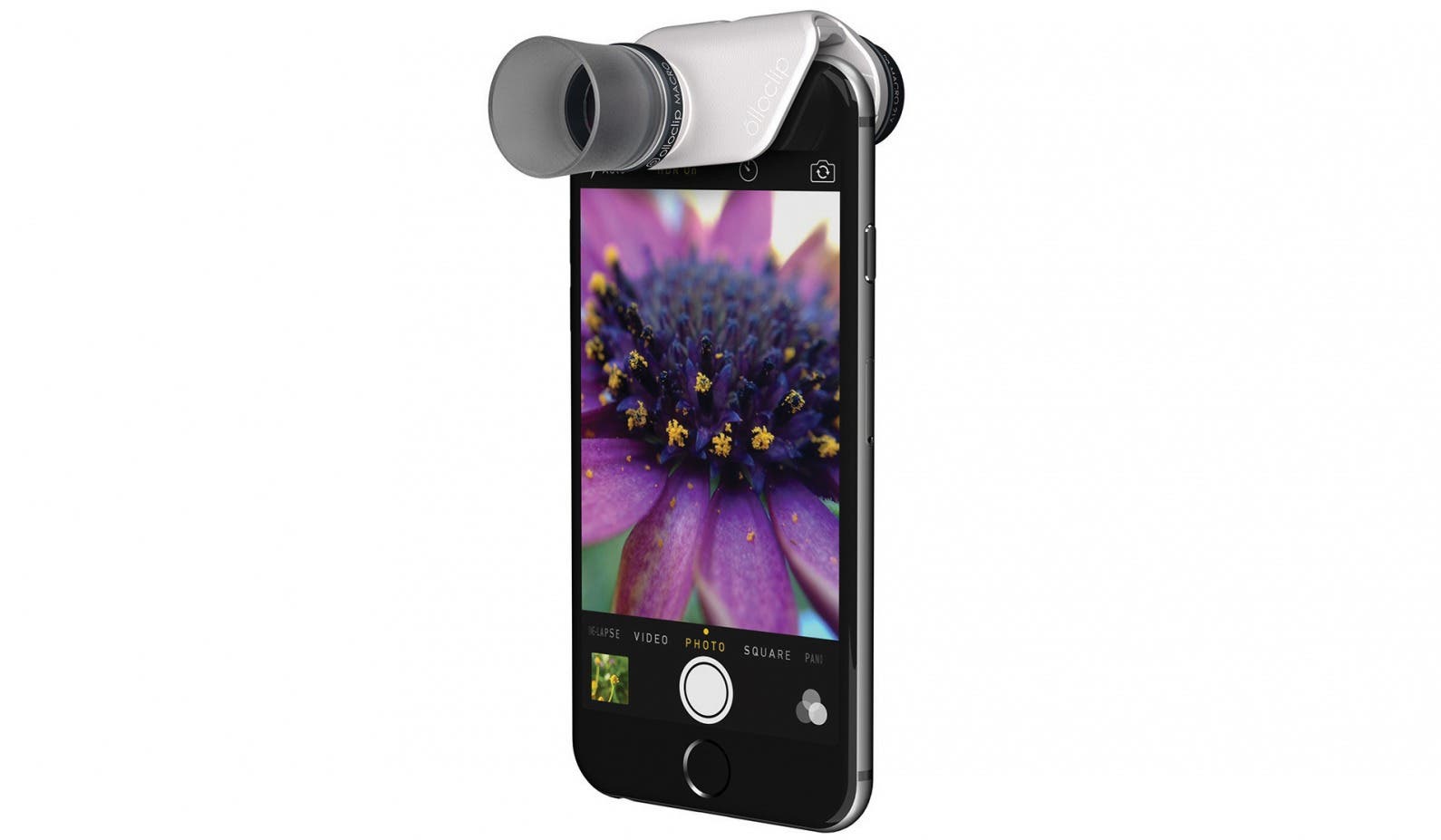 Our managing editor Rheanne Taylor loves shooting photos with her iPhone and has tried a ton of external lenses. Although some of them have boasted higher-quality materials here and there, Olloclip's lenses remain her favorite due to their sheer ease of use. Olloclip offers lenses for a variety of functions, from wide-angle to fisheye. Rheanne loves macro photography, so her personal favorite is the brand's Macro Pro Lens Set that lets her take close-up shots of flowers and insects. She says, "It easily slips onto my phone. The only downside is that I have to remove my iPhone case, which gets pretty frustrating. However, the quality of my shots is incredible and makes the slight hassle worth it."
If you want to track your fitness but don't need all the extra features an Apple Watch offers, the Fitbit Alta HR, with its slim, stylish profile and cheaper pricepoint, is the way to go. The Alta offers automatic sleep and workout tracking, heart rate monitoring, and calorie tracking. The Bluetooth connectivity (sometimes a problem with other fitness trackers) to the iPhone is seamless. And although there is no Apple Health app integration, Fitbit's app is so comprehensive and easy to use that you may not miss it.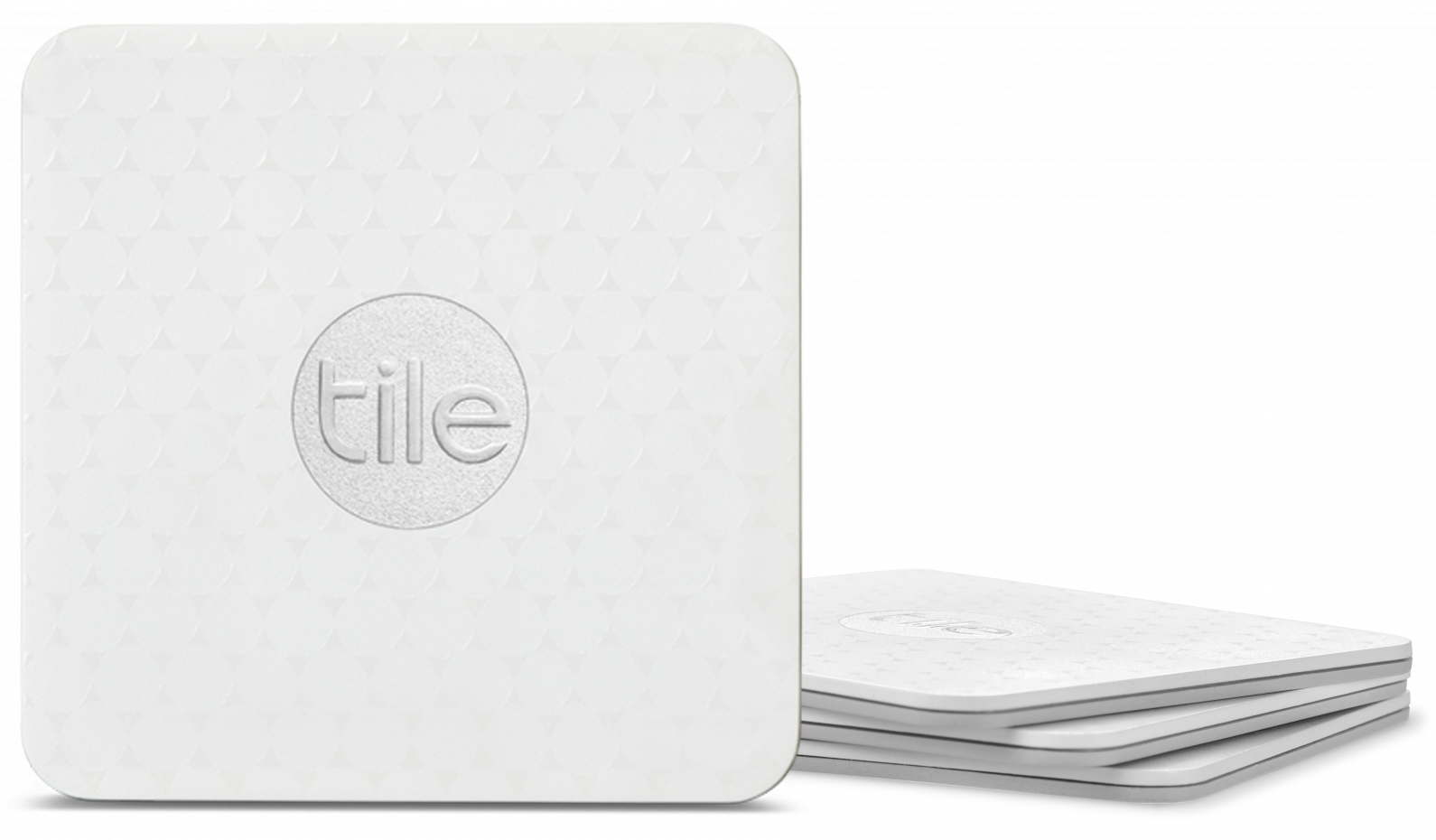 Our managing editor Rheanne Taylor loses everything. It's a rough life being eternally absentminded, OK? Tile has a reputation for its handy Bluetooth trackers that help out people like her. She recently tried out Tile trackers for herself and was very happy with them. She stuck the stylish Tile Sport on her set of keys and the ultra-thin Tile Slim (pictured) in her wallet. If she loses her wallet or keys, she simply uses the Tile app to check her item's location on a map or ring the attached Tile. If she loses her phone, she can even use the Tile to ring it simply by double-pressing the Tile's button.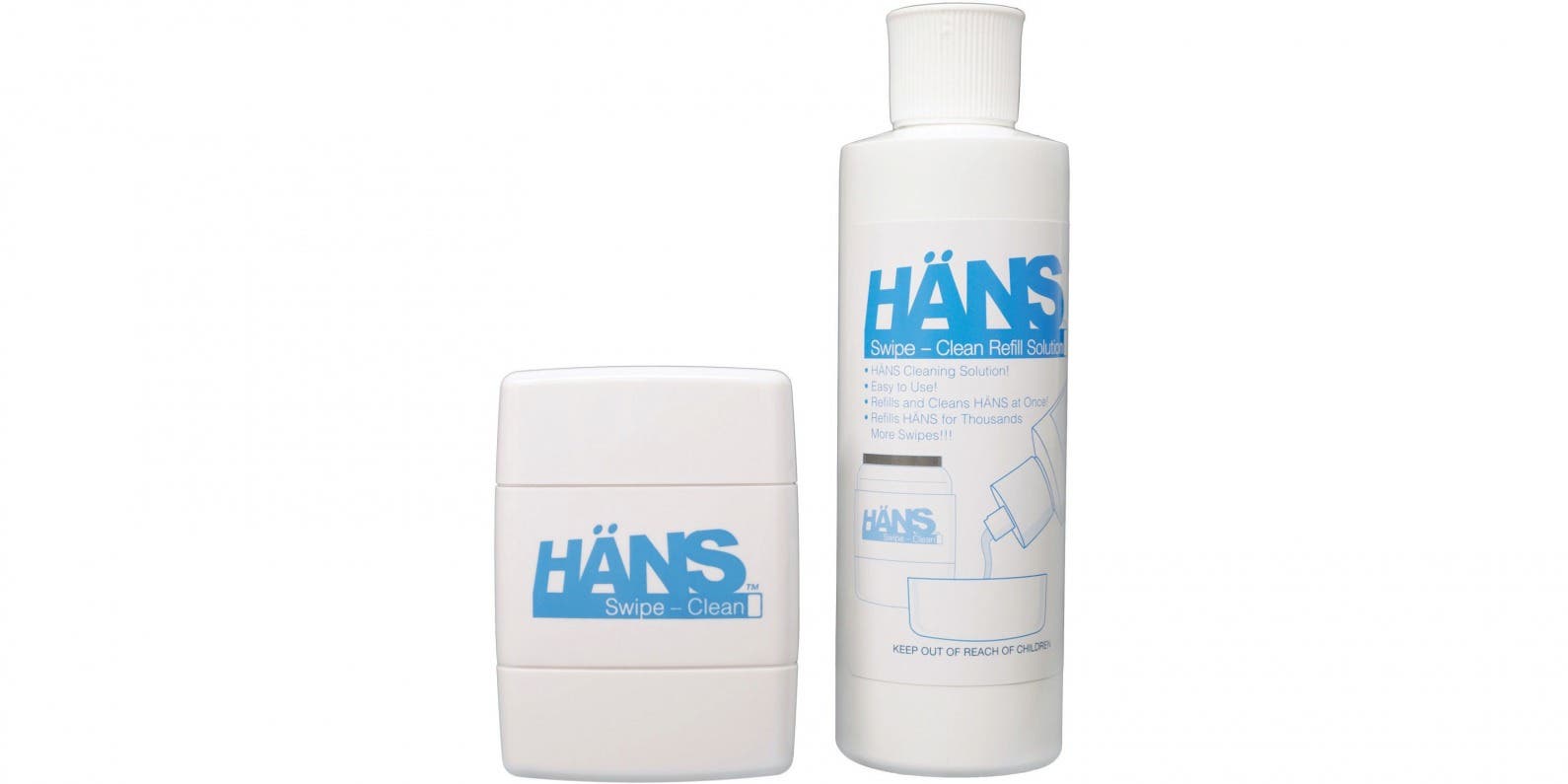 HANS is a cleaner specifically designed for your touchscreen devices, and comes in a little container that resembles a stick of deodorant. That may seem laughable at first, but it has quickly become a popular accessory around the iPhone Life office. Its dual-sided design allows you to easily clean your iPhone with one end and dry it off with the other. If you're one of those people (like us) who gets annoyed by unsightly smudges on your iPhone's screen, then you'll quickly fall in love with HANS too.
If you love snapping pictures with your iPhone, then a functional tripod should definitely be on your shopping list. Tripods may sound inconvenient, but Joby's bendable tripod is a breeze to set up and carry with you. It will come in handy on trips when you want a group shot with your friends but are either away from civilization or feel too awkward to ask a stranger. The GripTight's bendable legs and magnetic feet make it perfect for impromptu shots, as you can easily attach it to branches and metal poles or adjust it to the rocky landscape.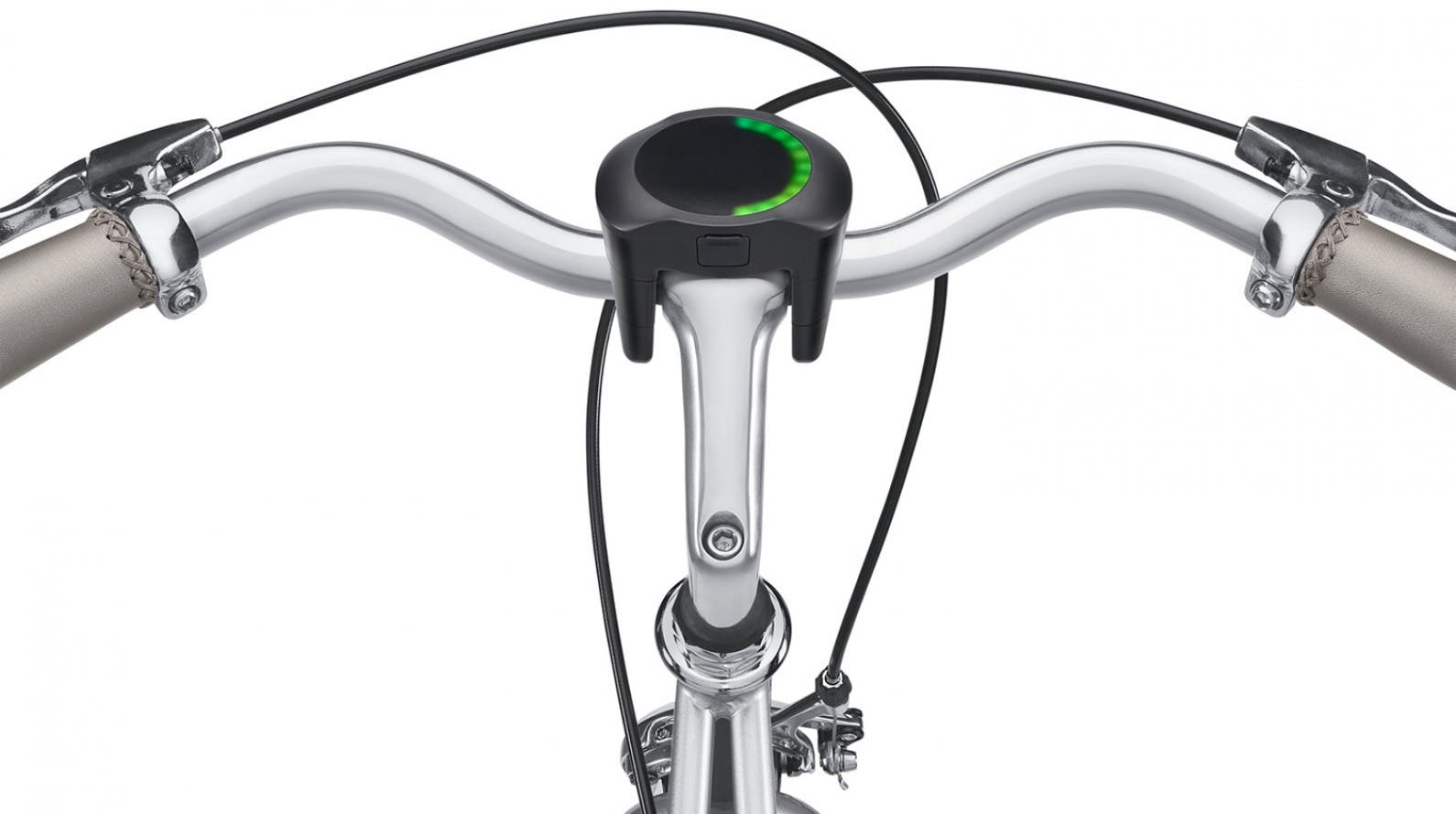 Cyclists will love this bike accesory that turns a bike smart. The SmartHalo Bike System installs quickly and easily on a bike's handlebars thanks to the clear, detailed instructions in the companion app. This hockey-puck-sized bike accessory features, notifications for incoming calls and texts, turn-by-turn navigation with light up turn signals, an alarm that can sounds a warning if someone tries to steal the bike or tampers with the SmartHalo, built-in fitness tracking, and a headlight that turns on automatically when the sun sets and shuts itself off once the rider reaches their destination. All of these features allow cyclists to safely stow their iPhone away on their rides. 
This compact Qi wireless charging station is optimized to charge Apple's newest iPhones quickly. Simply place your iPhone 8, iPhone 8 Plus, or iPhone X and your iPhone will automatically beging charging. The surface of the charging base is coated with non-slip TPU, so you won't have to worry your iPhone sliding off or the charging station sliding across your desk. Use the included wall adapter to start high-speed Qi wireless charging right away!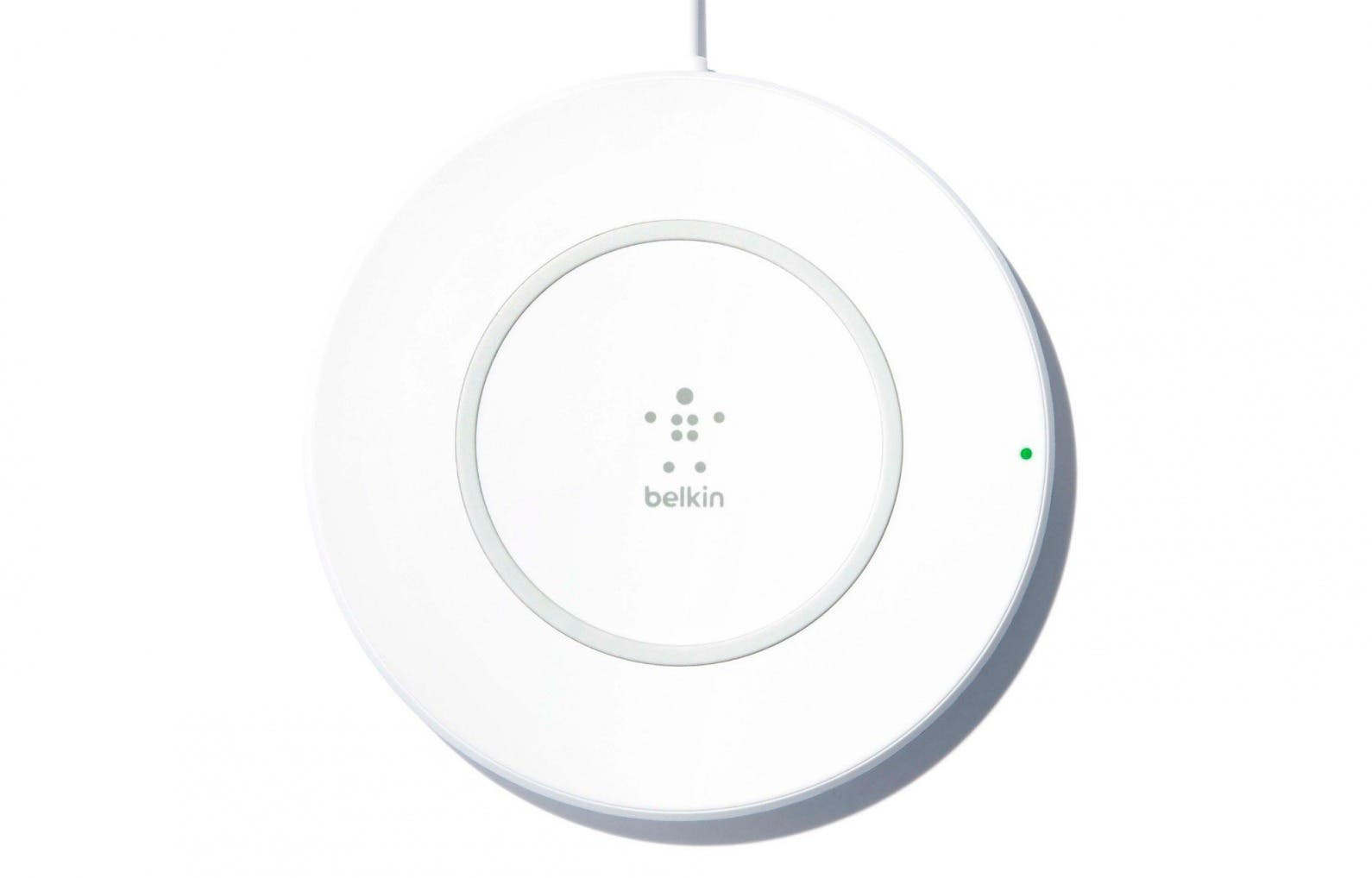 Goodbye, pesky cables! If you're planning on upgrading to the new iPhone 8, iPhone 8 Plus, or iPhone X, then you'll want a Qi-compatible charger to take advantage of your device's new wireless charging technology. And Belkin offers a sleek option at a reasonable price. The BOOST UP works with most lightweight cases, allowing you to simply lay your iPhone on the surface of the charger and voila! It will begin charging. A green LED light on the side of the charger will let you know whether you've placed your device down on the charger properly.
This is one of the few docks available for both the iPhone and Apple Watch that includes an Apple Watch charger so you don't have to snake yours through. Belkin's dock is available in every color your iPhone comes in and looks elegant on any desk or surface. If you have a bulkier case, chances are this dock will still work—Belkin included a Lightning plug that can be raised and lowered with a turn-dial on the back. This dock is perfect for anyone who owns an iPhone 8, iPhone 8 Plus, or an older model and wants a place for both their iPhone and Apple Watch but doesn't want to use the charging cords that came with their devices. Read the full review.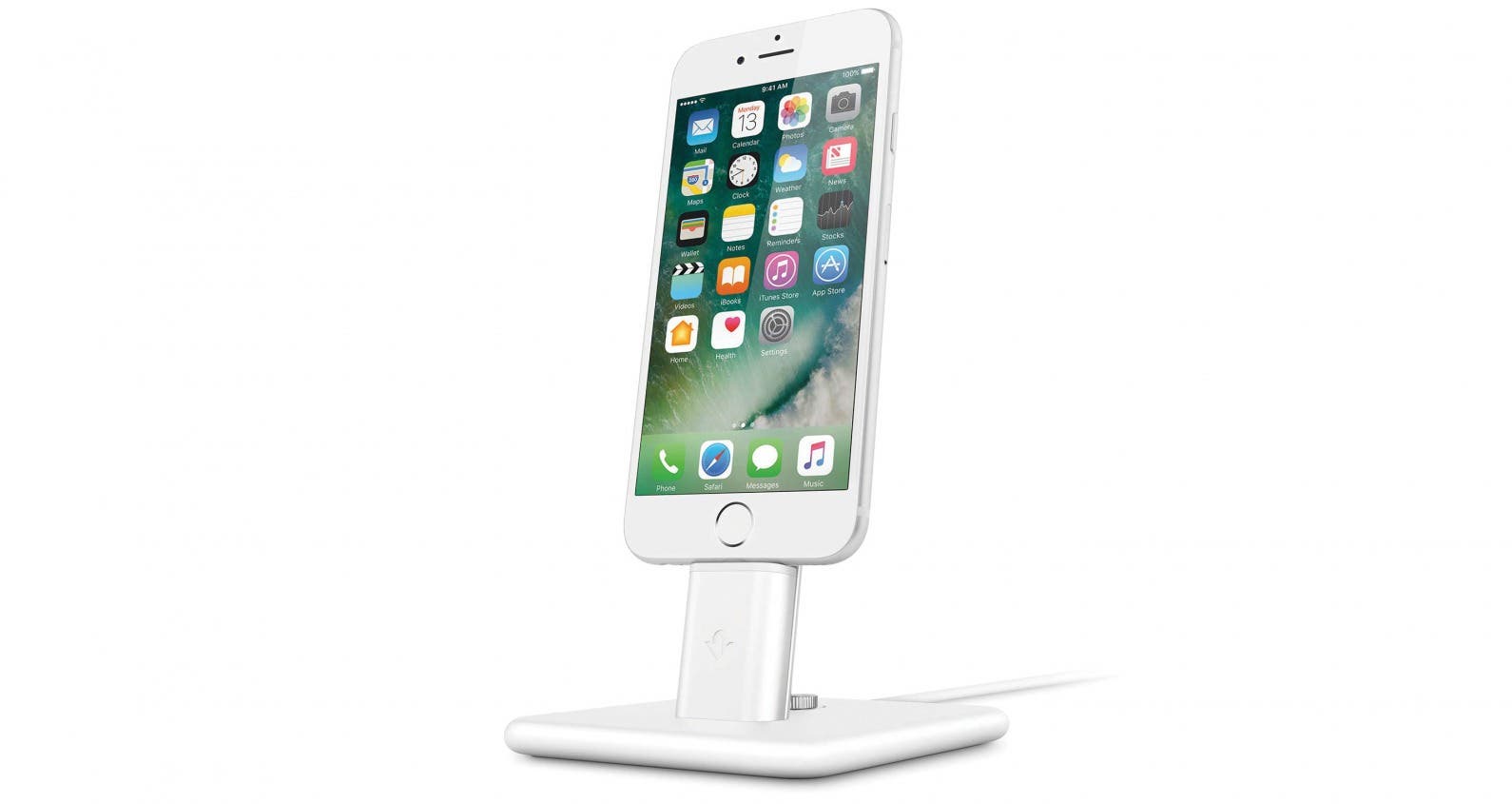 If you like to use your iPhone while it's docked, the HiRise 2 Deluxe is a great choice. Say you're cooking a meal and need to reference a recipe on your phone; you can dock it on the HiRise in your kitchen while you prepare your ingredients. An adjustable back plate and three docking pieces means you can tailor the dock to fit your iPhone without a case or even in a bulky battery pack case. As the name suggests, the HiRise 2 Deluxe is slightly raised, making it perfect for FaceTime calls on your iPhone or docking your Apple TV remote. If you constantly find yourself needing to use your iPhone while it's charging, this is the dock for you. Check out our roundup of Twelve South's other docking solutions.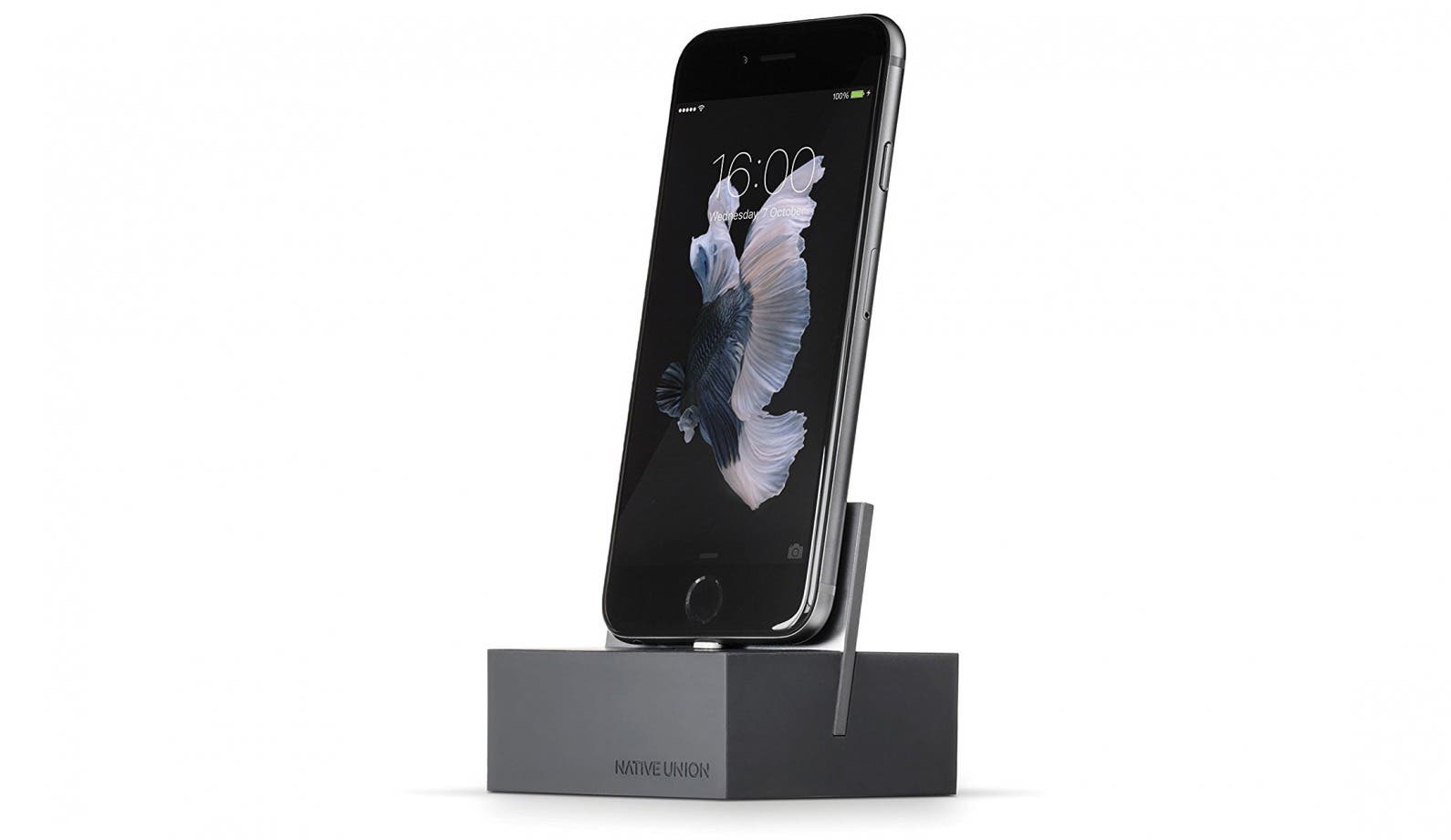 This is the sturdiest of the docks featured in this roundup. Like the HiRise, Native Union's dock includes three different pieces to accommodate a variety of iPhone cases. You may be surprised by this dock's heavy weight, which is entirely intentional as it provides a solid foundation for your iPhone and makes it easier to remove your phone without lifting the base. This wonderfully sturdy dock takes up a very small amount of desk space and includes a braided nylon four-foot Lightning cord that won't easily fray or get chewed up by a pet.

This dock doesn't include a Lighting cable, but what it lacks in accessories it makes up for in craftsmanship and general coolness. Plus, this dock doubles as a natural amplifier for your iPhone's speaker. Each Carved Skate Dock is unique, made in Indiana from discarded or broken skateboards This is a sizable dock with a beachy, warm feel to it that's a nice contrast to the other docks' more modern style. As soon as you dock your iPhone and hear the natural amplification of your music, you'll immediately fall in love.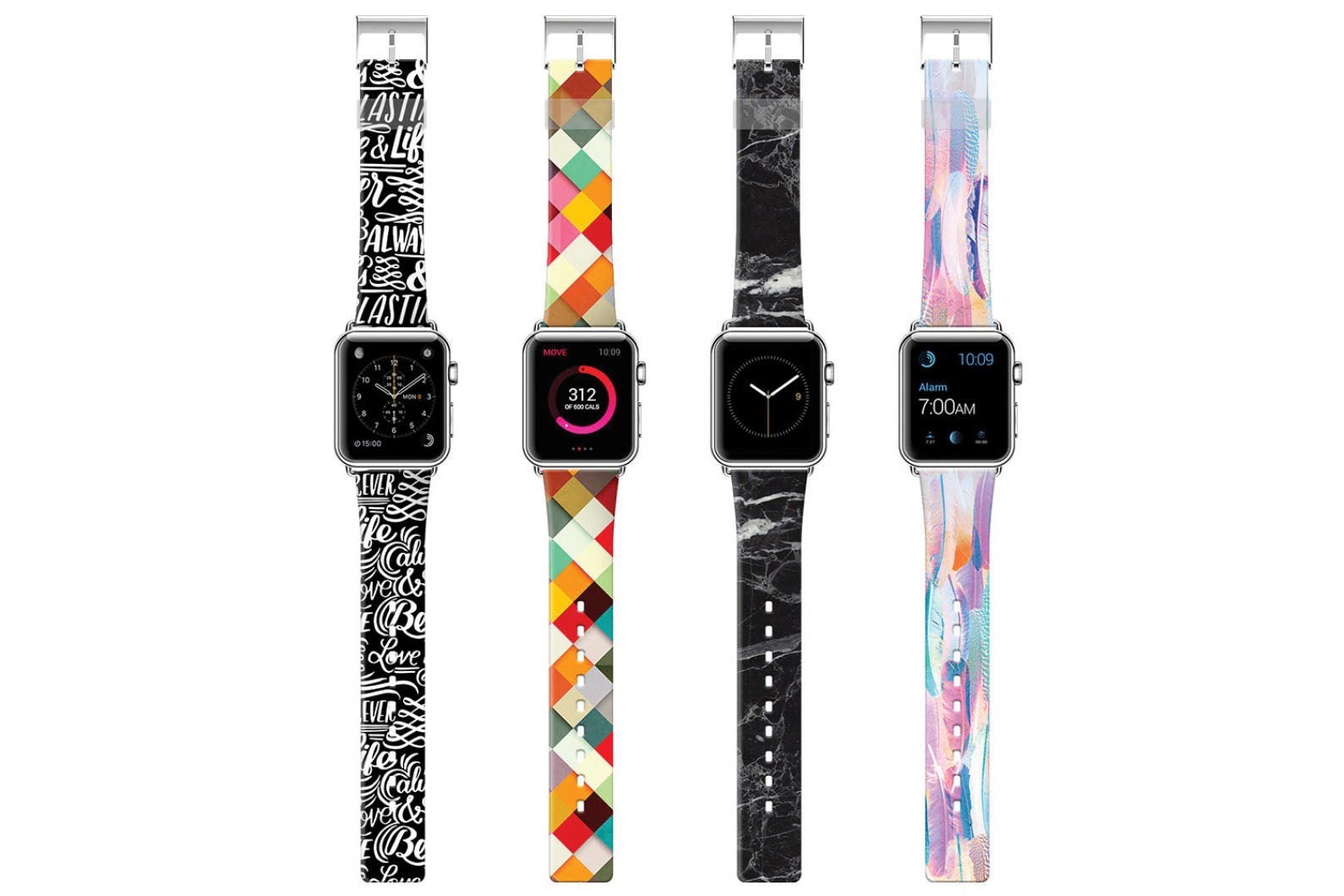 When it comes to fun and beautiful designs, it's hard to beat Casetify. The Casetify collection is huge, nearly guaranteeing that you'll find a design you love. Casetify bands are wonderfully thin and sturdy, so each band fits comfortably and holds up well over time. If you're an Apple Watch user who likes your band to express your personality, then you're sure to find one that will represent you well. Not a fan of designs? Casetify has a great line of Steel Mesh, Double Tour, and Magnetic bands to check out.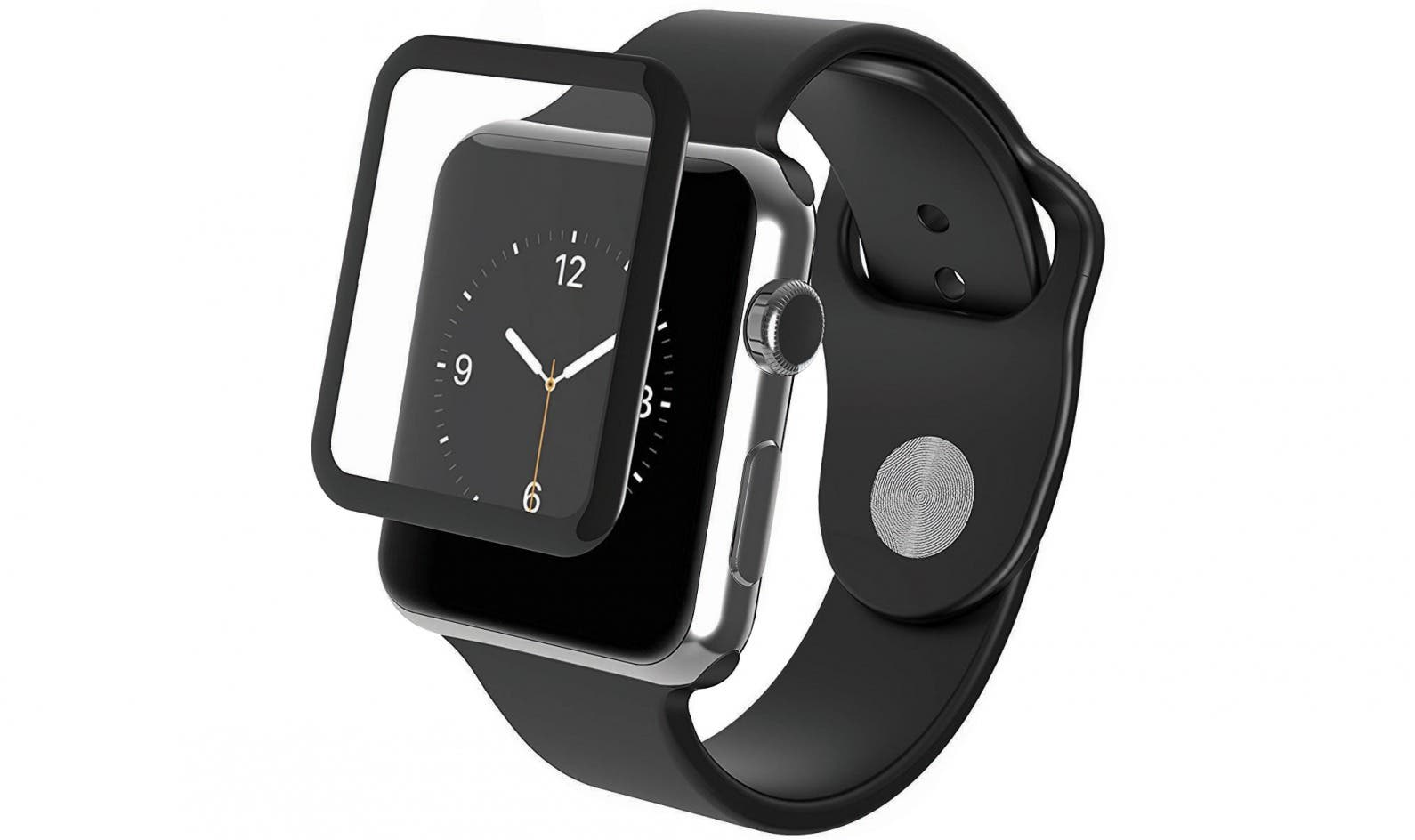 We're quick to buy a screen protector and case for our iPhones but often forget about protecting our Apple Watches from harm, even though wear and tear is inevitable. So we decided to try out Zagg's Glass Luxe screen protector with a bumper case for this roundup. We put the screen protector and bumper on a Rose Gold Apple Watch Series 1, and the color of Zagg's gear is just slightly off. But you can't see the original color with both the screen protector and bumper in place, which should keeps the color difference from bugging you. They add minimal bulk, look classy, and won't get in the way of what you need to do on my device. And the Luxe Screen Protector protects your Apple Watch from all angles, giving you peace of mind.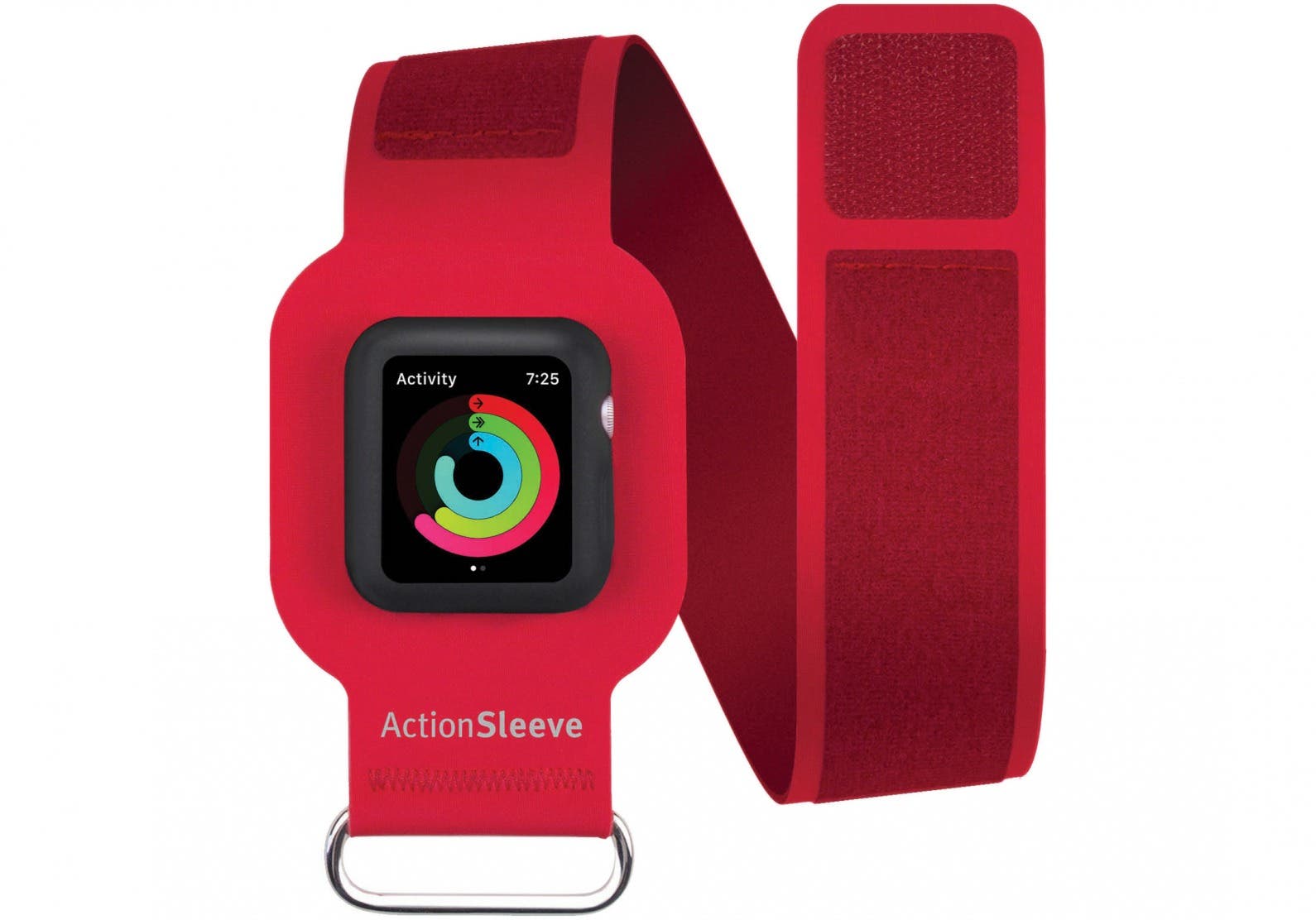 As incredible as the Apple Watch is, it can get in the way during certain workouts. For example, if you're lifting heavy weights, worrying about the bar damaging your watch screen isn't where your attention should be. Twelve South thought ahead with its ActionSleeve Armband for Apple Watch users. Especially if you have an iPhone Plus model, using your phone in an armband is clunky. An armband for Apple Watch, however, will feel barely there and makes it easy to switch the song or check your workout stats thanks to the simple, small screen. For athletes and avid gym-goers, the ActionSleeve is a must.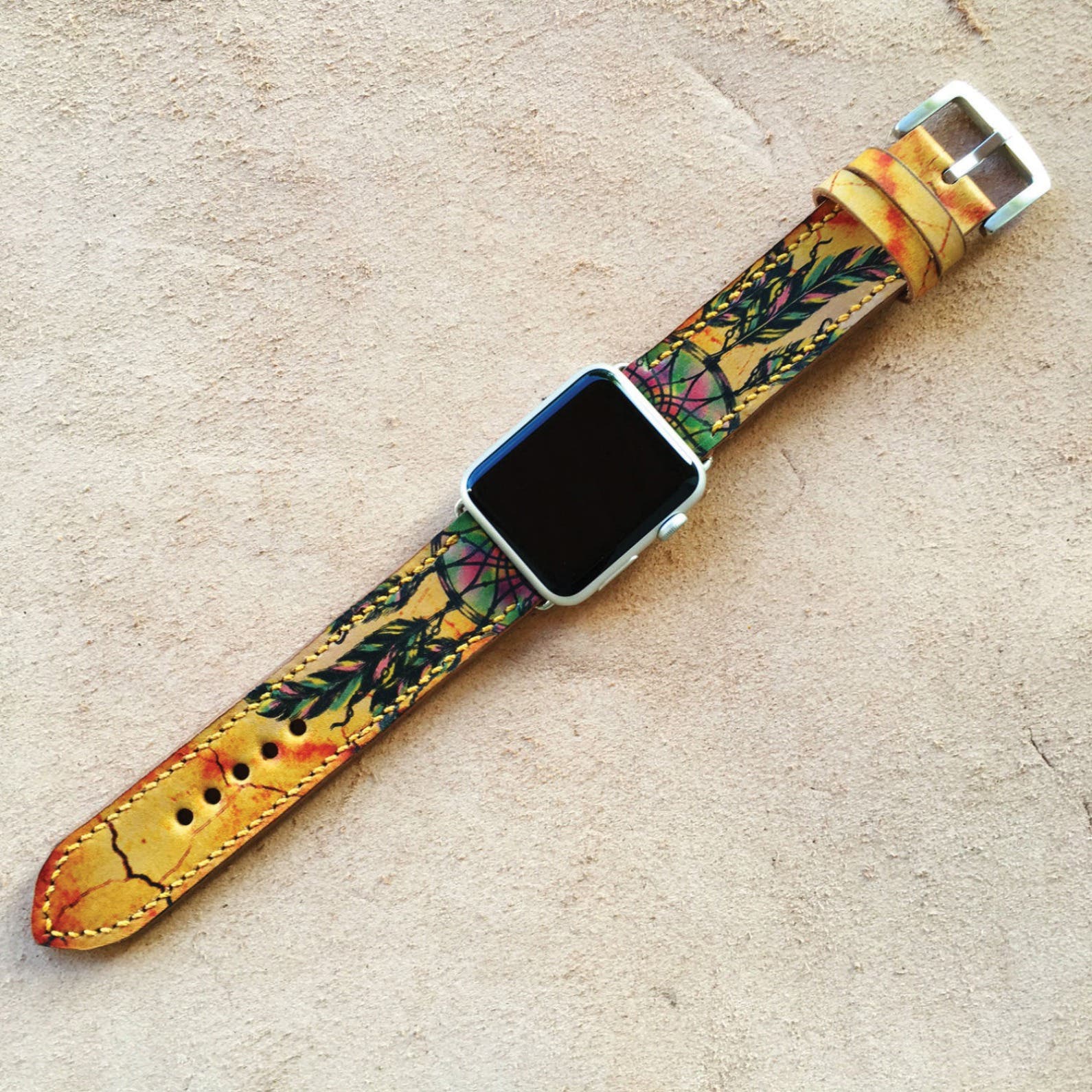 Supporting small and local businesses is a cause dear to many, so we were thrilled to receive this handmade vegetable-tanned leather Apple Watch band from RuslieStraps for testing. This Amazon Handmade store creates bands with love, and you can see it in the craftsmanship. Not only is money from your purchase going directly to a family, you're getting a top-notch band that's nothing short of stunning. Have a couple photos you'd like to feature on your Apple Watch band? RuslieStraps does custom designs as well. Etsy and Amazon Handmade are both surprisingly good places to look for a new Apple Watch band. RuslieStraps should be your first stop, but there are thousands of shops and sellers to peruse.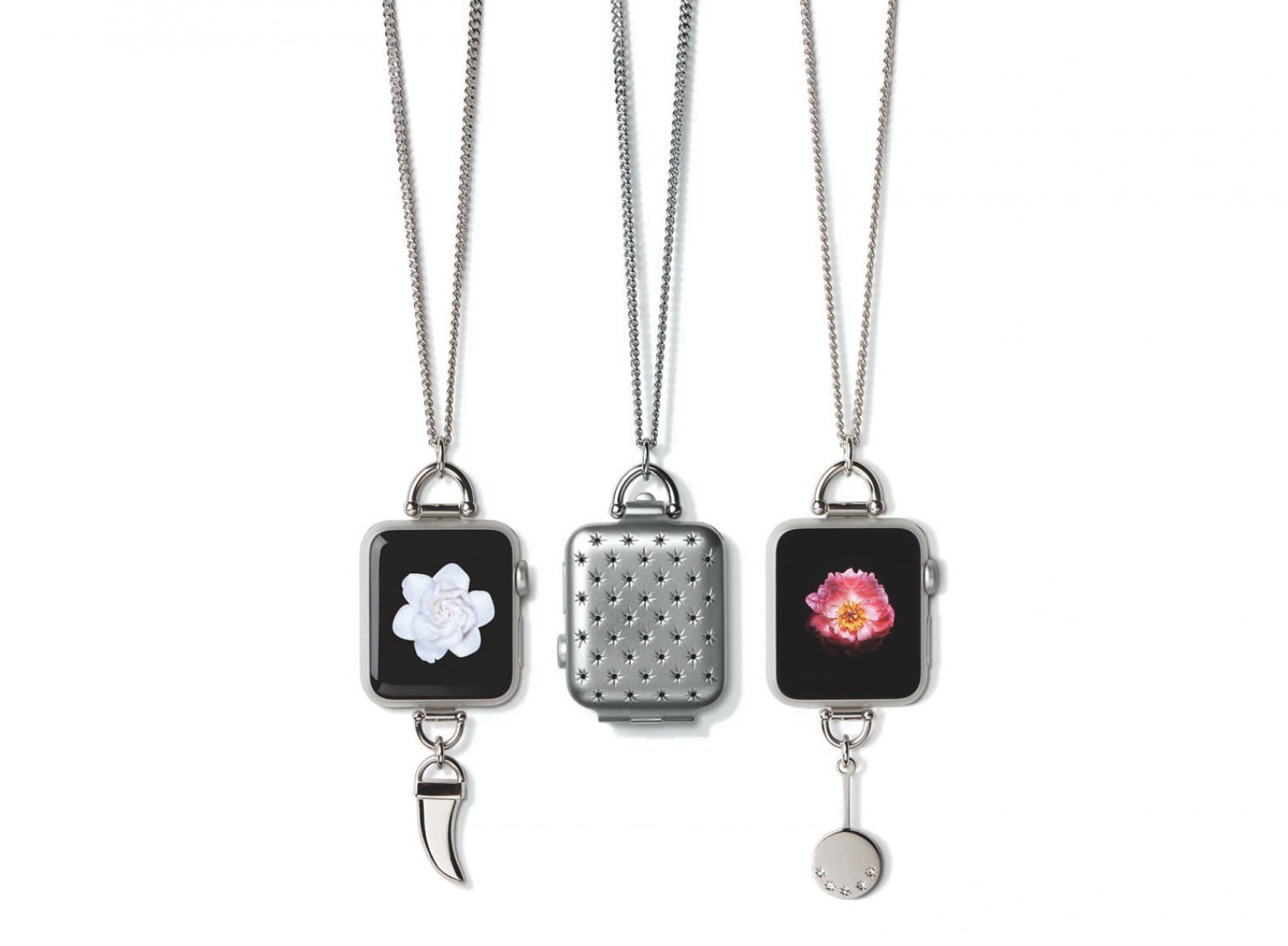 If you like your Apple Watch to be part of your style ensemble, the Bucardo Charm Necklace will make you stand out from the crowd. The accessory allows you to wear your Apple Watch as a locket or necklace along with a charm of your choosing. For a classy night on the town, these beautiful pieces provide a different wearable experience and offer styles for all genders. The necklaces are available in silver and gold, as are the charms. For even more flexibility with your look, you can get a separate charm to interchange whenever the mood strikes. Bucardo is a luxury brand so the pieces aren't cheap, but neither is the quality.
OtterBox is a household name when it comes to protective iPhone cases—and for good reason! This case not only protects your iPhone against drops with its rugged design, but its built-in screen protector safeguards your device against cracks and scratches as well. Most people we know who work outdoors (especially in construction) swear by OtterBox, and it's hard to convince them to try anything else. They've shared many stories about dropping phones from roofs or accidently leaving them on their car as they drove away, and in each scenario their devices miraculously escaped unscathed. Although some may find it a bit bulky for their liking, it would be a disservice not to mention it in this roundup, especially considering how many devoted users who swear by it there are. If you regularly work outdoors, then we definitely recommend the OtterBox Defender Series.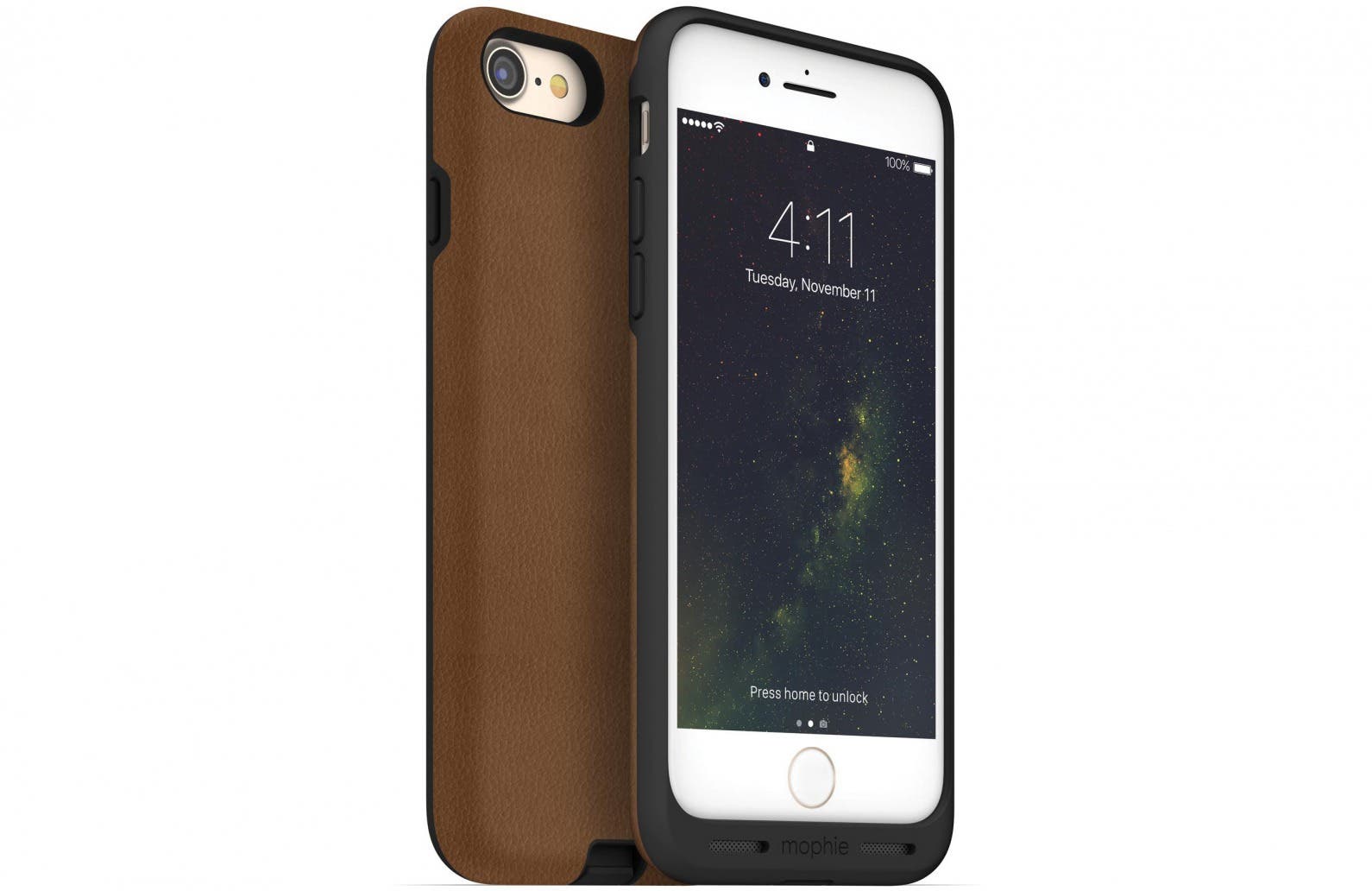 If you take a lot of photos and videos when you travel, you've probably noticed that your battery drains much faster than you would like. Although there are a ton of external batteries you could bring on your trips, all of them require you to plug your phone into them for it to charge. That can put your phone out of commission as a camera until it reaches 100 percent again. Mophie's Charge Force case is a great alternative for the iPhone 7 and older models. The case is compatible with nearly all wireless chargers, but we like Mophie's Charge Force Powerstation Mini ($49.95). All you have to do is charge the Powerstation before a trip, and then it's ready to use next time your phone's battery runs low. The Powerstation magnetically adheres to the back of your phone and begins charging instantly, so you can continue using my phone with no issues—no wires necessary!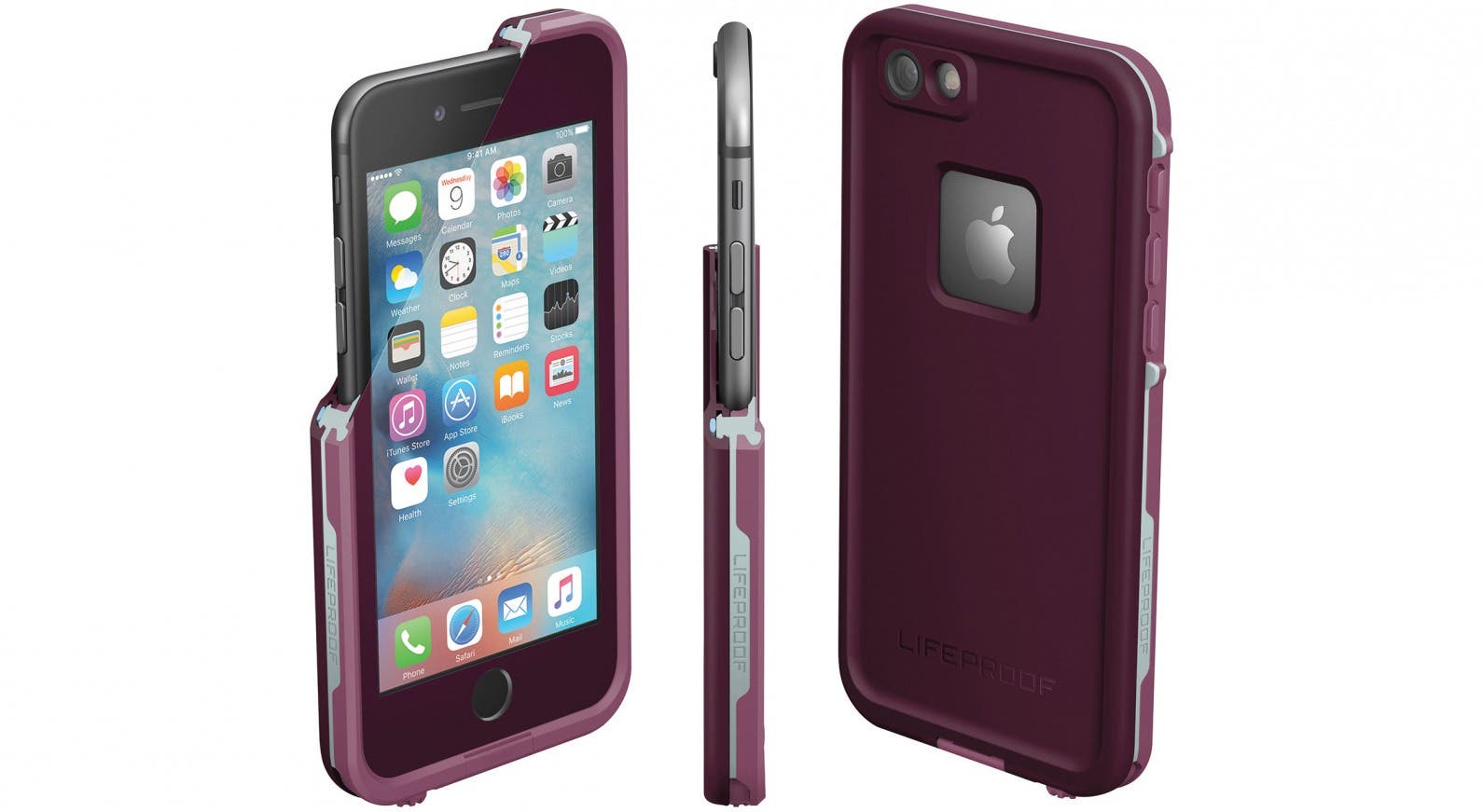 Our managing editor Rheanne Taylor loves taking photos with my phone, and she really doesn't like things like rivers and rocky slopes to stand in her way. She says, "Even though the iPhone 7 has proven itself to be incredibly resistant to water, I don't trust that it can withstand some of the situations I place it in (I really like capturing underwater shots). This case is my go-to for all my outdoor adventures. I recently took it on a four-day camping trip along the Chattooga River in South Carolina, and I thoroughly freaked out my companions every time I dipped my phone below the water's surface to snap a photo of a fish. I did this a lot, and never once did a drop of water manage to sneak into the case." And despite its slim design, it offered incredible rotection against the jagged rocks Rheanne occasionally dropped it on. The only downside is that it's nearly impossible to use the screen while it's submerged. Read a full roundup of protective iPhone X cases here.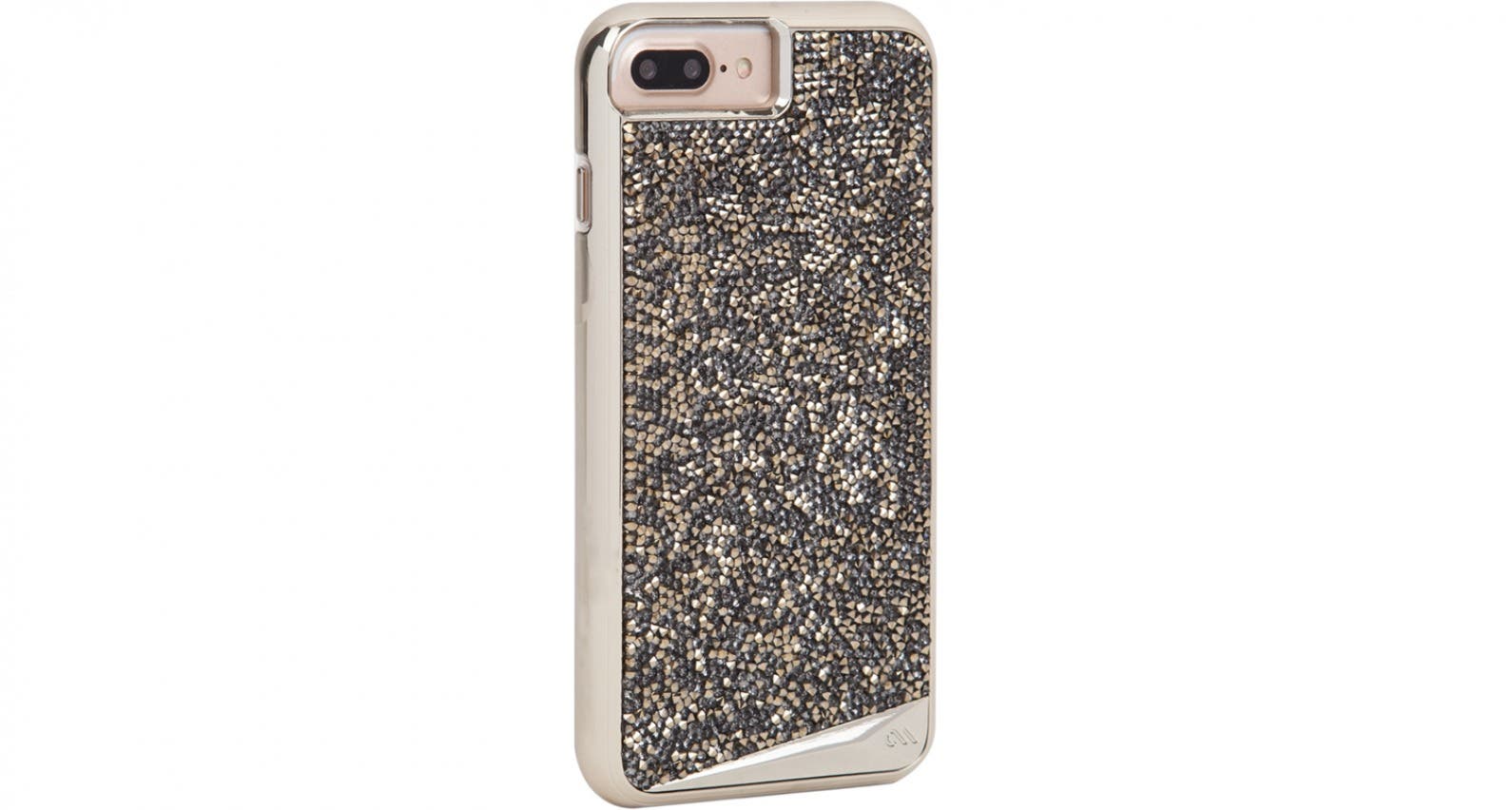 If you or someone you know loves bling, this case may become one of your absolute favorites. Although it's a bit flashy for some, that's one of the many reasons others will love it so much. Not only is it just plain glamorous, but it's pretty rugged too. While testing this case, we dropped it quite a few times, and the iPhone made it out completely unscathed (and, remarkably, the case did too). And there's no need to worry about the gems adhered to the back falling off, even though that's what happens to most cases like this, but we've had no such problem with the Brilliance Tough. The only downside is that it's not super easy to take on and off, which isn't a problem if you only remove your case to swap it out for another, but can get frustrating if you like to use external camera lenses that require a naked iPhone.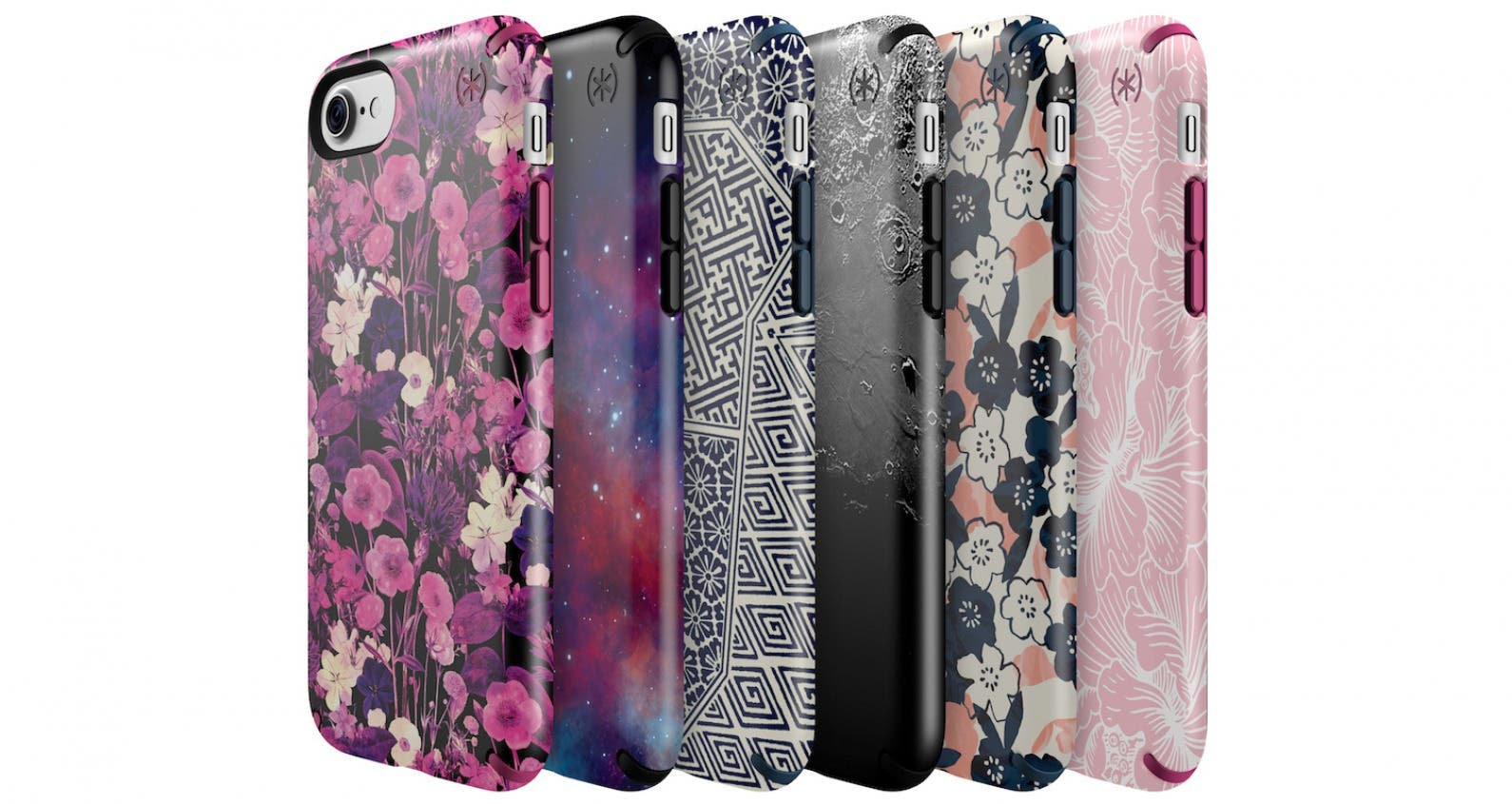 Speck's cases may seem basic in form, but they haven't let us down yet! Despite their slim design, they are incredibly resilient. In fact, they boast 10-foot protection against drops—and trust us, most of us at iPhone Life have dropped our phones more times than we care to admit. Speck's top-selling case is the Presidio Clear (which protects your iPhone while allowing you to appreciate its design) but our feature writer Conner Carey's personal favorite has been the Presidio Inked, which comes in a variety of colorful options. The company also offers the Presidio WALLET (which allows you to easily store your credit card and I.D.) and the Presidio GRIP (which features a ridged exterior that prevents your iPhone from slipping out of your hands). Conner been impressed with how the Inked case has held up for her and loves that while it has never felt too bulky, it has also offered just the right amount of protection.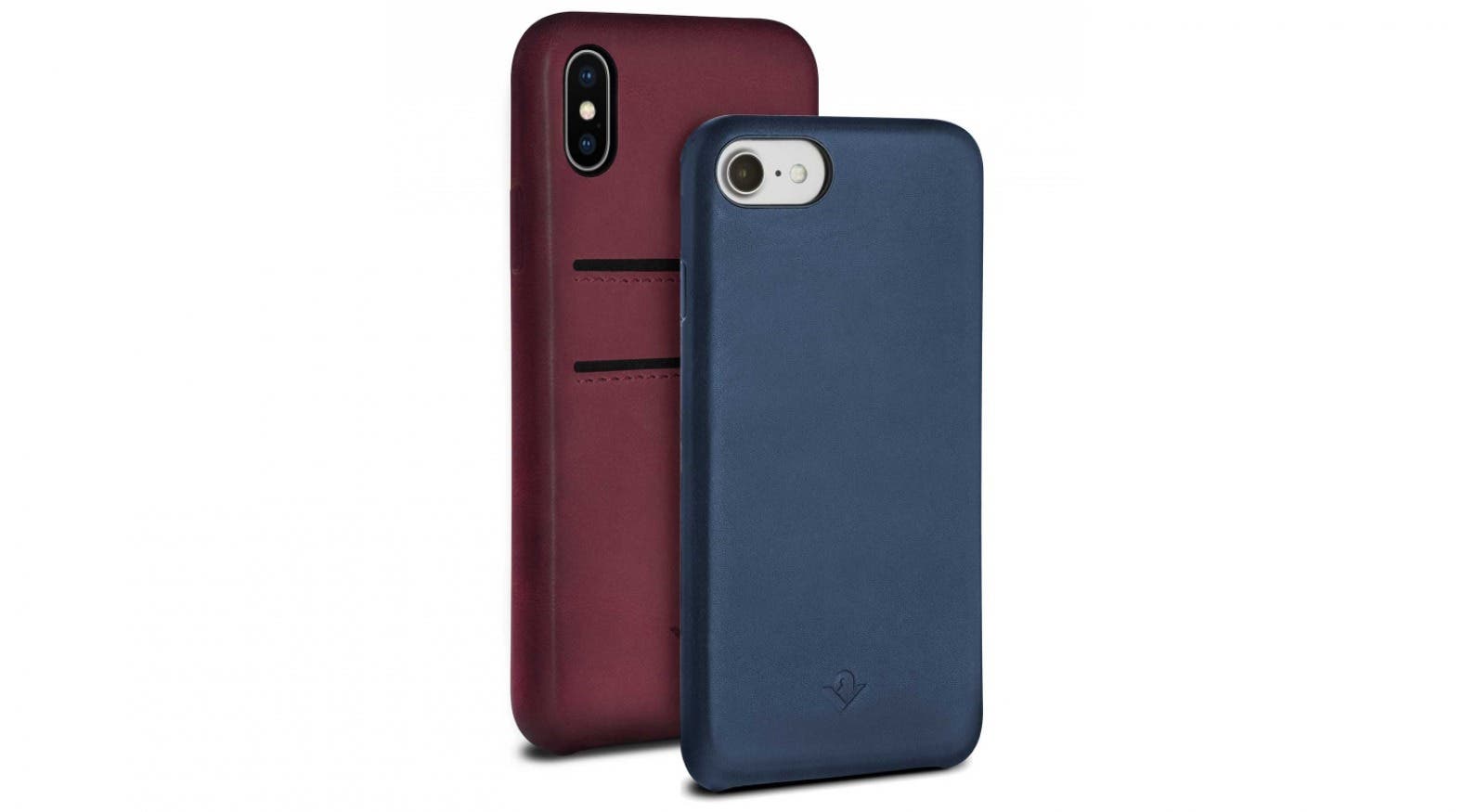 The RelaxedLeather case for iPhone X is a stylish yet minimalist wallet case that has two pockets for credit cards and ID. The beautiful leather exterior complements the beautiful design of your new iPhone, while the case protects your phone from bumps and scratches. It even has a lip that helps protect the screen in case you drop it on its face.
We're suckers for beautiful, natural-looking designs, but even so, we never expected that we would grow to love this case as much as we have. Its smooth wooden backing is right up my alley, and its soft rubber interior and aluminum frame offer just the right amount of protection against drops without making the case too bulky. Our feature writer Conner Carey used this case for a solid three months in all manner of conditions, and it held up amazingly well. Many cases start showing signs of wear and tear early on, but this one looks almost the same as the day she first put it on, which is incredible in and of itself. The metal latch on the case's side is easy to lock and unlock, which makes removing the phone fairly easy, and its raised lip edges will protect your screen from harm.
If you're at a concert or theme park, then there are really only three things you need: your phone, your credit card, and your ID. Anything else is cumbersome and unnecessary. This case is the perfect solution. It isn't as rugged as some of the other options listed here, but its slim design makes it perfect for your pocket. The case features a leather backing and card pocket, which can stretch to accommodate up to four cards. When testing, we slid two cards into the pocket and found that they stayed firmly in place, so we didn't worry about losing them at any point. You can also include a gold monogram on the leather backing if you so choose. This is a great case for activities that require you to pack as light as possible. 
This case isn't designed to be very protective, but it is one of the few truly environmentally friendly options available and looks beautiful too. REVEAL's case easily guards against dents and scratches, but you certainly wouldn't want to drop your phone while using it. Regardless, the design is beautiful and found the case offers a sufficient amount of protection for everyday use. Not only is REVEAL's Nature Tech line made from renewable cork and bamboo, but through the company's partnership with the nonprofit American Forests, it also promises to plant a tree for every product bought from the collection. To date, the nonprofit has already planted over 50 million trees worldwide, which is certainly significant. If you're trying to live a more sustainable lifestyle, then it's hard to go wrong with this case