By

Sarah Kingsbury
Updated 08/17/2021
Most Apple fans have more than one iOS device. And multiple devices mean multiple charging cables cluttering your space. This is especially a problem for those who like to charge their iPhone and Apple Watch on their nightstand while they sleep. It's also a problem when traveling since the Apple Watch and the iPhone both need their own cable. The solution is a dual iPhone and Apple Watch charging dock. In this roundup we've gathered three of the best charging stations for iPhones and Apple Watches to meet users' different charging needs, from a handy Belkin mobile charger to one of the best iPhone alarm clock docks we could find to a wood iPhone charger that would look beautiful on any nightstand.
Related: Best Lightning Cables 2016: Durable & Strong 3rd-Party Charging Cords
This Belkin mobile charger is small enough to fit in a purse or pocket and comes with a built-in Apple watch charger, which means users can leave their Apple Watch charger at home. With 6700 mAH, this Belkin Apple Watch and iPhone charger can recharge both devices more than once. The Valet doesn't have a built-in Lightning cable, so users will have to provide their own. However, having a USB port instead of a built-in Lightning cable for plugging in an iPhone means the Valet can also charge other mobile accessories. 
Best for: Those who don't want to have to bring along an additional Apple Watch charging cable when traveling. 
iHome's Docking Clock Radio + Watch Charger is one of the best iPhone alarm clock docks we've come across. This charging station eliminates the need for any additional accessories or docks that might clutter a nightstand or compete for limited electrical outlet real estate. In addition to a built-in lightning charger and Apple Watch charger, this clock also has a USB port for charging another mobile accessory. The alarm clock also functions as a Bluetooth speaker and speaker phone and has a headphone jack as well. Users can dim the screen and customize their alarms by choosing to have the audio from the alarm come from their iPhone's music library, the clock's FM radio, or the traditional alarm sounds. 
Best for: Those who miss having an alarm clock or who want to declutter their nightstand as it can charge three devices from one outlet and eliminates the need for an additional speaker or alarm clock.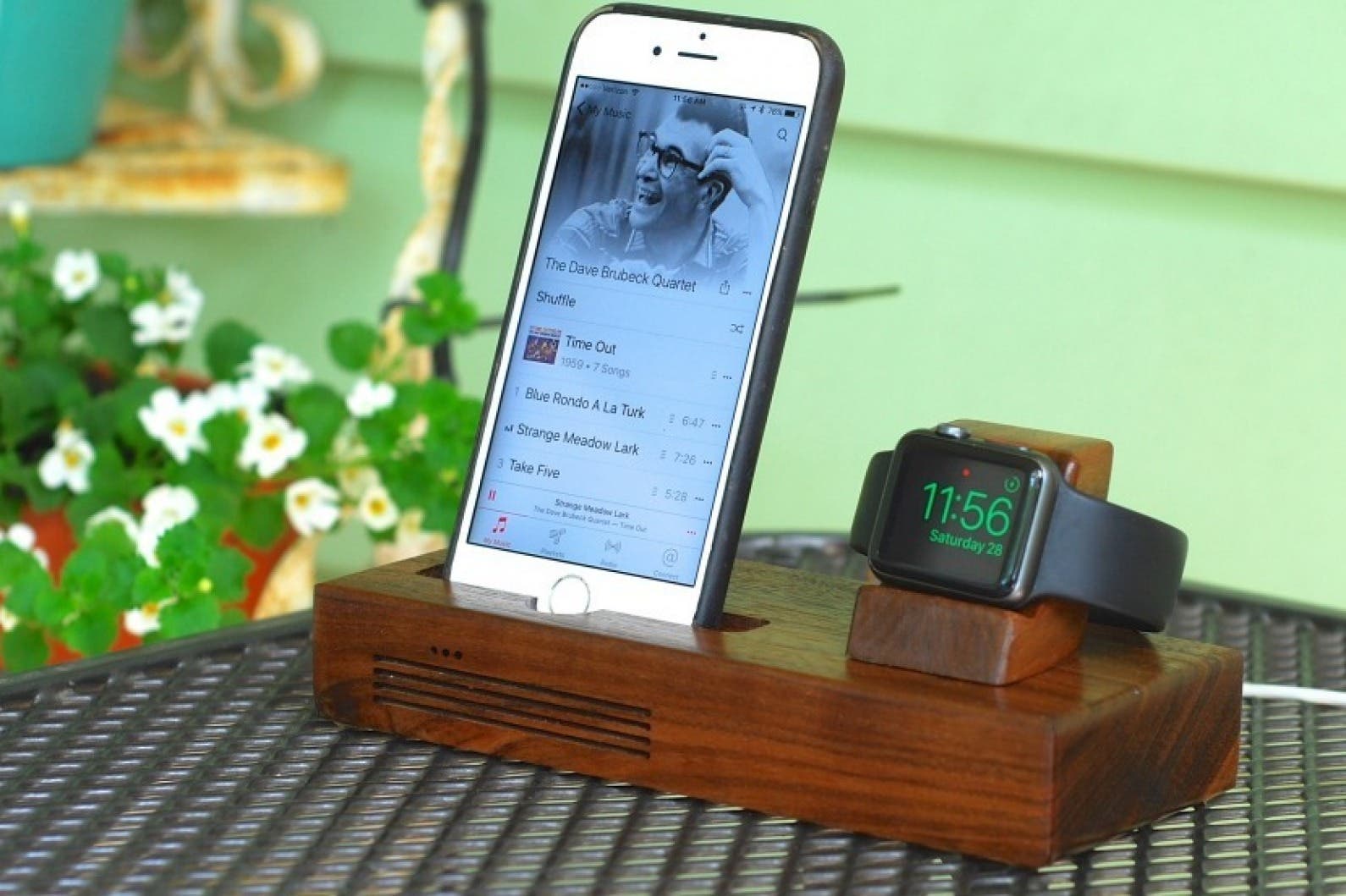 This beautifully crafted and unique wood iPhone charger will look fantastic on any nightstand or desk. This docking station works with both 38 mm and 42 mm Apple Watches and accommodates even the iPhone Plus models and most iPhone cases. It is also the only iPhone and Apple Watch charging dock in this roundup that works with the Apple Watch's Nightstand Mode. Users will need to provide their own cables and be prepared to do a bit of assembly before using the CONCERT. Also, note that the cables are not easily removable once the dock is assembled. The iPhone and Apple Watch wood docking station is designed to naturally boost the iPhone's acoustics and users will find their iPhone's audio output is noticeably louder when the phone is docked. The dock is available in Walnut, Cherry, Mahogany, and Black, and with options for having the iPhone on the left or right.
Best for: Those who are looking for a unique and beautiful iPhone and Apple Watch dock, who prefer to dock their watch in Nightstand mode, and who don't mind supplying their own charging cables.
To learn how to know if your Apple Watch is charging, read this next!