By

Dig Om
Tue, 08/01/2017
The new Braven Stryde 360 ($99.99) is one of the latest in the robust lineup of rugged, adventure-ready, waterproof Bluetooth speakers from Braven. It brings a highly portable form factor and reliable waterproof protection to a speaker that also offers crisp, clear sound quality and respectable volume levels, especially for a portable wireless speaker of this size.
Related: 10 Best Wireless Bluetooth Speakers & Headphones for iPhone 7 & iPhone 7 Plus
The Stryde 360 delivers multidirectional 360-degree acoustics with enough volume to fill a small-to-medium-sized room with sound. Of course, thanks to its outdoor-friendly, waterproof design, the Stryde is also perfect for bringing the tunes to outdoor pool parties and waterside adventures. 

Discover your iPhone's hidden features
Get a daily tip (with screenshots and clear instructions) so you can master your iPhone in just one minute a day.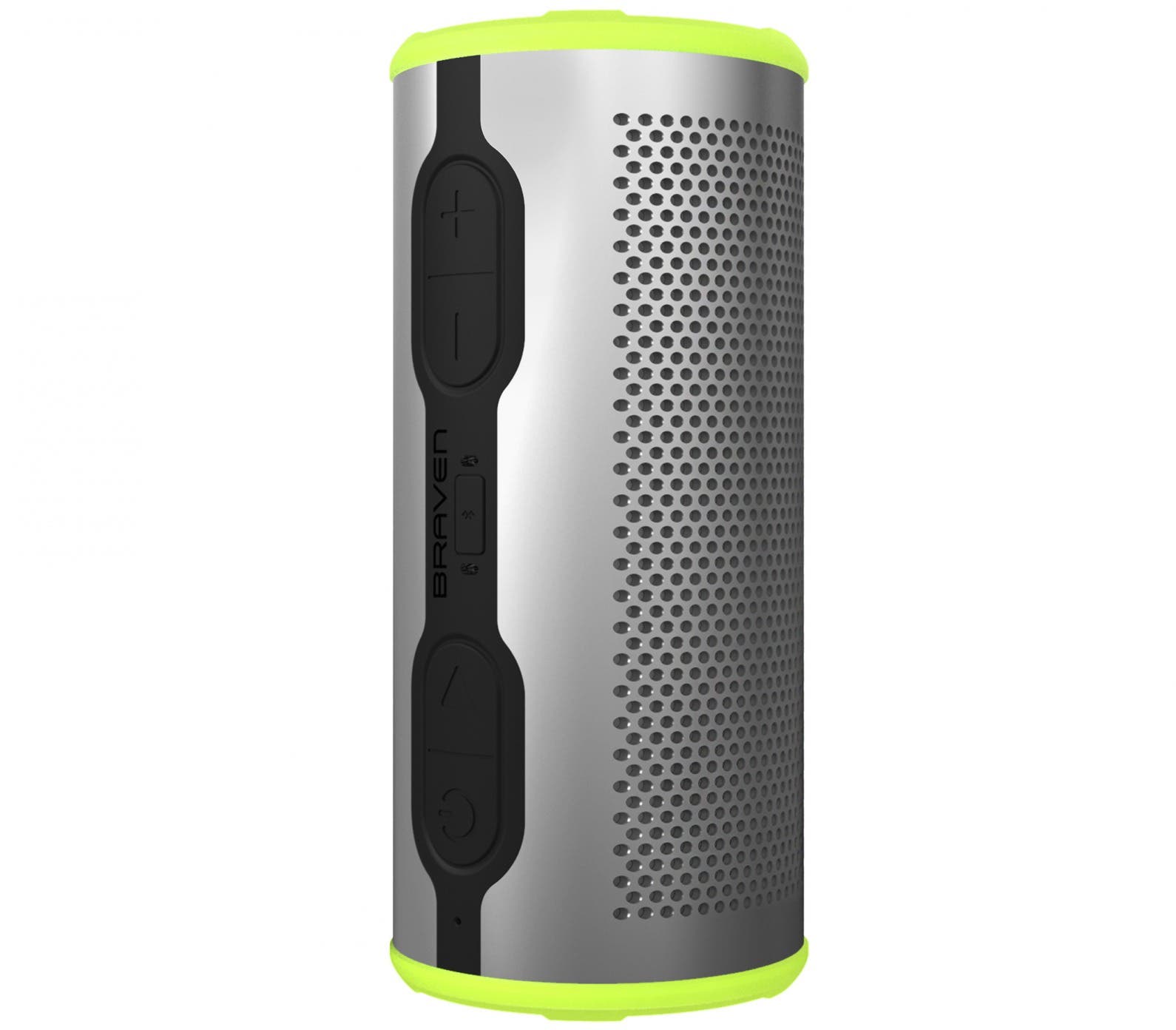 Two passive bass radiators (one on either end of the speaker's cylindrical housing) allow this relatively small Bluetooth speaker to pump out full spectrum audio that is well-balanced, with ample bottom-end richness and a warm resonance that just wouldn't be possible without these bass boosters.
The Stryde 360 is one of an ever increasing number of loud, portable Bluetooth speakers that sport a cylindrical design, which not only makes it quite ergonomic for holding in one's hand, it also makes it perfectly suited for slipping into a cup holder or a water bottle holder on a bicycle. Its also the perfect size and weight for simply tossing into a backpack or messenger bag before you set out for an active day.
As an added perk, the Stryde—like many of the portable Bluetooth speakers in the Braven catalog—also provides the ability to plug your smartphone into the speaker via a USB port and charge your device off of the Stryde's internal 2,500mAh Li-Ion battery. This is a great feature for those of us who like to carry our speakers with us on the go. With the Stryde Bluetooth speaker on hand you don't have to worry so much about potentially draining our iPhone's battery life. Under normal use, the Stryde gives about 12 hours of playback off a single charge, though this number varies depending on how much you use it as a power source for your iDevice.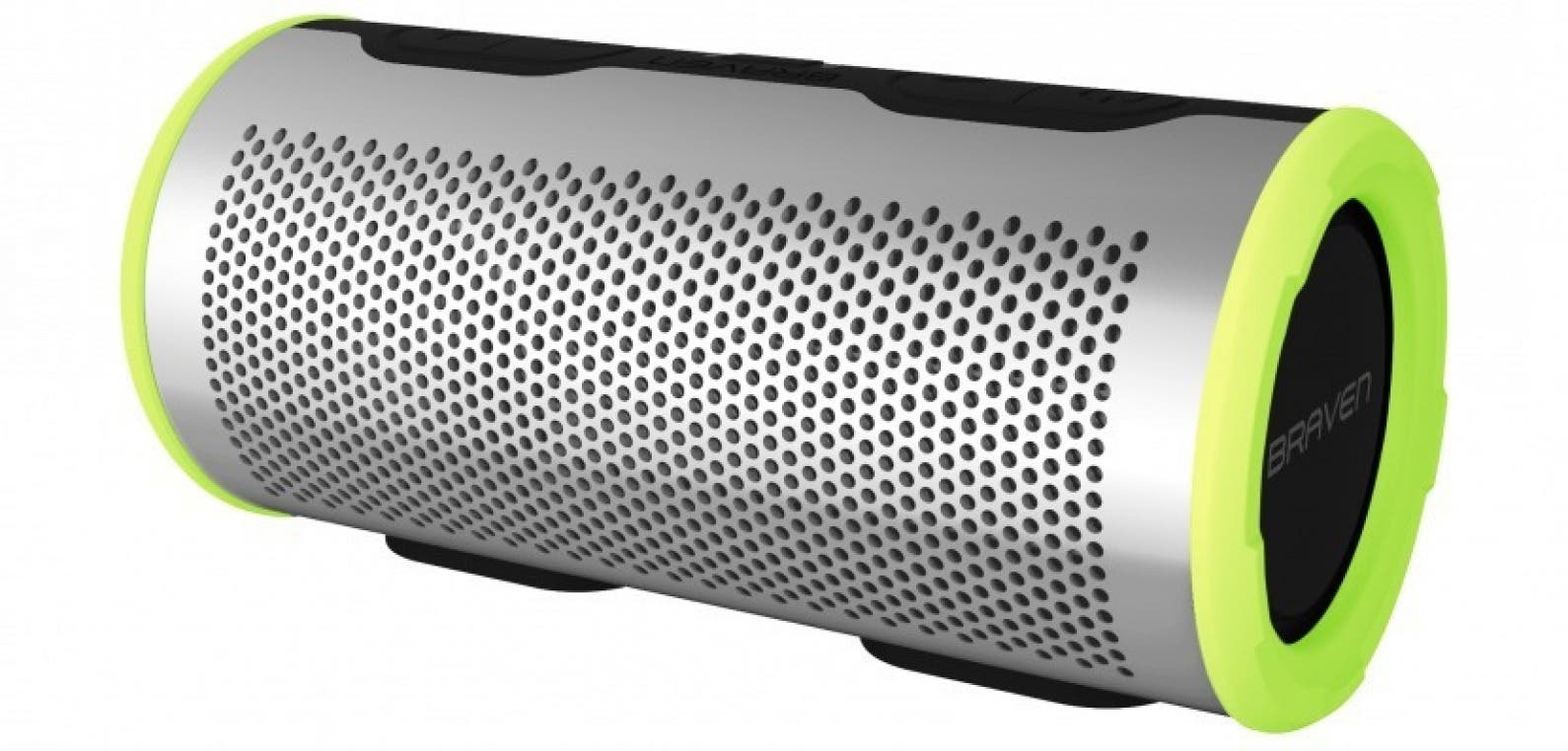 Pros
Allows you to speak any voice commands that you would normally utter into your iDevice, directly into the Bluetooth speaker. So you can make phone calls and perform any searches or Siri queries right from the Stryde.

Small, compact, and lightweight, ideal for most any travel situations and life on the go.

The Stryde 360 delivers superb audio, especially for a Buethooth speaker of its size.
Cons
Unlike many Bluetooth speakers geared toward outdoor enthusiasts, the Stryde does not have a carabiner or lanyard attachment point, nor does it have a screw-in receptacle for mounting the speaker on a handlebar clamp or other such attachment point. One or the other (or both) of these secure-carry options would be a welcome addition to the Stryde.

The Stryde 360 is designed to sound best when played while laying horizontally on its side. Although you certainly can stand this speaker upright, the fact that one of the two interconnected passive bass radiators is on the end predictably affects the sound quality. Something to keep in mind, depending on how you see yourself using this speaker.

Considering the industry trend in this direction, it would nice if on the next iteration of the Stryde 360, Braven incorporated the ability to wirelessly pair two Strydes, for true stereo surround sound and additional amplification.
Final Verdict
The Stryde 360 is a great wireless Bluetooth speaker available at a fantastic price. Braven is a company that has been perfecting waterproof Bluetooth speaker design and performance for many years now, and its experience shows. If you are looking for an affordable Bluetooth speaker with high-quality construction and excellent acoustics, the Stryde 360 is well worth you consideration.