By

Mike Riley
Updated 05/27/2021
With the iPhone 4's built-in GPS features, navigating as well as selecting music to play while driving can a dangerous proposition.  Fortunately, iPhone accessory maker LUXA2 has created a car mount that makes such a task much less risky.

Unlike other car mounts on the market that attempt to take a 'one-size-fits-all' approach, the H5 Car-Mount is specifically designed for the iPhone, and the well-formed dimensions keep the device held snuggly while trailing along the even bumpiest of roads.  The base suctions firmly to the windshield while the shaft articulates at four joints, providing a wide range of motion to help perfect alignment with the designed height and viewing angle.  Best of all, the finger-like nubs that clasp around the iPhone with a firm grip instill confidence that the phone isn't going to tumble out of the holder.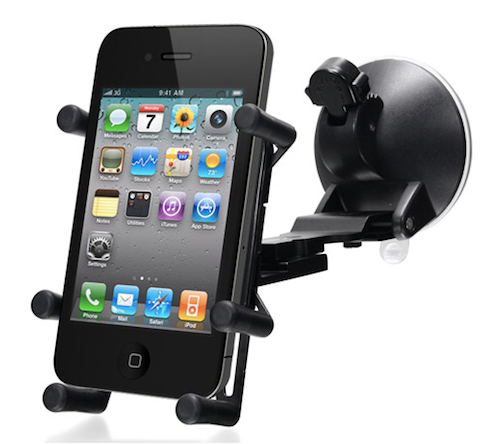 About the only thing missing from the H5 is a cable clip so that the iPhone can be charged from a car cigarette outlet.  The iPhone's interface port is exposed allowing drivers to use a charging cable, but it tends to drag on the holder as well as create additional distraction while driving.  The H5's design was obviously intended to be free of dangling wires, but this oversight can be a problem on long road trips where GPS, GSM, Bluetooth and WiFi radios coupled with a lit LCD screen can rapidly drain the iPhone's battery.

Overall, the LUXA2 H5 Car-Mount is a solid, stable and flexible iPhone holder for the road warrior who needs to pay more attention driving than fumbling around with their iPhones.  The price is right, the articulating shafts provide an optimal viewing angle in either portrait or landscape iPhone orientation, and the base tightly adheres to a windshield.  Until cars come equipped with built-in iPhone holders, the H5 Car-Mount is one of the few good alternatives available today.

Product: H5 Car-Mount
Developer: LUXA2
Price: $59.99
Rating: 4/5 stars

Discover your iPhone's hidden features
Get a daily tip (with screenshots and clear instructions) so you can master your iPhone in just one minute a day.