By

Leanne Hays
Updated 11/02/2021
Do you have questions about how to find, download, open, close, organize, delete, and otherwise manage iOS apps on your Apple device? Here's your roadmap to the App Store, and how to navigate all the applications you discover there. Whether you're wondering how to find a specific type of app, how to delete apps you no longer need, how to organize your Home screen so you can easily find the apps you're looking for, or even how to fix an app that's frozen or crashing, we have you covered. Dive in to our apps guide and find the information you need to get the most out of your apps.  
Related: How to Add Funds to Your Apple ID Account
App Guide Table of Contents
How to Find & Download Apps & Games from Apple's App Store
How to Free Up Storage on the iPhone by Offloading Apps
How to Uninstall & Delete Apps on Your iPhone, iPad & iPod Touch
How to Cancel or Change an iTunes App Subscription on Your iPhone
Ways to Organize & Arrange iPhone Apps: Which Style Suits You?
How to Organize Apps On the iPhone: Dock, Home Screens & Folders
3D Touch App Icons for Shortcuts
Apps Keep Crashing? Troubleshoot & Fix App Issues
If you've just started out with your iOS device, you may be wondering how to download apps and games. Also, where is this Apple App Store, anyway? Let's go over how to find and open the App Store, then choose and download the apps you need; be prepared though, there are almost two million options currently available! Whether you're looking for games, recipes, shopping and coupons, or ways to boost your productivity and stay on top of tasks, you'll find it in the app store.  
Where Is the App Store?
I'm never going to judge a person who asks this question, because I had to ask Google where to get apps when I first got my iPhone. Luckily, it was easy to find once I knew what to look for; and here it is…
The App Store should come pre-loaded on your iOS device; just scroll through your Home screen pages and tap the app icon when you find it. You can also find it on many other Apple devices, like the Apple TV. Now, to explore the App Store tab by tab. The tabs are located at the bottom of the App Store screen.
Today
You'll find new offerings every day on this page; articles, developer interviews, a Game of the Day, How-Tos, and much more. 
Games
Scroll left at the top of this tab to find the latest updates, limited-time offerings, pre-orders, and editors' choice. Scroll down to find trending downloads, popular new games, and categories like role-playing games (RPGs), and much more. Even if you think games are a waste of time, it's worth it to explore this tab for a minute or two because there truly is something for everyone here.
Apps
A mixed bag of recommendations that highlight a variety of genres including streaming, top free and paid apps, Apple Watch, and many, many more. 
Updates
App developers roll out updates to offer new features and security updates, and the Updates tab shows you every app you've downloaded that has an update available. You can set your device to automatically update apps, but if you'd rather take care of this yourself, this is where to do it. Just tap Update to the right of the app. Once the app is updated you can tap Open to go to that app on your device.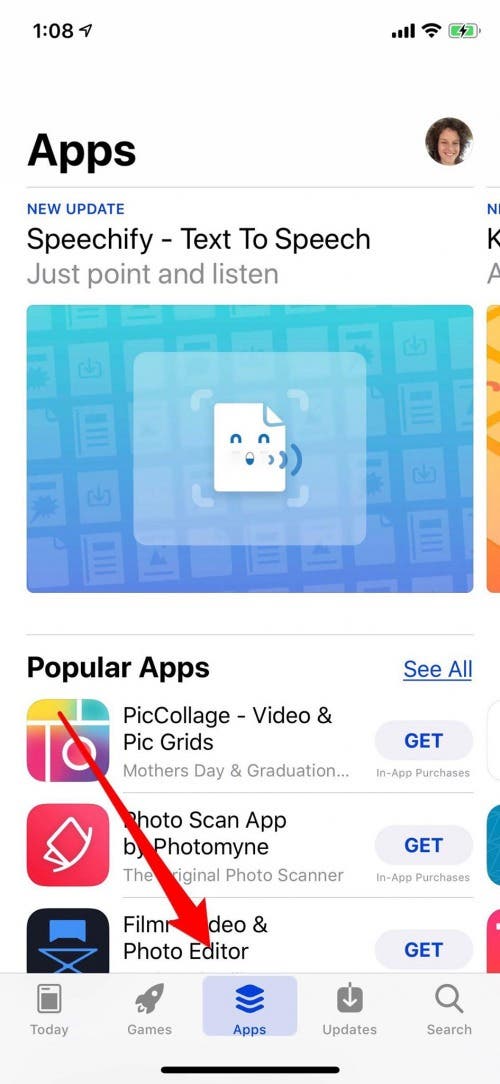 Search
If you have an app in mind already, or would like to explore a specific type of apps, tap the Search tab and enter your query into the search field. As likely as not, you'll have more than one option for just about any topic you enter.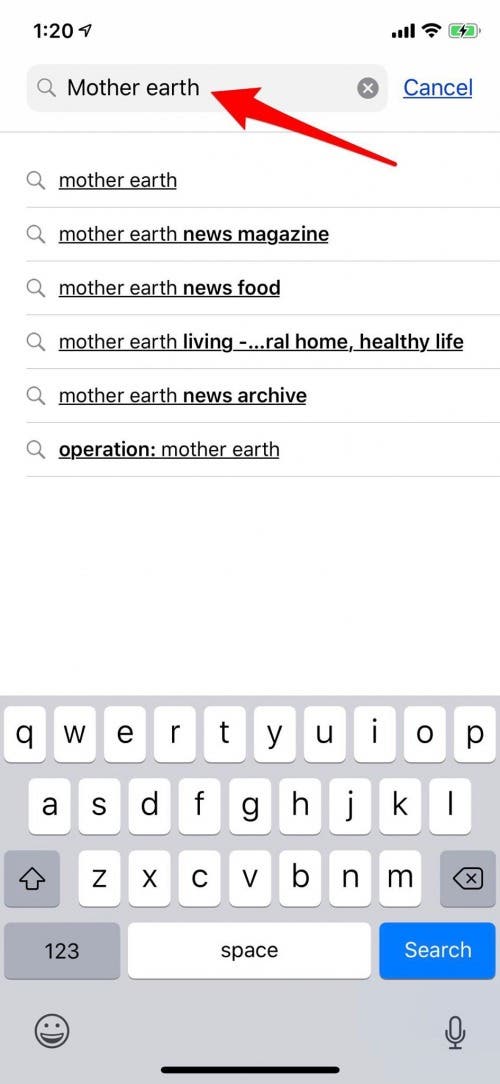 How to Download Apps from the App Store
Before you get started downloading all those apps you've found, you'll need to make sure you have an Apple ID. If you've set up your Apple ID but can't remember the password, it won't take more than a few minutes to reset. Next, make sure you have an up-to-date billing method associated with your Apple ID; once this step is taken care of, you're ready to download free or paid apps.
*If you only want to download free apps and would rather not enter billing information, there's a workaround that will allow you accomplish this.*
How to Download a Free App
Once you've found the app you'd like to download, tap Get to the right of the app name.
Confirm your installation as directed by your device, whether that's double clicking the Side button, using Touch ID, or entering your Apple ID passcode.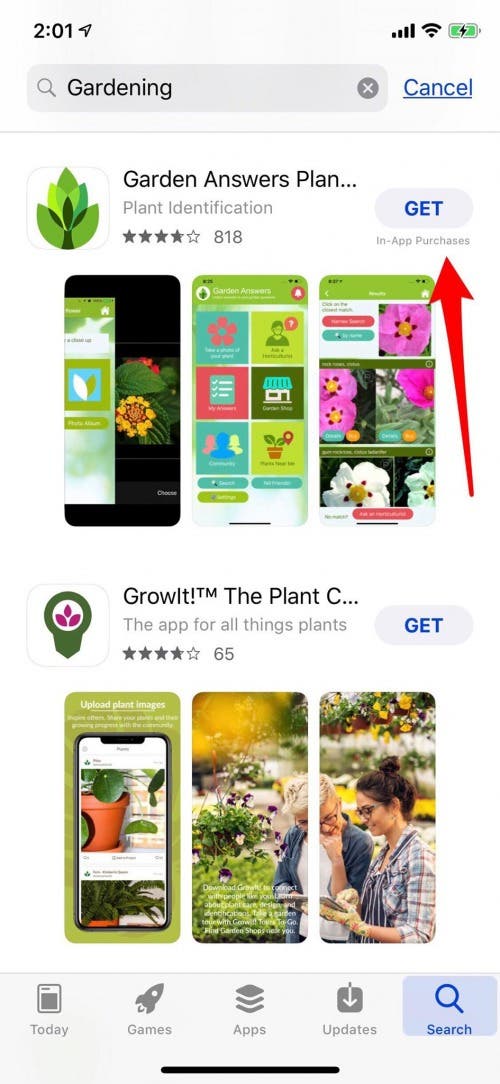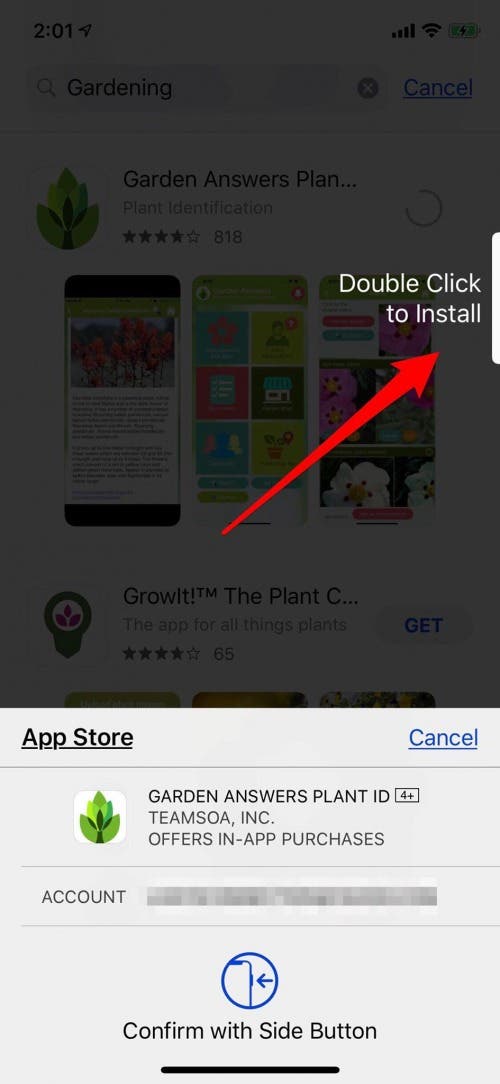 Wait for your app to finish downloading, then tap Open to begin exploring and using it. 
Any time you'd like to open and use your new app in the future, tap the app icon on your Home screen.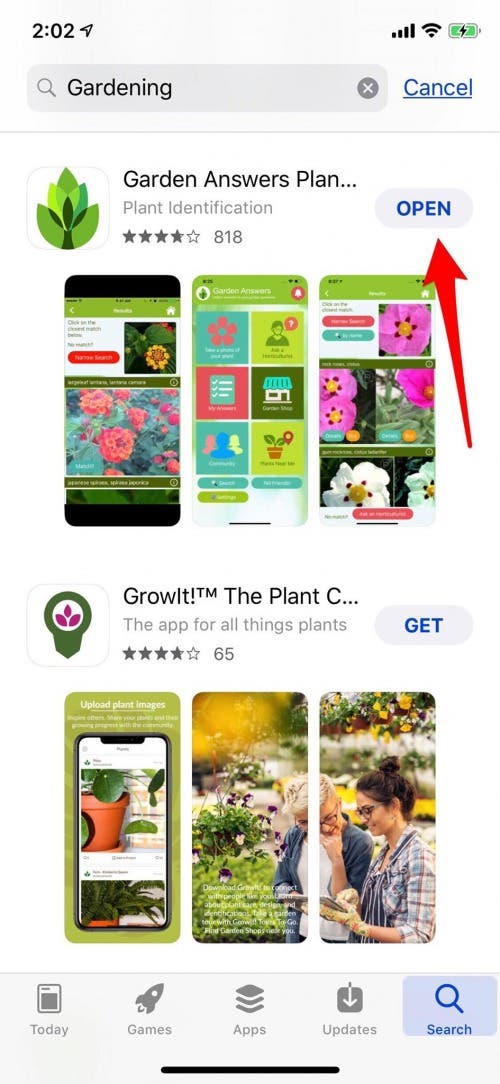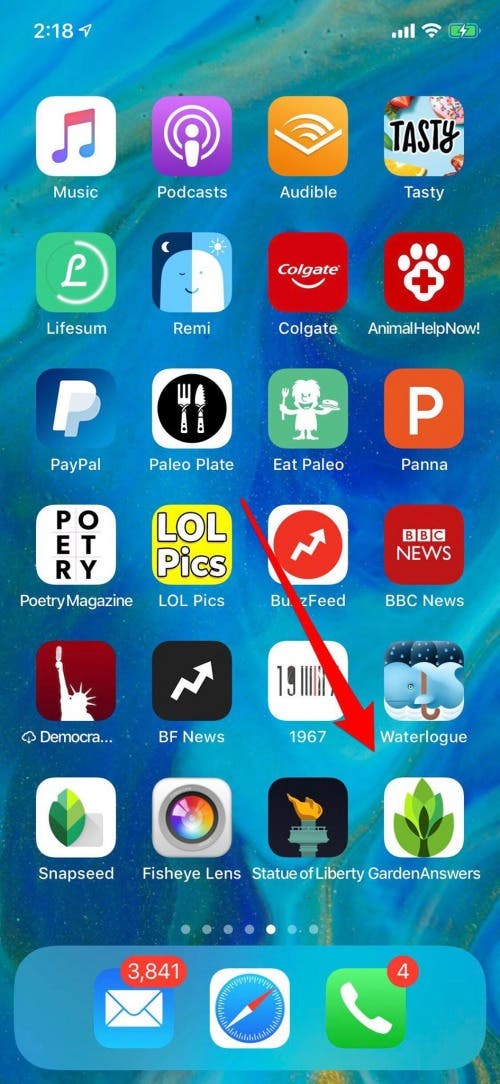 How to Download a Paid App
Paid apps can be either one-time purchases or subscriptions, which will be automatically billed every week, month, year, or however the developer has structured payments. We'll get into how to cancel app subscriptions in the next section. 
Downloading a paid app, you'll tap the price to the right of the app name.
Confirm your purchase as directed by your device.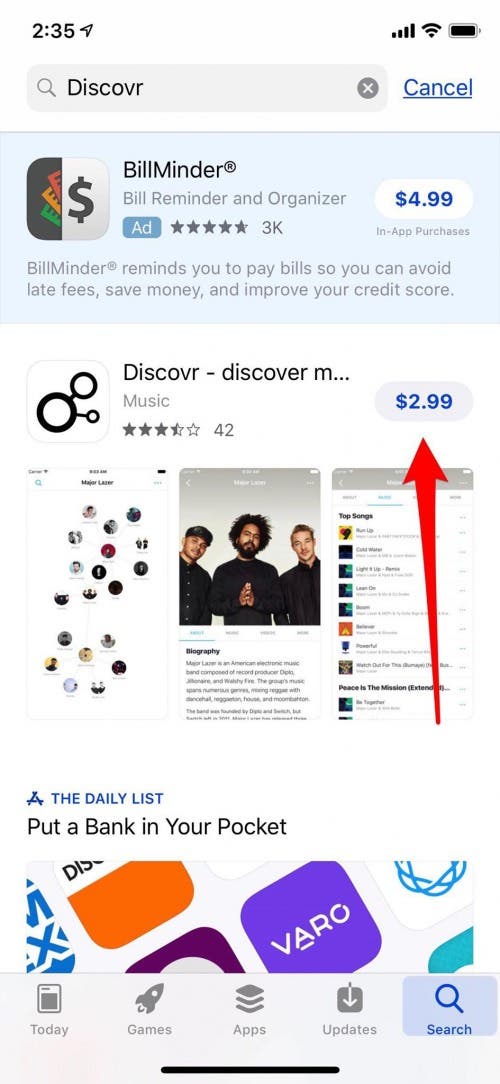 As with free apps, wait for your app to finish downloading, then tap Open to begin exploring and using it. 
If you've monopolized a lot of your iPhone storage with apps, it's possible to offload them. Offloading frees up storage the app is using while keeping documents and data associated with it. The app icon will remain on your Home screen with a download icon next to it, so you can easily reinstall the app later by tapping the App icon. If you want to save yourselves some clicks in the longterm, you can learn how to set your iPhone to offload unused automatically here.
Open the Settings app on your device and tap General.
Tap iPhone Storage.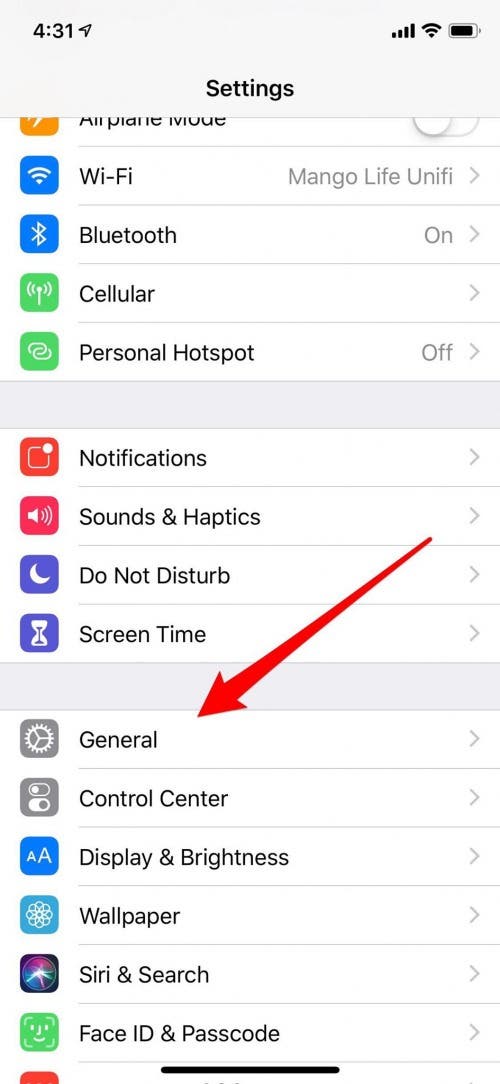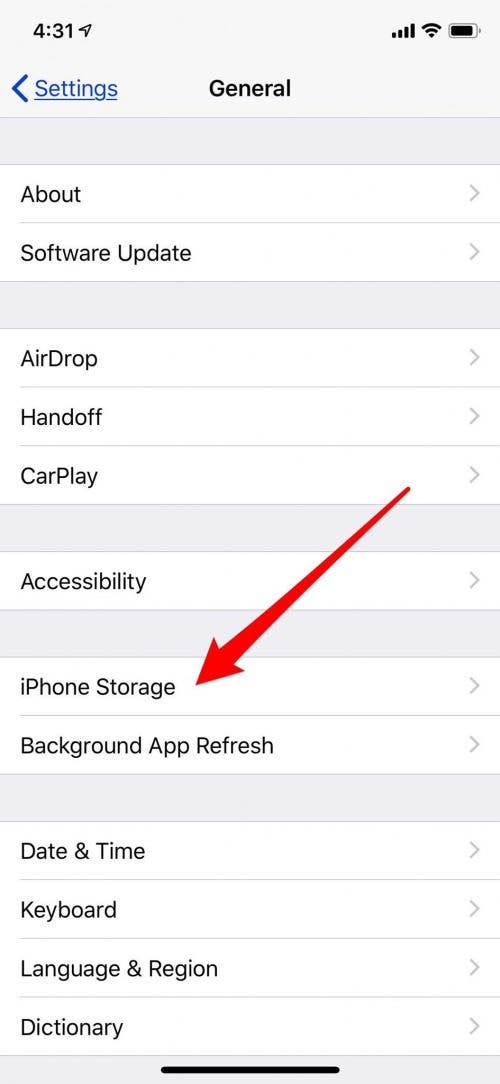 Here you'll see a chart of how your storage is being used, and how much of it is left. Below this, you'll see a list of all your apps and how much storage each is using in order from greatest to least amount used. 
Tap on any of these apps, and you'll see the option Offload App. You can also delete the app if you decide you don't need it anymore.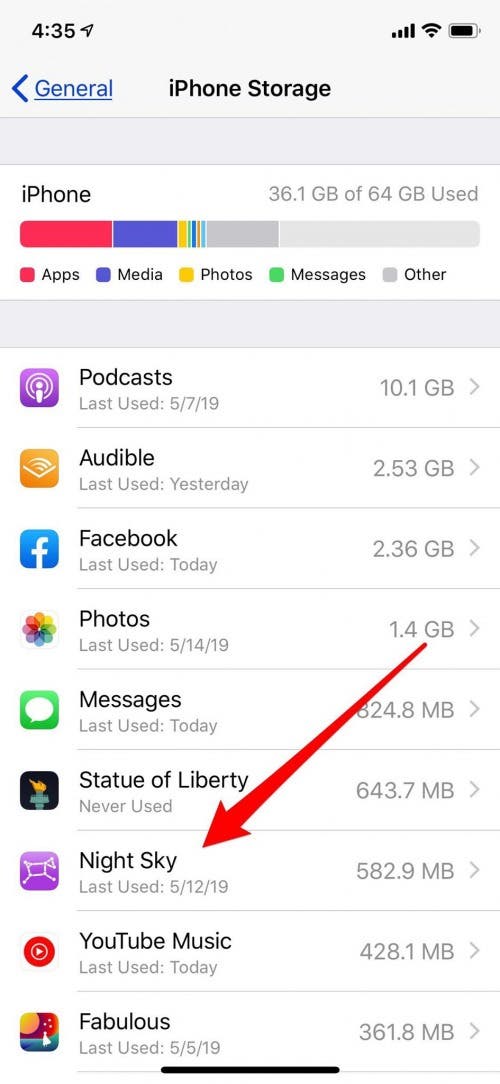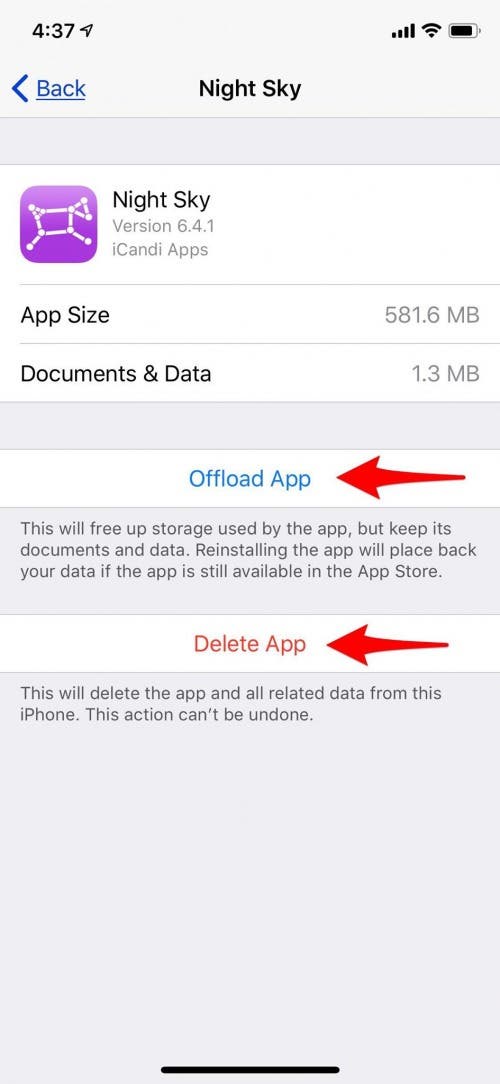 If you aren't satisfied with an app, you can remove it from your device. To get rid of a free app, follow the steps below; if the app in question has a subscription associated with it, you'll also need to cancel the app subscription, or you'll continue to be billed.
Lightly touch and hold the app you'd like to delete until it begins to wiggle.
Tap the X, then tap delete when your device asks you to confirm.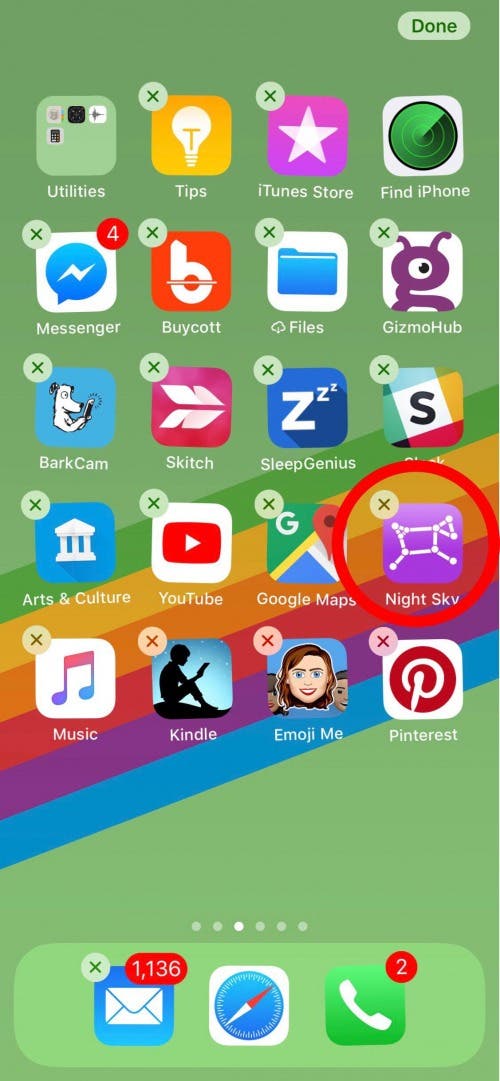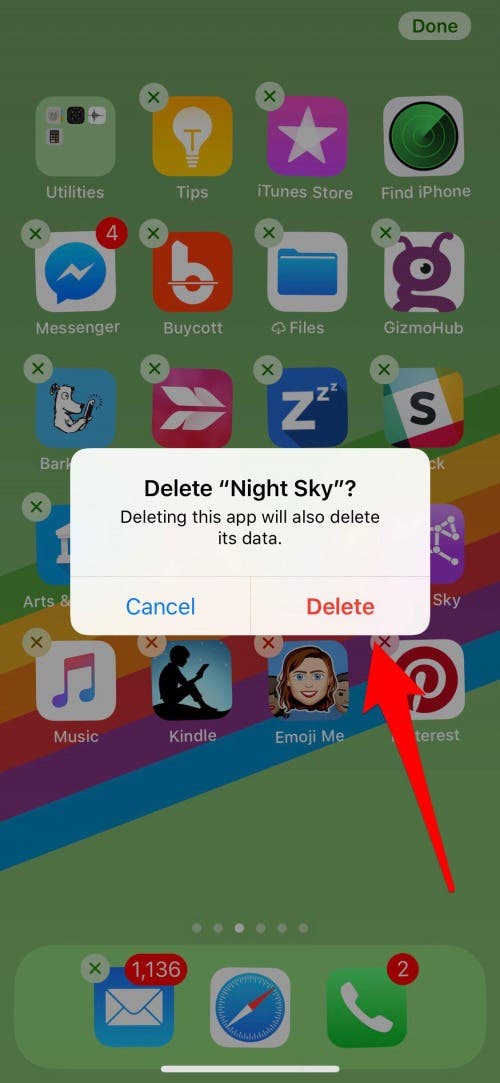 The app you just deleted will disappear from your screen, tap Done at the upper right corner of your screen if you're finished deleting apps.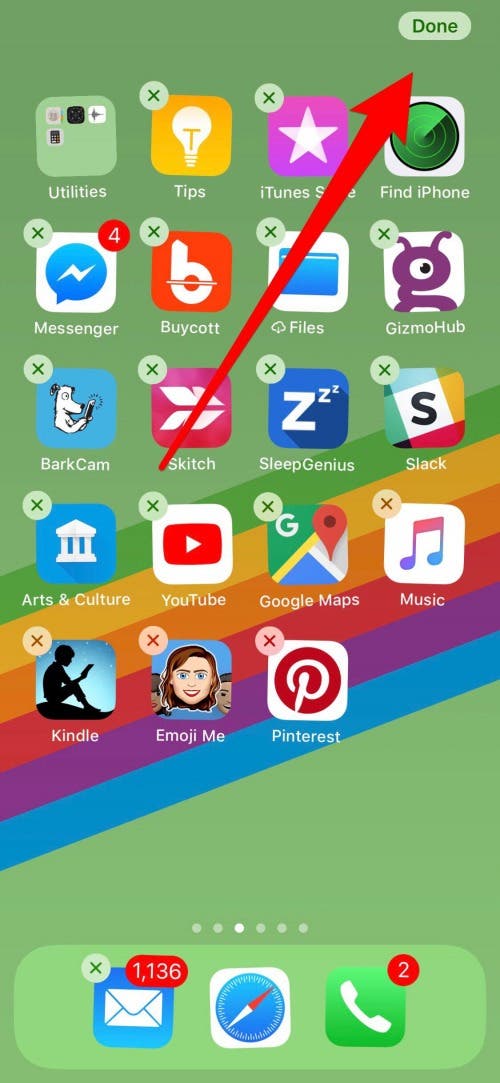 That's it! If you change your mind and would like to retrieve any apps you've deleted, you can always go back to the App Store and download them again (but you will lose your app data). If you paid for the deleted app, you won't need to pay again as long as you're downloading it to a device signed in with the same Apple ID that you originally purchased the app under. If this process isn't working, a setting may be to blame, but it's easy to fix!
App subscriptions can add up pretty quickly, and it's not the most intuitive process to see the list of all the apps you've subscribed to with your Apple account. To view the list of your subscriptions:
Open the App Store app and tap your icon at the upper-right corner of your display (it's on all the tabs except search).
Tap Manage Subscriptions.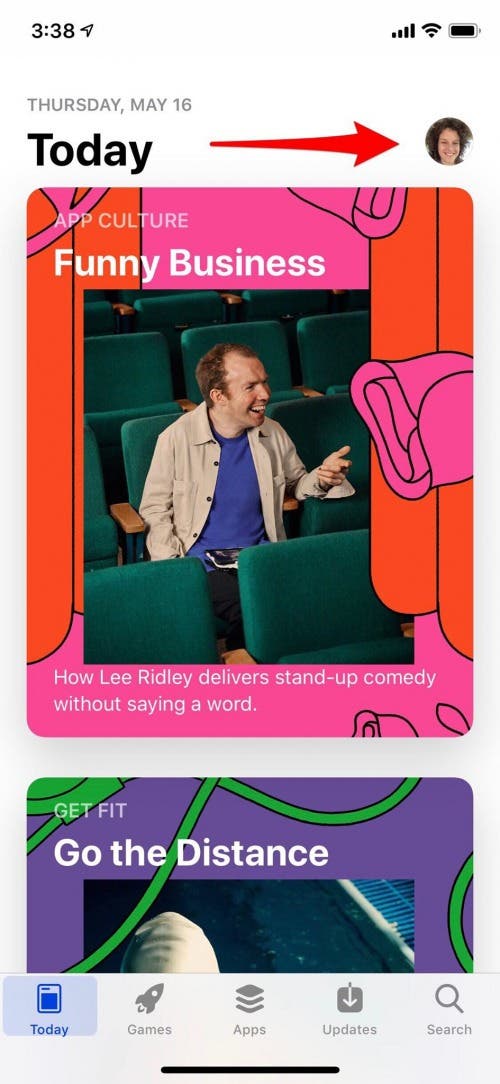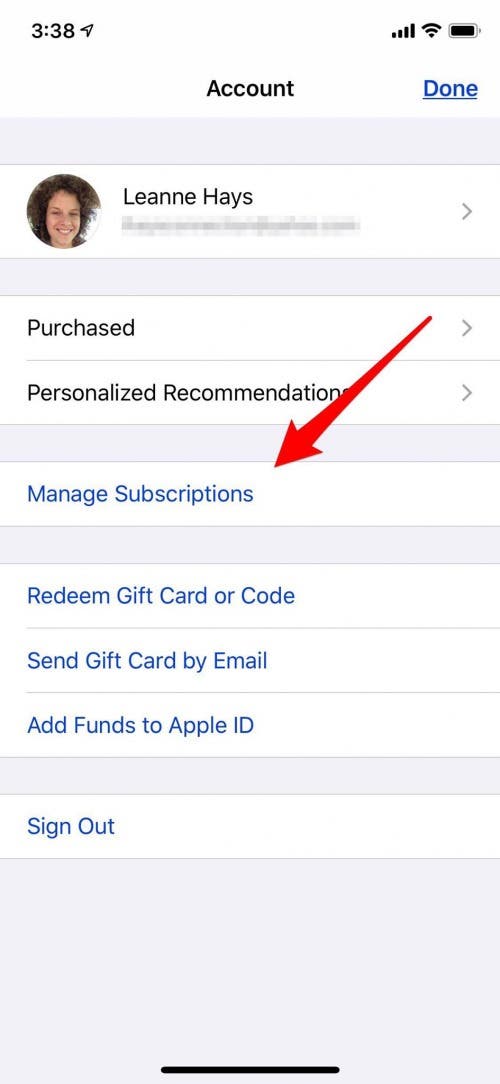 You'll see a list of all Active and Expired app subscriptions.
If there's a subscription you'd like to cancel or change, tap it and you'll be taken to a screen where you can update these settings.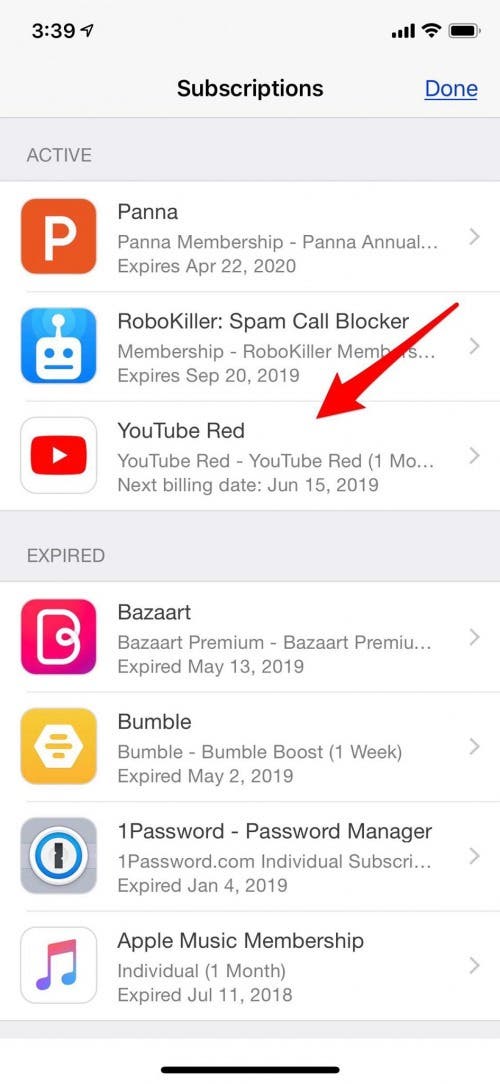 Tap Done when you're finished updating your subscription settings.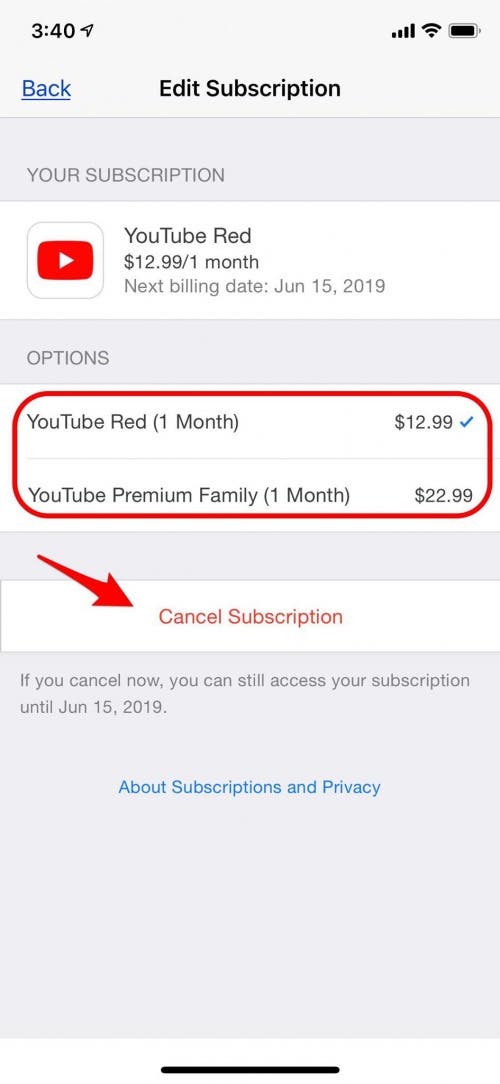 Once you've learned to download apps, it's time to figure out a system for organizing them all. How you arrange your apps will depend on how you use your phone, which memory tricks work best for you, and your aesthetic preferences. One friend of mine who's a potter likes to keep her most-used apps in the bottom-right corner of each Home page, so she can open and use them with just her right thumb when her hands are covered in clay. When I interviewed Gretchen Rubin recently, she revealed that she enjoys arranging her apps in rainbow order. There's no wrong way to organize your apps, as long as the system is helpful to you. Here are a few methods you might like to try for sorting your apps:
Alphabetize your apps (you can do this easily by Resetting your Home screen).
Arrange your apps in order of frequency of use; most-used apps on the first Home screen, and so on.
Create themed rows, columns, or pages to find your news, games, and social media apps at a glance.
Place your apps in folders and label them with words, emojis, or both.
Do you have a creative app organization method I haven't mentioned? Let me know about it in the comments!
After you've decided on a system for arranging your apps, you'll need to know how and where to move them. There are three basic aspects of app organization that will help you keep your apps easy to locate: the Dock, your Home screens, and folders.
How Many Apps & Folders Can My iPhone Hold?
The number of apps you can have on your iPhone depends on which model you have, and which version of iOS your device is running. An iPhone SE can have up to 20 apps per screen, while larger iPhones can accommodate 24 per screen. The maximum your phone can provide is 15 screens, which means a max of 24 folders per page and 15 pages of folders. Phones updated to the latest operating system can hold up to 135 apps per folder. This means that you can store almost 50,000 apps on an iPhone, so it's easy to see why you'll need a good system of organization, even if you never approach this enormous number. 
How to Set Up Your iPhone's Dock  
The iPhone Dock can hold up to four apps or folders containing apps and remains at the bottom of your display no matter which of your Home screens you're on. Because of this, the Dock is a great place to put your most frequently used apps. It's easy to move apps in and out of the Dock if you feel you've picked the wrong ones, or if your favorite apps change over time. 
Remove Apps from the Dock  
To remove an app to your iPhone's Dock:
Touch and hold the app you'd like to remove until it begins to wiggle.
Drag the app upward onto the Home screen, then release it; press Done on iPhone X or later, or the Home button on iPhones 8 and earlier if you're finished removing apps.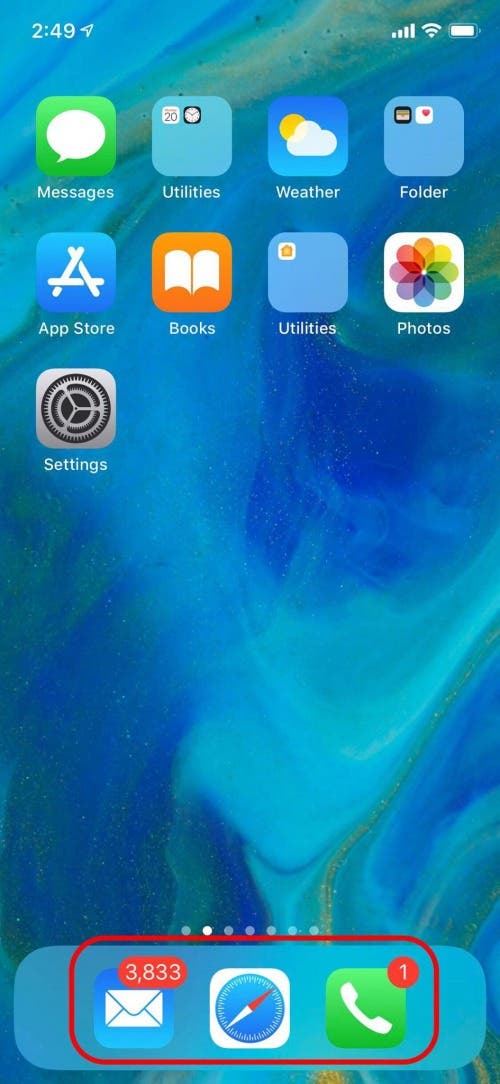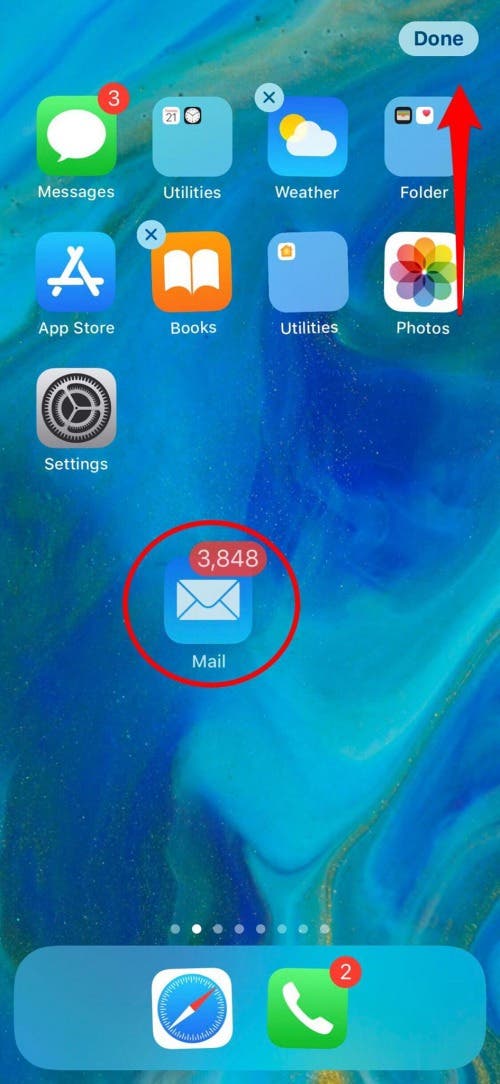 To Add an App to the iPhone Dock
You can add apps to your Dock with the same technique:
Touch and hold the app you'd like to add until it wiggles.
Drag the app into your Dock, release it, and tap Done on iPhone X or later, or the Home button on iPhones 8 and earlier.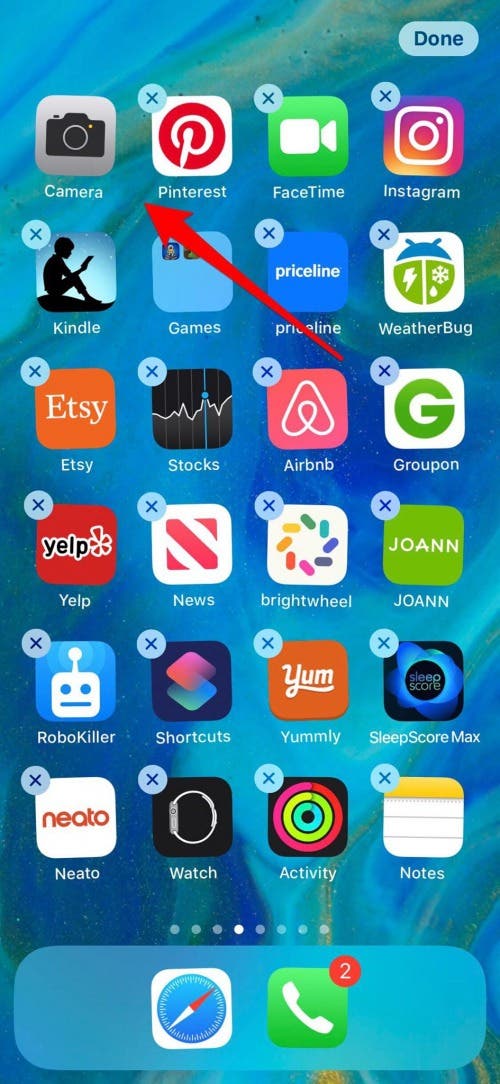 The iPhone Home Screen
Before you start downloading apps, your iPhone will have just two partially filled pages of pre-loaded, native Apple apps. As you add to your app collection and fill these pages, your iPhone will add more Home pages.
How to Move Apps around the Same Home Screen
If you'd like to move an app to a different place on the Home screen, or from one page to another, it's accomplished with the same method you used to arrange your Dock.
Touch and hold the app you want to move until it begins to wiggle.
Drag the app to its new location on the Home page.
How Many Home Pages Do I Have?
To determine how many Home pages you have on your iPhone, look at the line of dots underneath your apps. The number of dots equals the number of pages, plus the Today View (found to the left of the first Home screen), and the highlighted dot indicates where the page you're currently on is located in that sequence. In the picture below, you can see that my iPhone currently has six Home pages, and I'm on the third one (since the first dot represents the Today View).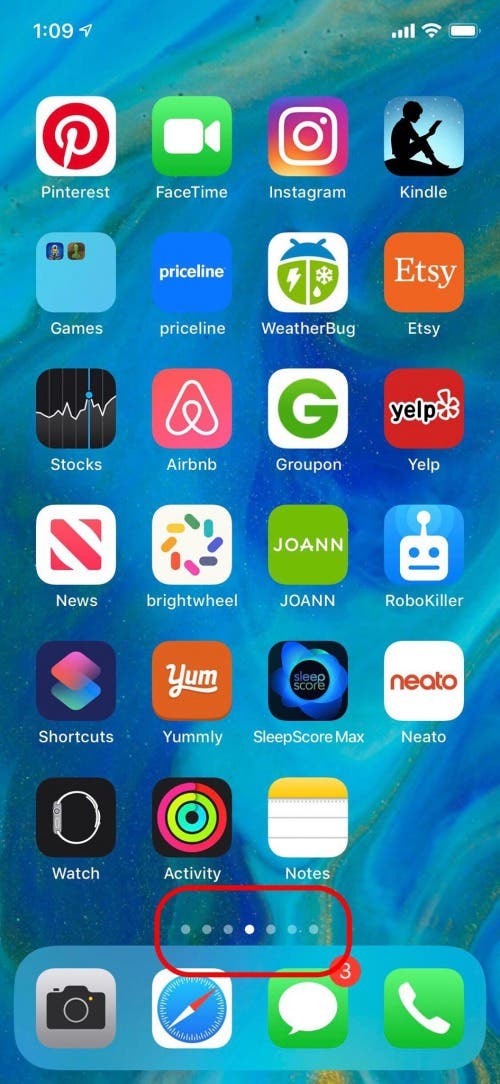 How to Move an App to a Different Page
If you'd like to move your app to a different page, first look to see which Home page you're currently on. If there are pages to the right and left of your app's location:
Drag the app to the right or left edge of your display to move the app to those respective pages.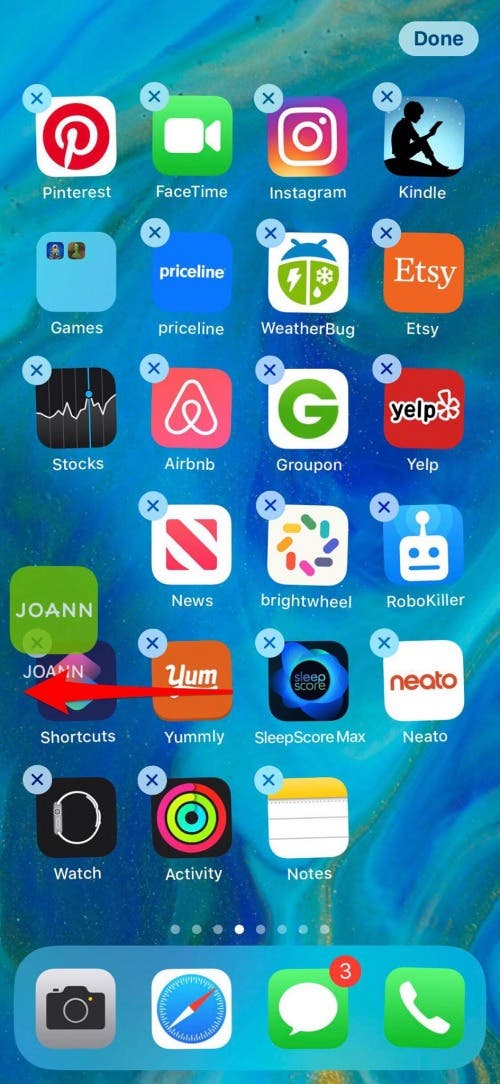 If there is no page to the left of your app's location, you can't move the app any further left.
If there are no pages to the right of your app, you can still drag the app to the right to create a new page until you reach page 15. 
An alternative method of moving the app to a new Home page is to drag the app slightly out of position and hold it there. Use your other hand to swipe to the next page.
As before, tap Done or press your Home button to finish moving apps.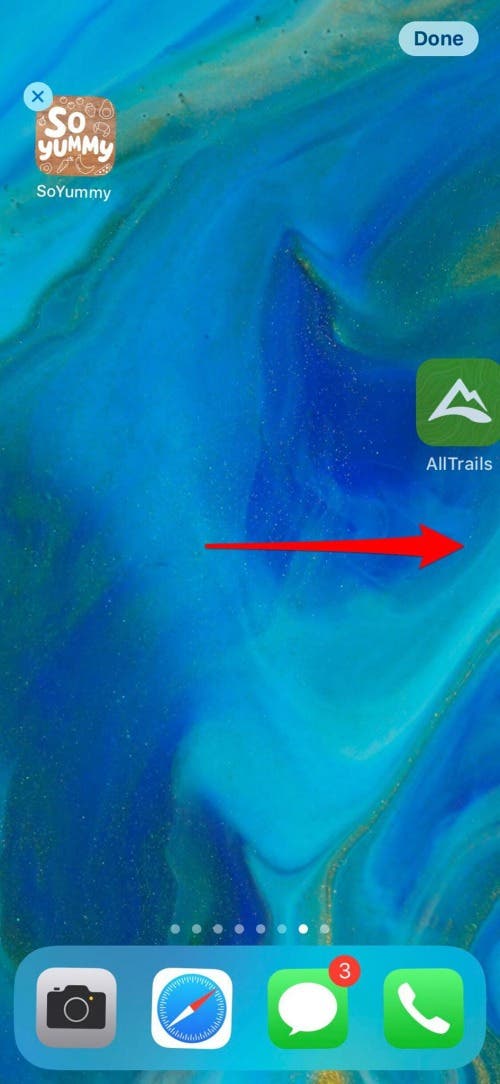 How to Create a Folder on the iPhone
After you've downloaded even more apps, you may want to create some folders to sort them into. To make a folder on your iPhone:
Touch and hold an app until it wiggles, then drag it onto another app that you'd like to have in the same folder, and let go.
A folder will automatically be created; if you don't like the folder name your iPhone suggests, tap on the x and enter a new title.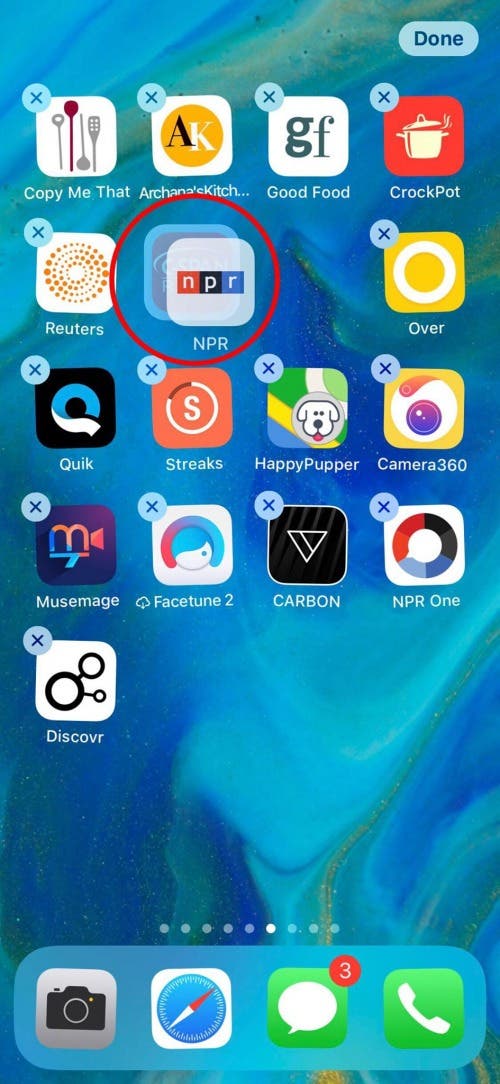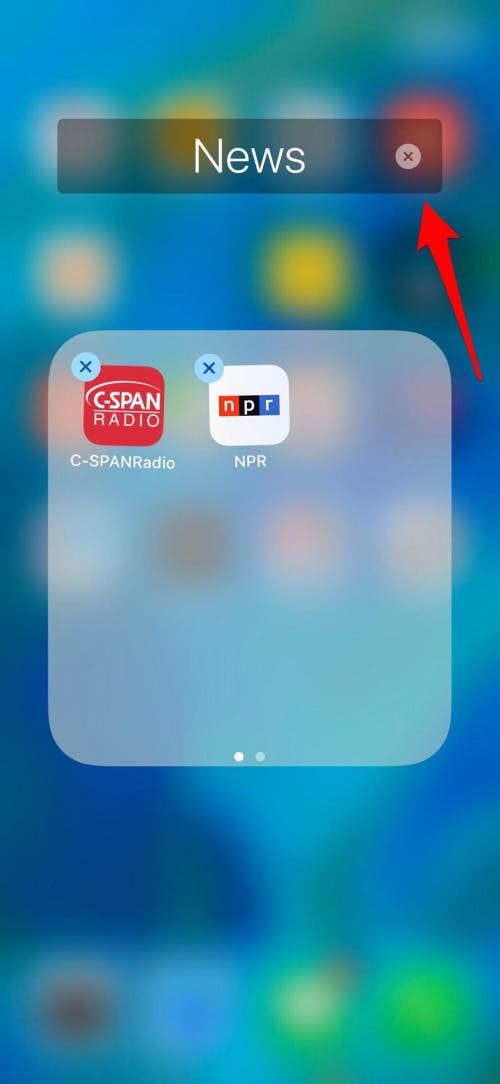 Add more apps into this folder by touching, dragging, and dropping them.
Tap Done or press your Home button when finished creating your folder.
 You can always add more apps to the folder later, or remove the apps by dragging them out; removing all of them will delete the folder while your apps remain on your Home screen. If you'd like to move a folder, just touch and hold, then move it in the same way you would a single app.
How to Rename an App Folder 
If you'd like to rename a folder:
Touch and hold the folder until it begins to wiggle, then tap it once.
Tap the x by the title of the folder, then enter the new title and tap Done.
Tap the screen to finish, then tap Done or press the Home button to finish.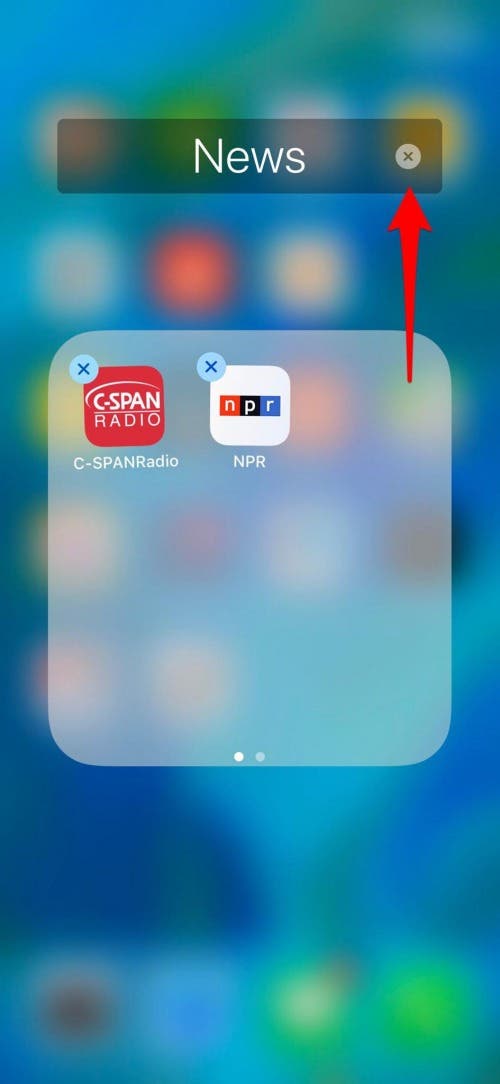 If you're not pleased with the new organization of your iPhone's Home screens, it's possible to restore your apps to their original layout. Taking this step will remove all your folders and arrange your native Apple apps first, followed by your third-party apps, alphabetically organized. To do this:
Open the Settings app and tap General, then tap Reset.
Tap Reset Home Screen Layout, then confirm that you want to Reset Home Screen.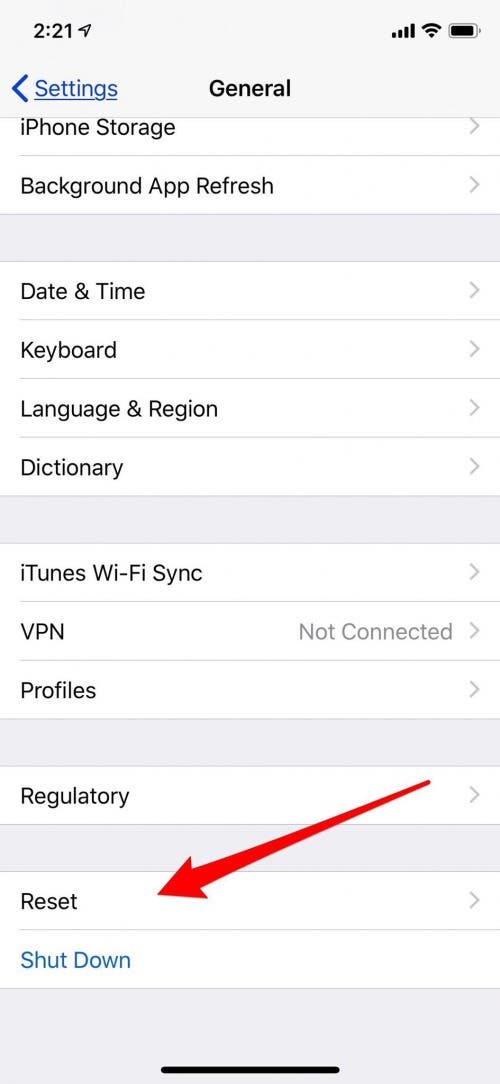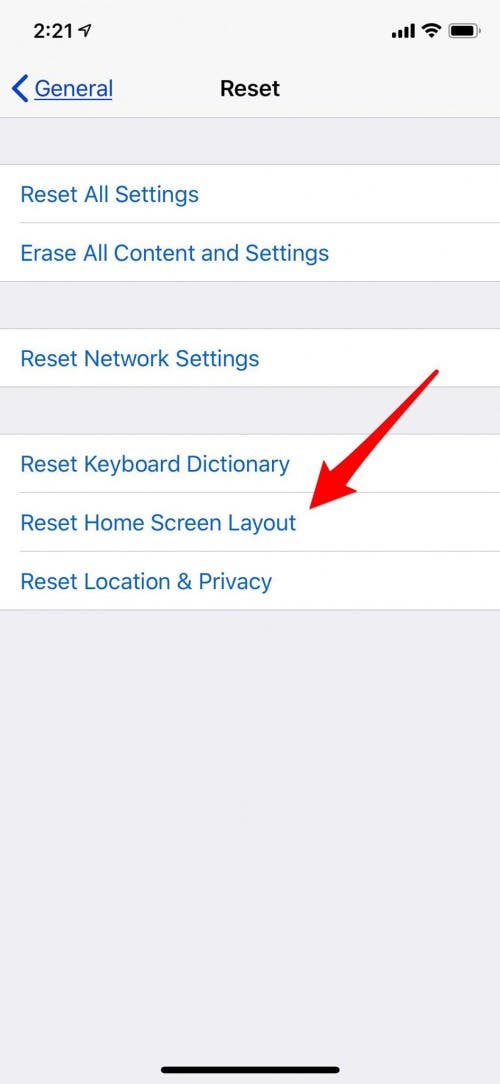 Here's a fun tip to try with your app icons; on iPhone with 3D Touch (All iPhones after 6s except iPhone XR), 3D touch an icon of your choice, and a menu of shortcuts will pop up. For example, if I 3D touch the Tasty app icon, I have the options to share the app or add a widget to my iPhone's Today View. Using 3D Touch on the Audible app icon allows me to search the app, go directly to my Library, pick up where I left off on my last audiobook, or share the app.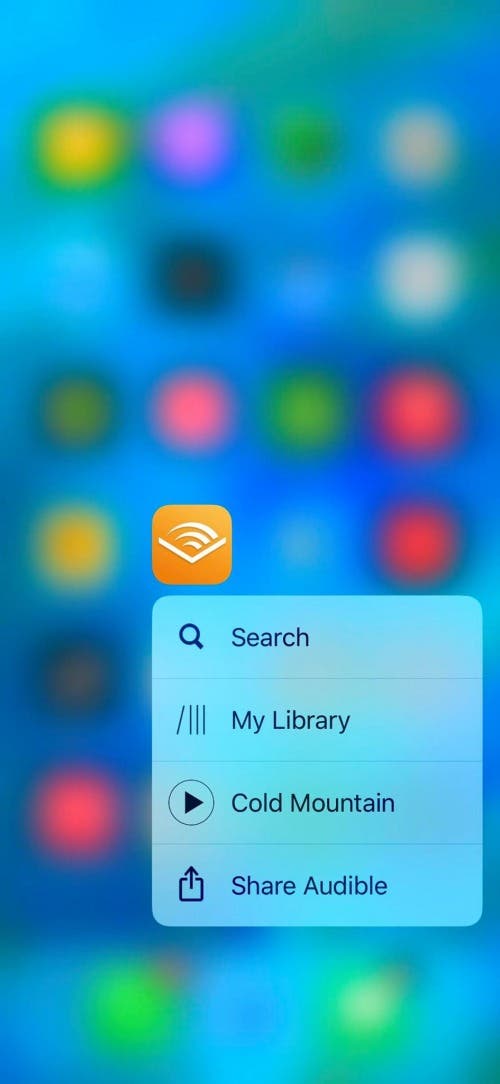 The App Switcher
The App Switcher let's you easily switch from one open app to another or quickly close one or more apps. To access the App Switcher:  
For iPhones X and later, swipe up from the bottom of your screen, stopping in the middle.
All of your apps that are currently open will appear in a stack; swipe right and left to see previews of all the apps you currently have open, tap on one to use it.
For iPhones 8 and earlier the process is the same, except that you need to double-click the Home button to make your open apps appear.
Use the App Switcher & Close the App
If one of your apps keeps unexpectedly quitting (crashing), freezing, or won't open, there are a few different options to remedy the problem. First, try force closing the app, then opening it again using the App Switcher.
Swipe to the right or left until you locate the app that's giving you trouble
Swipe up on the problem app's preview to close it.
Restart Your iPhone
If your app is still acting up, try restarting your device.
For iPhones X and later press and hold the Side button and either volume button until the power off slider appears.
Drag the slider, wait a minute or two, then restart your iPhone by holding the Side button until the Apple logo appears.
If you have an iPhone 8, 7, or 6, press and hold the Side button until the power off slider appears. 
If you have an iPhone SE or earlier, press and hold the Top button until the power off slider appears.
Slide to power off, then wait a minute or two and press the Top or Side button until the Apple logo appears. 

Check for Software Updates
Go to the Updates tab in the App Store and see if the app needs updating. If it does, tap Update.
If your app is still glitchy, check and see if your iPhone needs to be updated to the latest operating system. 
Delete & Reinstall Your App
If updating your iPhone's operating system didn't correct the issue, delete your app and reinstall it. Taking this step won't mean you have to pay for the app again, nor will it cancel any subscriptions associated with the app. Deleting the app does mean losing data stored within it, for example, levels completed in a game. Once you've deleted the app:
Open the app store and find the app you'd like to reinstall.
Rather than "Get" or a price, you'll see a download icon by the app you deleted and are now reinstalling; tap it.
Once the app has downloaded, you can tap Open to open it, or find and open it from your Home screen.