By

Leanne Hays
Updated 03/27/2023
It seems unfair that the times we're able to play games on our iPhones are the exact times that there's unreliable, unsecured, or no Wi-Fi connection at all. If you've been wishing for a few fun offline games for those long flights, waits at the DMV, or road trips to the back of beyond, I've collected a sampling of no Wi-Fi games just for you. Whether you enjoy offline racing games, strategy games, puzzle games, or even RPG games, there's something in this games without Wi-Fi roundup for everybody. Let me know which of these iPhone games is your go-to when there's no internet available, and if you have any to recommend that I've missed. Let's get started!
Related: Apple TV Apps: 8 Best Game Picks for 2018  
'80s Game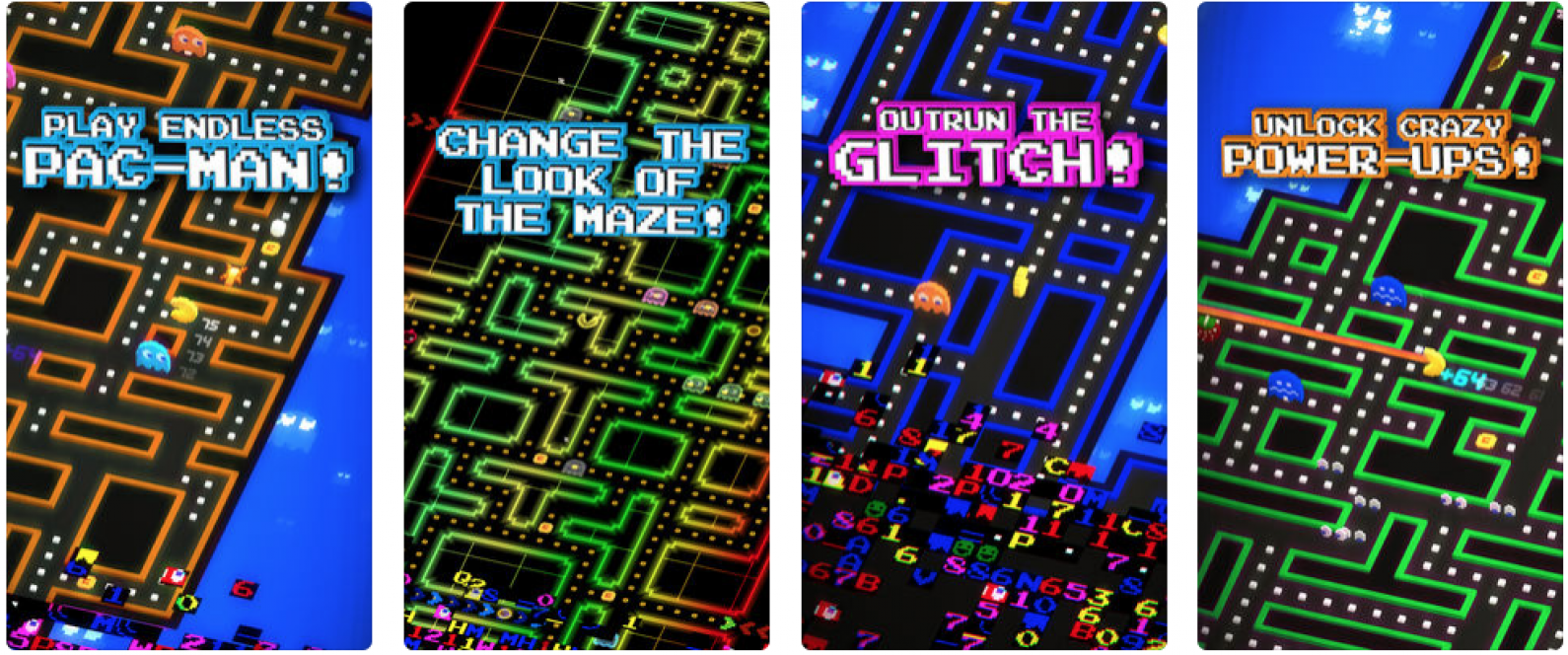 As a child of the '80s, I have to start with Pac-Man, or rather, Pac-Man 256 Endless Arcade Maze. Having plunked way too many quarters into Pac-Man, (and Ms. Pac-Man) machines in my time, it's pretty cool to have a free version available whenever I want to play, right on my iPhone. That being said, this game is not quite the same as the original! For one thing, there's no way to obsessively eat every dot to advance from board to board. Instead, players have to eat pellets while searching for fruit, coins, and even weapons like lasers, all while evading ghosts and the ever-encroaching "glitch," and all on one endless board. 

Discover your iPhone's hidden features
Get one daily tip each day (with screenshots and clear instructions) so you can master your iPhone in just one minute a day.
For .99 you can play the classic '80s theme, and there are other in-app purchases that offer additional themes, give you unlimited credits, and double your coins. Overall I'd say the free version is fun without any extras if you're willing to watch an ad here and there. This isn't a game I like to play for long stretches of time, more of a five-minute stress-relieving trip back in time.  
Puzzle & Strategy Games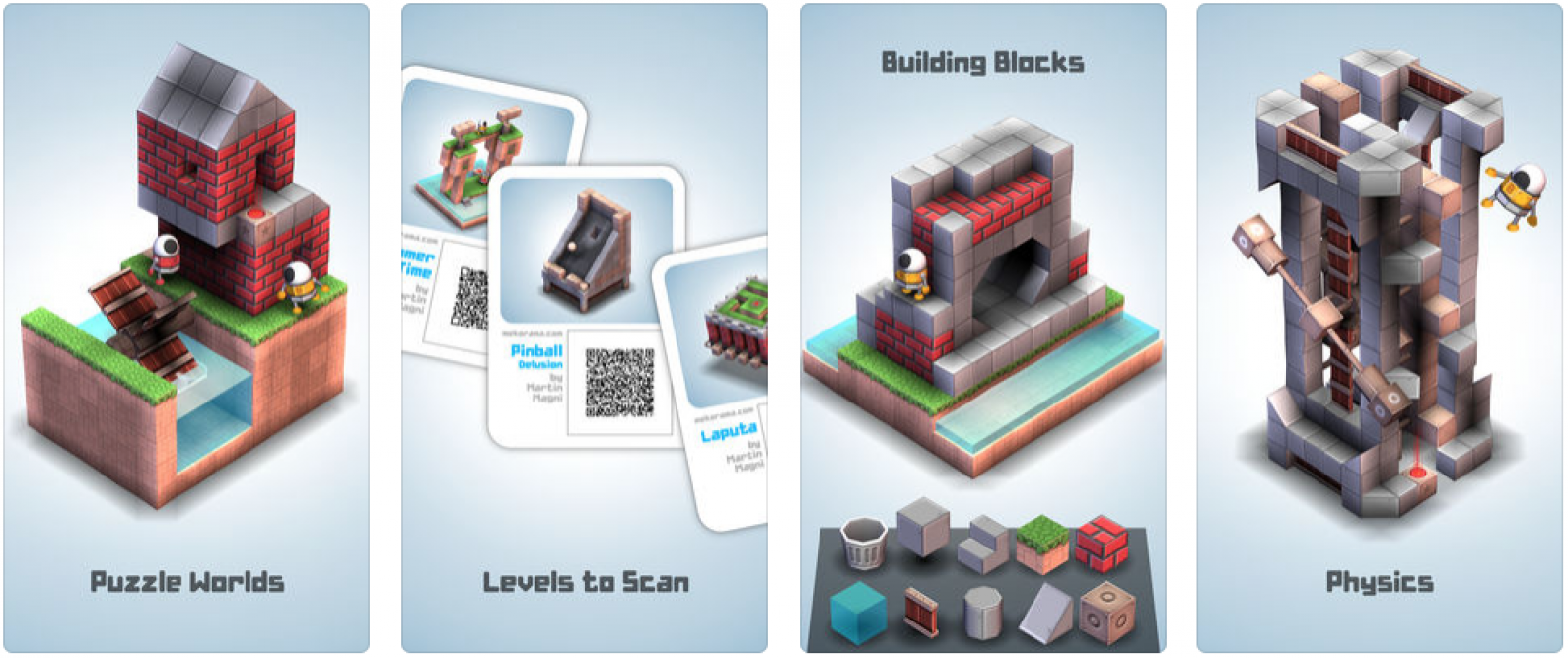 Mekorama is a puzzle game where the goal, board after board, is to guide an endearing little robot through a maze to reach the exit and enter the next level. The tricky aspect is that you can't see all parts of the maze, so you have to rotate the structure and extrapolate from the information you're given to work towards the solution. As the levels increase in difficulty, your little robot will need to go underwater and drop off of ledges to reach the exit. I've thoroughly enjoyed testing this game, and find that it re-engages my thought processes when I'm having a bit of brain fog. I'll definitely be keeping Mekorama on my iPhone, as well as recommending the game to friends.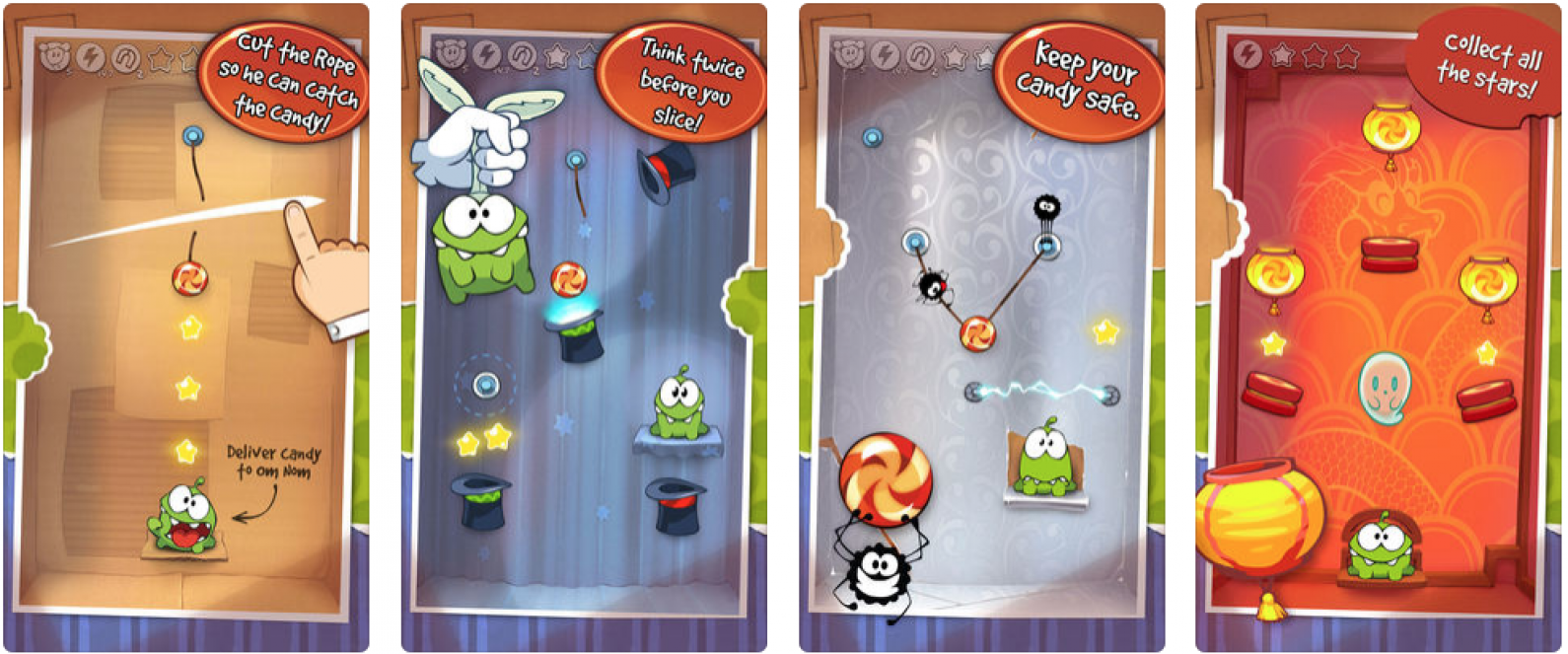 You might think that a game this cute would be childishly simple to master and defeat, but that is certainly not the case with Cut the Rope. Players are tasked with, you guessed it, cutting ropes to release a piece of candy to feed a little monster named Om Nom waiting at the bottom of their screens. Bonuses are given for cutting the rope, or ropes, in such a way that the candy swings into several targets on the way down. The game includes not only physics lessons as players learn which action will lead to which result, but also careful timing, since later boards involve evading candy thieving spiders, magic hats, ghosts, and lasers. With 100 ever more difficult boards to beat, Cut the Rope will keep you on your toes for a good long time!
RPG Game
You Must Build A Boat is part fantasy-adventure role-playing, part a strategy and luck, with graphics reminiscent of the early '80s arcade games. Players need to think fast as they slide columns and rows of tiles on the lower part of the screen in an attempt to match three of a kind to unlock treasures, build defenses, and attack enemies. As the matching is going on, the strategies and actions chosen are acted out at the top of the screen. There are a series of mythological creatures to battle, traps to avoid, and missions to complete, with crew members, pet monsters, and components of your boat to buy as rewards for success. Immersive, challenging, and more than a little addictive—this was a great find! 
Racing Game

If you're a fan of high-energy, fast-paced racing games, you'll love M.U.D Rally. I, myself, get a little stressed out by this type of game, but then again I'm the type of person who always drives the speed limit, uses my blinkers, and buckles up. In any case, although repeatedly crashing my car into buildings and shrubbery was a bit frustrating at first, after giving this game a chance I got the hang of the controls and started to really enjoy the experience! Having the choice between multiple different cars and courses is a major highlight of M.U.D Rally, particularly as players can choose between Time Attack mode, where you're racing against your own best time, and Championship, where there are other racers to beat (or lose to.) If adrenaline and competition are your cup of tea, this free offline game will be a new favorite in no time. 
I hope you've enjoyed this roundup of offline iPhone games and found a new favorite; let me know in the comments if you've run across an offline iOS pick you'd like to recommend! If you enjoy mobile gaming, check out the best Apple Watch games out there.