By

Olena Kagui
Updated 04/16/2023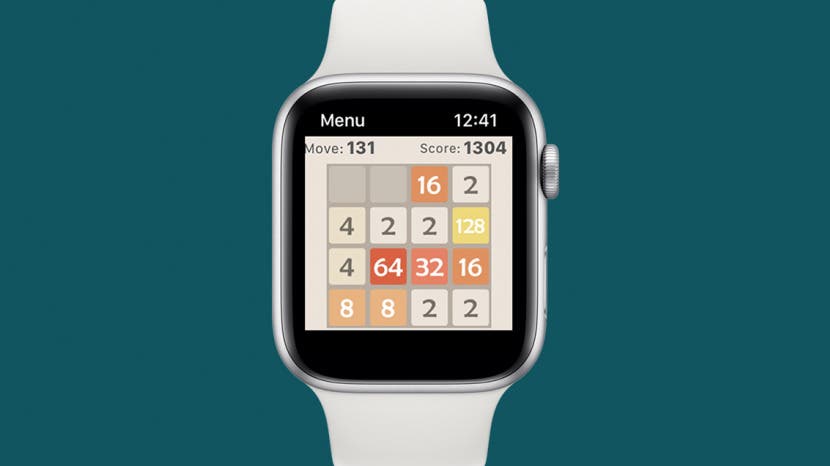 Can you play games on Apple Watches? Yes! While the Apple Watch is a serious piece of equipment, it can also be used to blow off steam with games directly on your wrist for free! Learn how to get games on your Apple Watch and relive the good old days of Nokia's classic snake game on your watch face. If retro games are not your style, don't worry, there are many exciting games to play on Apple Watch and many are free.
Nothing entertains me more than playing the classic snake game by tapping on my Apple Watch's sleek screen. This classic game pack contains 20 mini-games that you can enjoy on your Apple Watch, Apple TV, iPhone, and iPad. This pack includes the infamous snake game and Mine Sweeper, Maze Man, Brick Breaker, Sudoku, and many others. My only complaint about Snake is that it doesn't utilize the Digital Crown. Despite not liking paying for apps, the insignificant one-time fee of $1 basically makes this feel like one of the free apps for games, and the 5 cents per game is well worth it, in my opinion.
To learn more about all the things you can do with an Apple Watch, sign up for our free Tip of the Day newsletter. For steps on how to download games on your Apple Watch, skip to the end.

Discover your iPhone's hidden features
Get one daily tip each day (with screenshots and clear instructions) so you can master your iPhone in just one minute a day.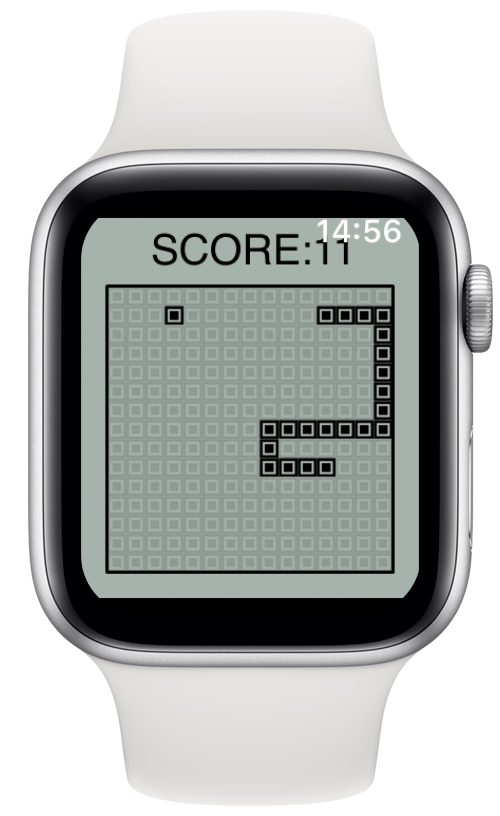 Related to: 10 Useful & Cool Widgets for Your iPhone Lock Screen (iOS 16)
2. Play the Viral 2014 Phone Game on Your Watch: 2048 :) (Free)
While the 2048 craze has died down, many people still love or have recently rediscovered 2048. I actually consider this to be one of the most fun Apple Watch games out there. It looks particularly great on the large, bright watch screen of the Apple Watch Ultra, plus the battery life means you can play guilt-free! Although no Apple Watch models, even the Ultra, will ever be considered game watches, playing games on them is surprisingly easy and fun. The game is simple and works exactly the same on your watch as it would on your phone, though I prefer the watch version because it isn't as distracting as it is on my phone screen.
Yes, that's right! Ping Pong offers a multiplayer game that takes gaming on your Apple Watch to a whole new level. You can also play Pong all on your own, using the Digital Crown to move the paddle bar. If you want to play with a friend, you will have to swipe up in the app and tap versus. Next, select the same option on your iPhone, and you are ready to play! Since your iPhone and Apple Watch are synced, you don't have to worry about any lags.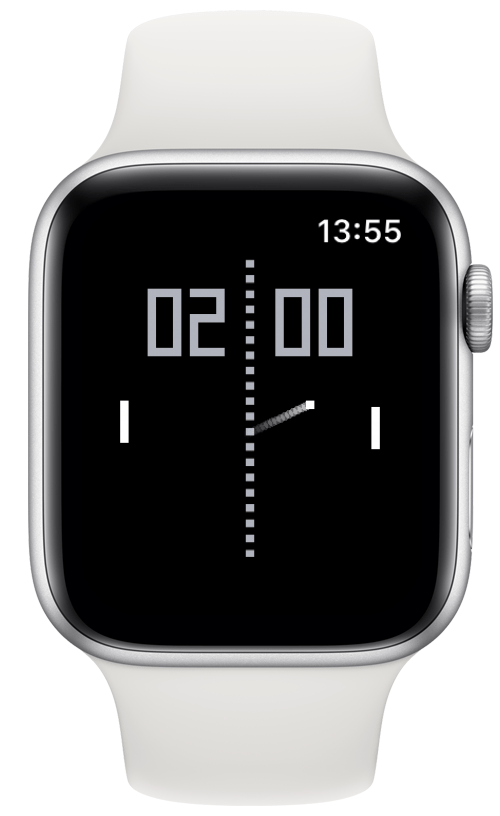 4. Play a Solo Alternative to Pong: Hit the Island (Free)
Hit the Island is becoming increasingly popular on iPhone, and it is basically Pong, except the goal is to hit the bar at the top while not letting the ball touch the bottom of your display. This game incorporates the Digital Crown, which I really enjoy, and it works great on the new watchOS. This is the perfect mindless game to play if you are bored or taking a break. The only reason I prefer the iPhone version is that it incorporates the Dynamic Island if you have the iPhone 14 Pro or Pro Max.
5. Text a Fictional Character: KOMRAD ($1.99)
Communicate via text with a 1985, Soviet-designed artificial intelligence bot that doesn't know that the Cold War is over. This game lets you casually talk to an A.I. that may be connected to the world's second-largest nuclear arsenal. You will have to pick between various responses and see where the game takes you. Do you keep up the ruse or try to convince the A.I. that they've spent 30 years training for nothing? Only you can decide and will bear the consequences.
If you are looking for good apps for your Apple Watch, look no further! This Solitaire game is one of the best. It is straightforward to play, and I can see myself spending hours trying to win. Almost all of the 3,000 people who've rated this game love it: this is reflected in its stellar rating in the App Store.
7. Fly Through Obstacles: Jellyfish Tap (Free)
Jellyfish Tap is like a more challenging version of Flappy Bird. You have to tap to jump and stay afloat while avoiding hitting the top, bottom, or other barriers. Personally, I find this game quite difficult, but the low world record makes it tempting to keep trying! The cute but clean design makes playing even better, even if you keep failing.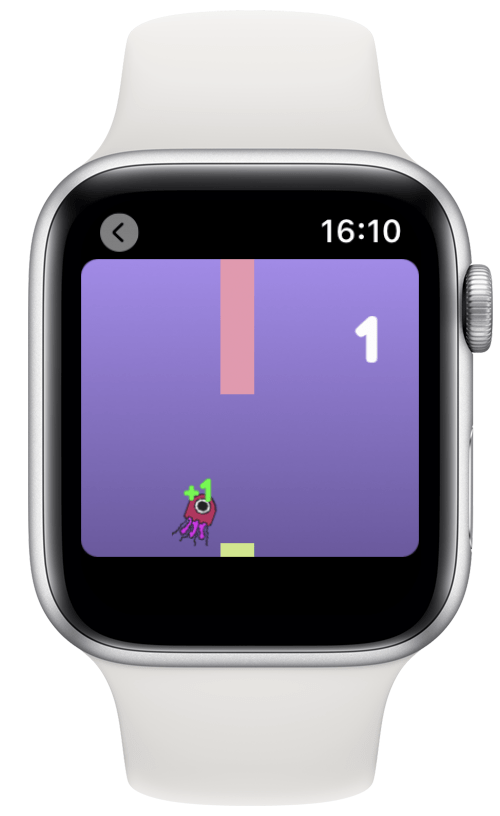 Arcadia is one of those must-have Apple Watch apps if you enjoy arcade games. It offers a great collection of 18 arcade games that you can play on your Apple Watch, iPhone, and iPad. One of these games is fast run, where you control a car with the Digital Crown and try to avoid hitting trees or other vehicles on the road. I love that it comes with old-school music for a more authentic experience. Other games in Arcadia include Crazy Balloon, PingPong, and more.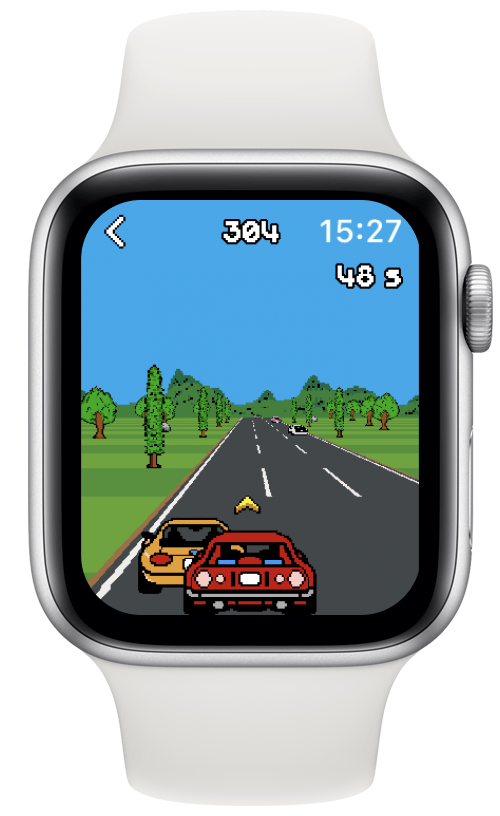 This simple app imitates the childhood favorite, the Magic 8 Ball!  Will it rain tomorrow? Do they like me? Should I eat more ice cream? Let the Magic 8 bit 8 ball make some tough decisions for you. I consider this one of the best free game apps for your Apple Watch because it is highly addictive and has all the original Magic 8 ball answers. 
Disclaimer: This app cannot actually predict your future. Also, AppleCare might not cover damage that occurs due to angrily smashing your watch if the Magic 8 bit 8 ball disappoints you one too many times.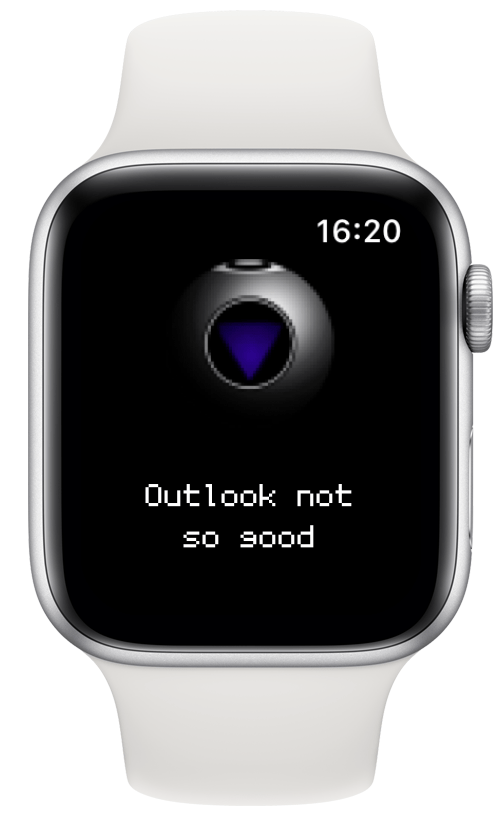 10. Shoot Bubbles: Bubble Wars (Free)
Bubble shooter games are all the rage and have consumed the lives of people for decades. Bubble Wars is played by over 10 million users worldwide and is undeniably addictive. The bubbles are pretty tiny, so if you have a smaller Apple Watch, you may find yourself squinting to make the perfect shot. It is an easy game to learn because it utilizes the Digital Crown and tapping for intuitive gameplay.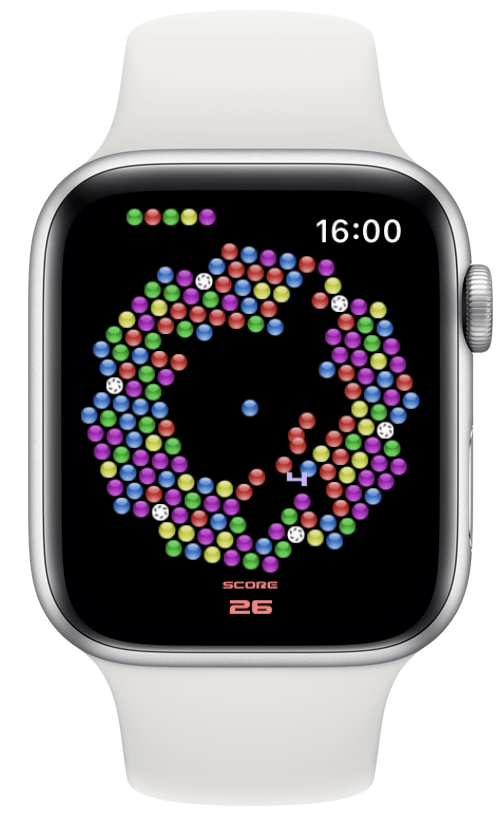 11. Run Laps by Tapping: Laps! (Free)
Often compared to Flappy Bird, but with less aggressive tapping, this game turns your screen every time you tap. Each 90-degree turn keeps you from crashing into the wall. Don't get too comfortable; every five laps, the direction will change! It gets faster and more challenging to keep you on your (tappy) toes. A recent update removed ads that took away from gameplay.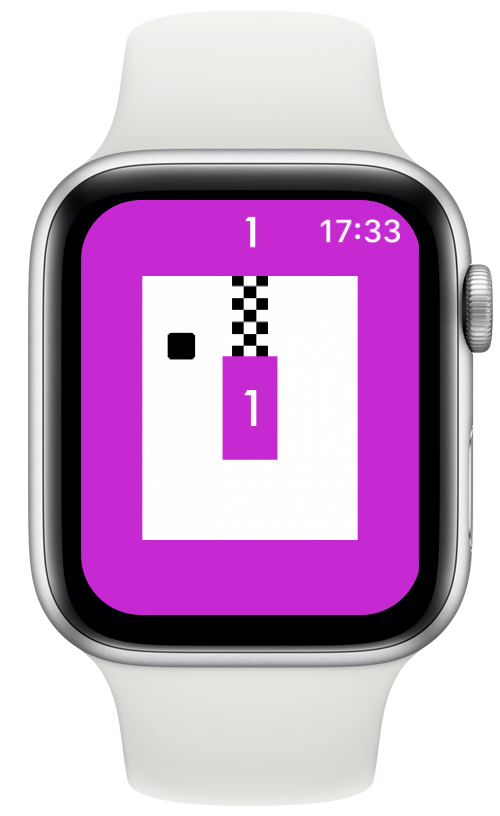 Channel your inner NYC grandpa with the Checkers app. Instead of playing in Central Park, play anytime, anywhere. My favorite thing about this app is that your progress auto-saves, so you can continue your game an hour, week, or month after you start. Hone your strategy and celebrate beating the ruthless opponent that is your Apple Watch.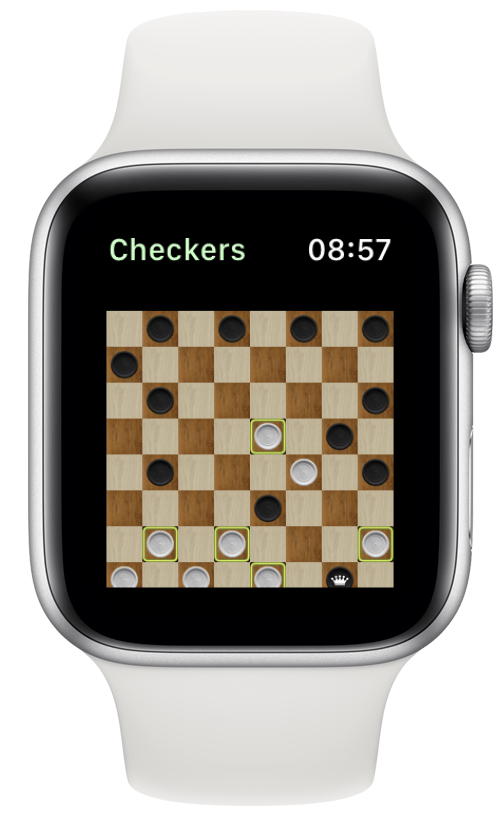 13. Capture the King: Chess (Free)
Chess prodigy Elizabeth Harmon had to use her imagination to project a chessboard onto the ceiling to practice in the Netflix miniseries The Queen's Gambit. In 2021, we have the chance to do it right on our wrists. You can play against a computer on your iPhone, but on an Apple Watch, you need a live opponent. Just tap New Game, which creates a challenge, and then you wait until someone else in the world wants to play. My personal goal is to learn and use the queen's gambit move in this free Apple Watch game!
14. Try Your Luck: FruitPot (Free)
Slot machines are not unique to Las Vegas; you can enjoy the thrill from anywhere on your Apple Watch display. Try your luck for free and use your 100 chips to win the big bucks! Full disclosure, you cannot win real money with FruitPot. But you can satiate your taste for gambling in this 50 percent skill and 50 percent luck slot machine simulator. Play for the chance to unlock new games and win prizes.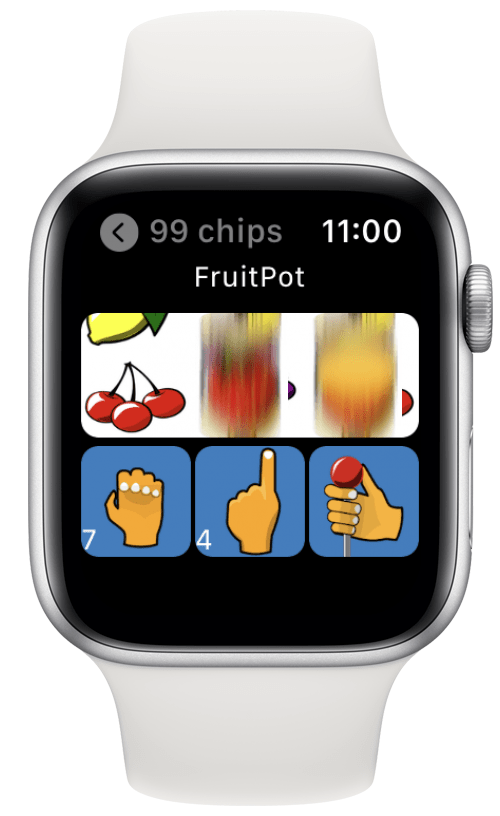 Pocket Plants is not your typical evolution game. Evolve your plant companion not by tapping to feed, water, and love it. Instead, you need to walk and earn steps to grow your plant and, in turn, get healthier! Use your real-life energy to take care of magical virtual plants and explore the unique landscapes of Fitland. You can even collect them all, Pokemon Go style, and mix and match different species to evolve brand-new ones.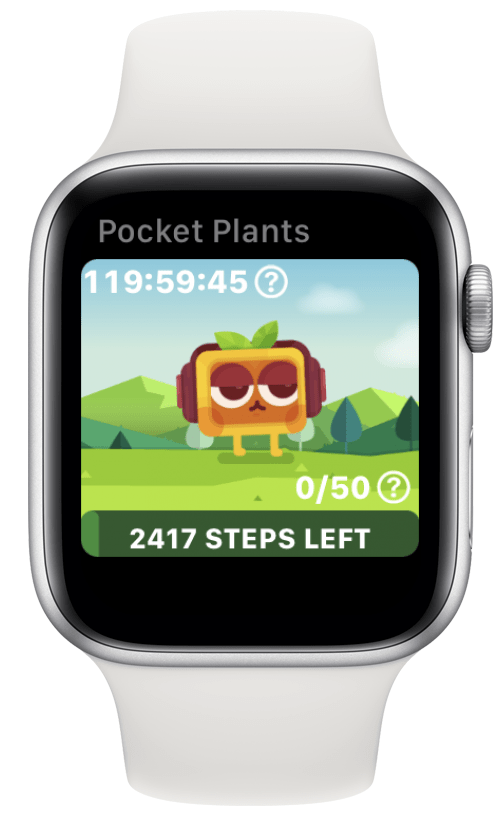 This golf game is surprisingly complex for a small device like the Apple Watch; however, it works seamlessly! It has beautiful graphics that make the simple game so much more exciting. Par 72 Golf is super intuitive and easy to learn. Once you master picking the right club, factoring in the wind conditions, and applying the right amount of force, you'll feel like the next Tiger Woods! This is one of the most graphically-challenging games you can play on Apple Watch!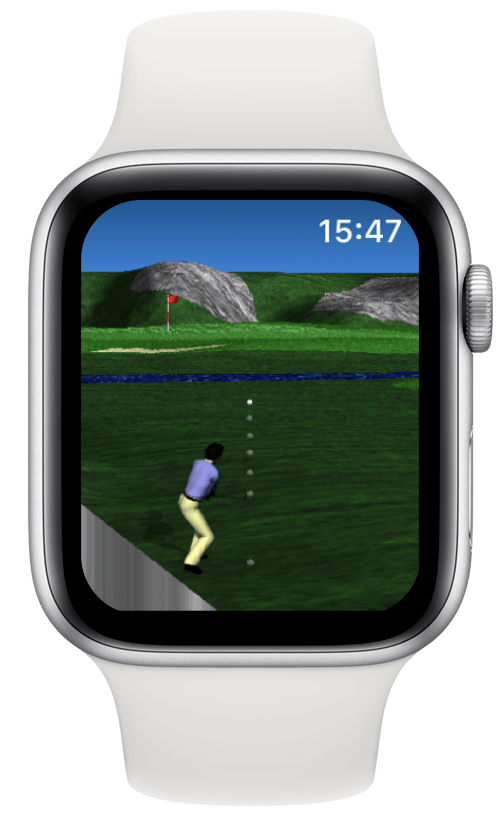 Trivia fans rejoice! Willy the cartoon spinning wheel is no Alex Trebek, but he will keep you racking your brain. Learn something new while having fun in this ridiculously well-designed game for your Apple Watch. Trivia Crack is one of the best Apple Watch games because of its superior graphics and glitch-free gameplay.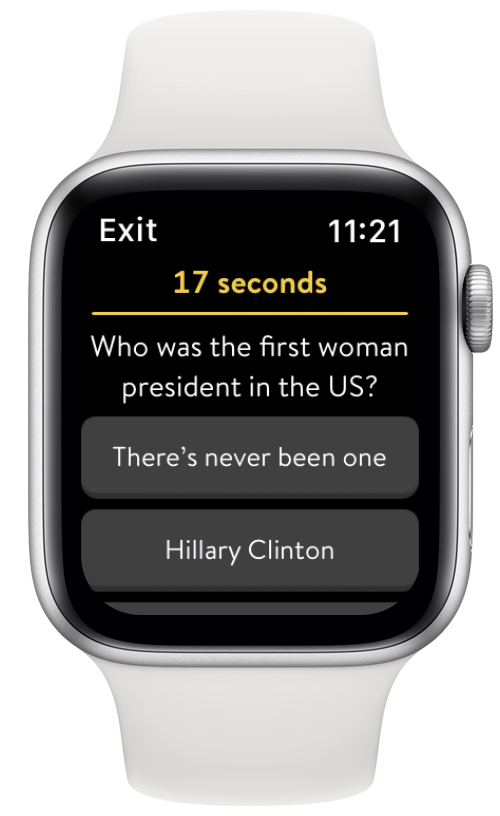 Want a new pet, but your landlord disapproves? Get one on your Apple Watch! Pick between cats, dogs, and betta fish, and start loving on your virtual fur (or fin) baby. With colorful graphics and easy-to-use controls, Watch Pet might be your new favorite game. They say that pets have a positive impact on our bodies and brains. Watch Pet makes no promises of dopamine, but it will brighten up your day with a fluffy corgi butt. If you have iOS 16 and the premium version of this game ($3.99/month), you can monitor your pet from a widget on your iPhone Lock Screen.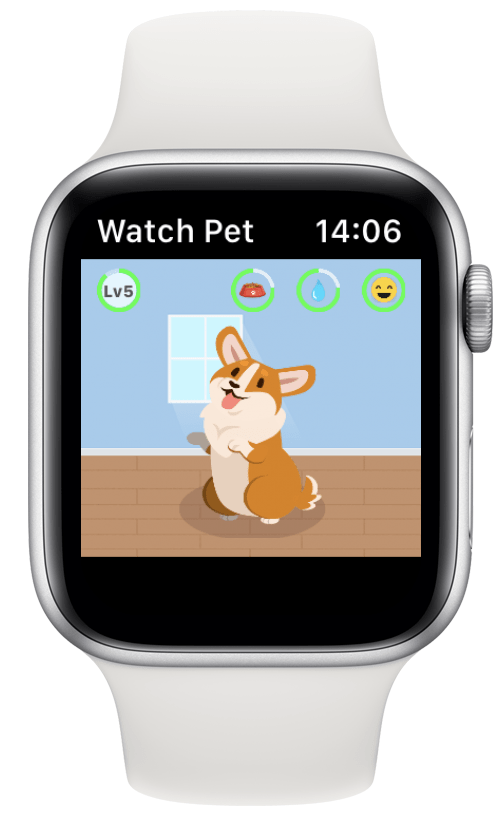 Play Truth or Dare with your friends, but let your Apple Watch determine the questions and dares. Avoid bias and using people's deepest darkest secrets against them. Please note that there are a few questions and dares that make this game inappropriate for children. Otherwise, this is a great game and can be a fun (if not awkward) icebreaker in an informal setting.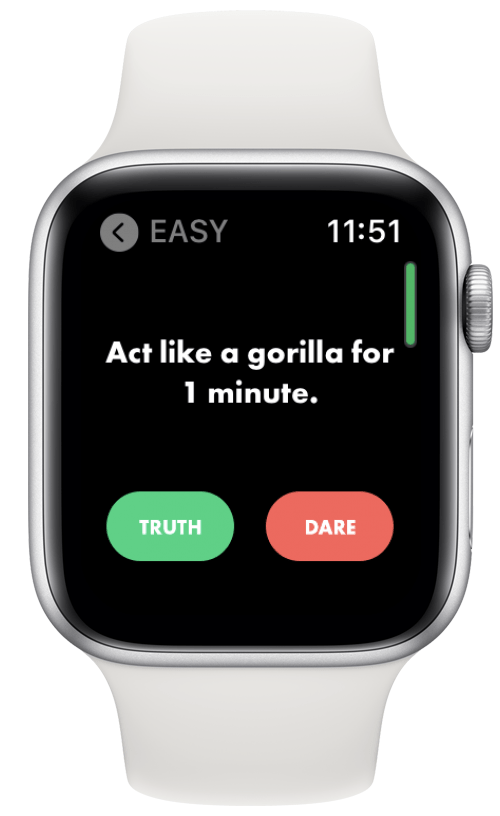 20. Test Your Brain: ColorSwitch! (Free)
ColorSwitch uses psychology to entertain us and test our brains. The Stroop Effect is a psychological phenomenon where the name of a color is spelled out in a different color. In this game, you will be timed to see how quickly you can tap the right color that is spelled rather than shown. This hilariously frustrating game is a lot of fun and shines a light on our brains' intricacies.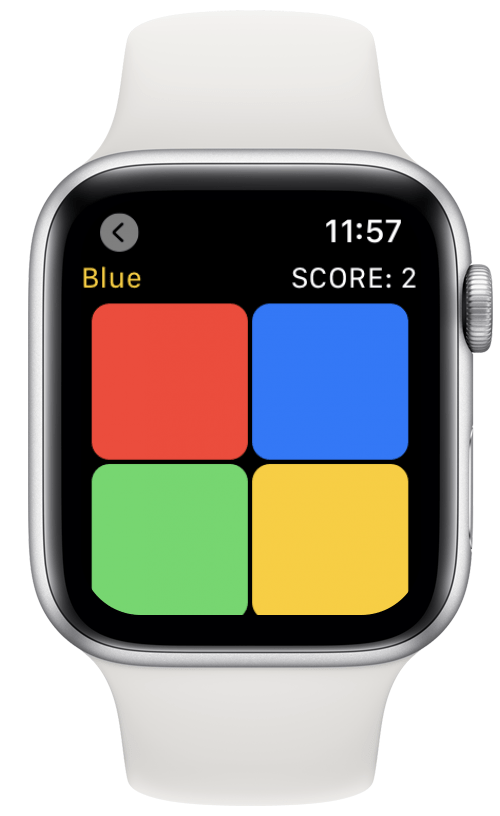 21. Drive With Accuracy - Touch Round (Free)
Touch Round is a car-driving game that does not involve racing. Pick your track and customize your vehicle to race the clock as you navigate the twists and turns. Use the Digital Crown to turn and complete the circuit as quickly as you can without straying from the road. Warning: this surprisingly challenging game may give you road rage off-road.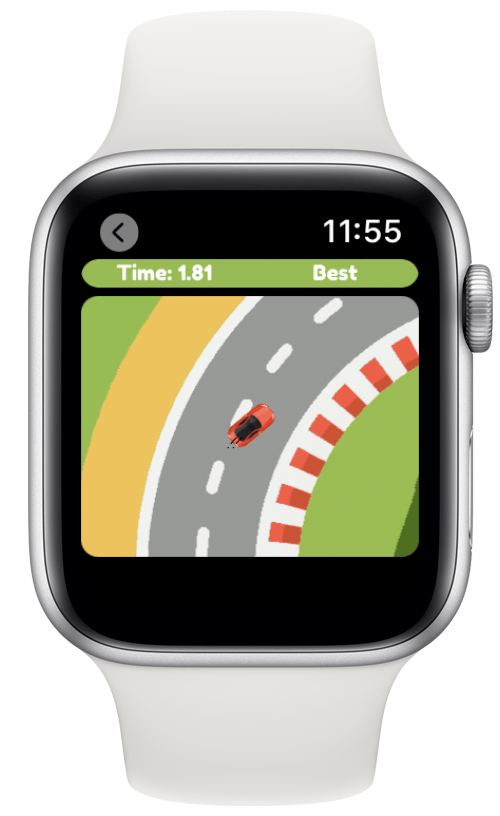 Bowling is a popular pastime, and it's almost as fun to play online as it is at your local bowling alley. While the app itself needs some work, and some users complain about the lack of guidance, I still found the game enjoyable. It's not too hard to learn from trial and error, or maybe I'm just an Apple Watch bowling prodigy?
Many people keep fish as a pet because watching them swim around is soothing. Jellyfish Heaven features jellies of different colors, sizes, and species that you can look at on your Apple Watch display. All you can do on the Apple Watch app is tap to change the jellyfish, and you see the time. It's not so much a game as a screensaver, but it brings me joy, so I decided to include it on this list of must-have Apple Watch apps. This is one of those unexpectedly fun Apple Watch apps!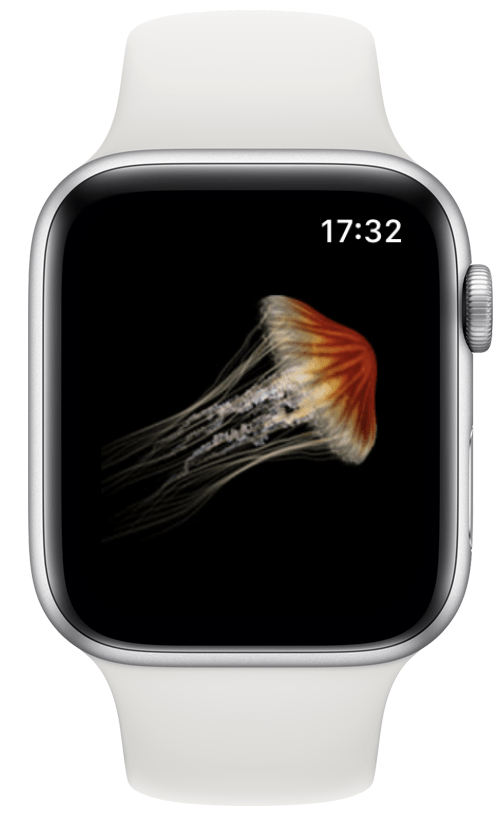 24. Adopt a Virtual Baby: Baby Adopter (Free)
Fill your breaks with the infectious laughter of a baby! Baby Adopter lets you adopt a child from a list of kids of different ages, genders, and races. You can take care of your baby on your iPhone, but keep an eye on how they're doing directly on your watch. You can feed it, buy it clothes, and give it medicine when it's sick. Other aspects of the game involve setting up the baby's room, exploring the rest of the home, and an extra egg-hunt game.
Tic Tac Toe is a lot of fun, but to enjoy it to the fullest, you'll need a friend to play with. Just take turns tapping the screen to play! It is super simple but it can also be easy to cheat on purpose or by accident; all it takes is a double tap. Although this isn't the most exciting game, I wanted to include it because it is a classic and can be a nostalgic way to have fun with your friends.
I hope you enjoyed my list of best games for Apple Watches, old and new! I'm having a lot of fun playing on my Apple Watch Ultra. Do you disagree and think you have a better list of the best games on Apple Watch? Please let me know in the comment section below.
How to Get Games on Apple Watch
Download games on your Apple Watch, the way you would install an app. You can find them directly on your watch in the App Store, or you can use your iPhone. Here are step-by-step directions on how to download games on Apple Watch:
On your Apple Watch, open the App Store.


Search for a specific game or 'Apple Watch games.'



Tap GET.


Double tap the Side button.



Depending on your security settings, you may need to use your Apple ID to confirm the free download or purchase.
Are Apple Watch games free? Yes and no! There are many free games to play on an Apple Watch. Just like other apps, some may have a one-time fee or in-app purchases. It is not difficult to find good games in the App Store. It is full of great options, including free Apple games for your watch. When people ask, "Can you play games on an Apple Watch?" I bet they don't expect to see such a variety of fun Apple games. There are retro games, trivia games, racing games, and even multiplayer games. Apple Watch games offer something for everyone! If you want to try more complicated games, did you know you can use an Xbox controller to play games on your iPhone? If games are not your thing, check out these Van Gogh-themed apps!