By

Olena Kagui
Wed, 05/12/2021
Experience van Gogh for free on your iPhone without crowds or confusion. Several Immersive Van Gogh Experiences are coming to the USA this summer and fall. Many of them are already sold out until 2022, so if you want to enjoy some Vincent van Gogh paintings sooner, you may have to do it virtually on your iPhone!
Related to: The 8 Best 3rd-Party Apps iPad for Apple Pencil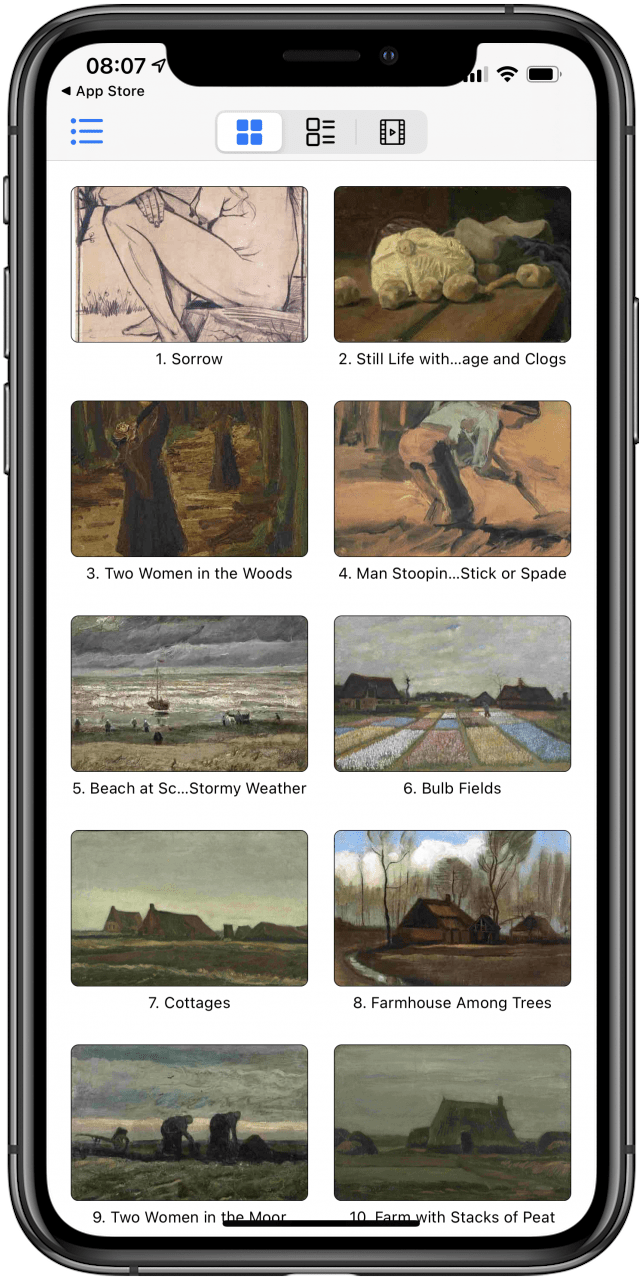 The van Gogh exhibits in Chicago, New York, and other major cities are expected to make a bang. However, none are quite as comprehensive as this free app that contains 543 Vincent van Gogh paintings! You can only view a few for free, you'll have to pay $1.99 to view them all. The only downside is that there is no information about the art.
Available for iPhone and iPad, this app has a built-in convenient and diversified way of viewing pictures. You can even click to view high-resolution images. You can view the images and download them to use as artistic backgrounds for your iPhone and iPad. 
Plus, users can rate paintings and filter them based on categories and ratings. This is a great way to get the collection of 543 masterpieces organized for future reference. After all, art is subjective, and while some people love the van Gogh self-portrait, others do not. To learn more about iPhone apps, sign up for our free Tip of the Day newsletter.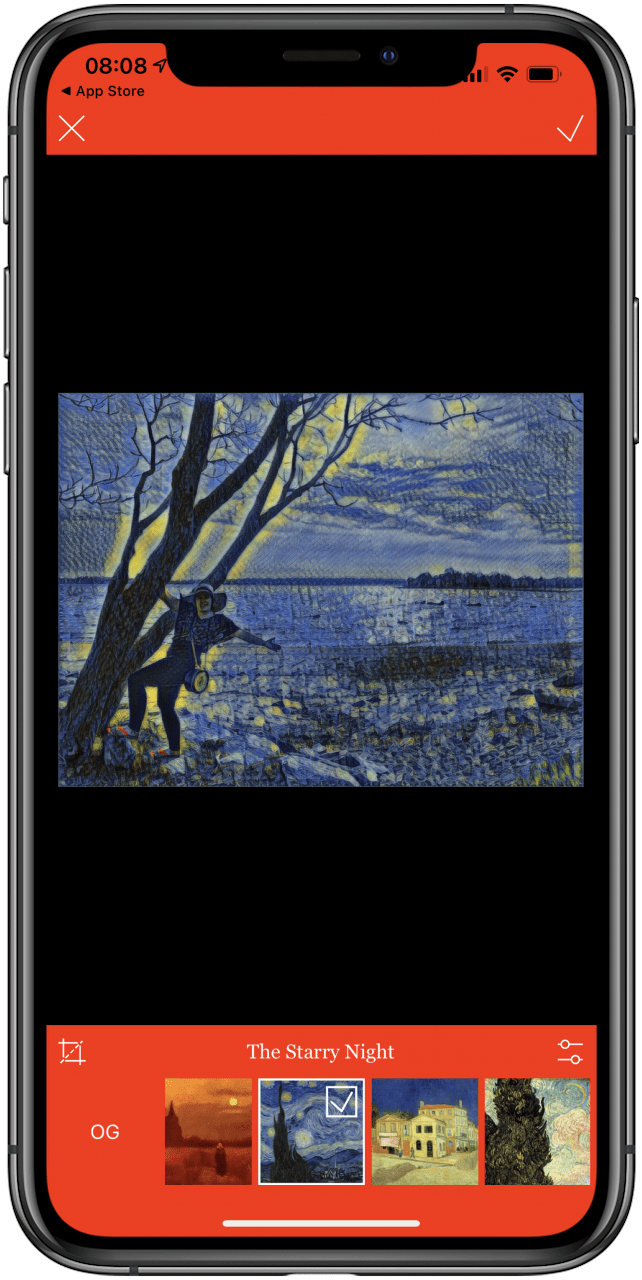 Experiencing van Gogh isn't just about learning history. They say that imitation is the sincerest form of flattery, and there is no better way to show your love for his art than with ai Van Gogh. This unique app will take your photos and apply a filter to make them look like his most famous paintings!
This app isn't free but is worth the $0.99. It is the perfect photo app for taking selfies at the Van Gogh Museum. It is also fun to have in your app arsenal at the official Van Gogh the Immersive Experience. Using artificial intelligence, ai Van Gogh will transform your photos into distinctive pieces of art.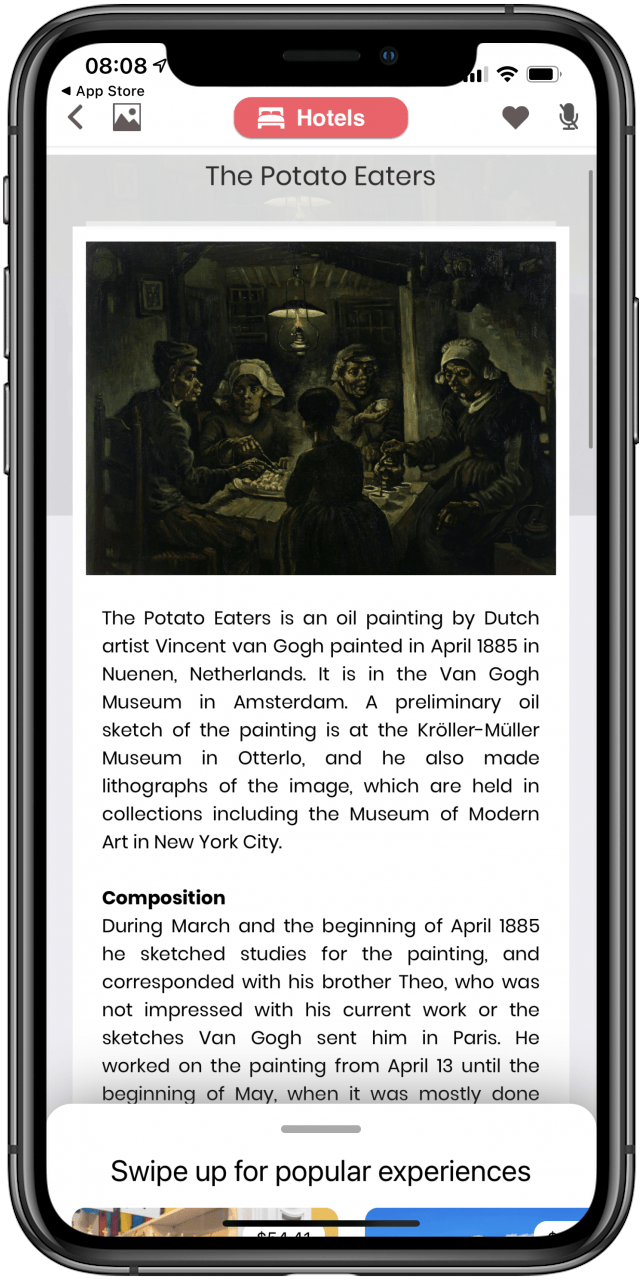 This free app is meant as a visitors guide for the Van Gogh Museum Amsterdam, a tourist hotspot attracting art lovers worldwide. However, you can download the app anywhere globally and use it to learn all about one of the world's most famous artists!
Skip the parts of the app that are meant to help you navigate the museum, and dive right into the art history! The app works on iPhone, iPad, and even your Apple Watch. This means that you can discreetly swipe through van Gogh paintings on your wrist next time you want to zone out during a Zoom meeting. Tap on the image to get more information, and you'll be an expert in no time!
Learning art history doesn't have to be boring. Skip the reading and dive right into puzzling. Put together Van Gogh's Sunflowers and many other masterpieces in an educational yet relaxing manner. Discover 21 collections and over 160 puzzles, all available in 5 levels with 12 puzzle shapes! 
With the variety of puzzles and art pieces, you will never get bored assembling famous Vincent van Gogh paintings! Available for iPhone and iPad, this fun puzzle app will keep you entertained and even let you compete with friends. 
Unfortunately, only nine puzzles are available for free; you will need to pay $0.99 per painting. It can get expensive if you want many paintings, but it's significantly cheaper than a physical puzzle and takes up zero space in your home! Unfortunately, it isn't available on the newest iOS at the moment, but we're hoping that developers will update it soon.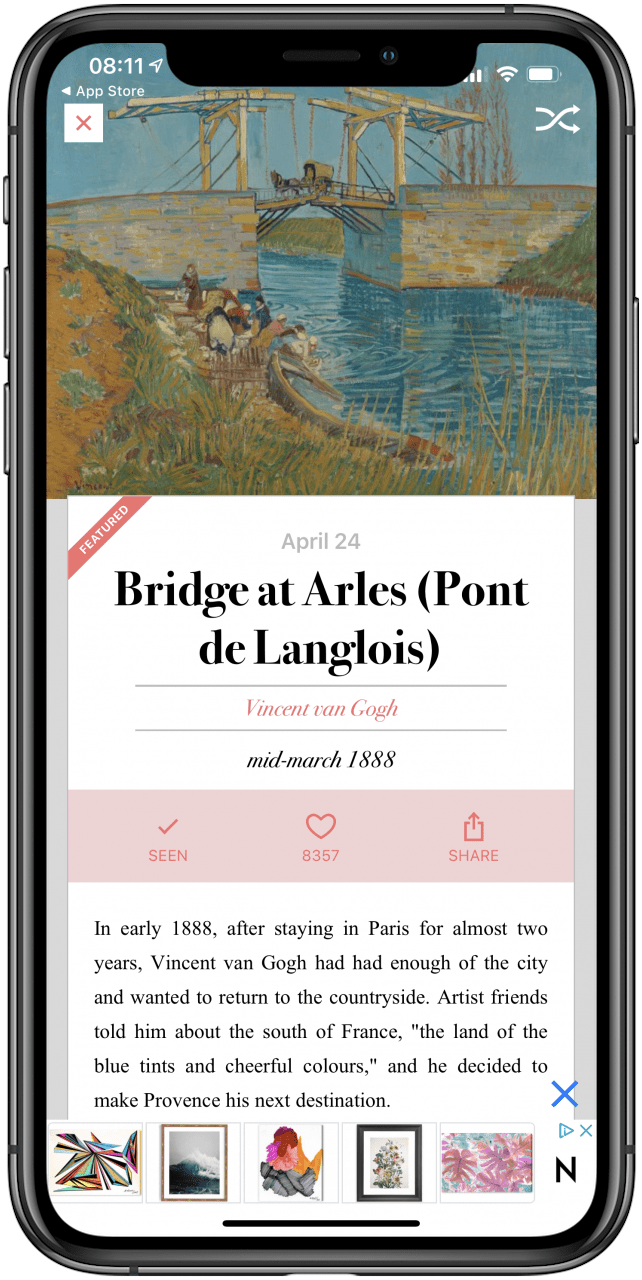 Experience van Gogh's Starry Night and other famous pieces with DailyArt. DailyArt gives you your daily dose of art history and is designed for your iPad. Although it looks best on a larger screen, it is also great for iPhone and Apple Watch. So you can learn about this fantastic artist directly on your wrist
Formatted for the busy humans that most of us are, DailyArt helps us enjoy over 2,500 masterpieces, 700 artist biographies, and information about 500 museum collections in the form of short stories. You can even add masterpieces to your favorites list to look back at whenever the mood strikes. 
DailyArt isn't exclusive to van Gogh, which means that you can also enjoy other popular paintings like Girl with a Pearl Earring by Vermeer. However, it does offer a lot of information about him. Find out why van Gogh cut off his ear and who the lady in his portrait is. Get your first dose of art history before you even download the free app in the App Store Preview.
There are so many fun, free ways to enjoy Vincent van Gogh's paintings on your iPhone. Of course, we do not want to discourage you from visiting Van Gogh the Immersive Experience in the city of your choice. These virtual experiences can be great alternatives or additions to real-life events!