Do you have a photographer on your holiday gift list that you'd love to surprise with a unique and useful iPhone photography accessory? We've included a smartphone lens kit, a tripod, a photo gear bag, and more in our holiday buyer's guide. Peruse these gifts for photographers to find the best present for your favorite shutterbug. 
I admit, I was one of the last people at iPhone Life to own an iPad. I just didn't see the use in it. My iPhone could do whatever I needed; and for those times I needed a bigger screen and a keyboard, I had my laptop! Well, after two months with the iPad Pro, I see the appeal, particularly when it comes to being more productive in my creative pursuits. The following apps have become my favorite solutions for everything from learning new skills to efficiently accomplishing my artistic goals.
iPhone cameras are improving every year, to the point where we can all take (and edit) professional-grade photos with just our phones. Still, once you've dived into iPhone photography there are a few accessories you may want to try out; we've rounded up our favorite photo gear for this very reason. From iPhone camera attachments like lenses, to our favorite iPhone tripod, to an awesome starter drone, an iPhone photo printer, and of course a selfie stick, we've gathered our favorite gear of the year right here. We've also included a few extras like a travel bag, a waterproof iPhone case, and some great free photo filter and editing apps to take you from start to finish on your photography adventure. Let's get started! 
Our iPhones are our constant companions, so we need gear and accessories to keep them charged and protected from accidents. We've rounded up some of our favorite iPhone screen protectors, charging cables, power stations, and even an iPhone cleaning kit in our 2018 Buyer's Guide to iPhone accessories. You'll find items from Zagg, Nomad, mophie, and more, offering a range of rugged, innovative, and even elegant products for your iPhone. 
Article Spotlight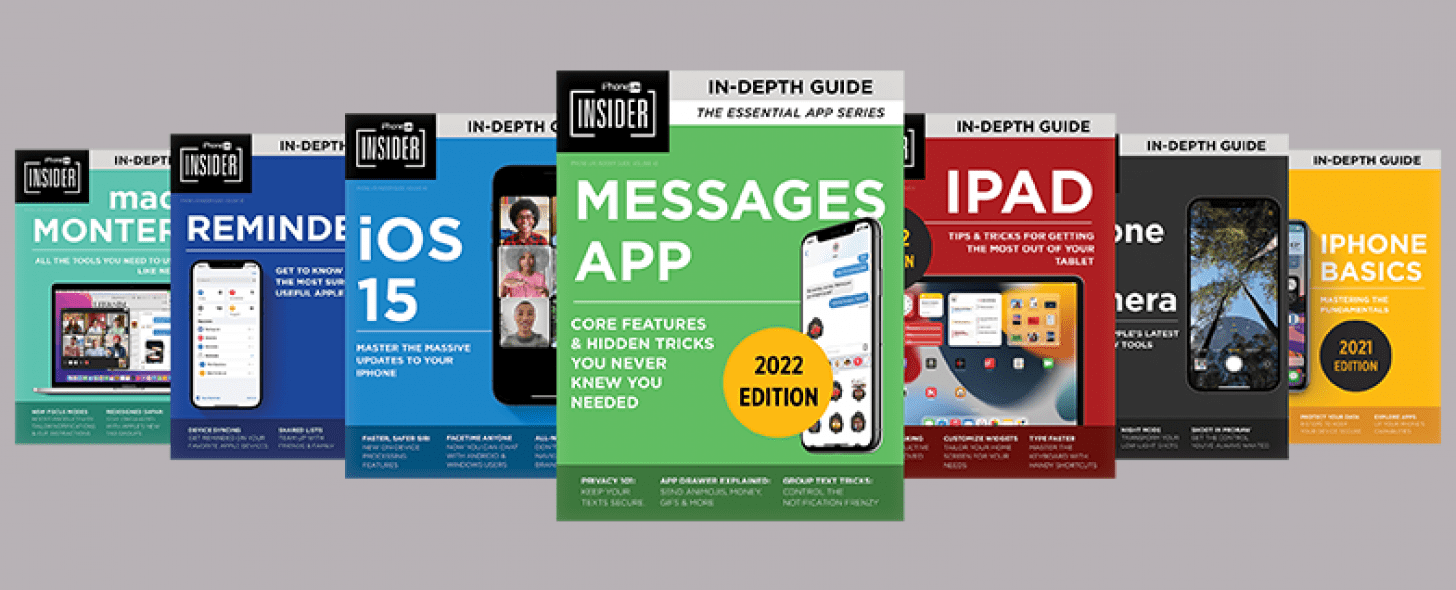 We've been busy at iPhone Life creating new guides and updating our existing ones. With all the ongoing changes to the latest iPhone operating system, we've been updating our guides with fresh steps, videos, and screenshots! The Messages and Reminders Apps are integral to iPhone users, and the 2022 Guide updates will be available soon. These updated in-depth guides will become available exclusively to iPhone Life Subscribers later this month.
Featured Products
The OWC Envoy Pro Elektron is an external hard drive like no other. Despite being only half the size of a smartphone, it can transfer up to two terabytes of data at speeds up to ​1011 megabytes per second. Better yet, this drive is universally compatible! Its compact size makes it the perfect on-the-go companion, and you can take it anywhere without worrying about damage from dust, water, or being crushed. The Envoy Pro Elektron checks all the boxes; see it in action for yourself!
Informant 5 can help you meet all your organizational goals! Start 2022 on the right foot with the free app that lets you manage projects with tasks and notes, sync your calendar among all your devices, enjoy a user-friendly 30-day calendar view, and so much more. Upgrade to the best calendar app and task manager for iOS! Embrace the "out with the old, in with the new" spirit with Informant 5.