By

Patrick Julian
Updated 04/02/2018

If you've noticed your iPhone has slowed down since you updated your device, it might be due to memory problems. If your iPhone is crashing, slow to respond, or freezing on random screens, it's time to speed up your iPhone with this simple tip. When your iPhone is restarted, the RAM (memory) is automatically cleared, but you don't have to restart your iPhone to speed it up and fix those memory problems. In fact, if your apps keep crashing, this trick can help get those apps working again. Here's how to refresh your iPhone memory without rebooting your iPhone 7 (or older model) or iPhone 8 and iPhone X, plus some extra tips to speed up your iPhone.
Related: 7 Little-Known Tricks for Speeding Up Your iPhone
How to Refresh iPhone Memory without Rebooting
As stated above, your memory is cleared when you power your iPhone off and on. And when your iPhone is crashing, restarting your iPhone should almost always be the first trick you try. However, if your iPhone has been slow to respond or your apps keep crashing, you may want to try this trick before you go through the trouble of a full power down and power up. Doing so will help to speed up your iPhone and prevent further memory problems. This trick goes all the way back to the iPhone 4, so whether you've got an iPhone 5, iPhone 6 or 6s, iPhone SE, iPhone 7, iPhone 8, or iPhone X, you should have no problems refreshing your iPhone in this way. It should also work to speed up your iPad too. To do this:

Discover your iPhone's hidden features
Get one daily tip each day (with screenshots and clear instructions) so you can master your iPhone in just one minute a day.
How to Refresh iPhone 7 & Older iPhone
With your iPhone unlocked, press the Side Button (Sleep/Wake button) until a screen pops up telling you to slide to power off with a Cancel button at the bottom. Release the Sleep/Wake button. 

*Note: The Sleep/Wake button may be in a different place than pictured if using an older iPhone. 
From here, press and hold the Home button until your device returns to your Home screen.

Then release your Home button, relaunch whatever app was crashing, and feel the difference in response time and speed.
If your iPhone is still crashing, give it a complete restart by holding down the Sleep/Wake button and sliding to power off. To turn it back on, press and hold the Sleep/Wake button again.
How to Refresh iPhone 8 & iPhone X
Apple did away with the Home button starting with the iPhone X, which means the instructions above won't work on the iPhone X or the iPhone 8 and 8 Plus, even though the iPhone 8 models still have a Home button. Fortunately, there is an easy way to refresh your iPhone X or 8 using the Settings app.
First, you will need to turn on Assistive Touch. Go to Settings > General > Accessibility > Assistive Touch and toggle Assistive Touch on. A gray and white button will appear on the screen. The button can't be captured in a screenshot.
Next, return to the General page in your Settings app.
Scroll down to the bottom of the General menu and tap Shut Down.
A screen should pop up telling you to slide to power off with a Cancel button at the bottom.
Tap on the Assistive Touch button and then press and hold on the on-screen Home button until your iPhone returns to the Home screen.
​Need more iPhone speed? Check out the extra tips below. 
3 Other Ways to Speed Up a Slow & Crashing iPhone
Refreshing your iPhone will certainly help a lot, but if your iPhone is chronically slow, and it's not a battery problem, changing some of your settings might be a good idea. Especially if you have an older model of iPhone such as the iPhone 4 or iPhone 5, consider the next three tips a life extender for your device.
Turn Off Background App Refresh
Background App Refresh is the number one culprit when it comes to slowing down your iPhone. This is because it takes memory for the apps that are open in the background of your iPhone to constantly refresh. This function will also deplete your iPhone's battery life. For some apps, you may need to keep it on, such as the app that pairs with your fitness wearable. But you can selectively turn off Background App Refresh for specific apps or turn it off altogether. To do this on iPhone or iPad:
Open the Settings App.

Tap General.

Select Background App Refresh.

To turn it off completely, toggle off Background App Refresh.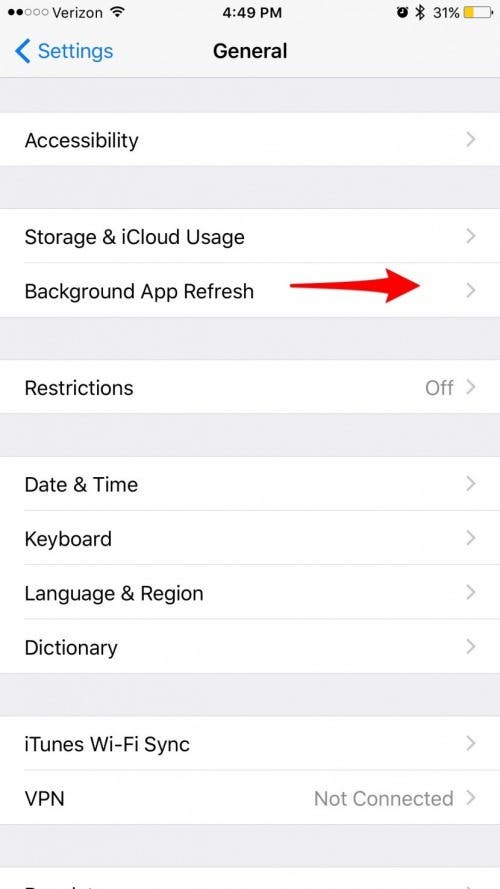 To choose what apps can refresh in the background, leave the function on but go through the list of apps below it and toggle Background App Refresh off for all the apps that don't need the function.

For example, I allow my Fitbit app to refresh in the background so my information can stay up to date. But I don't need Facebook, Safari, or pretty much any other app to run in the background when I'm not using it.
Turn Off Animations aka Reduce Motion
Your iPhone has small animations that work to create seamless transitions from one page to the next as you navigate your device. You probably won't notice them until you turn Reduce Motion on, which turns the animations off. Although, some people prefer to not have the animations and turn it off for that reason too. When you turn Reduce Motion on, your iPhone uses less memory and battery life when performing everyday tasks. To turn off animations on iPhone or iPad:
Open the Settings app.

Tap General.

Select Accessibility.

Tap Reduce Motion.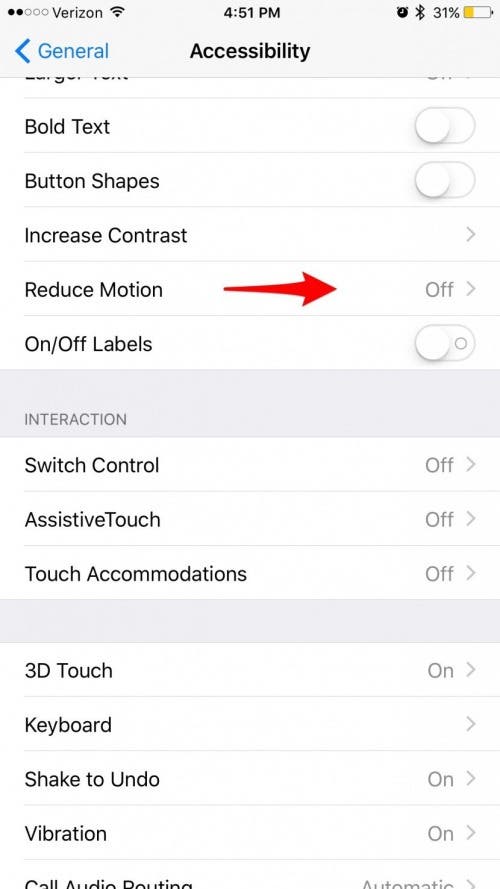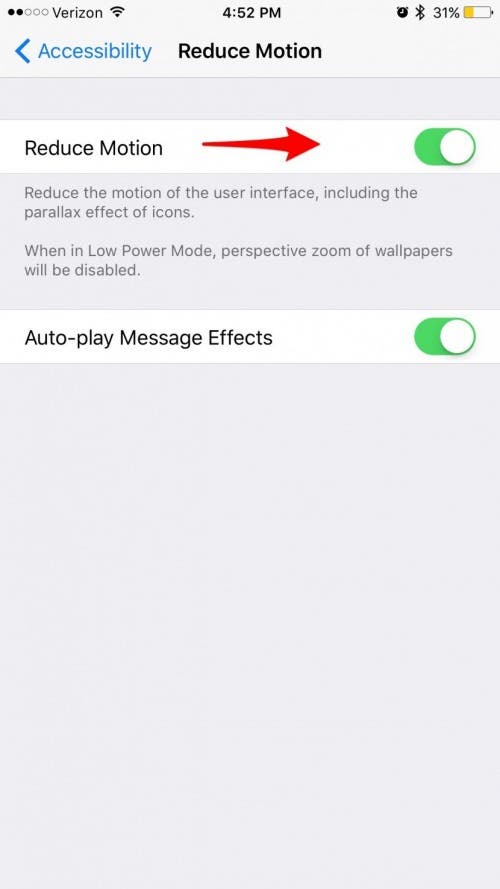 Clear Your iMessages
You'd be surprised how much memory is wasted by old messages with large attachments. If you send gifs, images, videos, or long messages back and forth with friends, the memory it takes to keep them adds up pretty quickly, which is why clearing your iMessages now and again is good practice. But who wants to have to remember to erase your messages every month? Luckily, you don't have to. You can change a setting that allows your iPhone to clear messages older than 30 Days or 1 Year, depending on your preference. Of course, you can tell your iPhone to keep your messages forever too, but that won't help speed your iPhone up. To clear your iMessages on iPhone or iPad:
Open the Settings app.

Tap Messages.

Under Message History, tap Keep Messages.

You'll see a list that says, 30 Days, 1 Year, and Forever.
If you're trying to speed up a slow iPhone, I recommend selecting the 30 Days option.
Remember, however, that if you select the 30 Days option, you won't be able to go back and look at messages older than that, which is just something to keep in mind depending on how you use Messages.
What other tricks have helped you speed up your iPhone? Let us know below!   
Top Image Credit: blackzheep / Shutterstock.com