By

Jim Karpen
Thu, 04/05/2012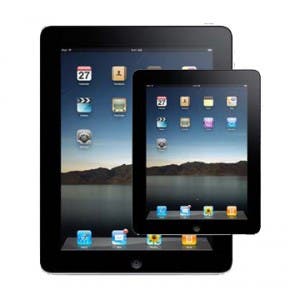 Apple develops prototypes when it's exploring a new product. A prototype doesn't necessarily guarantee that they'll eventually bring the device to market. But it does show that Apple is seriously considering it. And the most recent rumors of a 7.85-inch iPad prototype show that Apple does indeed seem to be considering such a device. AppleInsider and many other blogs are reporting that during an episode of The Talk Show, Apple enthusiast John Gruber said that Apple has a 7.85-inch iPad in its lab for testing. The device has a a resolution of 1,024 by 768. He said it would be about the same width as the current iPad. Appolicious points out that it would be the same resolution as the first two iPads, but because it's a smaller device, the pixel density would be better than those two devices. He speculated that Apple may simply be preparing to enter the low-end market should the Kindle Fire take off, but releasing this new iPad would depend on how things shake out. Adding to the credence of this rumor was the report by the Wall Street Journal in February that Apple was testing a tablet with a smaller screen.
There are, of course, several strong factors why this device might never see the light of day. First is that Steve Jobs famously said that 7-inch laptops are dead on arrival. Also, one reason Apple has been so profitable is that it has long had a very focused product line with few choices. Not only does the company save money by not developing a wider range of models, but also research shows that consumers actually buy less when faced with too many choices.
Also, rumors of an Apple TV set continue to surface, most recently based on comments from market analyst Peter Misek with Jeffries. According to a summary of his comments on AppleInsider, Misek has several reasons for believing that Apple will come out with a TV in 2012. The most compelling may be the info he's gathered regarding manufacturers already having begun shipping components to Apple's suppliers, including small quantities of polarized films, filters, and IGZO display components.
Misek also believes that a recent $800 million agreement between Foxconn and Sharp is evidence that they may be collaborating on a TV set. And he believes that Apple's intention to double the size of their North Carolina data center is also evidence. He speculates that it will have a price in the range of $1,250 and suggests that a good name for it would be "iPanel."
There has been strong evidence that Apple has already developed a number of prototypes, so clearly the company is considering offering a TV. Time will tell. Of course, Apple enthusiasts are salivating at the prospect, knowing that it would likely be revolutionary, cool, and beautiful — Apple's trademarks.
CEO Tim Cook did say during the event launching the new iPad that Apple would be introducing a number of new products this year, so we definitely have new gadgets to look forward to. I don't know if I'd be in the market for either a 7.85-inch iPad or a TV set, but I'd love to see them come out.