By

Rich Hall
Updated 03/30/2010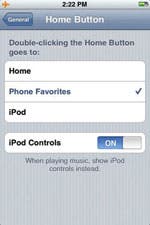 Pressing the Home button takes you back to the Home screen from any other iPhone or iPod touch screen, and if the device is in sleep mode it takes you to the "Slide to Unlock" screen. However, the Home button does other things as well.
By default, if you double-tap on the Home button when you are in the "Slide to Unlock" screen, the iPod controls are displayed on top of the Slide to Unlock screen. This lets you control music playback without unlocking the device.
You can change the double-tap function to bring up the Home screen or your phone's Favorites list by going to Settings >General >Home Button (Fig. 14).