Stay safe by learning how to share location on your iPhone with the Find My app.
By

Erin MacPherson
Updated 04/24/2023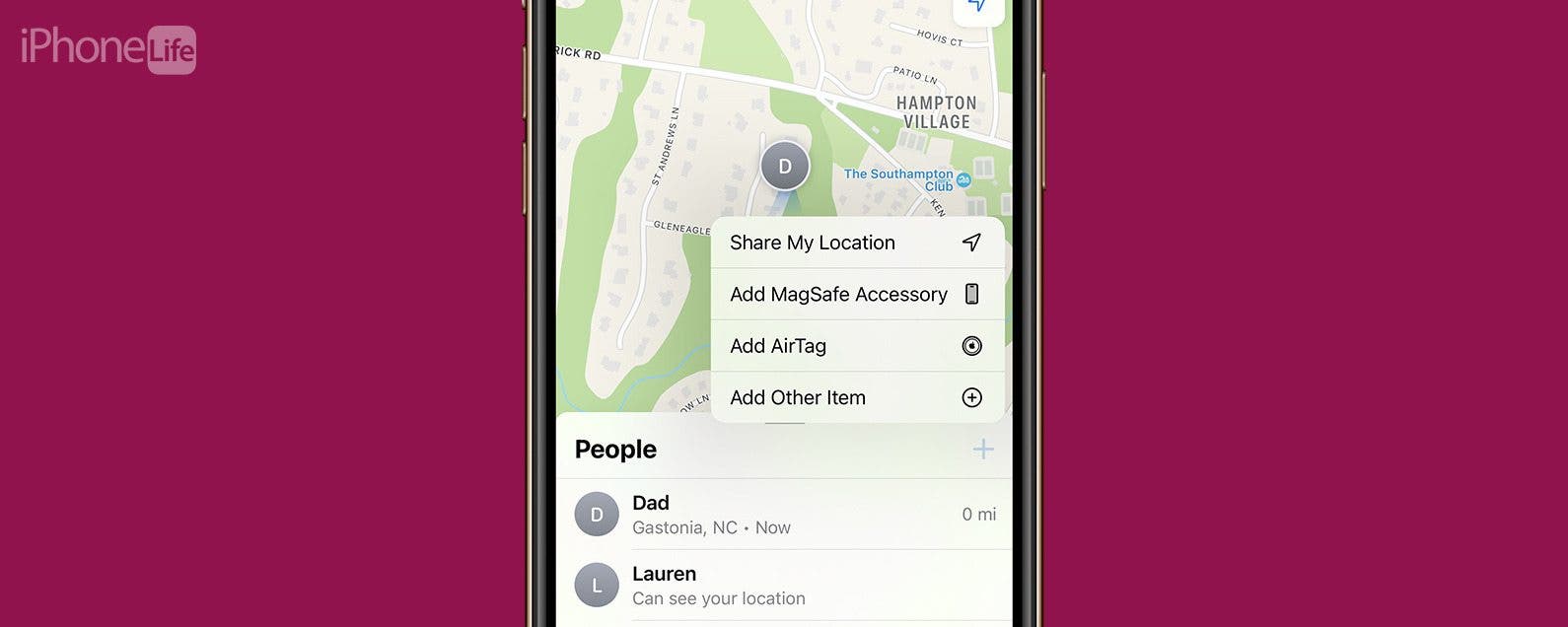 * This post is part of iPhone Life's Tip of the Day newsletter. Sign Up. *
I go for a lot of solo hikes and even go camping on my own sometimes. When I go, I always let someone know where I'm going. So how do I share my location using my iPhone? The Find My app makes this extremely simple and gives my exact location so that I can share it with anyone I choose. This article will show you exactly how to share your location with someone using the Find My app.
Why You'll Love This Tip
This simple trick will make your location known only to those you want to share it with.
Choose to share your location temporarily or indefinitely, depending on your circumstances.
Share your location and get your friend to share theirs back so you can both keep track of each other, no matter how far apart!
Sharing Location with Find My App
For this tip, you'll need to have Find My iPhone set up. Make sure Find My iPhone is turned on, and that the Share My Location toggle is also enabled. If you enjoy learning about Apple's safety features, be sure to sign up for our Tip of the Day! We'll send you quick tips and tricks to help you master your iPhone or iPad.
How to Set Up Location Sharing
Important Note:
Remember that when you share your location with your friends, that doesn't automatically mean their location will be shared with you. Be sure you're both sharing locations with each other in order for it to work both ways!
Here's how to share your location using the Find My app on your iPhone:
Open the Find My app.


If you already have sharing set up, your screen will look like this. Tap on the People tab. If not, remember to set up Find My iPhone before continuing.



Tap the plus sign.


Tap Share My Location.



Enter the name of the person you'd like to share and select them from the results list.


Tap Send.



A menu will appear at the bottom of the screen. Select the timeframe that you'd like to share your location for.


Tap OK. You'll now see the list of people you're sharing your location with.


How to Find Your Friends
Before you can use your Find My app to find your friends, make sure that they have followed the above steps to share their location with you.
Open Find My.


Tap People.



Tap the name of the person you want to locate. The map will snap to their location and you will be able to track them as they move.


And that's that! It's such a simple way to let people know where you are, whether you're getting together with friends or just want someone to know your location for safety reasons. And once your friend has found you after you got lost wandering Costco, maybe you can help them out by finding their lost phone using your Find My app.