Use Live Text to scan a QR code sent by text or email.
By

Devala Rees
Updated 01/31/2023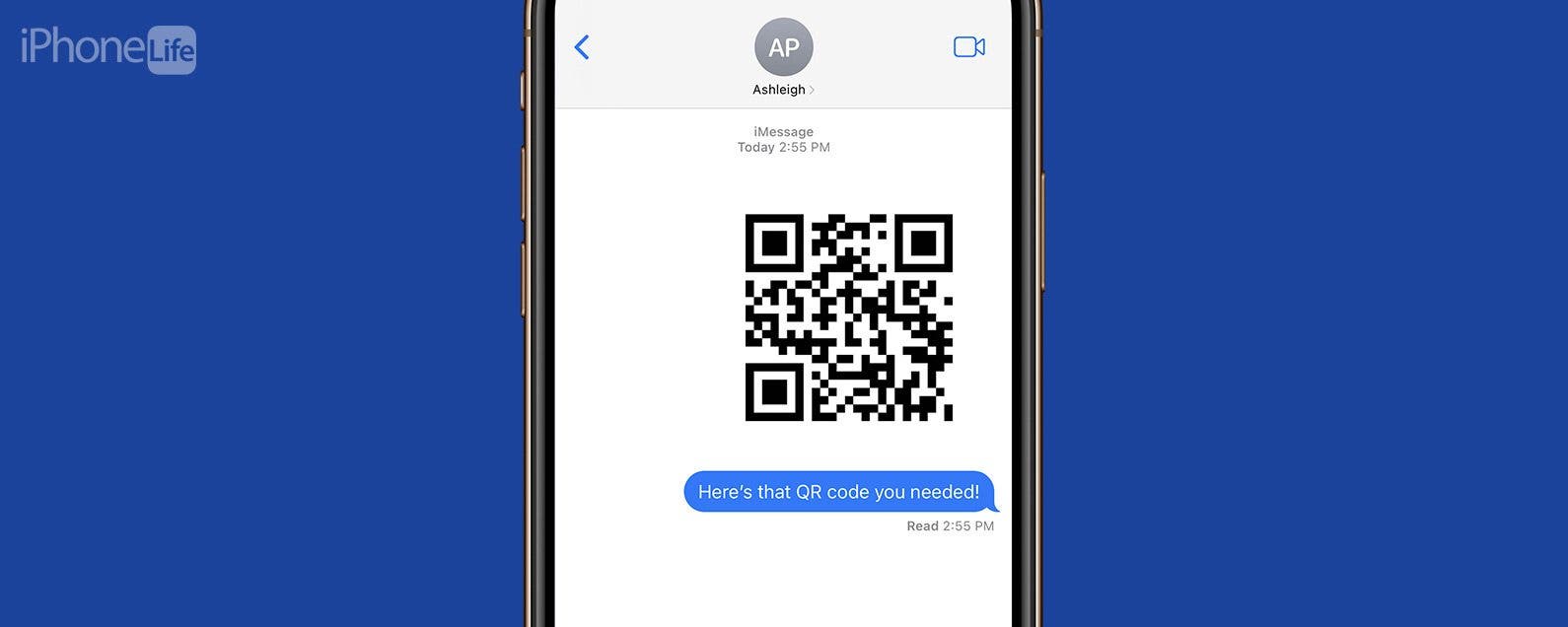 * This post is part of iPhone Life's Tip of the Day newsletter. Sign Up. *
You may know how to scan a QR code on your iPhone when it's printed on a menu or placard. But what about when someone sends you a QR code in a text message or an email, where you can't physically scan it with your QR code reader? Below, we'll show you how to use a QR code sent in a digital message.
Why You'll Love This Tip
Scan QR codes that appear in text messages, emails, online, and in your news feed.
Take a photo of a QR code (such as at a museum or restaurant) and send the image to your friends so they can scan it.
Scan a QR Code from an Image Using Live Text
To learn more about the hidden features on your iPhone, sign up for our free Tip of the Day Newsletter. In order to use the simple trick below to scan QR codes using Live Text, your iPhone will need to have been updated to iOS 15 or later. Now, here's how to scan a QR code from your iPhone: 
Navigate to the QR code in your text message or email. 


Take a screenshot of the QR code. For newer iPhones, press and release the side button and the volume up button at the same time. (For iPhones with a Home button, press and release the Sleep/Wake button and your Home button at the same time.)


Swipe up to close the app that was open, then tap to open the Photos app.


Tap your screenshot to open it.


Press and hold the QR code in the image. (Sometimes your Photos app will automatically detect the QR code, and will scan it before you enable Live Text.)


If the above step didn't work, tap the Live Text icon in the lower right corner. 


Press and hold the QR code again. 


When the QR code is read, a menu of options will appear. Tap Open in Safari to open the QR code in your browser.


If you want to save a QR code link (such as to a store discount), tap Add to Reading List to save it in your Safari Reading List. 


Tap Copy Link to copy the link and paste it into another app of your choosing. 


Tap Share if you want to send the QR code link information to another person. 


For most people, we recommend using this Live Text solution to scanning QR codes. However, if others regularly send you digital QR codes, another option is to download a third-party app QR code reader app, such as the free Scanner Pro: QR-Code Reader. Happy scanning! If you enjoyed this tip, you might also want to check out how to mute a noisy group text on your iPhone.