By

Anonymous
Thu, 12/02/2010
As an avid fan of the quality programming found on the Food Network, I was ecstatic to find that the TV giant had released an app for the iPhone and iPad that would allow me to access their vast library of recipes while working away in my own kitchen. The app is excellent in almost every way one could hope for, but it does have a few quirks that keep it from being as great as it could be.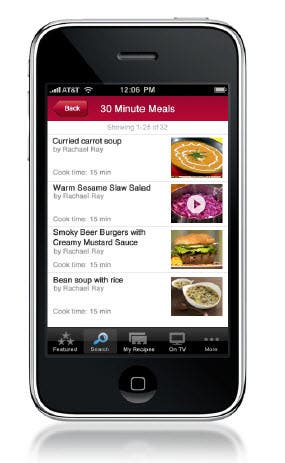 Food Network's developers clearly spent a good deal of time thinking about how to display the massive amount of content from the full Food Network website, and it shows - the app makes full use of the screen real-estate of the iPad, but when running on an iPhone the user isn't missing out on any of the content. Everything scales perfectly to any supported iDevice. 
Upon launching the app, the user is presented with several ways to browse for recipes. There is a list of featured chefs front and center, or you can simply open up a search and look for any recipe you can imagine. You can even search for recipes which utilize specific ingredients, or sort by which Food Network show the recipe originates from. When you find a recipe you'd like to try, you can simply save it to the app's 'recipe box' for later use. This functionality works excellently, and synced any recipes I saved on my iPad to my iPhone and vice versa. However, it's worth noting that users will need an account on Food Network's website to use this feature, and for some unknown reason Food Network doesn't allow users to sign up for an account directly within the app.
The app also features numerous tools which can be immensely helpful for cooking; there are unit conversion tools, easy-to-use timers, and more. Food Network has even included social networking within the app - if you want to share a recipe, it's simple to email it, Tweet about it, or post it to FaceBook. There is also an extremely useful 'shopping list' feature, which allows users to check which ingredients they need to purchase and save them to a list before running to the local supermarket. Oddly, my shopping list did not seem to sync from my iPad to my iPhone; it would be nice to see this fixed, but it's hardly a deal-breaker. 
The current asking price for Food Network's In the Kitchen app is $1.99 for a single Universal App which runs on the iPad, iPhone, or iPod Touch. If you are a fan of the Food Network, or if you enjoy cooking, this app is definitely worth a look. There are several issues with the app that this reviewer would like to see fixed via software update, but overall the app is polished and works exactly like it should.