By

Dig Om
Tue, 12/03/2013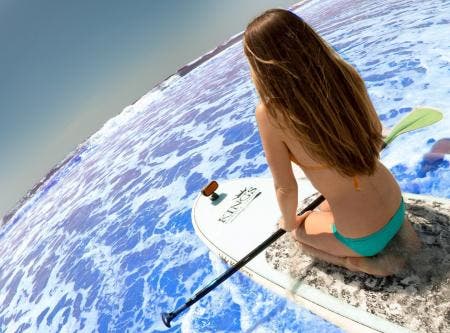 These days there is a seemingly endless array of excellent quality Bluetooth speakers. However, out of the multitudes of Bluetooth speakers on the market, only a limited and select few can lay claim to being rugged and heavy duty. What follows are the cream of the crop of ultra-durable, shock-proof, and waterproof speakers. Read on to find the best rugged Bluetooth speakers for those who are adventurous or accident prone, or those who are looking for the perfect speaker for someone who can be really hard on their gear.
Criteria to be considered for Best Rugged Bluetooth Speaker of 2013:
1. Water and drop resistance. These rugged speakers must, at bare minimum, be splash proof and able to withstand drops of six feet or more without performance damage. Every speaker featured here has a minimum of an IP-X4 water-resistance rating, if not higher.
2. Sound Quality. The speakers featured here must all be capable of delivering high-quality audio on a consistent basis, without much distortion at high volume.
3. Portability. All of the Bluetooth speakers included in the roundup must be small enough for you to be able to conveniently carry around, either clipped on to a belt loop or backpack, or thrown into a purse or carryall without weighing you down.
4. Functionality. The more control functionality a speaker has, the better. In other words, a speaker that allows you to control song playback and/or answer calls, and/or use Siri,  as well as basic volume control, will typically rank higher in my ratings.
Only Bluetooth speakers that I have personally reviewed with some hands-on time (either because the company sent me a sample unit to review for iPhone Life or because I got to play around with it at a tech event such as CES) are included in my roundup, so you can rest assured, my ratings come from direct experience.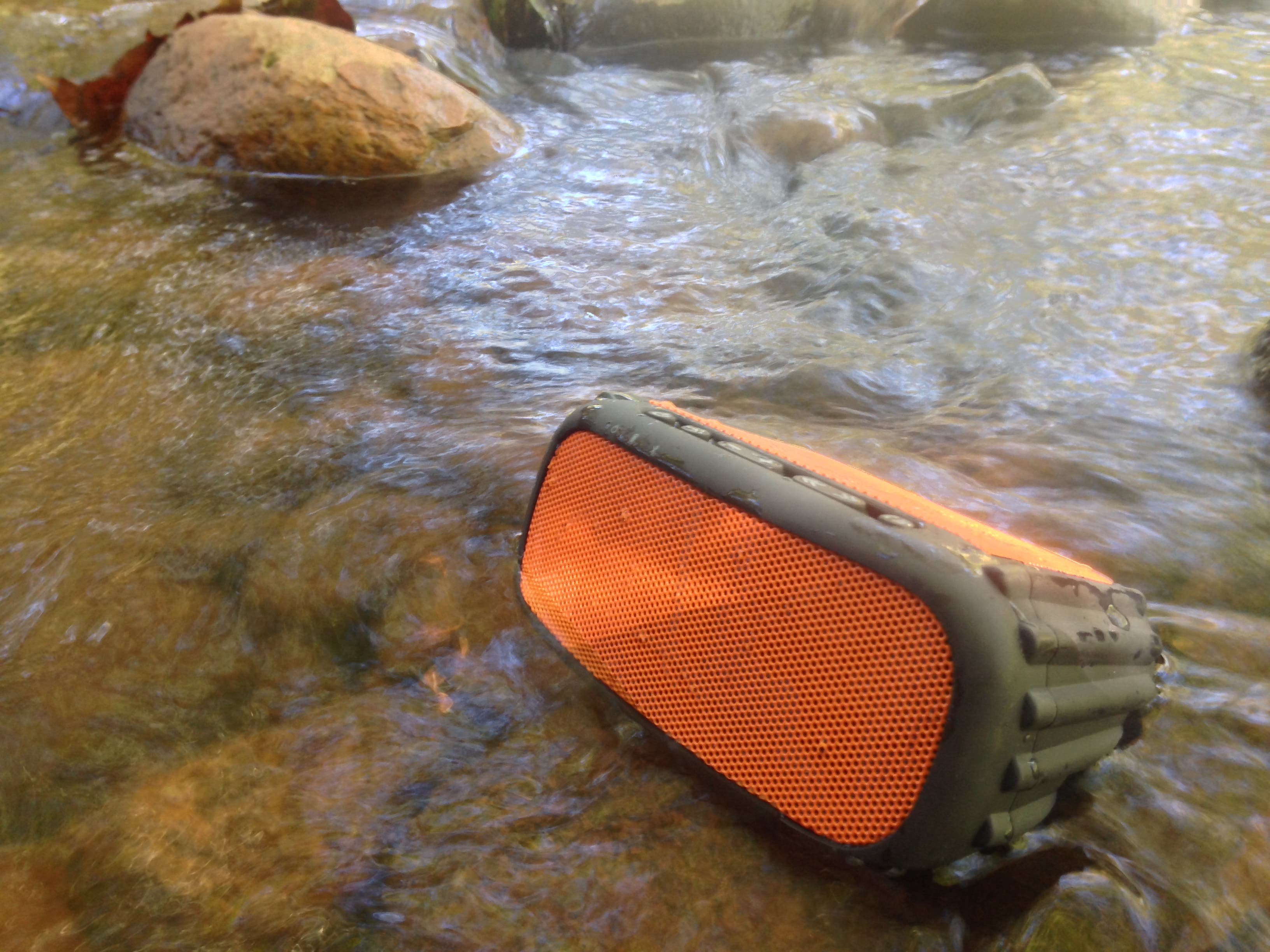 The ECOROX by Grace Digital edged out the competition this year to take the spot of Best Rugged Bluetooth Speaker of 2013. With it's rugged fabrication, grippy exterior, loud and crisp sound, extremely compact and portable size, and it's ability to withstand repeated submersions, the ECOROX shines in every category that a rugged Bluetooth speaker can shine in. Heck, it even floats so you don't have to worry as much about loosing it if it should fall into the drink.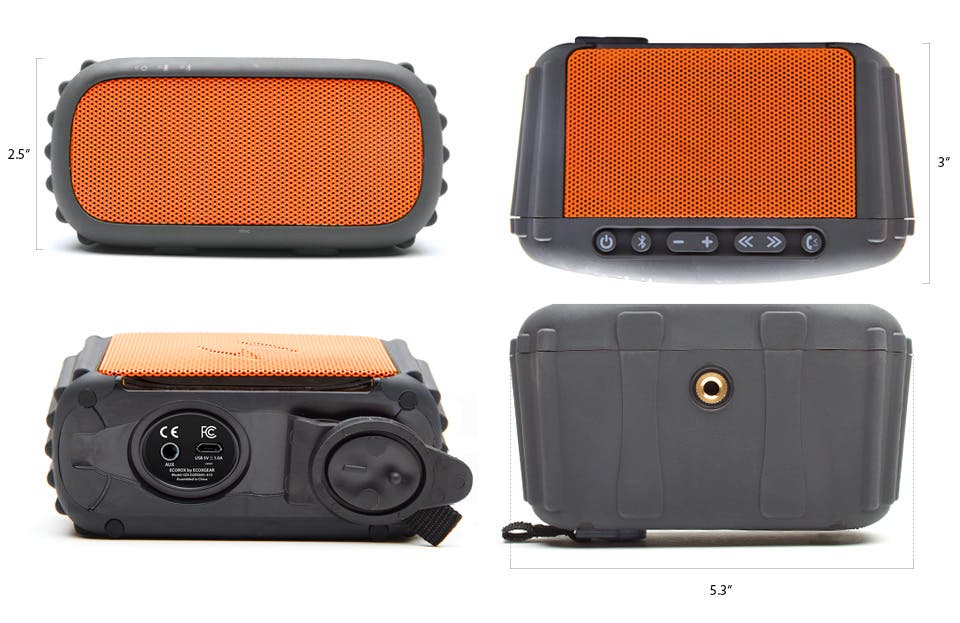 The ECOROX incorporates full functionality into its design, the speaker allows you to control volume, song selection, and even answer calls with its noise-reducing built in mic. It's rare that I come across a Bluetooth speaker with no shortcomings, but if ever there were one, the ECOROX would certainly be it.
The BOOM has the best sound in a rugged and highly durable speaker by far! In fact, it was a close call for the number one position this year. The BOOM would have secured the top spot if not for the fact that the above-mentioned ECOROX is so impervious to the elements, especially water. If having the best sounding, highly portable Bluetooth speaker—one that comes packed with a ton of useful features—is more important to you than having the absolute most rugged Bluetooth speaker, one that can actually be submerged, float, etc. (the BOOM is water resistant, but not nearly to the same degree as the ECOROX), then the BOOM may rank as your top contender.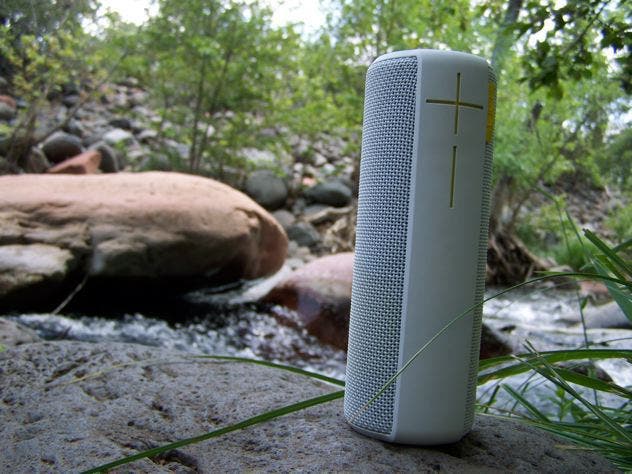 The BOOM's sound has to be heard to be believed. It's absolutely amazing, and  as if that wasn't enough, you can get an official BOOM app in the App Store that will open up a whole new world of Bluetooth speaker control. With the app, you can set the speaker to serve as an alarm clock to wake you up, you can monitor the battery levels, and perhaps neatest of all, you can pair two speakers to the same iDevice wirelessly for full and powerful stereo hi-fidelity. That's quite a unique feature, and very awesome!
If only it allowed users to control playback functionality from the speaker itself, like so many other Bluetooth speakers do. I've spoken directly with the folks who make the BOOM speaker about this particular gripe of mine so I'm hoping that the next iteration of this excellent speaker will include more song-playback control capability.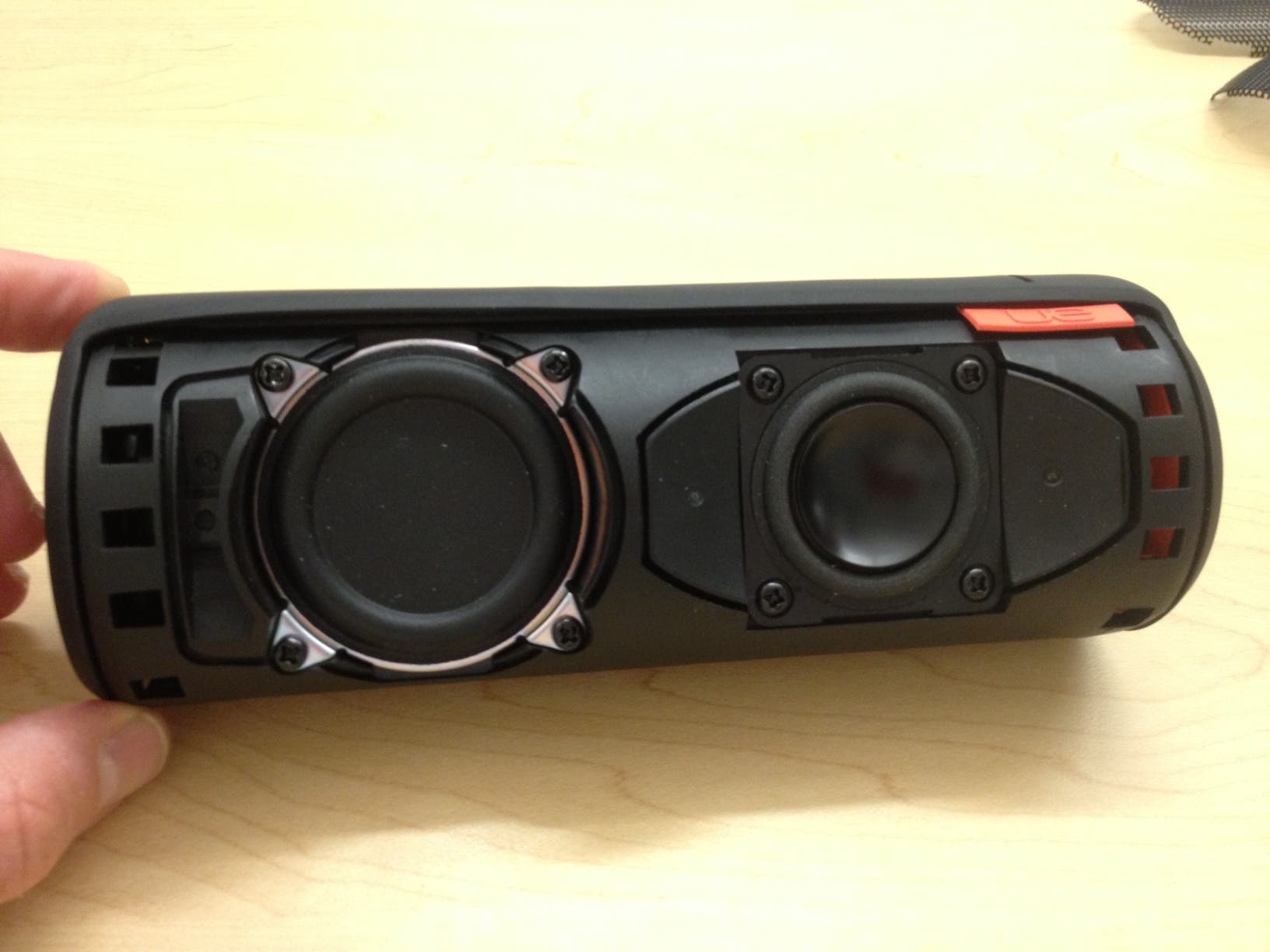 To say that the BOOM has outstanding audio quality would be an understatement. It's quite impressive, to hear the thunderous sound that emanates from the BOOM. Internally the BOOM incorporates multi-directional speakers to give a sense of immersion in the audio broadcast unlike anything I've experienced before. This speaker would be a sure-fire hit for anyone on your holiday shipping list and is the first runner-up for Best Rugged Bluetooth Speaker of 2013.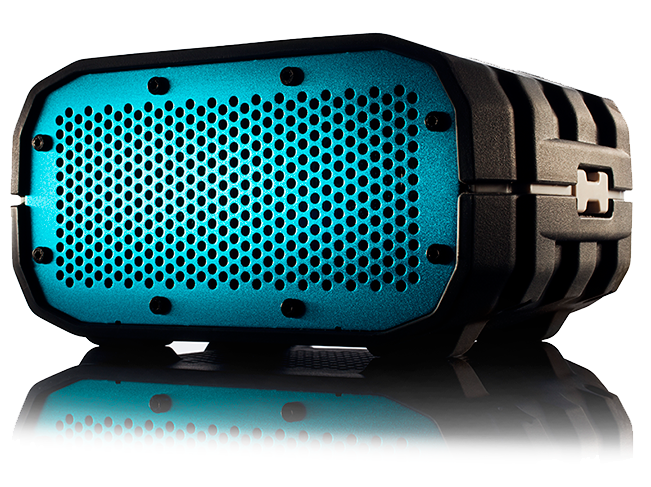 The BRV-1  is a heavy-duty powerhouse of a speaker, a mini boombox with the capacity to fill a living room, campsite, or office with clear and bold sound. The BRV-1 is waterproof, drop proof, and dirt proof and it sounds great. It's the complete package when it comes to a truly durable and rugged Bluetooth personal speaker.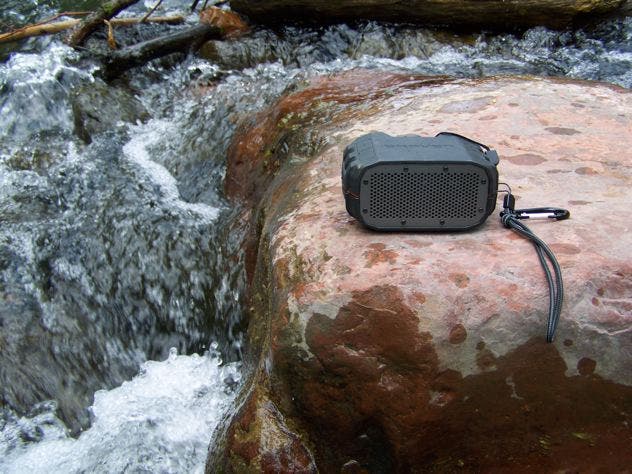 The BRV-1 takes second runner up this year, for Best Rugged Bluetooth Speaker. There aren't many environments or situations where I would hesitate to carry the BRV- along with me. It's light and compact, easy enough to toss into a pack for whatever adventure you can imagine, and powerful enough to provide you with a customized soundtrack on your journeys, wherever the road may take you.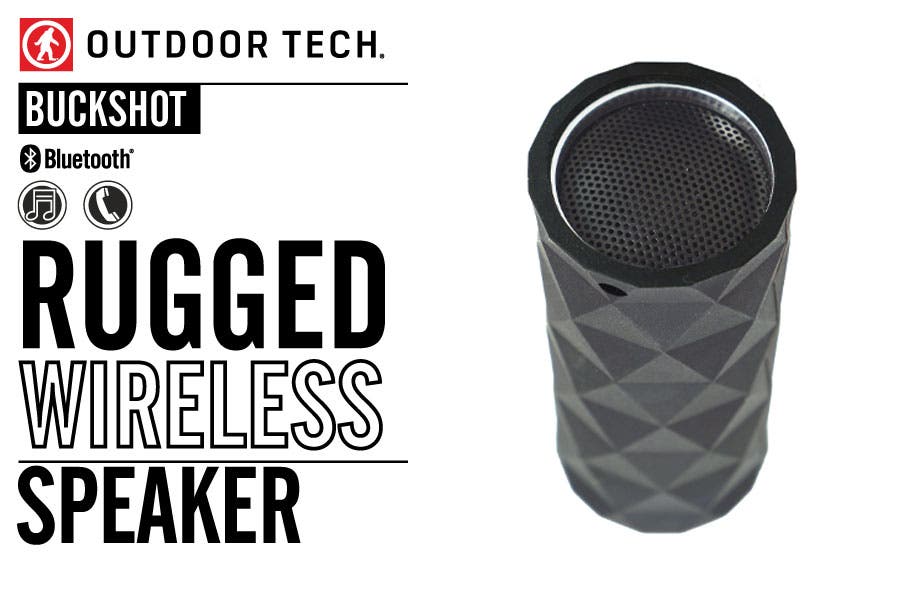 The Buckshot is one of my favorite ruggedly designed, miniature-sized Bluetooth speakers, and it manages to hold its own quite well in challenging environments. What I appreciate most about the Buckshot is its size and portability; and for its diminutive stature, it certainly belts out a mighty sound!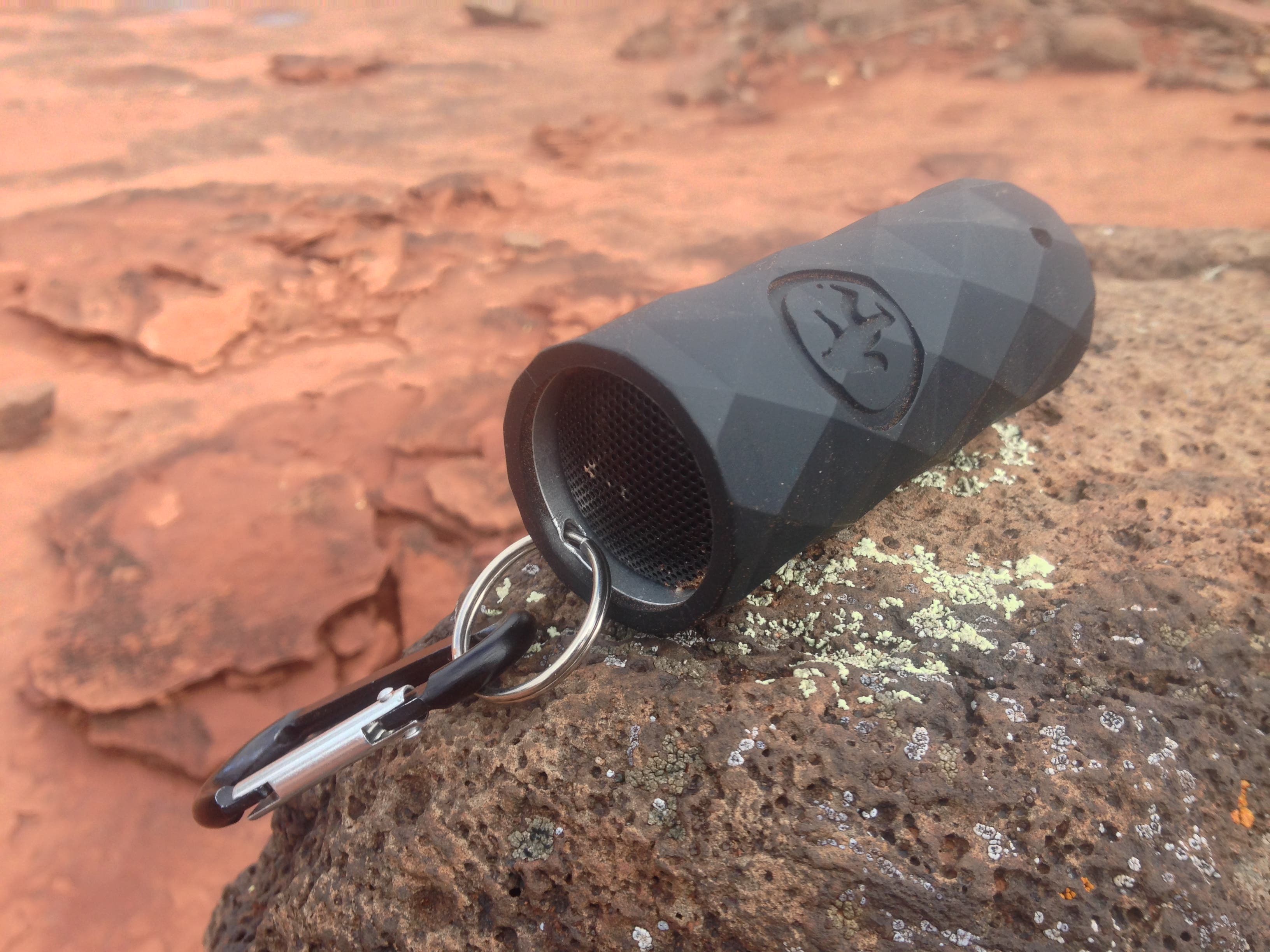 The Buckshot is about the size of a roll of quarters with its speaker on one end of the cylinder and it's controls on the other. While I wouldn't necessarily try submerging the Buckshot, it is rated to be able to withstand splashes and exposure to dirt and mud. I've hiked many a mile with the Buckshot clipped to my waist and it is indeed an awesome adventurer's companion.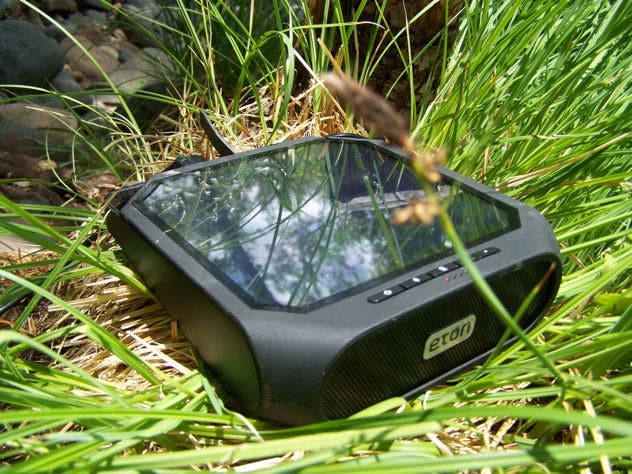 This solar-panel equipped Bluetooth speaker is especially noteworthy for several reasons. First off, it's the only model on this list that features a built-in solar panel; so not only is the Rukus capable of recharging its own internal battery, it also has a USB port that allows you to plug your iDevice into it and charge that as well.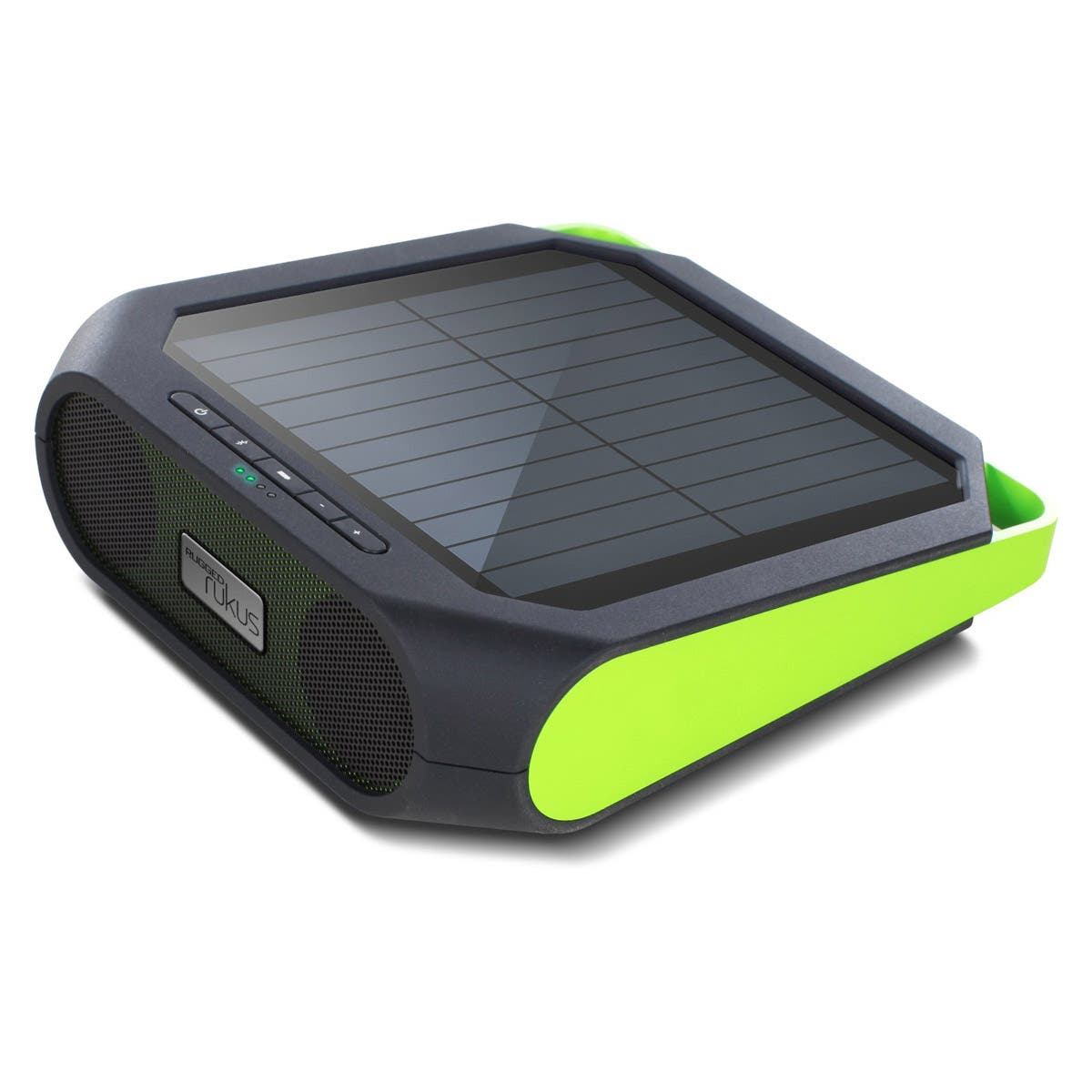 While the Rukus may not be the smallest or most stylish design, it more than makes up for that with a speaker that not only sounds excellent, but could also be included on many backpacker's outdoor survival-gear lists. With the Rugged Rukus, keeping the audio playing and keeping your mobile device's batteries topped off is all par for the course, making this a true asset in the field and an adventurer's dream come true.
The only Bluetooth speaker I know of that can boast of being able to withstand complete submersion for half an hour, the Swimmer certainly lives up to its name! It's unique and inventive design has a wonderfully satiny feel to it, and its grippy texture makes it perfect for keeping a secure hold on it when wet. The Swimmer has an odd but extremely practical design; the "tail" of the speaker is highly flexible, and as you can see from the above picture, you can position it in all kinds of useful and creative ways. The Swimmer's suction-cup attachment is also a nice bonus as it allows the more domesticated of us to simply stick it on to the shower wall for some awesome shower-time sing-alongs. For its size the Swimmer has a great sound, capable of filling your personal space with clear and crisp tunes for over eight hours on one charge when at maximum volume, and up to 16 hours at half volume.
8. BOOMBOTIX REX (

$119.99

Standard model/$129.99 Limited-edition model)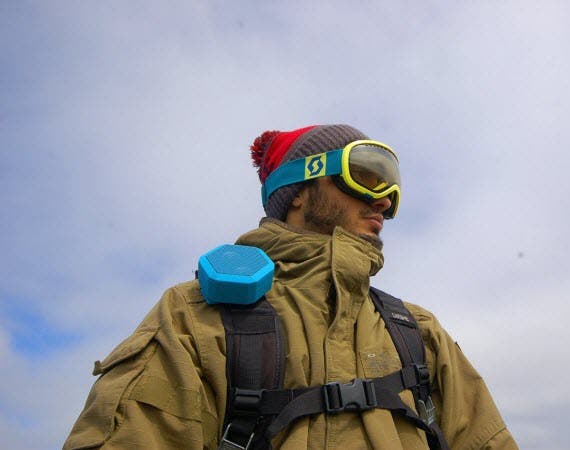 The REX by BOOMBOTIX is a super portable, great-sounding rugged Bluetooth speaker, especially for its size. In its tiny shell, the REX has two small but powerful speaker drivers as well as a passive bass radiator. Together they pump out a robust sound that will definitely fill your personal space with high-quality sound. The REX features a smooth, rubberized exterior with flexible rubber flaps over its ports. The REX also allows you to connect multiple REX units in series, aka "Daisy Chain" and  has the relatively unique feature of allowing users to interact with Siri by holding down the speaker's central control button. With its rugged and lightweight build, funky design options, and built in, sturdy belt clip, the REX is an excellent option for the young and the young at heart, and just about any adventures on-the-go that you can imagine.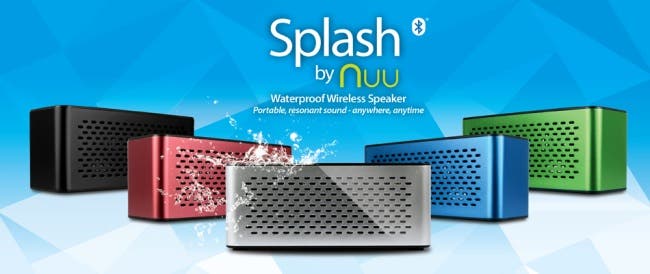 NUU's Splash is a deceptively rugged, and very stylish Bluetooth speaker. It sports a shiny metallic enclosure with touch controls along its topside. While the Splash may have the outward appearance of a Bluetooth speaker that is more fashion conscious than it is rugged, don't let its looks fool you. The Splash is indeed a very rugged, waterproof speaker.
While it may not be enveloped in shock absorbing rubber like so many other rugged Bluetooth speakers, my personal take on the matter is that for most intents and purposes, the speakers aluminum shell is plenty durable and capable of withstanding drops from up to six feet without sustaining any internal damage. If you are on the hunt for a durable, rugged, and portable Bluetooth speaker that doesn't look like it was designed to be used in the military or by popular survivalist Bear Grylls, be sure to give the Splash a close look.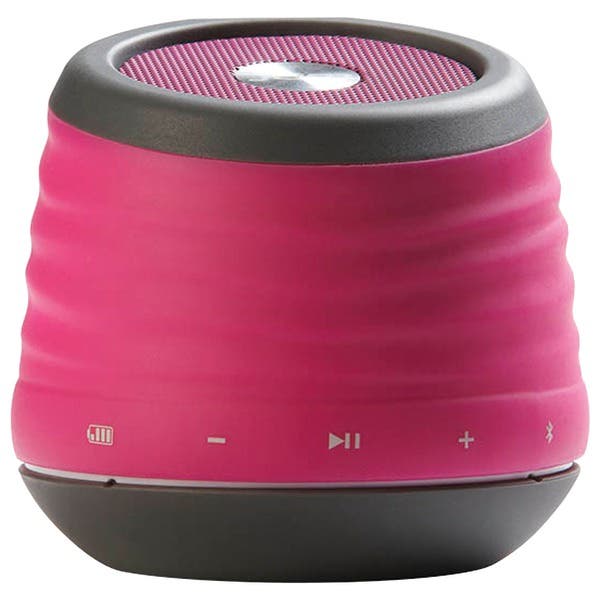 The Jam XT is a shock-proof, water-resistant Bluetooth speaker that comes in a thoughtfully designed, easy to grasp, exterior shell. The Jam XT has a silicon skin around its body, providing plenty of grippy traction. It even has a built-in carabiner making it easy to clip on to your belt or pack. The control buttons are conveniently located and its sound is pretty impressive. With the Jam XT the party becomes portable, whether you are technical climbing, hiking in the forest, or just chilling with your iDevice on the front porch.
Rounding out the list for the Best Bluetooth speakers of the year is the Blue Flame Slingshot. This waterproof speaker is perfect for the shower/bathroom where it can hang by its unique and flexible rubber sling, but you'll find it's also a great option for a portable speaker that you can throw in your purse or backpack for outings to the ocean or sitting poolside. With four speaker drivers built in, the Slingshot doesn't lack powerful sound and will be loud enough to provide you with music on your family picnic or music to sing along with as you shower and prepare for your day. The Slingshot comes in two versions, one powered by AA batteries for $79.99 and the other with a built-in Li-Ion rechargeable battery for $20.00 more. I would definitely suggest getting the model with a rechargeable battery in it, as you'll save money  by not having to replace batteries all the time, which can add up quickly.
Hopefully this roundup of the Best Rugged Bluetooth Speakers of 2013 will help you find the perfect extreme-duty personal Bluetooth speaker for anyone on your holiday shopping list. Definitely a fantastic gift to help keep the party going, whether in the city or in the great outdoors.