By

Donna Schill
Wed, 06/14/2017
There's nothing quite like a hammock and a margarita to swiftly erase the stress of adult responsibility. Add the beach to the mix, and you may even find yourself dreaming up ways to turn your vacation life into your everyday life (you've always wanted to run your own bed & breakfast, right?).
In January, members of the iPhone Life team took an unofficial company trip to the incredibly charming beach town of Tulum, Mexico, to unwind after a crazy year. Pillowy sand beaches, aquamarine water, and rustic cabanas on the water's edge set the perfect scene for our work rehab. As you might imagine, our crew came prepared with an assortment of iPhone apps and accessories to put to the test during our beach adventures. Through trial and error, we discovered the best picks for navigating travel days, handling finances, taking photos, and listening to music during our week in paradise. We thought you could benefit from our "research" when planning your own summer excursion. Whether you're planning a staycation in your hometown or an international holiday, you'll find these apps and accessories the perfect addition for a fun, relaxing getaway.
  
Transportation Hacks    
Going on vacation is a blast, but travel days can be so grueling that you almost wish you could turn back (almost). Having a few travel apps on hand helped make our trek more manageable.
First off, I recommend downloading TripIt (free). This app imports all of your travel bookings into one itinerary; and if you have a Pro account, it will also send alerts, so you're the first to hear about delays. If your flight is canceled, you can even use the app to find alternate routes so you can swiftly make a plan B. We had a couple layovers on our way to Tulum, and we used GateGuru (free) to help us bide our time in the airport. GateGuru's interface looks old school, but its airport maps are awesome for finding restaurants or even a spa in your terminal.
Before departing for Mexico, I attended CES (the Consumer Electronics Show) in Las Vegas with some of the team. We used the ride-sharing app Lyft (free) not only to get around the city during the tradeshow, but also to get to the airport once it was time for us to leave. Thanks to Lyft, we bypassed long bus lines at the Las Vegas convention center all at rates competitive with cabs. But if you're planning to drive a lot, you may want to rent a car instead. While we used Priceline in Mexico, you should see if Turo (free) serves the area. Turo is the Airbnb of car rentals, allowing you to rent a vehicle directly from a local. My husband and I tried Turo in Florida recently and got to drive around in a custom Mustang convertible for a cheaper daily rate than any other agency offered in the area.
Booking Your Stay
My first morning in Tulum, I woke up to golden light on my pillow and the shifting shadows of palm leaves across my face. I walked into our back yard and watched the sun rise over the ocean. Coming from the land-locked state of Iowa, this was my ultimate dream. Real estate apps such as Airbnb (free) and HomeAway & VRBO Vacation Rentals (free) made it possible to find awesome beachfront properties that were in our price range.
​
Snapping & Sharing Vacation Photos
Vacation is a time for attending to your bucket list as well as for relaxing. After visiting Tulum, I'm happy to say I can officially check swimming with sea turtles off my personal list. Whether you're having a once-in-a-lifetime experience or spending time with loved ones, you'll want a visual record to help keep your memories fresh. 
Taking pictures on your iPhone is an easy way to accomplish that goal. We all took tons of photos and shared our best shots with each other using the Moments (free) app by Facebook. Originally, we tried using iCloud Photo Sharing to create a joint album, but after experiencing several glitches, we switched to Moments and found it to be far superior, letting us create a group and share photos instantaneously.
If you're embarking on an outdoor activity, I suggest trying to get your hands on a GoPro if you can. When we went snorkeling, our guide used a GoPro to take high-def underwater shots of us hanging out with sea turtles. He shared the pictures with us using the GoPro app (free), and they turned out really well, despite it being a windy day with a lot of turbulence.
I have a final photo recommendation that I never thought I'd make: Buy a selfie stick. Yes, the ridiculous-looking retractable stick with an iPhone mount on the end. I've been making fun of selfie sticks for years, until I broke down and bought one to conduct interviews at CES. It turns out they're super convenient for steadying your shot and fitting a copious number of people in your frame when taking a group photo. If you decide to risk the mocking and buy a selfie stick, make sure to buy one that has a shutter release button in the handle and that has a secure mounting system, that way you don't end up flinging your iPhone across the room when trying to take a picture.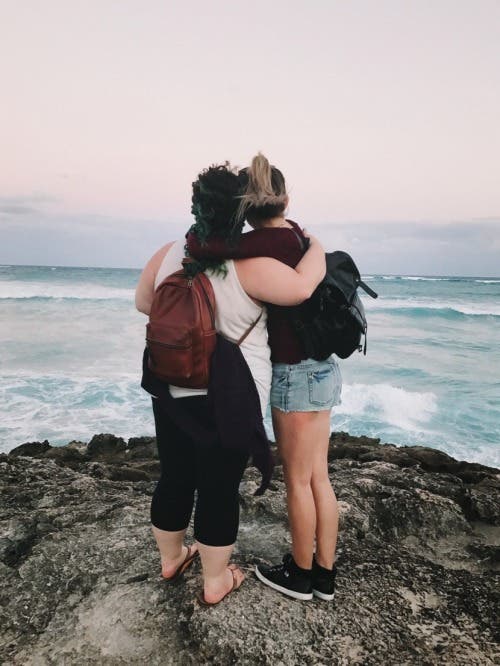 Handling the Finances 
The last thing you want to do while on vacation is worry about money. Apps like Spendee (free) are great for creating a budget ahead of time, so that you can gauge how many activities and restaurant visits you can afford before you leave. Once there, we found Splitwise (free) to be really helpful for cost splitting. It had each group member enter items they paid for, from rental car fees to pitchers of margaritas, and then tallied how much each person owed. Splitwise connects to mobile payment services Venmo and PayPal, so you can pay your friends back with a few taps. 
Listening to Music
Music has magical and wide-ranging capabilities. It can lull you into a tranquil siesta or inspire a dance party on the balcony under the stars. Thanks to David and our feature web writer Conner, both of these things happened in Mexico. The two of them made some awesome playlists and saved them offline using Spotify (free). They also packed a couple of Bluetooth speakers for our trip, including the House of Marley Chant Sport BT ($99.99) and the UE Boom 2 ($199.99), both of which were small enough to stow in a carry-on bag. My only regret is that I didn't pack a pair of noise-canceling headphones for the ride home. I found myself wishing I had packed my Libratone Q Adapt on-ear headphones ($249) on the return flight when we were left waiting on the tarmac for hours with screaming babies while technicians repaired our plane. If I'd been able to tune out all the noise, perhaps I could have convinced myself I was still at the beach, dozing on a reclining beach chair under a palm tree.