Apple is rumored to announce AirPods 3 on April 20, followed by AirPods Pro
By

Leanne Hays
Updated 06/22/2021
Rumor has it that new AirPods are on the way, and we've collected all the info we can about' release dates, features, and how much they will cost. It's not just one new model, though! The latest we've heard is that Apple will release the AirPods 3 in April, followed by the AirPods Pro 2. Now that Apple has officially announced an April 20 event, we'll finally know. Here's everything we know about the new AirPods coming in 2021.
Related: Will There Be a March Apple Event? Here's Everything We Know
AirPods 3 & AirPods Pro 2 Rumors: Prices, Features & Release Date
We've written rumor roundups for the new MacBook Air with MagSafe, and produced a podcast about all the Apple Spring Event rumors. Now, let's jump into our rumor roundup about the AirPods Pro 2 and the AirPods Max. Apple debuted the AirPods 2 in 2019 and AirPods Max in December 2020. Now, we're waiting for new versions, and it's rumored that both the AirPods 3 and AirPods Pro 2 are dropping next month. Apple just announced that they're holding an all-virtual event on April 20 at 10:00 am PDT. Let's go over how much the new AirPods may cost, and which new features we can expect if Apple does indeed release new AirPods at the upcoming event. 
2021 AirPods & AirPods Pro Release Date
Bloomberg reported back in October that Apple was planning the release of new AirPods and AirPods Pro. What we haven't known is when, exactly, to expect them. Apple leaker John Prosser first tweeted that the "AirPods X" or "AirPods Pro Lite," which we'll call the AirPods Pro 2, would debut in September or October of 2020. Well, that didn't happen, either because Prosser was off base, COVID-related supply-chain issues, or a bit of both.  
Apple Insider reported eight months ago that Apple analyst Ming-Chi Kuo predicted a 2021 debut for the AirPods 3. Tom's Guide reports that Kuo indicates the AirPods Pro 2 will go into production from quarter four of 2021 to quarter one of 2022. MacRumors reported that the AirPods 3 will be released in March. Now, the rumored date of March 16 has been blown out of the water by a tweet from Bloomberg's Mark Gurman. Now, though, we've heard that Apple is holding an event on April 20, and can't wait to see if the new AirPods are announced at that time. 
It's possible that Apple will reveal the AirPods 3 on April 20, but save the AirPods Pro 2 for a later event, or press release, possibly in May or even later, as reported by Tom's Guide.
AirPods 3 Features: Design & Features
Let's talk design. According to Bloomberg, third-generation AirPods may resemble the first-gen AirPods Pro, which means possible replaceable silicone ear tips, but definitely a shorter stem, which also means a smaller case. Chinese website 52audio features several leaked images and diagrams of AirPods 3 design, including those below. According to Mac Rumors, Ming-Chi Kuo confirms that the third-gen earbuds will "adopt a compact system-in-package (SiP) solution similar to AirPods Pro. 52audio also claims that the AirPods 3 will offer touch-sensitive controls and pressure-relieving air vents for added comfort during long-term use.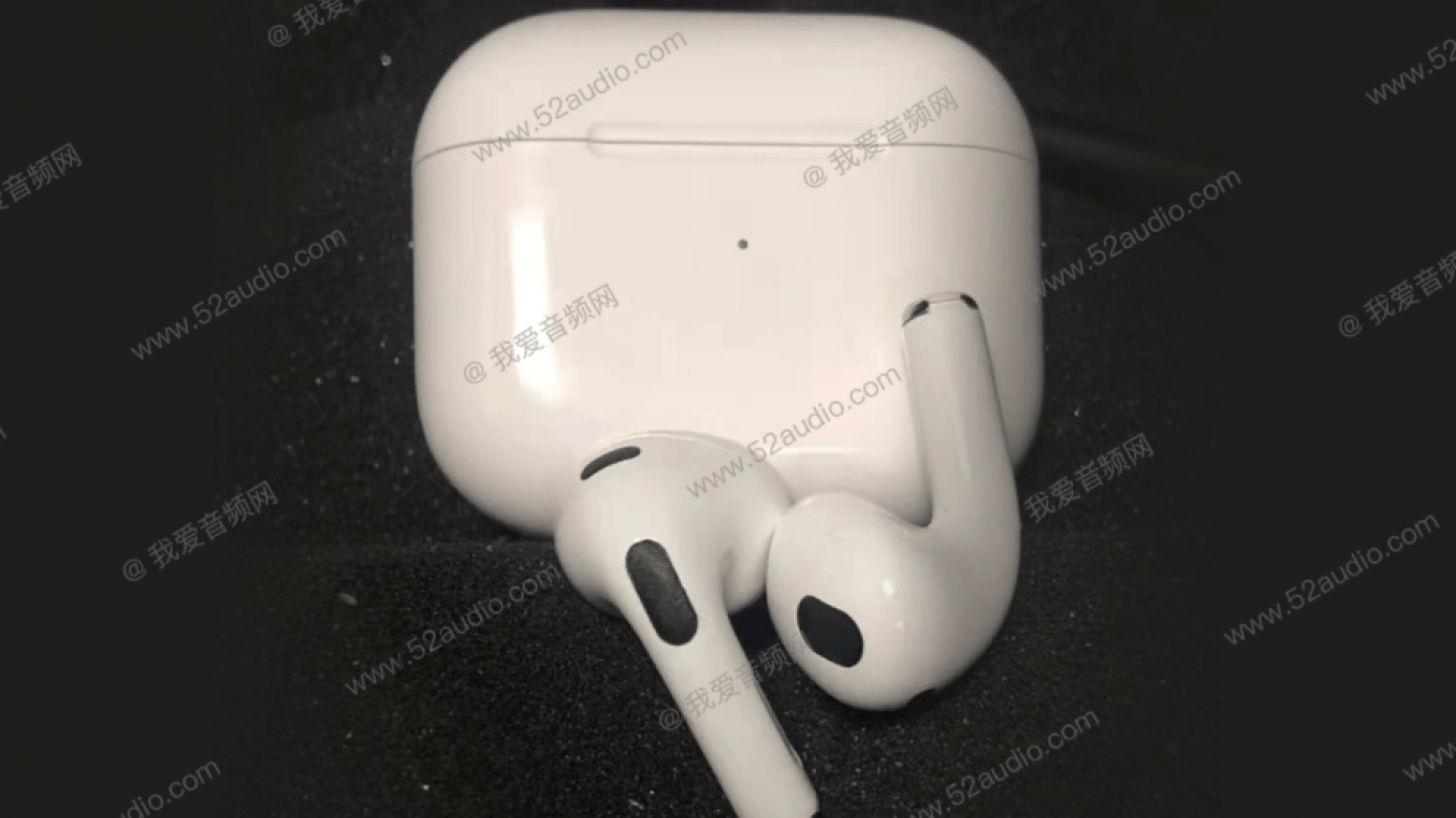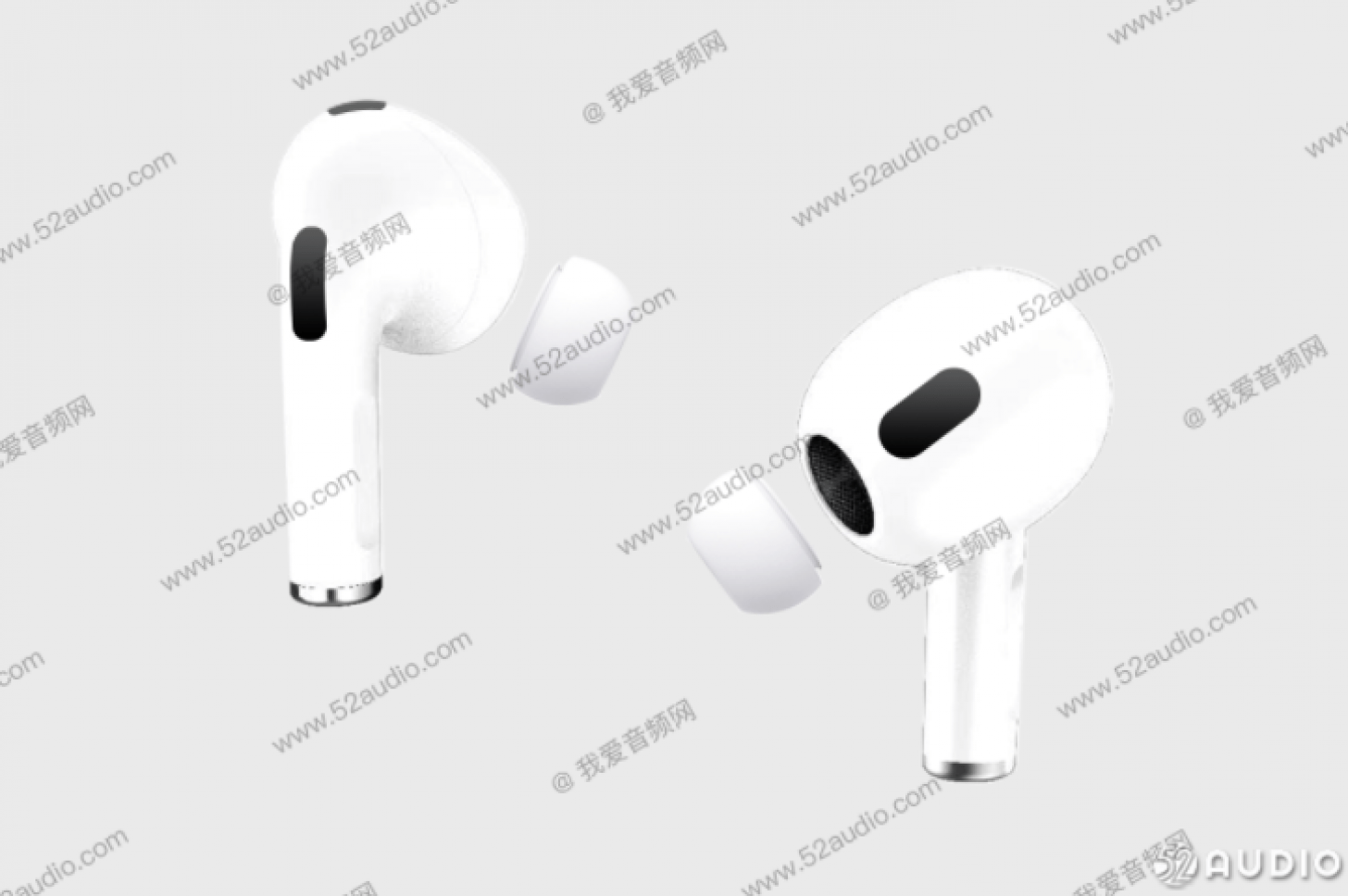 Image Credit 52audio.com
Now, for features. Apple is going to keep the AirPods 3 and AirPods Pro differentiated, although the AirPods 3 will offer improvements in several areas. According to Ming-Chi Kuo, third-gen AirPods will not offer active noise cancellation. If, however, the AirPods 3 include silicon tips like the AirPods Pro, these will offer some level of noise cancellation.
The earbuds should also have improved battery life and be faster overall than the second-gen, including in switching between active devices and faster connection time for phone calls. How will Apple accomplish this? It's all about the chip.
First-generation AirPods are driven by the W1 chip, while AirPods 2 offer a longer battery life and a faster, more stable wireless connection due to their H1 chip. Third-generation AirPods may take this a step further, possibly running on a new H2 chip or the U1 chip featured in the HomePod mini, iPhone 11 line, and Apple Watch Series 6. MacWorld reports that the U1 chip may have been slated for the AirPods Max, but H1 chips were substituted instead due to development issues. 
AirPods Pro 2 Design & Features 
AirPods Pro 2; what will they offer, design wise? According to Bloomberg, Apple plans for smaller AirPods Pro 2, eliminating the stem and going with a rounded shape that fills the ear. If the new AirPods Pro are, indeed, more rounded, this will make for better noise cancellation. An Apple leaker known only as Mr. White tweets that the new AirPods Pro will come in two sizes, based on components of varying lengths. I don't see that as a logical possibility, when the first-gen AirPods Pro already offer three different silicon earbud tips to fit a variety of ear sizes. 
Features-wise, the AirPods Pro 2 will also likely feature an improved chip, which will certainly be higher end than that in the AirPods 3. So, if the AirPods 3 include an H2 chip. It may be the AirPods Pro 2 that feature the U1. Tom's Guide reports the AirPods Pro 2 are rumored to offer better battery life and better transparency mode for added user safety. The earbuds may also support UWB and AirTags, in case they're lost. 
Tom's Guide suggests that second-gen AirPods Pro may offer improved Transparency Mode and compatibility with Apple Air Tags, similar to the AirPods 3. As well, they predict the inclusion of bone conduction technology and third-party app support. But, what about features offered by rival earbuds like the RHA TrueConnect, which beat the AirPods Pro's waterproof rating of IPX4 with a rating of IPX5? Will the AirPods Pro 2 catch up? 
AirPods 3 & AirPods Pro 2 Prices
According to 9to5 Mac, the AirPods 3 will ring in around $150. I'm wondering if the price will be a bit higher, considering that second-generation AirPods cost $199 with a wireless charging case, or $159 without. If the price point between the AirPods 3 and the original AirPods Pro is too close, buyers will go for the Pros. My guess is that Apple will price the AirPods 3 somewhat higher than second-generation AirPods, but at least $50 cheaper than AirPods Pro, which ring in at $249.  
Now, for the AirPods Pro 2. As mentioned above, the original AirPods Pro cost $249. Apple has shown that the sky's the limit when it comes to the price of high-end headphones like their AirPods Max, which cost a whopping $549. Apple isn't likely to lower the price point, and will keep the price at $249 unless lots of new features are packed into the latest AirPods Pro. If that's the case, Apple will probably raise the price by around $50.