By

Leanne Hays
Updated 10/18/2022
Rumor has it that Apple's latest wireless earbuds, the AirPods Pro 2, are coming in 2022. Here's everything we know about the new AirPods Pro 2, including features and how much they will cost. 
Related: The New Generation of AirPods Arrives with Pro Design & Spatial Audio
Are AirPods Pro 2 coming soon? Apple debuted the AirPods 3 in 2021 and AirPods Max in December 2020. Now we're waiting for new versions, and it's rumored that the AirPods Pro 2 may be dropping this fall. Let's go over how much the new AirPods may cost and which new features we can expect if Apple does indeed release new AirPods at the next fall event. 

Discover your iPhone's hidden features
Get one daily tip each day (with screenshots and clear instructions) so you can master your iPhone in just one minute a day.
AirPods Pro 2 Release Date
***Update*** According to Bloomberg, there's a very strong possibility Apple's Fall event will happen on September 7. Mark Gurman writes that, "The new iPhones will kick off a busy fall product season, which will also include multiple new Macs, low-end and high-end iPads, and three Apple Watch models." So, no mention of the AirPods Pro 2! Will they be a surprise reveal, or will we wait even longer for Apple's latest earbuds. 
Bloomberg reported back in October of 2020 that Apple was planning the release of new AirPods and AirPods Pro. Apple leaker John Prosser first tweeted way back in April 2020 that the "AirPods X" or "AirPods Pro Lite," which we'll call the AirPods Pro 2, would debut in September or October of 2020. Well, that didn't happen. Either Prosser was off base, there were COVID-related supply-chain issues, or a bit of both.
Since then, there were rumors that the AirPods Pro 2 might make an appearance at WWDC 2022, but that didn't pan out either. Tom's Guide reported that, according to Ming-Chi Kuo, the AirPods Pro 2 will go into production from quarter four of 2021 to quarter one of 2022. So, will the AirPods Pro 2 make their debut at Apple's September event, or will we have to wait even longer for Apple's latest wireless earbuds? Twitter leaker @FrontTron, who correctly predicted the release date of the AirPods 3, says that we can expect the AirPods Pro 2 in Q3 of 2022.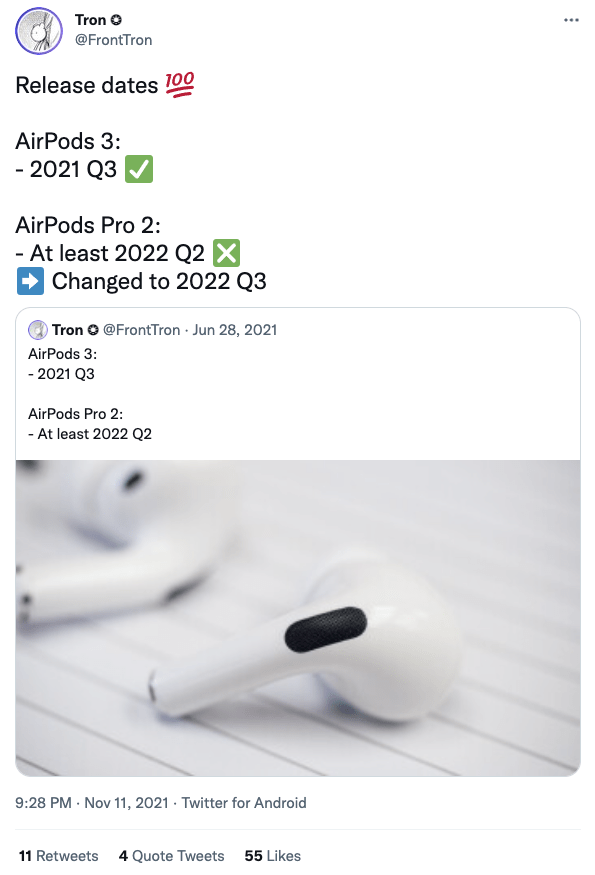 In a more recent Tweet, Ming-Chi Kuo agrees with FronTron that the AirPods Pro 2 will arrive in the second half of 2022, meaning we may see them at a fall or winter event. Kuo also predicts that Apple will discontinue the AirPods Pro when the second version arrives. Hopefully, COVID-related supply-chain delays will be avoided this year; the Wall Street Journal reports that Apple is working to expand manufacturing in other countries, including India and Vietnam.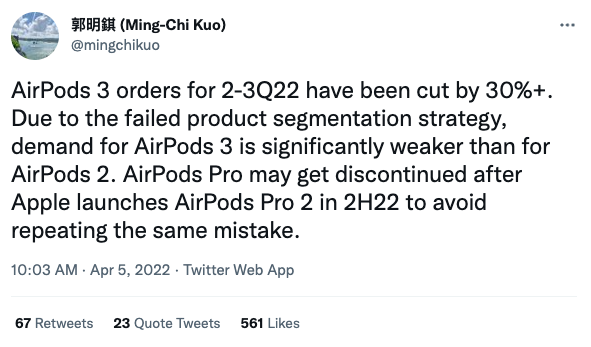 AirPods Pro 2 Design & Features 
AirPods Pro 2: what will they offer, design-wise? Rumors have flown back and forth between a stem-free design, a shortened stem, or AirPods Pro 2 that keep their stems. According to a June 1 article from MacRumors, graphic designer Ian Zelbo has used leaked images of the second-gen AirPods Pro to show that the latest AirPods will not be stemless, but will have a nearly identical design to that of the AirPods Pro.
If the leaked image is accurate, the AirPods Pro 2 will feature skin-detect sensors just like those in the AirPods 3. These sensors enable AirPods to detect if the earbuds are in your ears and to pause playback when they're taken out. 
It just might be that Apple will help us keep track of our AirPods Pro 2 in more ways than one. The leaked image from MacRumors shows the possible AirPods Pro 2 case, and it features speaker holes. It's possible that the second-gen Pros will offer precision-finding capability to pinpoint their location in Find My, and possibly offer sound tracking without the AirPods case having to be open, by pinging through the visible speaker holes on the case. As well, there's a loop for a strap on the side.
But what about the Lightning Port? The EU recently agreed to mandate universal USB-C charging ports in all smartphones and tablets by 2024. Will Apple bother to make two versions of the iPhone and iPad, one for Europe with USB-C chargers, and one for the rest of the world with its proprietary Lightning port? What about other devices, like the AirPods, Macs, the Magic Mouse, and more? Ming-Chi Kuo predicts that Apple will switch to USB-C for all of their devices and accessories. Only time will tell.
Whether or not Apple makes the jump, the AirPods Pro 2 could still offer MagSafe charging, since this is a feature Apple has rolled out for the latest iPhones, as well as the AirPods Pro. Of course, we're hoping for improved battery life, as seen in the AirPods 3. MacRumors also recently reported that Apple Analyst Ming-Chi Kuo says the AirPods Pro 2 may support Apple's Lossless Format. 
Now for some less substantiated rumors and wishes. To begin with, I think the latest AirPods are likely to feature an improved chip, which should be higher-end than that in the AirPods 3. Since the AirPods 3 include an H1 chip, just like the AirPods 2 and AirPods Pro. I hope the AirPods Pro 2 will feature an updated H chip, called the H2, or even the U1 chip included in AirTags. 
Tom's Guide suggests that second-gen AirPods Pro may offer improved Transparency Mode and compatibility with Apple Air Tags, similar to the AirPods 3. As well, they predict the inclusion of bone conduction technology and third-party app support. But, what about features offered by rival earbuds like the RHA TrueConnect, which beat the AirPods Pro's waterproof rating of IPX4 with a rating of IPX5? Will the AirPods Pro 2 catch up? 
TechRadar reports that Apple may take a drastic, new step in the quest for lossless; a new, proprietary wireless streaming method called optical audio transmission technology. This may or may not be ready for the AirPods Pro 2, but instead make its debut with Apple's MR (Mixed Reality) Headset, code-named N301. This seems to be a step further in the future than the AirPods Pro 2, but it bears watching! 
**Update** ShrimpApplePro predicted on Twitter that the AirPods Pro 2 would support Lossless audio. Now, one of her readers discovered a firmware update for the AirPods Max that enables lossless codec LC3, making it more likely than ever that we will see Lossless audio in the new AirPods pro. 
2022 Performance Upgrades
In Apple's 2021 WWDC event, Apple announced several exciting upgrades to the AirPods experience, including Conversation Boost, which helps drown out ambient sound and enhance the voice of the person you are talking to, an potentially very helpful hearing aid to those with some hearing loss, a new announcement feature with Siri when you get a new message or notification, and Find My capabilities for your AirPods.
Perhaps most exciting is the new Spatial Audio feature coming to the AirPods. What is Spatial Audio? Spatial Audio combines signals from Dolby Atmos and other surround channels and uses directional audio filters to make the sounds seem like they're coming from realistic angles all around you—front, back, side, and above. AirPods Pro and AirPods Max take the theater experience a step further by tracking your head movements through gyroscope and accelerometer sensors to ensure that audio positioning remains accurate, even when you turn your head or shift your device.
I'm pretty sure that the AirPods Pro 2 will offer Spatial Audio, as well as Conversation Boost, since AirPods 3 include these features.
New Health Features - Respiratory Rate & Motion Detection
A press release from Apple's Machine Learning Research center states that audio can be used to estimate respiratory rate. It's not certain that AirPods Pro 2 will detect respiratory rate and add that information to the health app, but it's a possibility, though we haven't heard any recent rumors on this topic. 
We also haven't heard any more info from Bloomberg writers Debby Wu and Mark German about AirPods Pro 2 that have motion sensors capable of fitness tracking. But in an article from February 2022, Tech Advisor agrees, and reports that analyst Ming-Chi Kuo thinks the new AirPods could have limited fitness-tracking capabilities.
Finally, 52 Audio rumored that the AirPods Pro 2 will be able to be used as hearing aids. They write, "We also find that the openings on the right side (of the case) are the microphone for the hearing aid. Sound can be collected through the charging case and transmitted to the earphone for sound enhancement and playback, helping people with hearing loss get the environment sound." 
AirPods Pro 2 Price 
How much are AirPods Pro 2 likely to go for? The original AirPods Pro cost $249, and Apple has shown that it's not shy about asking a premium price for high-end headphones like the AirPods Max, which cost a whopping $549. I don't think Apple is likely to lower the price point, and will at least keep the price at $249. If lots of new features are packed into the latest AirPods Pro, Apple will probably raise the price by around $50.