By

Elisabeth Garry
Mon, 10/18/2021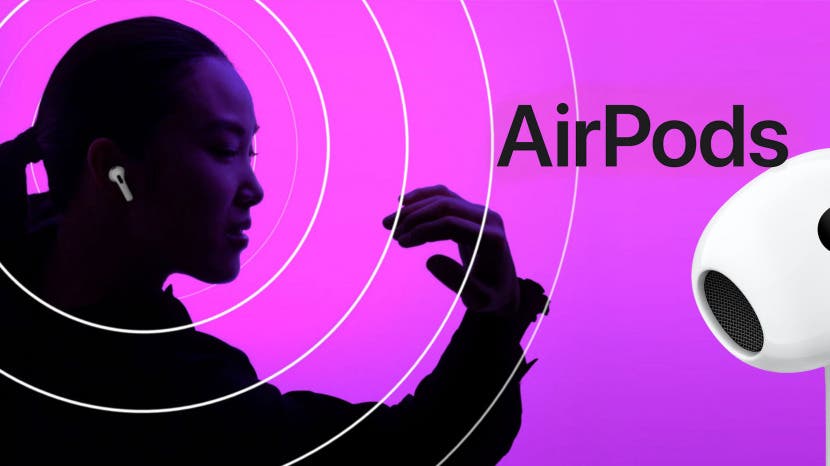 Meet the new generation of AirPods! On October 18, Apple announced the new AirPods (3rd generation) at its second fall event of 2021, 'Unleashed.' Even before their release, rumors abounded about AirPods 3; let's see which came true and which we'll have to do without.
Related: AirPods Mic Not Working? Try These 6 Tips
2021 AirPods Release Date & Price
Pre-order: Monday, October 18, 2021
Available: Tuesday, October 26, 2021
Price: $179
AirPods Pro-Like Design
The rumor mill predicted that the next AirPods would get a facelift to resemble AirPods Pro, and this time, the rumors were right. The stems are shortened and the earpieces angled to mimic that distinctive AirPods Pro silhouette. Unlike the AirPods Pro, however, the third-generation AirPods will not include replaceable silicone tips.

Discover your iPhone's hidden features
Get a daily tip (with screenshots and clear instructions) so you can master your iPhone in just one minute a day.
The AirPods 3 will incorporate AirPods Pro's popular force sensor on the device to enable touch controls to pause and skip songs or handle phone calls. They are also water- and sweat-resistant, which means that you don't have to worry about your AirPods getting wet while you exercise.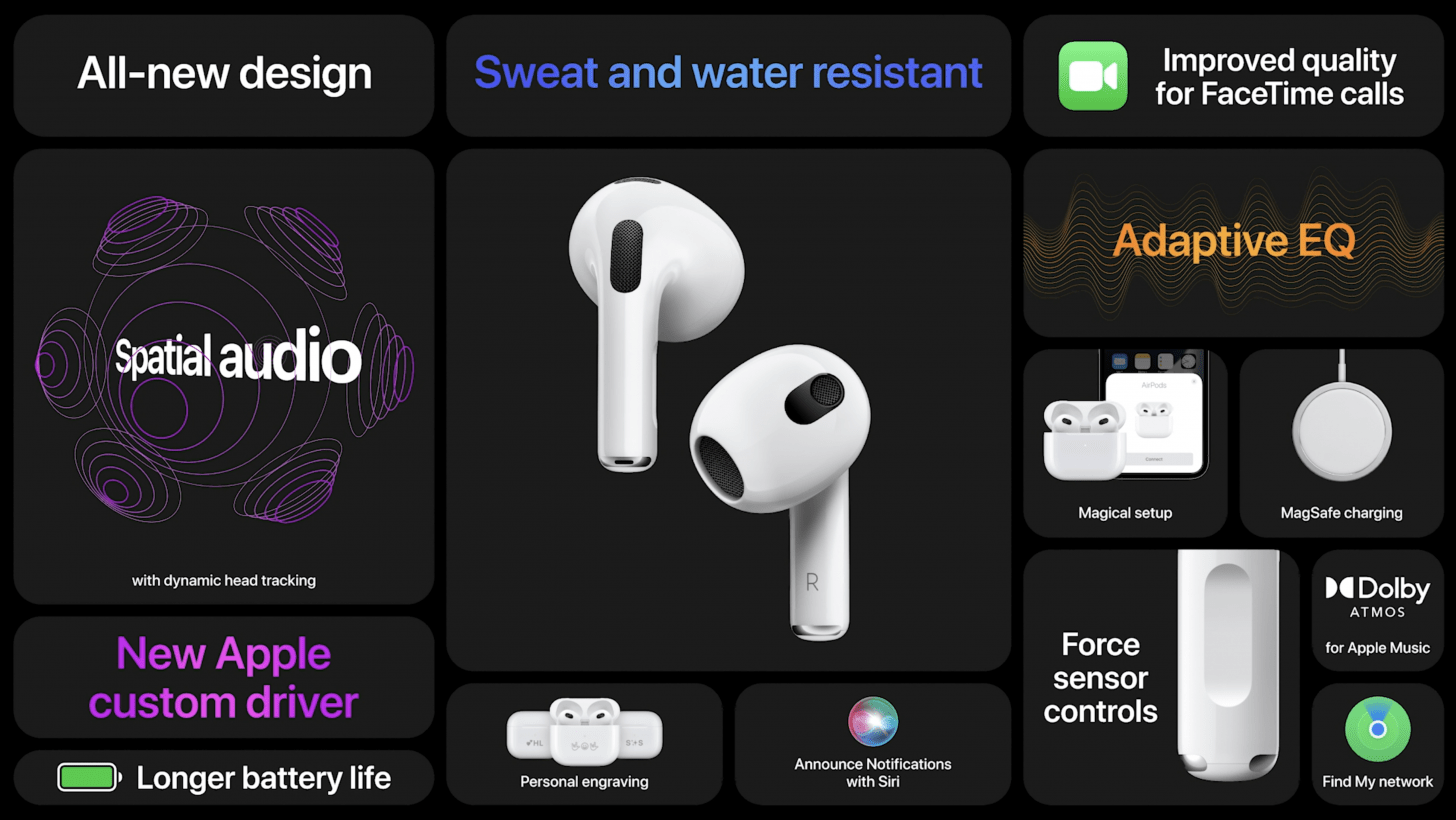 Enhanced Audio Experience
The new AirPods (3rd generation) aim to improve users' audio experience with several upgrades borrowed from AirPods Pro. First up are a custom driver and a high dynamic range amplifier to produce better bass and high-pitched sounds, both of which are hand-me-downs from AirPods Pro. The new AirPods 3 provide improved voice quality with AAC-ELD, a low-delay audio codec, which should make calls and FaceTiming easier.
Users know Adaptive EQ and spatial audio with dynamic head tracking from AirPods Pro and AirPods Max, and now these features are coming to Apple's entry-level AirPods. Using an interior microphone to monitor incoming sound, Adaptive EQ tunes audio as it enters your ear, based on the individual fit of your AirPods. This helps prevent sound from being lost due to the unique way AirPods fit in each person's ear.
Spatial audio is also making the jump from AirPods Pro to AirPods 3, meaning that you can now get a surround sound-like experience with Dolby Atmos. The new AirPods will employ dynamic head tracking, so your AirPods can adjust the frequencies that each ear receives, helping you get a more immersive experience whether you're FaceTiming, listening to music, or watching a movie.
While the third-generation AirPods are borrowing a lot from their more upscale sibling, there are still a few things that the AirPods Pro line will keep to itself, like Active Noise Cancellation and Transparency mode. This makes sense, given that AirPods Pro remain priced at $249, compared to AirPods (3rd generation) at $179.
One thing that the third-generation AirPods will get that AirPods Pro don't have is a skin-detect sensor. This new sensor replaces the dual optical sensors on both AirPods (2nd generation) and AirPods Pro. The skin-detect sensor determines whether your AirPods are in your ears, and when you remove them from your ears, it is responsible for pausing playback.
Improved Battery Life
The third-generation AirPods will improve on the battery life of previous generations, offering up to four hours of talking time and six hours of listening. The charging case can hold four additional charges for the AirPods themselves, increasing the battery life to up to 30 hours on one full charge of the charging case. The charging case itself will be wireless and MagSafe-compatible.
Overall, AirPods are getting some major upgrades. Did you get what you wanted out of the new generation? Let us know if the comments.