By

Leanne Hays
Updated 03/10/2021
Apple introduced MagSafe accessories for its new iPhone 12 lineup today at its October 13 iPhone event. MagSafe will make charging your iPhone 12 easier and faster than previous wireless generations; the frustration of placing your iPhone "just so" for wireless charging will also soon be a thing of the past. The line of MagSafe accessories includes cases, chargers, and wallets that connect to your iPhone with magnets. Read on to learn about MagSafe improvements to the iPhone 12, how MagSafe accessories work, what kind of gear you'll be able to purchase, and what MagSafe means for the iPhone accessory market. If you enjoy learning about wireless charging, fast charging, and charging myths, we can also give you the 411 on how to safely charge your device, MagSafe or otherwise.
Related: Everything Announced During the October 2020 Apple Event!
iPhone 12 & Rapid Charging with MagSafe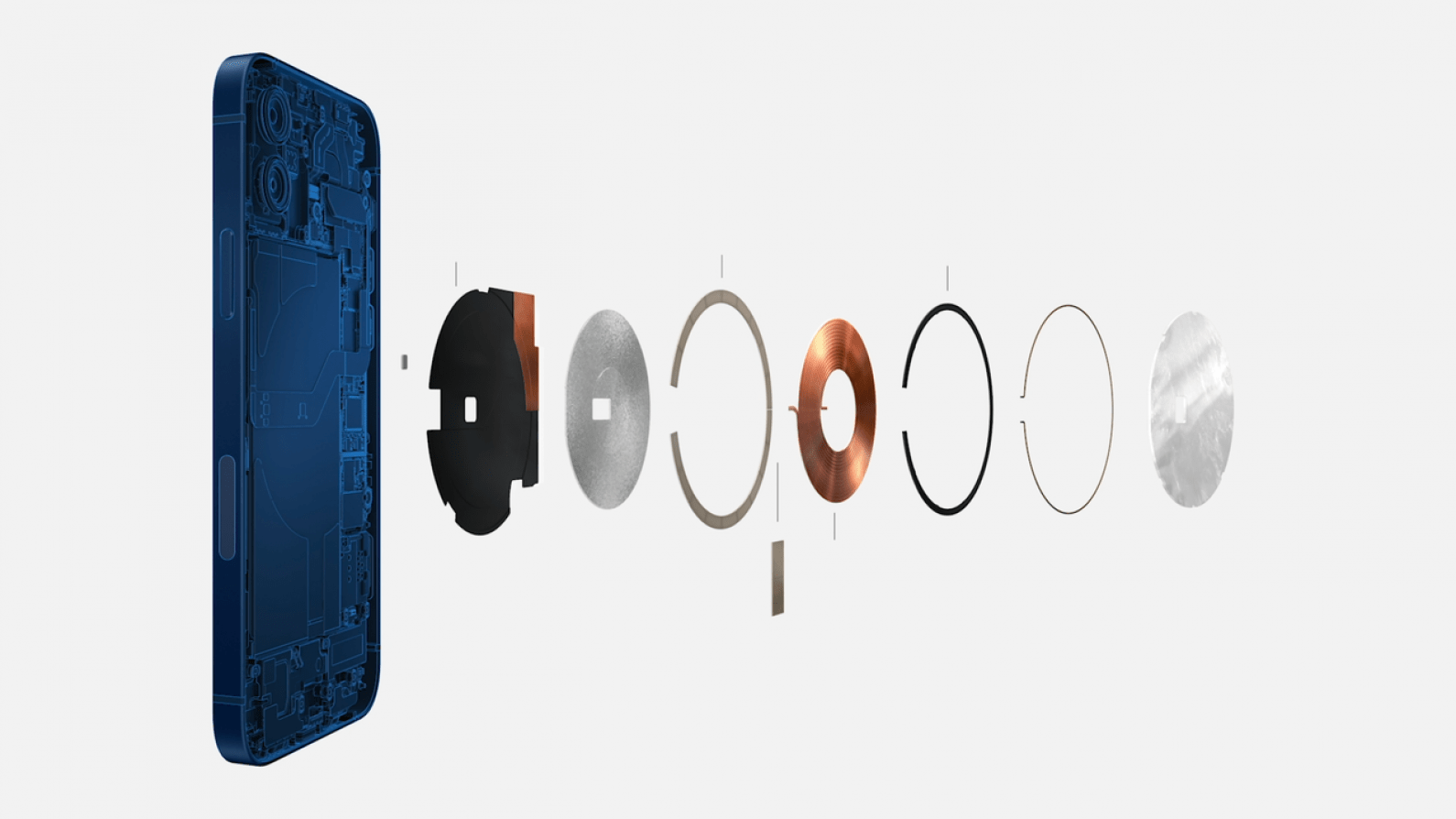 MagSafe is a name Apple has used before, in reference to its brand of breakaway magnetic charging cables for the MacBook. And now the tech giant has announced that the iPhone 12 line offers MagSafe, but in this context, it refers to an assembly in the back of the phone that includes a magnet array and alignment magnet around the wireless charging coil. These magnets solve alignment issues seen in previous iPhone models, where they have to be placed "just so" on the wireless charger in order for it to work. Now, MagSafe wireless chargers can connect to your iPhone 12 more consistently and provide up to 15 watts of charging. That's double the power of Qi-based wireless chargers, which can only deliver up to 7.5W of power when used with Apple devices. That means that your iPhone 12 can charge twice as fast as previous models of wireless-compatible iPhones—but only when you use it with a MagSafe wireless charger.

Discover your iPhone's hidden features
Get a daily tip (with screenshots and clear instructions) so you can master your iPhone in just one minute a day.
How Do MagSafe iPhone Accessories Work?
MagSafe cases attach to your iPhone magnetically (the magnets around your iPhone's wireless charging coil attract the magnets in the case). This means that cases no longer have to wrap around the chassis of your iPhone to hold securely; the new magnetic cases will just snap right on. Likewise, MagSafe wallets will snap onto your iPhone 12; Apple claims there's no further need for adhesives or bands.
I'd really love to test out some Apple and third-party MagSafe accessories before making the decision to buy a new MagSafe wallet, or just stick with a traditional wallet case when I get a new iPhone. I have to say I'm not convinced that a snap-on case wouldn't fly right off if the impact were hard enough, or that a MagSafe wallet wouldn't pull off or move as I put my iPhone 12 into my pocket. We'll report back once we've had some hands-on time with the new technology. 
When Are MagSafe Accessories Available & What Are My Options?

MagSafe accessories are already posted on Apple.com but aren't available for purchase yet. Apple will be offering cases and covers for $49 that come in in clear plastic or silicone in a variety of colors. The magnetic wallet is made of leather and comes in four colors, ringing in at $59. There's only one MagSafe charger currently listed; it costs $39 and comes in gray or white. Apple has promised MagSafe Duo chargers, both charging mat and stand, that accommodate an iPhone and Apple Watch at the same time, but they're not on the Apple website yet.
Belkin's New MagSafe Products
Belkin has already announced two new MagSafe accessories for the iPhone 12 line: the BOOST CHARGE PRO MagSafe 3-in-1 Wireless Charger ($149.99), and MagSafe Car Vent Mount PRO ($39.95). None have an official release date yet, but according to the company we can expect to see them this winter. Images are below.


BOOST↑CHARGE™ PRO MagSafe 3-in-1 Wireless Charger
MagSafe Car Vent Mount PRO
How Will MagSafe Change the iPhone Accessories Market?
Expect an array of third-party MagSafe accessories to be available soon. Belkin was mentioned during the MagSafe portion of the Apple announcement today, which means we'll soon see MagSafe car chargers, surge protectors, multi-device charging docks, and more. We're sure to see an array of magnetic cases from other top brands, as well, not to mention a variety of third-party charging mats, wallets, and devices like PopSockets, kickstands, tripods, and more. 
As improvements in wireless charging capabilities march on, how will accessory makers have to change their approach to wireless charging? What does the arrival of MagSafe tell us about this evolution? To begin with, Apple has informed us that the MagSafe charger currently on Apple's site will charge every iPhone with wireless charging capability, as well as the AirPods Pro, AirPods with Wireless Charging Case, and the Wireless Charging case itself. This means that all Qi wireless charging devices should be able to safely use MagSafe chargers, as well; they just won't be able to charge as quickly as members of the iPhone 12 family. Other wireless charging mats available on the Apple site and other sites tend to top out at 7.5 or 10W, meaning that an iPhone 12 can use them to charge, but it won't charge as quickly as it would on a MagSafe charger. 
My prediction is that many manufacturers will stop producing 7.5W and 10W charging mats, sell their current inventory, then switch to producing 15W MagSafe mats, since all wireless charging iPhones and AirPods can use them. As for iPhone cases, lots of people probably feel like me, not fully trusting snap-on cases yet. While many brands will jump at the opportunity to sell MagSafe iPhone wallets, they'll probably maintain a selection of protective and decorative cases with the old, wrap-around contours we're used to, in addition to MagSafe offerings. As iPhones continue to get sturdier and MagSafe proves itself, snap-on cases may become the new norm.