By

Elisabeth Garry
Updated 07/26/2021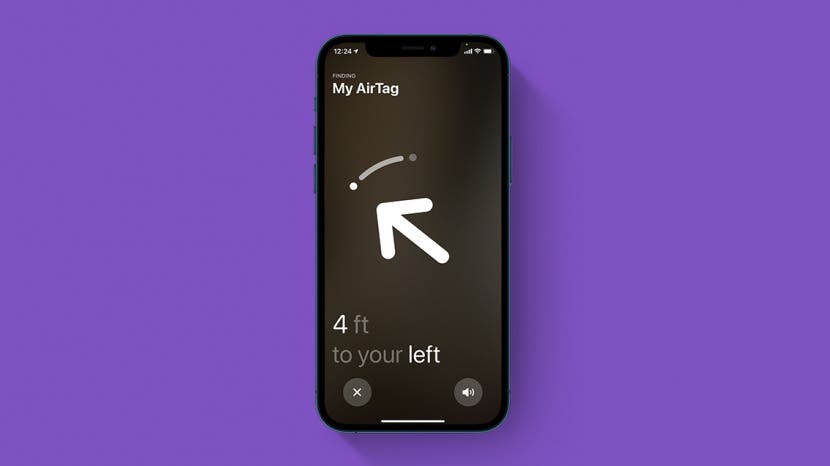 * This post is part of iPhone Life's Tip of the Day newsletter. Sign Up. *
With Precision Finding, you can find a lost AirTag and the item it's attached to with directions that are accurate up to a tenth of an inch! It's important to note that Precision Finding only works on iPhone 11 and iPhone 12 models, as the models in these lines include the necessary U1 ultra-wideband chip that makes the feature possible. Here's how to use Precision Finding for AirTags.
Related: How to Find Your iPhone Even If It's Dead or Offline

Discover your iPhone's hidden features
Get a daily tip (with screenshots and clear instructions) so you can master your iPhone in just one minute a day.
Why Does Precision Finding Matter?
Find an item attached to an AirTag (or a lost AirTag itself!) with directions that are precise to a tenth of a foot.
Haptic feedback and on-screen prompts make finding your lost AirTag-connected item fast and easy.
How to Use Precision Finding for AirTags
AirTags Precision Finding will allow you to locate hard-to-find items as long as they're within range (about the same range as Bluetooth). If you're not that close to your lost item, you may want to try either the Play Sound feature or getting directions and then using Precision Finding when you get closer to the lost item and AirTag. For more great AirTags and Find My tips, check out our free Tip of the Day newsletter!
Here's how to use Precision Finding:
Open the Find My app on your iPhone.


 
Tap the Items tab.


 

Find your AirTag in the list and select it.


 
If your AirTag is nearby and you are using any iPhone 11 or iPhone 12 model, you can use Precision Finding to locate it.

Tap Find.


 
Follow the on-screen instructions to find your AirTag.

You may need to move around a little until your iPhone is able to connect with the lost AirTag.


 
Once your iPhone connects to the AirTag, it will show you arrows and prompts directing you to its location.


 

You'll see the distance and directions get more and more refined as you get closer to the AirTag.
Once you've found your AirTag and the lost item it's attached to, you can tap X to exit Precision Finding.


This cool new feature can be finicky at times in terms of your placement relative to the AirTag, but it certainly makes finding lost small items much easier! I recently used mine to find my wallet under a pile of laundry, and it saved me a lot of trouble.