By

Amy Spitzfaden Both
Updated 06/30/2022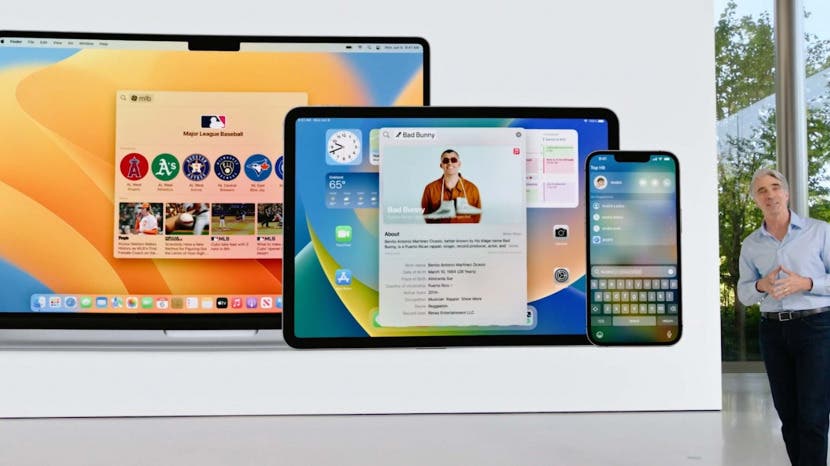 Apple's 2022 WWDC keynote was packed full of features many of us have been requesting for quite some time, from a customizable Lock Screen to multiple stops in Apple Maps. While most of it isn't groundbreaking technology, they're features many users will appreciate. Apple also announced a new MacBook Air, powered by the next generation of Apple's in-house processing chip, called the M2. Let's dive in to all the goodies and upgrades coming our way.

iOS 16 Gives iPhone Users What They Want
Availability: The shipping version of iOS 16 will be released in the fall. A beta version of iOS 16 will be available to the public in July at beta.apple.com.
Compatibility: iOS 16 will work with the iPhone 8 and later, but full features are limited to the iPhone 12 Pro and later.
The upcoming iOS 16 software update is bringing major Lock Screen updates, customizable Focus features, new ways to share photos, and much, much more. Senior Vice President of Software Engineering Craig Federighi says Lock Screen improvements give users "new ways to make [the Lock Screen] more personal, beautiful, and helpful than ever." iOS 16 users will be able to add photos, colors, fonts, Widgets, and more to their iPhone Lock Screens.

New Focus features make good use of these Lock Screen improvements, allowing iPhone owners to customize their Lock Screen for each Focus mode. Choose a different photo and style on your Lock and Home screens for each Focus, and use new Focus filters to customize Safari content for each mode.
A long-awaited update to the Messages app will allow iPhone users to edit or delete recently sent messages, and emails sent too hastily can be deleted shortly after sending. The Mail app Search feature is getting more accurate, and we'll also be able to schedule emails. Live Text, which recognizes text in images and can use that data to send emails, make calls, get directions, and even translate from seven different languages, is now expanding to video!

Discover your iPhone's hidden features
Get a daily tip (with screenshots and clear instructions) so you can master your iPhone in just one minute a day.
Apple Pay gets a boost with iOS 16, allowing users to split payments, track orders, and more. The Maps app will expand to 11 new countries, and allow users to add up to 15 stops to a trip. Visual Look Up was introduced last year and enables users to view more information about the item or location in a photo. You'll be able to look up statues, birds, and insects with iOS 16, then tap and hold the subject to drag and drop it into apps like Messages.
Other new features include Medications, a Health-app feature that will help users keep tabs on their medications, including potential interactions. For more on these exciting updates, check out our full iOS 16 coverage.
iPadOS 16 Amps Up Multitasking
Availability: The shipping version of iPadOS 16 releases in the fall of 2022, but if you're too excited to wait and willing to risk more bugs than usual, you can sign up for the public beta program in July.
Compatibility: The new features of iPadOS 16 will be available on iPad (5th generation and later), iPad mini (5th generation and later), iPad Air (3rd generation and later), and all models of iPad Pro. Note that some features have more specific hardware requirements, so not all new features will be available on all iPad models listed here.
The biggest features in the upcoming iPadOS 16 update focus on improving collaboration and multitasking. The new collaborative canvas app Freeform provides a flexible, whiteboard-like virtual space for brainstorming, sharing, and planning with friends and coworkers. As long as you've got an M1-equipped iPad, Stage Manager will make your iPad feel more like your laptop in terms of multitasking capability, allowing for multiple overlapping and resizable app windows. You can open up to eight separate app windows at once, with four on the iPad and four on an external display, and drag and drop apps from the Dock or from a sidebar of recently opened apps to organize them into groups.
In addition to these, the iPadOS 16 update is bringing a large number of exciting features that are also coming to the iPhone and the Mac such as Shared Photo Libraries, Shared Tab Groups in Safari, new smart tools in Mail, and last but not least, the Weather app. For more, read our full iPadOS 16 coverage.
WatchOS 9 Goes Heavy on Health
Availability: The shipping version of watchOS 9 will be released in the fall as a free software update. A beta version of watchOS 9 will be available to the public in July at beta.apple.com.
Compatibility: Apple Watch Series 4 or later paired with iPhone 8 or later and iPhone SE (second generation) or later, running iOS 16.
With Apple's clear focus on solidifying the Apple Watch as a fitness-tracking machine, most of the updates to the smartwatch's software announced at WWDC 2022 concentrate on health. WatchOS 9 will bring new metrics for tracking run efficiency and custom workouts, including the ability to set alerts for different health metrics like heart rate zones and stride lengths. Additionally, users will be able to set workouts to switch automatically instead of having to switch between them manually.
In the vein of health and fitness, Apple didn't forget to add some cool updates to the Sleep app as well. With the addition of Sleep Stages, users will better understand each stage of sleep alongside a detailed graph showing them their own sleep cycle. To top it off, we received a few fresh watch faces, pinned apps in the Dock, and updated Astronomy and Lunar calendar face features. All in all, watchOS 9 will broaden the Apple Watch's capabilities and further position it as a must-have health and fitness gadget while maintaining its easy-to-use UI. Read our full watchOS 9 coverage for more.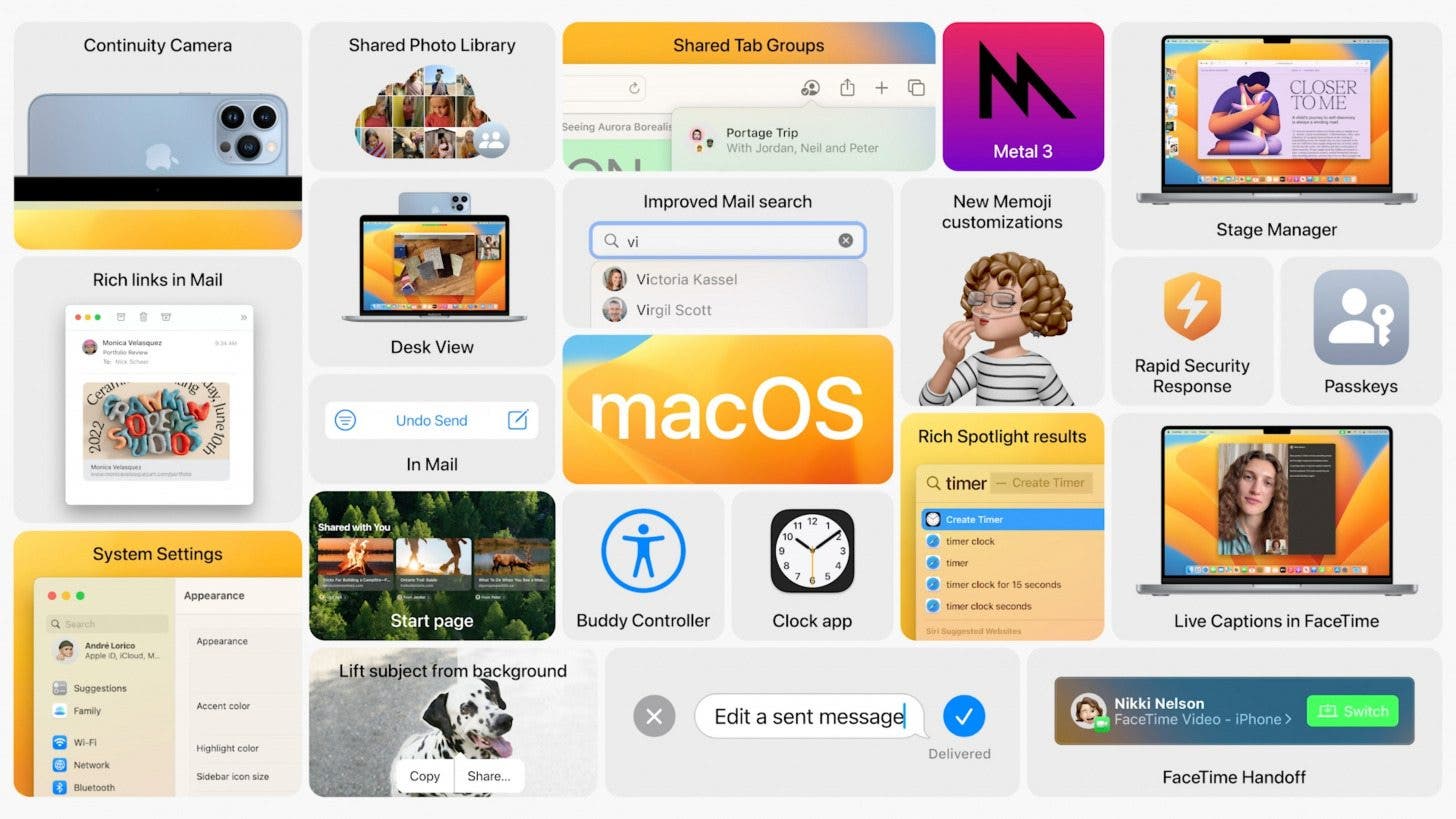 MacOS Ventura Brings a Productivity Boost
Availability: The shipping version of macOS Ventura is due to be released in the fall of 2022. Those who don't want to wait can join the macOS Ventura public beta program starting in July.
Compatibility: 2022 Mac Studio, 2019 Mac Pro and later, 2018 Mac mini and later, 2018 MacBook Air and later, 2017 MacBook and later, 2017 MacBook Pro and later, 2017 iMac and later, and 2017 iMac Pro and later.
The thirteenth major Mac software update is here! The new macOS Ventura adds tools and features to boost productivity and overhauls popular apps including Safari, Mail, Messages, Spotlight, and more. Ventura makes multitasking easier than ever with Stage Manager, which allows you to see your windows organized by app. Not only can you see all your open windows stacked within each app, but you can also combine two or three apps to navigate between various workflows with fewer distractions.
New Continuity features allow you to work more fluidly between devices. For example, you can start a FaceTime call on your iPhone while out, then transfer the call to your Mac or iPad without interruption. Your Mac will also detect your iPhone camera, making it possible to use your iPhone's Ultra Wide lens and features such as Center Stage directly on your Mac. The Continuity Camera feature also unlocks two new FaceTime modes: Studio View and Desk View. Read more about how macOS Ventura improves Spotlight search, lets users schedule and cancel sent emails in the Mail app, and so much more!
The Brand New M2 Chip
In the past year and a half, Apple has successfully transitioned nearly the entire Mac lineup from the Intel Core processor to Apple silicon. At the WWDC event, Apple announced a brand new chip. The M2 chip improves the speed, power, and efficiency of the M1, yet it doesn't compare to the even more powerful M1 Pro or M1 Max chips announced last fall. The new M2 chip is coming to the new MacBook Air and 13-inch MacBook Pro. If you are shopping for a new Mac, the M2 chip is super exciting. Pro users or recent Mac buyers may consider waiting for the release of a more powerful upgrade down the line or compare specs to a 2021 14- or 16-inch MacBook Pro. Learn more about the M2 chip here.
The Redesigned MacBook Air
Availability: July 2022
Price: Starting at $1,199
Apple announced in its annual WWDC event two MacBooks that are powered by the new M2 chip: the remodeled 13.3-inch MacBook Air and the updated 13-inch MacBook Pro. Out of the two MacBooks, the MacBook Air became the focus during the event. It gets a leg up on the previous MacBook Air models by being smaller, thinner, and faster. It also has a 1080p FaceTime HD Camera, a four-speaker sound system, and up to 18 hours of battery life. With the M2 Chip, the MacBook Air can handle processing-intensive tasks such as gaming and video editing. Read more about what the new MacBook Air has to offer.