9 ways to fix an iCloud sharing link not working or iCloud photo sharing not available for this device error.
By

Leanne Hays
Updated 01/12/2023
What to Know
Learn why iCloud link photos are not loading, stuck, or updating.
Learn nine ways to fix the problem when an iCloud link is not working.
Sometimes an error occurs, and recipients can't open an iCloud photo sharing link. Here are nine steps to try when photo sharing is not working or because the iCloud photo message, or link, is not loading. Here's how to fix it and open an iCloud link on an iPhone.
Jump To:
iCloud Photo Sharing Not Available for This Device? How to Fix iCloud Sharing Link Not Working on iPhone
It's convenient to share photos and albums on your iPhone with an iCloud link. But what happens when an iCloud sharing link is not working? Here's how to get iCloud photo sharing working on your iPhone. 
1. iPadOS & iOS Update: Get the Latest Apple Software
Apple generally releases a new version of its software once per year. That version is often updated with smaller updates throughout the year as needed to fix bugs, add features, and support changes in things like apps, games, and more. It's always a good idea to stay on top of these updates, especially when you see issues with normally cooperative features like photo links! The first thing you should do if you're getting a message that a photo-sharing link isn't working is to make sure you've installed the latest iOS update. If that doesn't fix the problem, move on to the next fix on our list. You can also download the Apple support app on your iPhone.
2. Make Sure That iCloud Photo Library & Shared Albums Are Enabled on iPhone
If you haven't enabled iCloud Shared Albums and Photo Library, there's no way to access iCloud Photo sharing links. To enable these features:
Open the Settings app.


Tap your Apple ID profile at the top of the screen.


Tap iCloud.


Tap Photos.


Make sure Sync this iPhone and Shared Albums are both toggled on. Toggles are green when enabled.


3. Make Sure the iCloud Photo Link Hasn't Expired
Your iCloud Photo link expires after 30 days; the recipient will see a "Failed to Retrieve" message if they open the link after that time. If this happens, you'll need to send a new iCloud link to your friend or family member.
4. Make Sure You're Connected to the Internet
If the device you're using isn't connected to the internet, there's no way for the iCloud Photo link to open. Make sure that your iPhone or iPad is connected to the internet via a stable Wi-Fi or cellular network. Here's how to connect an iPhone to the internet. 
Related: iPhone Photo Saving & Sharing Guide: Text, Email, AirDrop, Shared Albums & Social Media
5. Turn Off Low Power Mode
Low Power Mode on the iPhone can extend battery life by three hours, but that comes with several significant tradeoffs. One of the capabilities your device loses while it's in Low Power Mode is the ability to quickly load images from an iCloud photo link. If this is the case, you'll see an iCloud link "Waiting for Photos" message. You'll need to either charge your phone until Low Power Mode turns off, or manually turn off Low Power Mode. 
Open the Settings app and tap Battery. 


Toggle off Low Power Mode. Low Power Mode is disabled when the toggle is gray.


6. Sign In to Your iCloud Account 
If the photos included in your link have been deleted from your iCloud Photos, then the link recipient won't be able to open them. If the iCloud photo link still isn't working, log in to your iCloud account and make sure that the photos are still there. Remember, your iCloud photo library is synced across devices if you're signed in to the same account; deleting pictures on one device deletes them from your library as a whole.
7. Check the Apple System Status Page
The problem might not be within your control at all; it might be on Apple's end! Visit the Apple System Status Page and make sure that iCloud services are available; you'll be able to tell because there will be a green dot next to the system name. 
Note: if a status has a note next to it saying that an issue has been resolved, that may mean that a recent issue could have been affecting you, but that it's fixed now. A good practice is to restart your device and try again.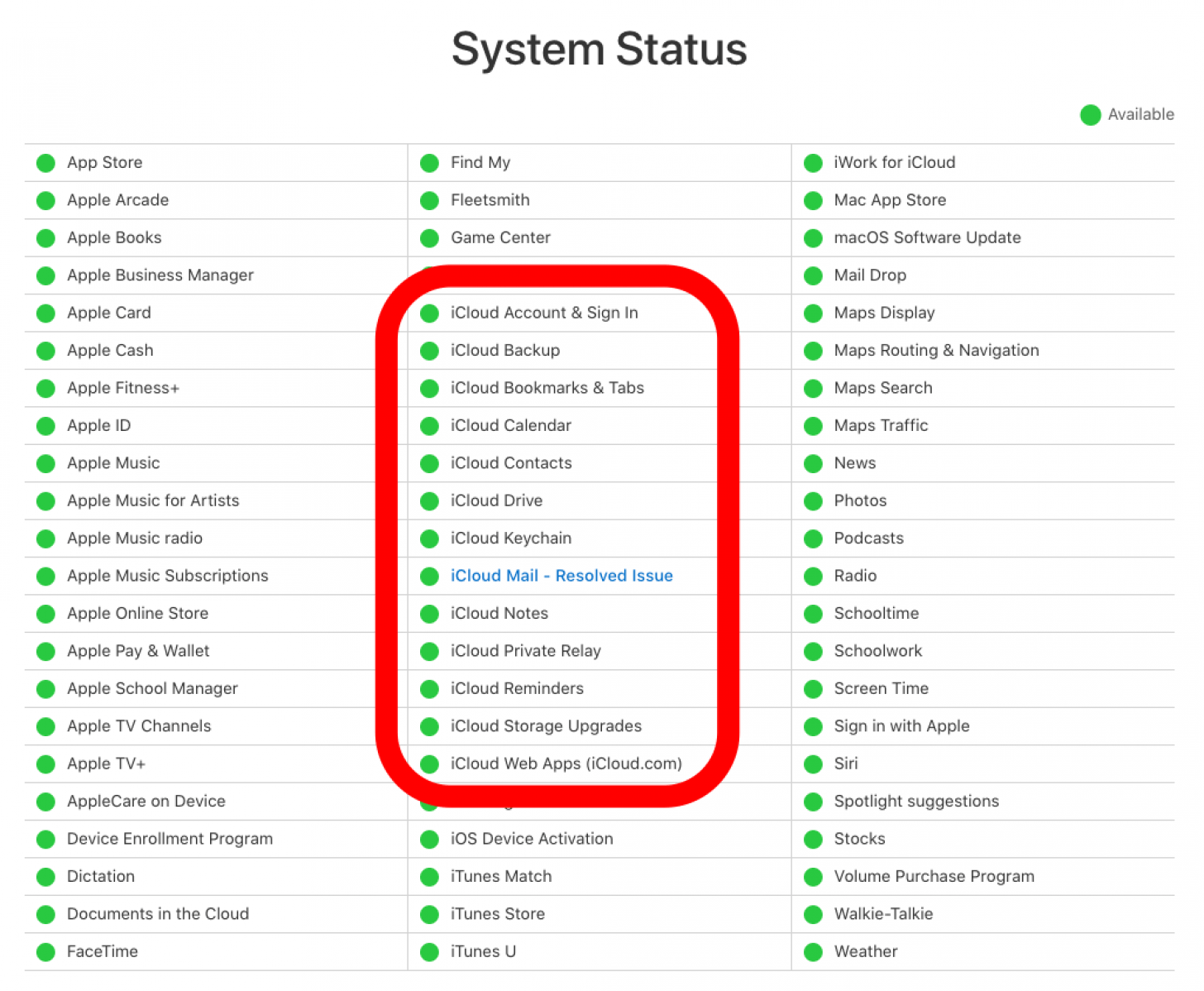 8. Reset Network Settings on iPhone
If it seems like an iCloud photo link isn't working because your device won't connect to the internet, and you've already checked your Wi-Fi or cellular connection, you need to reset network settings. This is a big deal, as it will reset your cellular settings, and you'll need to sign back into any Wi-Fi networks you've joined in the past.
Open the Settings app and tap General.


Tap Transfer or Reset iPhone.


Tap Reset.


Tap Reset Network Settings.


Enter your password and tap Reset Network Settings to confirm.


 
9. Contact Apple Support
If all else fails, there's always Apple Support. Follow the support link and click or tap on the device that you're using, and you'll be able to connect to an Apple associate via phone, email, or chat. Alternatively, if you live near enough to an Apple Store, just drop by and ask for assistance.