Ready for the next Apple Watch update? The next Apple announcement will happen at WWDC 2022, and we'll learn all about watchOS 9.
By

Leanne Hays
Updated 10/24/2022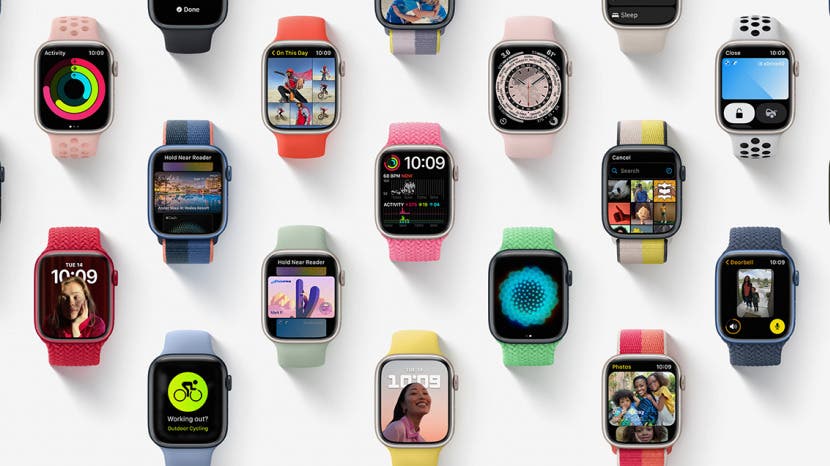 Apple just announced that WWDC 2022 is happening June 6 through 10. This means we'll soon hear what watchOS 9 features are coming to your Apple Watch this fall! Here are all the watch OS rumors about the release date, compatibility, and the features we'd like to see. 
Related: How to Update Apple Watch to watchOS 9 (2022)
The next Apple Watch software update, watchOS 9, will be announced at the Apple WWDC keynote event on June 6. Apple will also announce the latest versions of software for its other devices, including iOS, macOS, iPadOS, and tvOS. So, what are the WWDC 2022 rumors about watchOS features? Let's find out! 
The watchOS 9 Release Date
As mentioned before, watchOS 9 will be announced at the WWDC Keynote on June 6. If Apple follows its usual software release schedule, the developer beta will follow about three weeks later, and a few weeks after that, you'll be able to install beta watchOS 9 on your Apple Watch. If you're more cautious and want to wait for the official release, you should be able to update to watchOS 9 in September, which, by the way, is when we expect Apple to reveal the Apple Watch 8 and iPhone 14 line.
Image courtesy of Apple
Apple Watch Software Update Compatibility
watchOS 5 was the first operating system to leave an older model, the Apple Watch first generation, behind. When Apple rolled out watchOS 6, every model that could download OS 5 was included. With watchOS 7, Series 1 and 2 were left behind. watchOS 8 is compatible with Apple Watch Series 3, 4, 5, 6, and SE and comes pre-installed on Apple Watch Series 7. 
So, will watchOS 9 be compatible with the same Apple Watch models as watchOS 8, or will Apple drop compatibility for some models? There's no way to know for sure, but if previous Apple Watch software updates are any indicator, at least one (if not two) Apple Watch models will not be compatible. My guess is that the Apple Watch 3 will not be compatible with watchOS 9, and Apple analyst Ming-Chi Kuo agrees.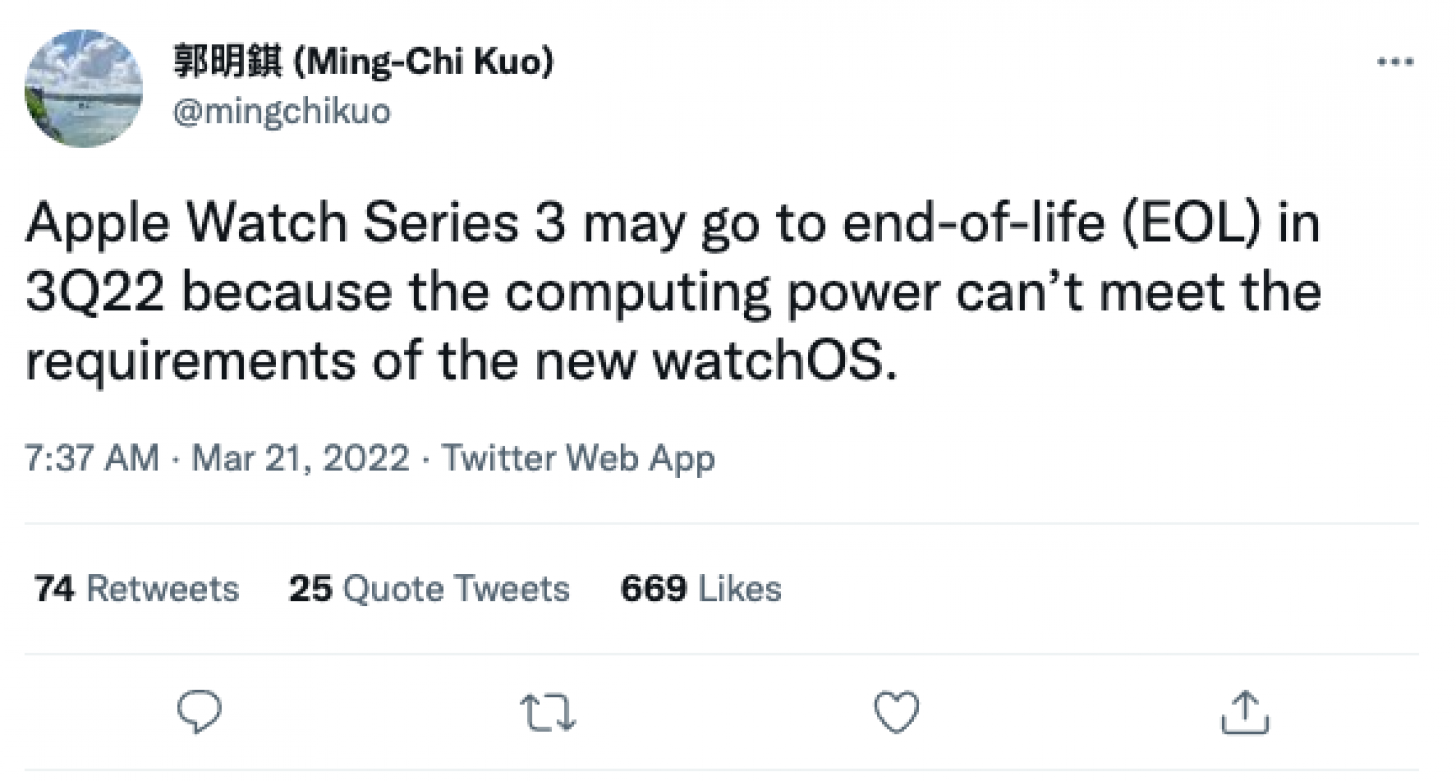 watchOS 9 Rumors
Back in 2021, Bloomberg's Debby Wu and Mark Gurman predicted that Apple would add a body temperature sensor to the Apple Watch 7. This would have been a useful feature in the age of Covid, and assist people IN tracking their fertility, but it failed to appear in the Series 7. Now, Gurman is positing that a body-temperature sensor is coming to the Apple Watch 8. If so, watchOS 9 will enable that new hardware feature. 
Ming-Chi Kuo believes temperature tracking is possible for watchOS 9 and the series 8, as well; we'll soon see if he's correct!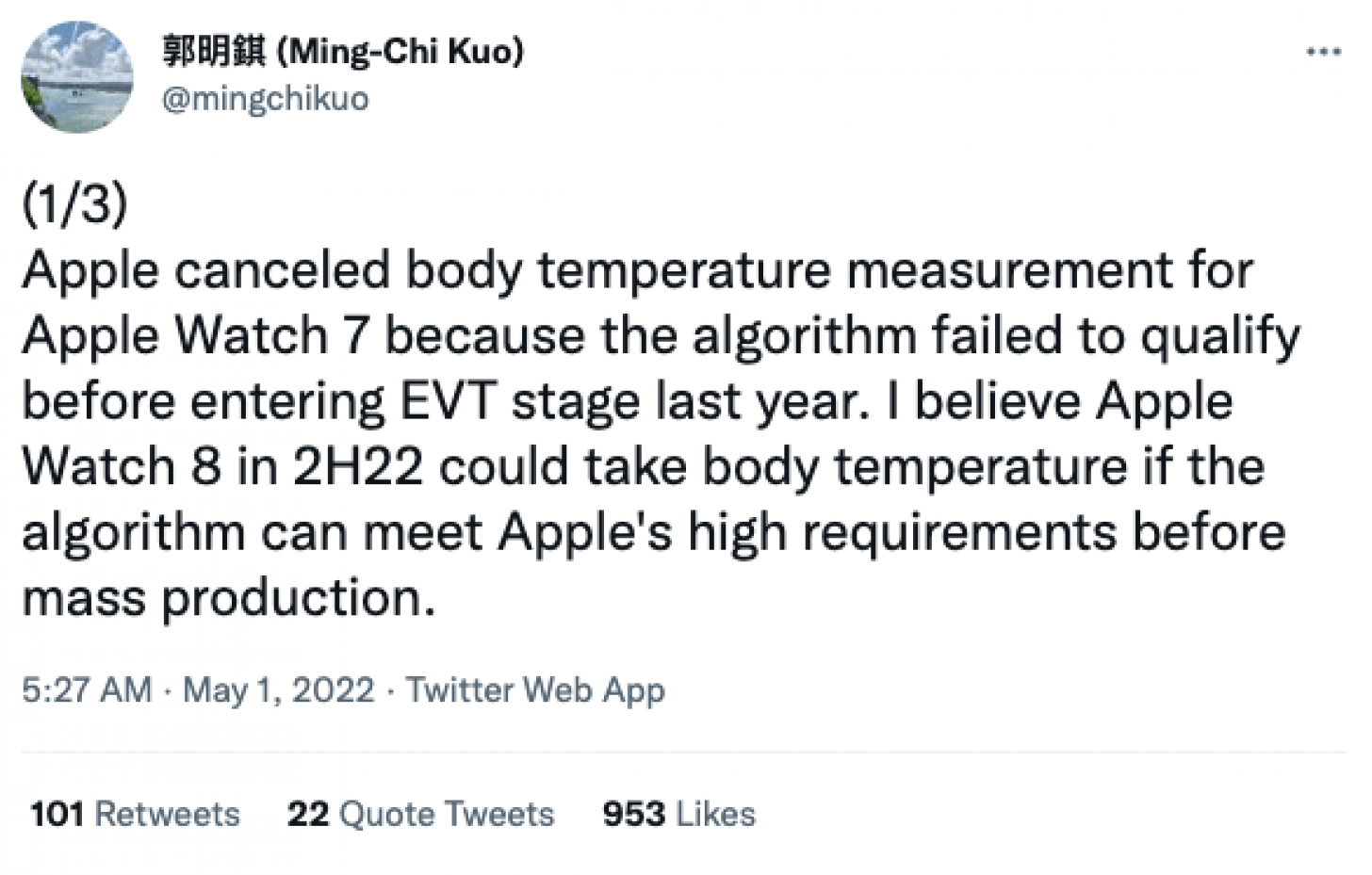 Gurman believes there's more in store for the Health app, too. In April, he wrote, "Apple is working on other upgrades... That includes new women's health, sleep, fitness, and medication management features." There's not a lot of detail on these upgrades yet, but Gurman believes that Apple will roll out new workouts, and that Apple Watch users will be able to use the new Live Text feature to scan their pill bottle labels into the Apple Watch app, then receive reminders when it's time to take medication. 
Gurman also foresees an improved Power Reserve mode, similar to the low-power mode on the iPhone. "For watchOS 9, Apple also is planning a new low-power mode that is designed to let its smartwatch run some apps and features without using as much battery life. Currently, Apple Watches in low-power mode -- known on the device as Power Reserve -- can only access the time." 
Finally, the Wall Street Journal reports that the iPhone and Apple Watch will offer a crash-detection feature that automatically dials 911 if the crash is severe enough. This feature has already been tested more than 10 million times! "Apple products have already detected more than 10 million suspected vehicle impacts, of which more than 50,000 included a call to 911. Apple has been using the 911 call data to improve the accuracy of its crash-detection algorithm, since an emergency call associated with a suspected impact gives Apple more confidence that it is indeed a car crash, according to the documents."
Our watchOS 9 Wish List
There isn't a lot of reliable information out there about the next Apple Watch software update, but once again, we can look to patterns to get clues about features. Apple improved existing software features with watchOS 8 and only added small new features, mostly in the Health app. But, if we look back to watchOS 7, we find that Apple introduced loads of new and exciting features. Looking back to watchOS 6, we see the familiar trend of additional and improved Health app features and a few other improvements, but not a banner year for the software update. So, since last year was low on features, we can most likely expect a more robust watchOS at Apple's WWDC Keynote. So, what are we hoping to see?
Battery Life 
Battery life improves with each new Apple Watch generation, but Apple Watch software updates can also contribute to longer battery life. We're hoping that watchOS 9 will extend battery life for every Apple Watch model it supports.
Health Features
I'd like to see Apple make use of the Blood Oxygen app automatically overnight. This would be a big help to people with sleep apnea, who may not even be aware they have the condition. Also, how about a Health app for Apple Watch? Sure, the dashboard would have to be a bit more streamlined and not have as much data as the iPhone version, but it would be great to have one app where heart rate, sleep tracking, activity, and other important metrics could be accessed. 
Feature Writer Olena Kagui loves her Apple Watch Series 7 and hopes that health features get even better this year. "Apple should finally make it possible to put steps on the watch face without needing a third-party app, and you should get an alert when you reach your step goal. When you end a workout, "are you sure you want to cancel" should pop up, so it's harder to accidentally end it".
Productivity Boost
You can download plenty of productivity apps for Apple Watch, but it's missing several third-party apps and native Apple features that could make the smartwatch an even more powerful multitasking tool. Feature Writer Rachel Needell wants the stand-alone Slack app (removed in 2018) back in the App Store. She'd also like the option to share recordings from the Voice Memos app.
Olena wishes she could "see more than a day at a time in the Calendar app. Sure it would be tiny, but so is the keyboard!" I'd like to see Apple's native Notes app on my Apple Watch, complete with iCloud syncing capability. If Apple made the full keyboard available for older models, so much the better!
Third-Party Apple Watch Face Integration
Apple Watch enthusiasts love customizing their devices with new Apple Watch bands and Apple Watch faces. But, third-party watch face apps take up storage and sometimes glitch or have trouble integrating with Apple Watch complications. Wouldn't it be great if Apple could offer full support for third-party faces with watchOS 9?
It's the Little Things
Finally, we have a few miscellaneous watchOS 9 wishes.
Olena would like Apple to make it easier to switch between video and photo mode when using the Camera app. Currently, you can tap and hold the shutter button, but she finds that annoying.
Olena would also like her iPhone to keep pinging when she uses her Apple Watch to find her lost iPhone.
Rachel wants a way to turn off the Power Reserve feature without turning her Apple Watch off and on again. 
Image courtesy of Apple