By

Olena Kagui
Updated 10/29/2021

The Apple Watch Series 7 is here, and it looks a bit different. The redesign gives the newest Apple Watch a softer shape with more rounded corners and a larger, brighter display. The other more prominent changes include new and improved fitness features, a full keyboard, faster charging, a higher dust resistance, new colors, and more! Let's dive into every Apple Watch feature covered in the September 14 Apple announcement, including when you can get the new Apple Watch and the Apple Watch Series 7 price.
Related to: Everything Announced at the September 2021 'California Streaming' Apple Event
Apple Watch Series 7 at a Glance
Before we go into all the new features, here are a few basics to keep in mind!

Discover your iPhone's hidden features
Get a daily tip (with screenshots and clear instructions) so you can master your iPhone in just one minute a day.
Availability
Pre-order: October 8
Available in stores: October 15
Price
Apple Watch Series 7 (GPS): Starts at $399
Apple Watch Series 7 (GPS + Cellular): Starts at $499
Compatibility
iPhone 6s or later
iOS 15 or later
Colors
Green
Blue
(PRODUCT)RED
Starlight
Midnight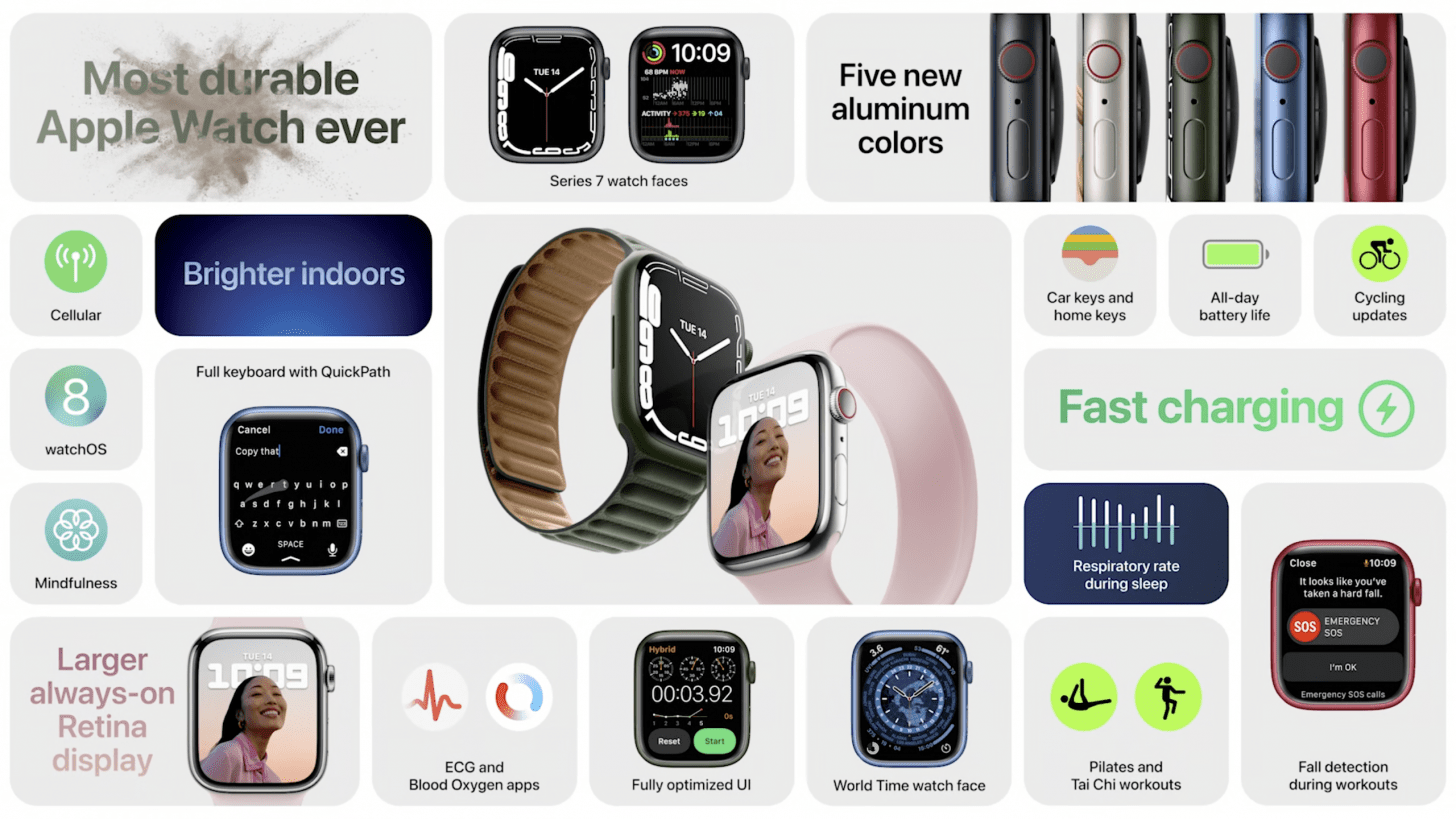 Main Apple Watch Series 7 Features & Design
The Apple Watch Series 7 redesign includes more rounded corners and a larger screen. New features include higher dust resistances, faster charging, improved fitness metrics, new colors, and additions to Apple Fitness+.
A Redesigned Look with a Larger Display
Rumors had us envisioning a complete redesign with flat edges to match Apple's other newly released devices and I was terrified because I much prefer a round design. Instead, the Series 7 doesn't look completely new, but it does have a softer ​​shape with more rounded corners. The new, brighter display has a refractive edge that makes watch faces look like they touch the case, resulting in a full-screen look. The larger display was made possible by reducing the size of borders rather than increasing the watch's size - a celebration for those with small wrists!
The larger display offers more than fuller watch faces; it also allows for changes to apps and interface features that will become available with the upcoming watchOS 8 update. This means larger, easier-to-tap buttons and menu titles so that you don't accidentally stop your alarm when you're trying to snooze it. It also makes it possible for more text to appear on your screen so that you can spend more time reading emails and texts than scrolling through them. This alone is a game-changer in my book because I want to use my Apple Watch more independently from my iPhone.
A Full QWERTY Keyboard
With the new larger display also comes a full QWERTY keyboard and two larger fonts. While the idea of using a full keyboard on an Apple Watch sounds fantastic, it may be better than it seems. From my experience using full keyboards created by third-party app developers on my 40mm Apple Watch 6, it is tough to tap accurately on the tiny digital keys. 
This new keyboard could be a game changer with QuickPath, the feature that give users the ability to swipe to type. Even if you aren't precise, the on-device machine learning should figure out what you are trying to say and even suggest the next word based on context. Despite my skepticism about how easy it will be, a full keyboard will offer even more autonomy from the iPhone to the Apple Watch.
Quicker Charging with USB-C
It was a bit of a disappointment to find out the new and improved Apple Watch has the same all-day 18-hour battery life as the Series 6. What is impressive is that the Apple Watch Series 7 can charge up to 80 percent in just 45 minutes. Practically speaking, this is equivalent to spending just 8 minutes charging the watch enough to track your sleep reliably. While this is not significantly faster, I'm still excited to spend less time charging and more on the go.
The Series 7 has what Apple describes as a new charging architecture that allows for a quicker charge. However, there is also a brand new Apple Watch Magnetic Fast Charger to USB-C Cable. Although fast charging is only possible on the Series 7, other models can be charged using this cable. You can already order it on its own online.
New Case Colors & Band Options
The new watch comes in five new aluminum colors: green, blue, red, starlight, and midnight. There are also stainless steel options available in silver, graphite, and gold. Plus, there's a titanium case and new Nike, and Hermes editions for even more diversity.
In addition to new watch colors, there is also an impressive color variety coming to the bands. The excellent news for band collectors is that the new watch model will be compatible with older bands in their respective sizes. While I'm surprised (and a little sad) that there won't be a purple Apple Watch to match some of the other new purple products, I am excited to explore the new accessories and will rely on them for the much-needed splash of color.
More Dust & Crack Resistance
The Apple Watch Series 7 doesn't just look better; it is also way more rugged. Although the water resistance rating is WR50 (water resistant up to 50 meters), the same as Series 6, the new watch is more dust resistant and crack-proof. With an IP6X certificate for dust resistance, you can safely take your Apple Watch on even more adventures.
Like the other devices announced at today's Apple Event, the Series 7 boasts a more crack-resistant front crystal. This makes it harder to damage your screen, although I personally always recommend using a screen protector when there's an expected risk of scraping or falling, which leads me to the next category of developments!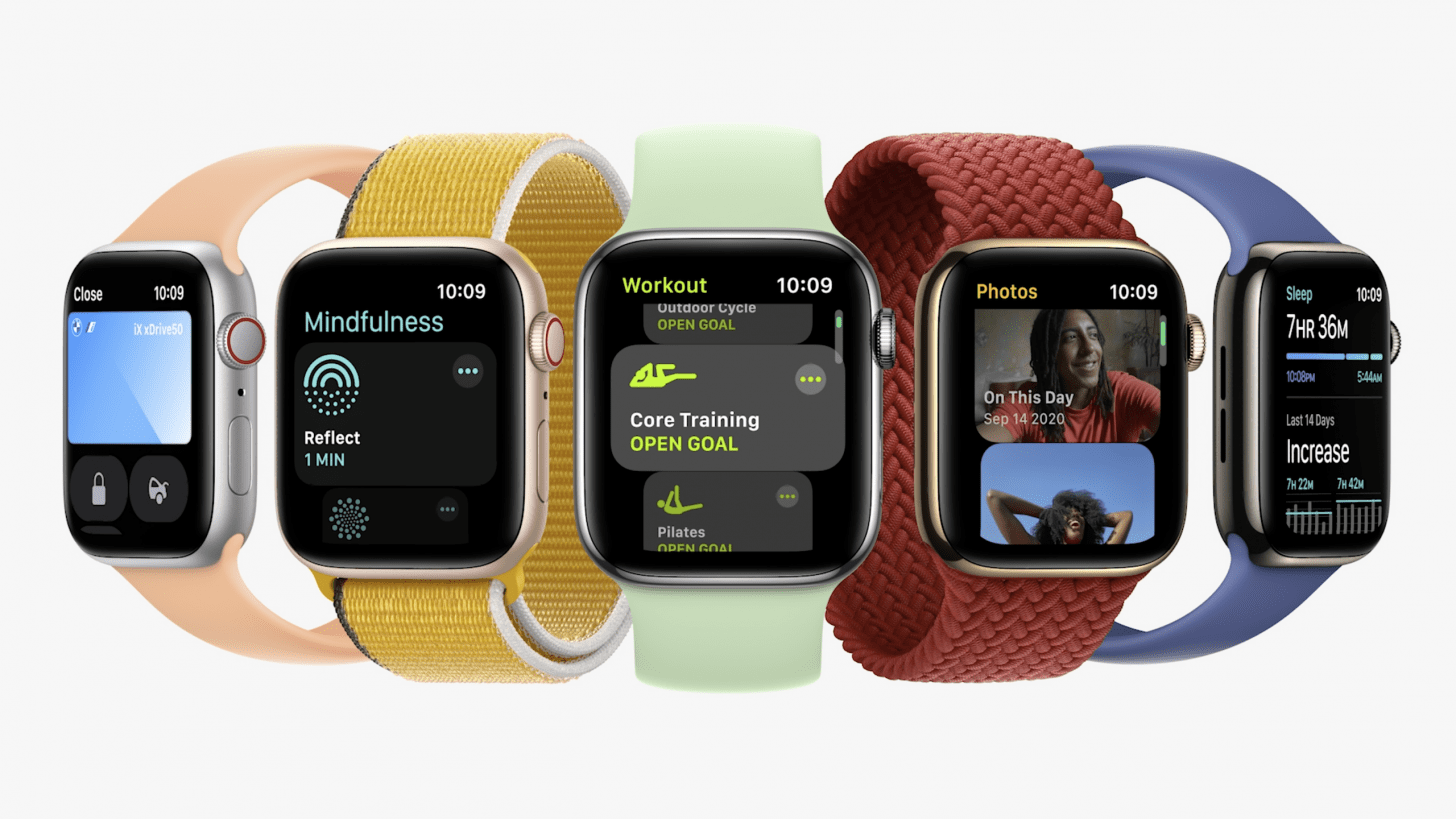 New Apple Watch Series 7 Fitness Features
The Apple Watch Series 7 doesn't have any new fitness- or health-related sensors, but many features announced today are coming to Apple Watch with the upcoming watchOS 8 software update that will be released on September 20.
Major Cycling Improvements
It isn't news that Apple Watch can track and map the popular activity that is cycling. What is new is that advanced algorithms will be used to analyze GPS, heart rate, accelerometer, and gyroscope data to provide more metrics to cyclists. These include detecting that a ride has begun, has paused, or that the rider fell and is unresponsive.
Apple Watch will also get better at measuring calories accurately even when the user is riding an e-bike. Plus, voice feedback will be given through AirPods, third-party Bluetooth headphones, or the watch's built-in speaker to announce workout milestones and the status of the Activity ring. 
Other New Activity Metrics
Unfortunately, Apple did not go into great detail on all the new metrics for other activities. However, we did see visuals of the Series 7 watch track the speed of a hit tennis ball, the distance of a golf swing, and the number of waves caught while surfing! I find these metrics truly impressive, but I hoped for more new water sports. Especially since the Apple announcement showed off California's beautiful ocean landscapes, I'm sad that activities like paddleboarding, snorkeling, and kayaking are still lacking.
Apple Fitness+
While not exclusive to the new Apple Watch Series 7, some notable changes are coming to Apple Fitness Plus, Apple's fitness subscription. There are new workouts, new instructors, and more time and difficulty options. One of the newest workouts is a series of weekly guided meditations based on themes such as gratitude or calmness.
There is also a new feature that lets you participate in Group Workouts with up to 32 other people via SharePlay, even if they are scattered all over the world. Plus, your metrics and Activity rings can now be more easily seen on the screen and through voice feedback. As someone who finds motivation in competition, I'm excited about Group Workouts and can't wait to challenge my friends!
Two New Watch Faces
The new watch faces may be coming with the watchOS 8 software update, but they are explicitly designed with the larger screen in mind. Taking advantage of the larger display with refractive edges, the two new faces are practical as well as aesthetically pleasing.
The Contour face offers a fluid animation of time throughout the day. The dial and numbers extend right to the edge of the display, bringing focus to the large display of the Apple Watch Series 7. The Modular Duo face lets you put not one but two large complications to the center of the watch face, even if both are data-rich. I can't wait to add more complications to my watch face as I prefer for my watch face to be informative rather than beautiful, although both is best.
How do you feel about the new Apple Watch Series 7? Personally, I'm bummed about the lack of battery life improvement and new health-tracking sensors. I was also hoping to see a purple case option. But I am thrilled about the faster charging and a larger display that doesn't change the watch size so that I can still use my collection of Apple Watch bands when I upgrade.