The new Apple Watch Series 7 will likely be released in mid-September 2021 and is expected to have a square-edged shape plus sport new colors!
By

Olena Kagui
Updated 10/29/2021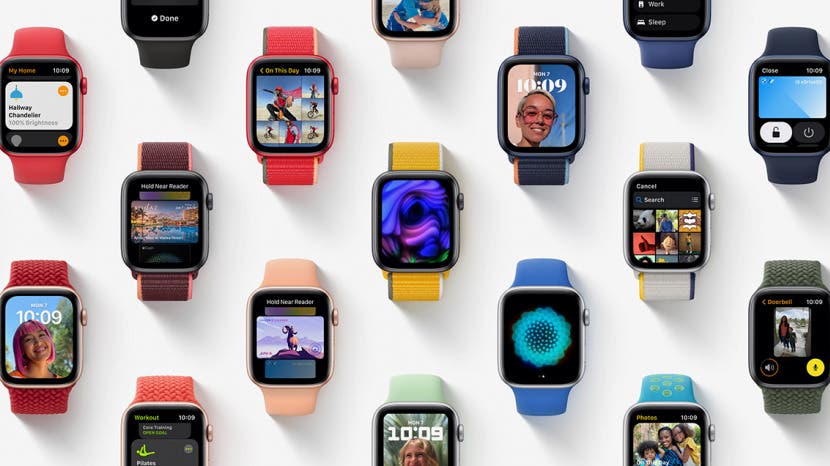 During the 2021 WWDC keynote, Apple announced some exciting software changes coming to Apple Watch with watchOS 8. And in just a few months, we can expect to see the release of the Apple Watch 7. Rumors include predictions of a significant redesign, smart Apple Watch straps, and maybe even a sensor to monitor blood glucose and alcohol levels!
Related: Everything Apple Announced at the WWDC 2021 Keynote
Jump To:
Apple Watch Series 7 Release Date & Price
We are all wondering, "When is the new Apple Watch coming out?" Although Apple hasn't confirmed this, we expect to see the new Apple Watch series release date in mid-September 2021 alongside an iPhone 13. Since the Apple Watch 6 costs $399, we assume that the base price for Series 7 will be similar.
It isn't clear yet if there will be a new model of the more affordable Apple Watch SE released alongside Apple Watch Series 6 last fall. We can assume the new Apple Watch SE release date would also be mid-September 2021. An Apple Watch SE 2 would be a welcome upgrade to the successful midrange smartwatch. Plus, it could potentially remove a need for continuing support for the Apple Watch Series 3, which is causing developers a headache.
Generally, larger sizes and cellular versions of the Apple Watch see $100+ increases. Since the Samsung Galaxy Watch 3 only costs $50 more with LTE, there is a hope that Apple Watch Series 7 GPS + Cellular might be cheaper. To learn more about this Apple Watch latest series once it comes out, sign up for our free Tip of the Day newsletter.
A New Square-Edged Design
Many of Apple's more recently announced products, including the iPhone 12 and the iPad Pro 2021, have sleek designs that replace rounded edges with a flatter, squarer look. With no profound changes in Apple Watch design since the Series 4, 2021 could be the year to shake things up.
Jon Prosser supports the claim that the Apple Watch 7 will have a square design. He even created a mockup that he shows on his FPT YouTube channel based on the supposed leaked images he analyzed.
Apple analyst Ming-Chi Kuo seems to have more confidence than Prosser that a significant design change is coming in just a few months. However, his prediction for the 2021 redesign has been around since 2019, so it isn't based on any new data.
Of course, there are also more far-fetched rumors that Apple has been researching a wrap-around display that would completely reinvent the most popular watch in the world. This is rumored due to a new patent filing spotted by MacRumors.
New Apple Watch Colors
Prosser's anonymous source also mentioned Apple experimenting with green, red, blue, silver, and black colors. Seeing as the iPhone 12 and iPhone12 mini are now available in purple, and the new iMac options can paint a rainbow, I don't think it's a stretch to see some more Apple Watch colors this fall.
Although he seems most excited about a new shade of green, there is also a patent that points at the possibility of a new way to apply a matte black finish to the anodized metal of the Apple Watch. True black is a really tough color to replicate, because it is hard to prevent the reflection of light, and it would be exciting to see it on a watch!
Prosser also mentions hearing rumors that Apple is testing a smaller bezel, offering a larger display, but he predicts a similar-sized display to Apple Watch 7. He points out that all the leaked notes come in secret code, so these new designs could easily be for the Apple Watch 8 rather than the upcoming 7.
A Rugged Design for Extreme Sports & Athletes
According to Bloomberg's Mark Gurman, Apple has been exploring a more rugged design for extreme sports athletes. Although the current watches are great for tracking fitness, they are not made for rougher environments and can easily sustain damage from more extreme activities.
Since other watchmakers have reported successful sales of their more rugged watches, we can assume that Apple is looking into this option as well. There are speculations of a rubberized case that could better protect the watch's hardware from damage in rougher environments. 
There are whispers that the dubbed "Explorer Edition" might even come with an exclusive swim tracker, although neither Bloomberg nor TechRadar has managed to confirm this.
The Ability to Monitor Blood Glucose & Alcohol Levels
Over the years, Apple Watch has made great strides in its sensors for medical tracking purposes. Although blood glucose wasn't mentioned verbally during the WWDC keynote event, the words "Blood Glucose highlights" were briefly seen on the slides for watchOS 8. So it's not out of the question that Apple Watch Series 7 features might include new blood-measuring statistics!
The ability to monitor blood glucose has been heavily rumored for months, and an SEC filing for Rockley Photonics, a UK-based startup, does indicate that it might be coming to Apple Watch. The idea is that a sensor would monitor a person's blood using infrared light.
When discussions begin about blood monitoring, alcohol levels are often mentioned as well. Devices such as the SCRAM CAM already exist to monitor alcohol levels through the skin of offenders who have to wear ankle bracelets. Despite the patents and rumors surrounding this, Max Weinbach doesn't believe that this is coming this fall.
However, the new feature of Walking Steadiness announced at the WWDC could potentially monitor the effects of alcohol. There is even evidence of a patent for tech that allows you to interact with your watch by blow on it. However, that is more likely to be used for accessibility rather than measuring alcohol levels.
A Smart Strap for a Smartwatch
According to a patent, it seems like Apple is working on developing an intelligent strap for the Apple Watch. Although the Apple Watch already has decent battery life, it wouldn't hurt to add a few hours to enjoy the new features of watchOS 8 longer. The rumored smart strap has a battery embedded in it, which would help increase battery life in the watch!
Touch or Wrist ID for a Quicker, Safer Unlock
Other rumors mention a possible Touch ID fingerprint scanner built into the existing Home button based on a patent by Apple. This could make it faster to unlock the Apple Watch than using the passcode. Another option is an under-display camera that could work as a Face ID, just like on the iPhone!
There is a different patent for the Wrist ID that would use the veins in the wrist to recognize the wearer rather than using a fingerprint. Since the Apple Watch has already experienced issues with tracking people's heart rate on tattooed wrists, this type of technology seems far-fetched.
Mental Health Alerts & Tracking Metrics
Leaker Max Weinbach talks about the potential for the Apple Watch to spot early signs of stress or panic using the existing sensors on his YouTube channel EverythingApplePro. The Breathe app already seems to detect of stress, suggesting that the wearer breath for a minute.
Since the Breathe app is getting an upgrade by becoming the Mindfulness app, there could be more ways to track mental health metrics. However, there isn't any clear evidence that we will see these changes in the new Apple Watch.
New Watch Faces for Better Personalization
Last but not least, Apple Watch enthusiasts are always hoping for more watch face options. Although a Portraits watch face was already announced at WWDC, an unreleased World Timer watch face was spotted in a UIKit developer session. MacRumors describes it as a world map with a 24-hour clock with the names of major cities around it to show different time zones worldwide!
With the possibility of a major redesign, new sensors, and even new watch faces, there is a lot to keep us on the edge of our seats for the anticipated fall release of the Apple Watch Series 7. While we can only anticipate the new Apple Watch release date at this time, we hope to get more concrete information soon. Although you have to wait to enjoy new hardware, you can already test out the new watchOS 8 software by installing the public beta. Just keep in mind that you can't downgrade from the Apple Watch beta until the shipping update comes out this fall. Please tell us what you're most excited about in the comment section below!
Want to learn about even more rumors? Read this comprehensive rumor roundup on all this Apple Fall 2021 event! Now that the Apple Watch Series 7 has officially been announced, read about it here.