Everything you need to know about the 2021 iPhone announcement: dates, iPhone and Apple Watch rumors, New AirPods, and more.
By

Olena Kagui
Updated 09/07/2021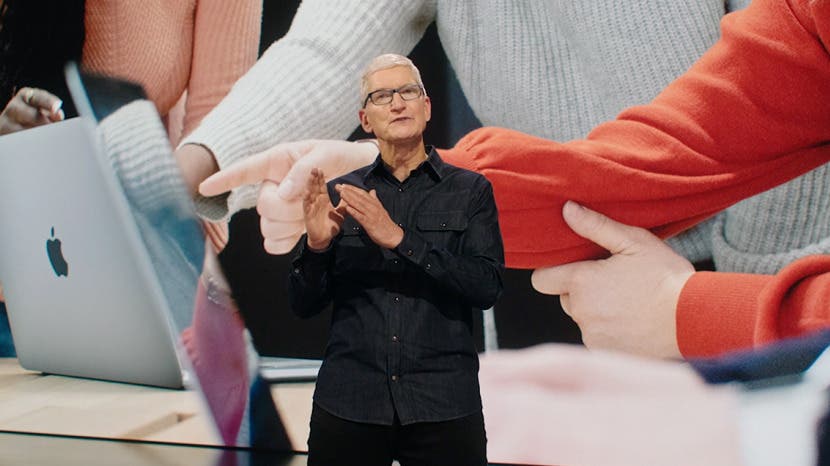 Every fall, Apple's events shake up the tech world with exciting product releases! This year, we expect several events, announcing a series of new iPhone 13, Apple Watch 7, AirPods 3, two new iPads, a new MacBook Pro, and maybe some brand new devices. Let's dive right in!
What's in This Article:
When & How to Watch Apple's Fall 2021 Event
Apple has confirmed that the California Streaming Apple event will take place virtually on Tuesday, September 14, at 10 a.m. PDT. You will be able to watch the Fall 2021 Events on Apple's website and on Apple TV. On the day of the event, our team will be posting on our Facebook group. We'll also plan to provide a 2021 Apple Fall Event Recap podcast and will post summary articles to make sure the highlights are available for everyone.
Although a report from DigiTimes suggests that for the first time ever, Apple will have two events in September, others, including Phelan, think that the multiple events will be more spaced out. In his Power On newsletter, Mark Gurman says he anticipates more than one event, with a first September event focusing on the iPhone 13.
New 2021 iPhone: iPhone 13
Unlike the delayed announcement of the iPhone 12 in 2020, the iPhone 13 is expected to be announced at Apple's first fall event according to Gurman. He doesn't foresee the new iPhone being different from its predecessor in design, but improved camera features and faster speed are foreseen.
2021 iPhone Names
Although the number 13 is considered unlucky by some, there is no evidence that Apple won't be using it to name its next iPhone. As Gurman points out, the "S"  branding is used by Apple to signal that there isn't a significant update which isn't true for the upcoming phone, so getting an iPhone 12S is unlikely.
2021 iPhone Features & Design
The new iPhone is expected to have a similar design and size to the iPhone 12. According to Gurman, the notch at the top of its display will be smaller on the iPhone 13. Tucker Bowe from Gear Patrol reports that potentially only the Pro models will feature this change. Bowe also thinks that an always-on display, 120Hz refresh rate, and LIDAR sensors will come to all iPhone 13 models.
Many experts, including Gurman, report that camera improvements will be the focus of the iPhone 13 announcement. Perhaps the most exciting is Cinematic Video or the video version of Portrait mode. He also predicts a new filter system driven by AI to apply various styles to photos. Of course, the Pro models of the new iPhone are also expected to have higher-quality video recording ability.
Personally, I'd love to see a completely redesigned notch as it has always looked awkward to me. I would also love to see a wider range of colors, with the newer purple option available for the higher-end models. Finally, I'd love for the water-resistance to finally be taken to its full potential and make it possible to use the improved camera underwater.
New 2021 Apple Watch: Apple Watch 7
In 2017 the Apple Watch officially became the world's most popular watch, not just a smartwatch! Since then, the fanbase has grown, making the Apple Watch 7 announcement a much-anticipated event. This year, many are looking forward to a major redesign, new colors, and potentially a brand new "Pro" version of the watch.
2021 Apple Watch Names
There is no evidence to indicate that the newest watch will be the Apple Watch Series 7. However, Phelan did some research and dug up the new product numbers from the Eurasian Economic Commission database. Based on these numbers, Phelan concludes that there will be no Apple Watch SE 2, but there may be an Apple Watch Pro.
2021 Apple Watch Features & Design
There hasn't been a big visual change to the Apple Watch design since the Series 4, and both Apple analyst Ming-Chi Kuo and leaker Jon Prosser believe that a new design is on its way. Prosser even created a mockup and presented it on his FPT YouTube channel based on the supposed leaked images he analyzed. The new flatter, squarer design would look similar to the iPhone 12 and the new iMac. I find the potential of a redesign exciting, but I do worry about my collection of Apple Watch bands fitting the new model. 
Speaking of design, Gurman made a bold report suggesting the end of the Apple Watch Edition in his newsletter. The Edition collection offers unique materials for the Apple Watch ranging from more affordable titanium to pricy ceramic and gold. Others, like Phelan, don't agree that the current Apple Watch Edition is the last, but they agree that there may be no new Edition this fall.  
When it comes to features, there have been whispers about measuring blood glucose for years. The WWDC keynote event covered various new features coming to watchOS 8 and although a new medical sensor wasn't mentioned, the words "Blood Glucose highlights" were briefly seen on the slides for watchOS 8. Gurman mentions this briefly in his newsletter while adding that Time to Run and Audio Meditations may be joining the Time to Walk feature on Apple Fitness+. 
New 2021 AirPods: AirPods 3
Since there was no AirPods announcement during the Spring Loaded event, many are confident that we will be getting the much-anticipated AirPods 3 this fall Gurman expects new entry-level AirPods that will launch on Thursday, September 30.
2021 AirPods 3 Features & Design
Although the new AirPods will be entry-level, Gurman reports that they will be closer in design to the Airpods Pro. This means that we can expect a new in-ear shape and shorter stems. CNET also reports on rumors that they will have a smaller charging case and interchangeable tips. I also think it's safe to assume that they will include spatial audio support announced in the WWDC Keynote Presentation. 
New 2021 iPads: iPad Mini 6 & iPad Ninth Generation
This fall, we are hoping to see not one but two new iPads! First, the popular iPad mini is expecting a redesign to give it a bigger display and sleeker feel. Second, a ninth-generation entry-level iPad is rumored to be the cheapest iPad yet, costing just $299, according to a now-deleted Twitter leak post. Since school is starting soon, this student-targeting iPad will likely be announced in the soonest announcement to make it in time for back-to-school shoppers.
New iPad Mini 6 Features & Design
Based on the iPhone 12 redesign and the new iMac look, Michael Ma of Behance.net created digital images of what the new iPad mini may look like. The images posted on Twitter under @apple_idesigner show a flat-edged, squarer design in pastel colors, including green, blue, pink, silver, and dark grey. Personally, I am hoping to see purple as an option! 
When it comes to features, Ma predicts a Touch ID button at the top of the iPad since the Home button will likely be removed. He also believes that the new iPad mini will support Apple Pencil. Otherwise, there haven't been too many rumors about the new iPad, so we'll just have to wait and see! 
New iPad Ninth Generation Features & Design
The newest entry-level iPad is exciting not only because of the unprecedented cost, but also the potentially slimmer design, faster processing speed and 4GB RAM. DIGITIMES Asia reports that industry sources have revealed that Apple is preparing for overall iPad shipments to top 60 million units this year! 
Mac Otakara, a Japanese rumor blog, originally predicted a significantly thinner iPad, but it is now saying that design-wise, it will be identical to the current generation iPad with an updated a14 chip. Personally, I feel like creating a super-affordable iPad trumps adding any new features as it can be an invaluable tool for those who can't afford a higher-end model.
New 2021 Mac: MacBook Pro
We have long-awaited a new MacBook Pro, and it is likely to finally be announced this fall! Apple analyst and iOS developer Dylan known as Dylandkt Tweeted that the 2021 MacBook Pro will be bigger and more expensive than the current model. Dylan also told MacRumors that there will be two models, a 14-inch and a 16-inch, offering the same performance in two size options.
New MacBook Pro Features & Design
There are many conversations going on about the new high-performance MacBook. MacRumors obtained a research note obtained by Kuo stating that there will be Mini-LED backlighting to give the new MacBook Pro models brighter displays and a new flat-edged top and bottom design to match the other new tech released by Apple in the past year.
Gurman predicts a return of the SD card reader as well as an HDMI port. Plus, he thinks that we'll be seeing the classic MagSafe charging with a magnetic power cable return while the Touch Bar will not be making a comeback. Of course, a key feature of the new MacBook Pro will be the new chip. According to Nikkei Asia, sources have revealed that the tentatively dubbed M2 chip is already in production!
Finally, Dylandkt stated that the current 720p webcam will be upgraded to 1080p, a win for remote employees who rely on video chat. Other ways that image quality will be improved on MacBooks is with the new image signal processor and the new chip. Dylan doesn't believe that the M2 chip will make a debut until 2022 but is considering an improved M1X chip, also mentioned by Gurman, for the fall 2021 MacBook release. 
What Else Could Apple Release This Fall?
Although the iPhones, Apple Watches, AirPods, iPads, and MacBooks are probably going to take center stage at the fall events, Apple may have other tricks up its sleeve. CNET speculates that a new Apple device could be a speaker that fuses with an entry-level iPad, similar to the Amazon Echo Show. Another thought is that they may be announcing a soundbar for the Apple TV.
Bowe talks about the potential for a November release of new MacBook Air and a high-end Mac mini, both containing the M1 chip. He writes on GearPatrol that the ​​Mac mini will be redesigned with a plexiglass top and magnetic charging connector. The new chip would make it more efficient and powerful.
Of course, a rumor roundup wouldn't be complete without headset gossip. Kuo doesn't think that an AR headset is coming until 2022, with smart glasses following in 2025. CNET reports that Kuo believes that there may even be an Apple contact lens coming by 2030–2040. 
Gurman points out that Apple tends to look at existing technology and creates an equivalent that's easier to use and accessible to more people. He adds that "Apple isn't looking to create an iPhone-like hit for its first headset." While I find the idea of an Apple headset exciting, there isn't really a daily use for them at the moment. I don't see Apple creating a product that doesn't aim to enhance the average consumer's daily routine.
We hope you are as pumped as we are about the upcoming fall events! There are so many rumors and leaks about a variety of devices with myriad new features. Make sure to check back as iPhone Life will keep updating its rumor articles and official Apple announcements. Don't forget to come back the day of every announcement for a thorough summary of every new device and feature, written by our team of experts!