When is the new iPhone coming out? Will we see a smaller notch? Leaked renders give a clue.
By

Amy Spitzfaden–Both
Updated 09/16/2021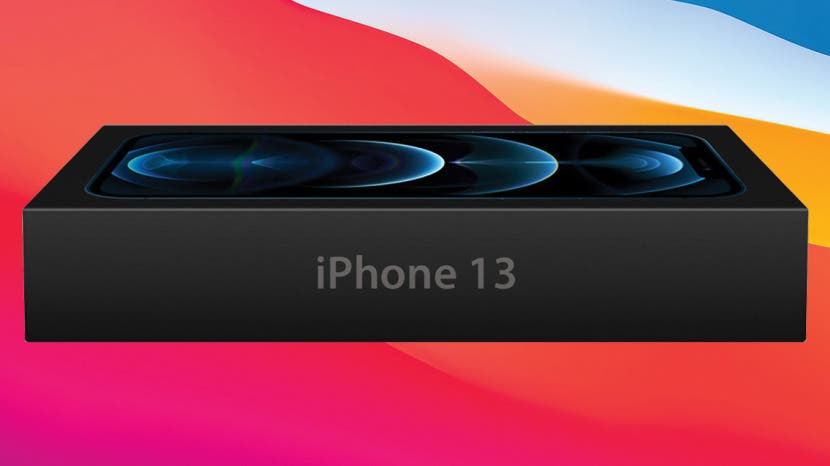 Apple has announced its fall event, so on September 14 we're slated to meet the new iPhone. We're likely to see the iPhone 13 this fall, and there are some interesting theories as to what we might see, such as the return of Touch ID and a bigger battery. Here's everything we know about the iPhone 13, including a leaked rendering by MySmartPrice, what we might expect in terms of size, and some questions about the new camera placement.
Jump To:
iPhone 13 Release Date
The first question is perhaps the easiest to answer: When is the new iPhone coming out? Apple announced a September 14 event which will more than likely include the new iPhone lineup. Typically, the new models start to ship a week or so after the announcement, with budget models coming first and Pro models coming later.
What Will It Be Called?
The "iPhone 13" seems to be a safe bet in terms of possible names for the new line. Apple has thrown a few curveballs in the not so recent past, giving us the iPhone X, XS, and XR when we were expecting a good old-fashioned iPhone 9, so there's definitely still room for a change. Plus, many consider 13 an unlucky number, with many hotels skipping 13 in room and even floor numbers, so perhaps Apple shares a similar superstition. If it does, I'd place my money on another one- to two-letter name. Wouldn't it be cool to see an iPhone Z?
Leaked Rendering
MySmartPrice has released a leaked rendering of the new iPhone, which is displayed below. MySmartPrice tends to have a fairly solid track record with renderings, but at this point we're still taking everything with a grain of salt. But let's take a closer look to see what we could be seeing this fall.
Smaller Notch
We've been hearing Apple rumors about a smaller iPhone notch for some time now, but if this rendering is accurate, the iPhone 13 will finally make this a reality. This will apparently be due to the ear piece being moved up into the top bezel, which allows the notch room to shrink by about 10%, which is the current estimate. This has been on many users' wishlists for quite some time, so we'll be interested to see if it's finally happening.
Diagonal Cameras
Another interesting note element of the rendering is the positioning of the back cameras. As there aren't any major camera boosts expected with the iPhone 13, the reasoning behind this is unclear. Whatever the reason, whether practical or cosmetic, camera changes are always an exciting part of a new iPhone line, so we're looking forward to what's in store. South Korean tech website ETNews claims the iPhonen 13 will include a periscope camera that could enhance the iPhone's zoom capabilities. Analyst Ming-Chi Kuo predicts an Ultra Wide camera upgrade that could mean better low-light photography, and 9to5 Mac claims a supply chain report from Digitimes tells us every iPhone 13 will come with a lidar scanner.
Similar Size
MySmartPrice's rendering has the new iPhone 13 at the same size as its predecessor at 146.7×71.5×7.6mm, which indicates any Pro or mini versions may also be the same size as the iPhone 12 line.
Other iPhone Rumors
Outside of the new rendering, there are other rumors about what hte iPhone 13 line might bring us. Here are some of the most compelling.
Bigger Battery
One of the most exciting aspects of the iPhone 13 line is the prospect of bigger - and therefore longer lasting - batteries. Apple analysit Ming-Chi Kuo stated: "The new 2H21 ‌iPhone‌ models feature a larger battery capacity than the iPhone 12 series, thanks to the space-saving design of many components. Hence, the new 2H21 ‌iPhone‌ models are also slightly heavier than the ‌iPhone 12‌." iPhones have never been reputed for their amazing battery life, so an improvement in this area would be greatly welcome.
120Hz ProMotion Displays
Apple's 120Hz ProMotion displays means a fast refresh rate, so basically a very smooth screen display. Many of us were hoping to see this in the iPhone 12 line, but it didn't come about. Now, Apple analyst Ross Young expects the iPhone 13 Pro models to sport this technology. Whether or not this means we won't see the increased battery life we hoped for remains to be seen, but a better and faster screen display is always a welcome development.
No Port?
A report from 9to5Mac claimed that the iPhone 13 would not feature any sort of port and instead rely solely on MagSafe charging for the line. Macrumors disagrees, however, saying Ming-Chi Kuo put this rumor to rest. Removing all ports would certainly be a bold step forward, so it's not surprising if Apple wants to put this decision off for a little longer.
Return of Touch ID: Not Yet
The final Apple rumor is the return of Touch ID to the iPhone. Ming-Chi Kuo had previously stated that an under-glass fingerprint sensor is likely for the 2021 model. This would mean we wouldn't see that same round Touch ID button we saw on previous models, but instead likely a smooth glass botton with an on-screen button showing us where to rest our finger. Recently, however, in a report given to MacRumors, Ming-Chi Kuo changed his prediction to Touch ID returning in 2022, rather than this year.
Bubblegum Pink?
Rumors have been flying of a bubblegum pink option included in the iPhon 13 colors. While I very much wish this to be true (iPhone colors are a big selling point for me and pink is my weakness), it turns out the rumors originated from the Instagram account @aliartist3D who posted a mockup of a pink iPhone 13 and asked their followers if this was an interesting concept. Turned out it was, and the rumor took off, but unless Apple noticed the enthusiasm this concept was greeted with, there is nothing to indicate this rumor to be true.
Hungry for more rumors? Us too! Read this comprehensive rumor roundup on all this Apple Fall 2021 event!