By

Nate Adcock
Thu, 06/23/2016
Internet-of-Things technology vendors want to take over your home, car, person—you name it. And the trend will continue to pervade further into our lives as portable tech becomes ever more sophisticated. At WWDC 2016, Apple announced expanded integration with smart-home product vendors, one of which is a monitoring product called Canary ($179). I just happened to be reviewing their current 1st generation product when the announcement was released. HomeKit (and newly minted products that leverage it, like the Canary Plus to be released later this year) teases with an Apple-centric vision of smart appliances, apps and online monitoring services to come. The current Canary offers a slice of that vision.
We have covered the Canary All-In-One Security product for a few years now (starting at CES 2014). Basically it is a cylindrical, network-connected, wide-angle camera system with more sophisticated sensors than the standard webcam. It does one thing really well: Monitor your home. That seems pretty simple on the face of it, but it does so in a more subtle and useful way than the run-of-the-mill security camera system. Since our earlier coverage, the product has progressively matured, adding integration features with Wink smart home products, and with a more recent upgrade to include Apple Watch support. With the steady improvements, and particularly considering the recent announcement, we thought it warranted a full review.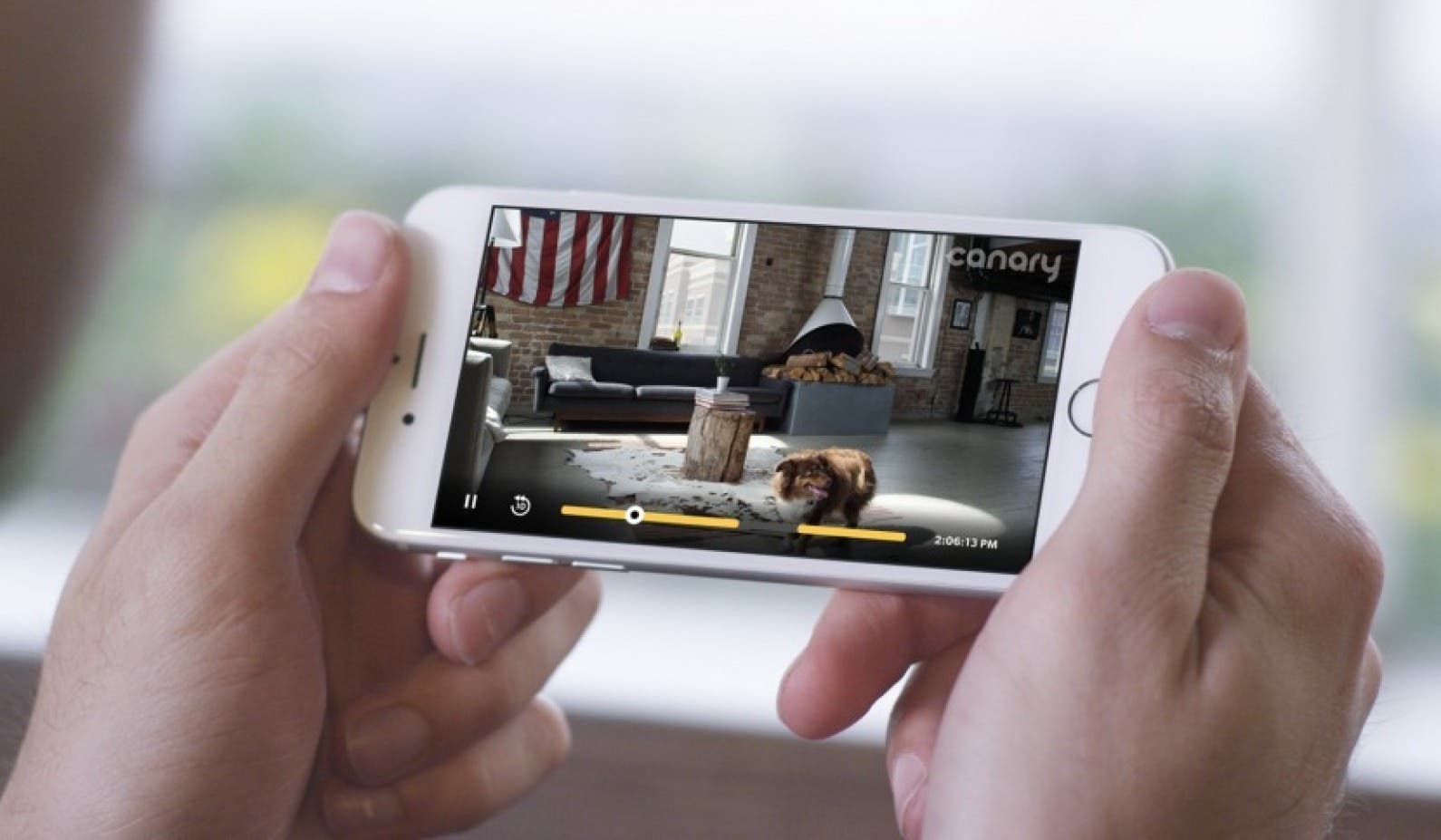 The automated processing baked into the Canary app and services are part of what set it apart from many other network cameras. The limitation of other products often being that they are still tied to rather simple detection algorithms, sensors, or software that you mostly have to fiddle with constantly to get working properly. For example, a cloud passes over the camera sensor's field of view, changing the pixel input enough to generate an alert and a false alarm notification. If you get 20–30 of these a day (likely in email form), the first thing you do when home that night is turn off that feature (voice of experience talking here). Now your fancy network camera is not doing very the thing you bought it to do.
Canary has superb detection and sensor capabilities that I confirm do not over notify, but I also tested heavily towards its ability to detect noteworthy events. Canary not only monitors camera activity, but humidity, temperature, sonic disturbances, motion, and even the air quality in your home. The Canary app allows you to view this trending data in an easy-to-digest timeline view (which is pretty slick). The web service will store all this fascinating data in the cloud, and Canary also allows you to activate (though the app) a loud piercing siren, and notify emergency services should you feel an event warrants such action. There are testimonials documented on the Canary web-site where robbery perpetrators were caught minutes after a notification. A byproduct of Canary's unconventional nature (network cameras are usually mounted somewhere visible, and easily identifiable) is that Canary really doesn't look like a camera; hiding itself in rather plain sight on an end table or mantle. If you hadn't seen one before, you would likely mistake it for a Bluetooth speaker. Like most modern cameras it switches to an infrared (I/R) mode automatically, so camera detection is still effective at night, and the wide angle lens provides a 180-degree field of view.
I tested Canary around my house in a few locations to see how well it actually detected and recorded events (one a high traffic area, and the other my basement). I staged some mock "break-ins" to see how accurate the system reacted when it thought I wasn't around. I was frankly quite impressed with the results. In every single case (some of which I tried to silently sneak past the sensor—low-crawling on my belly under the camera FOV), it was difficult to beat. I did note some complaints on the app store about the latest version of the app potentially lagging behind in performance, but I did not have similar issues. Environmental conditions were a little harder to quantify, as I didn't have a good baseline air quality or humidity detector. The temperature sensor reported similar results as compared to other typical household temperature monitoring devices.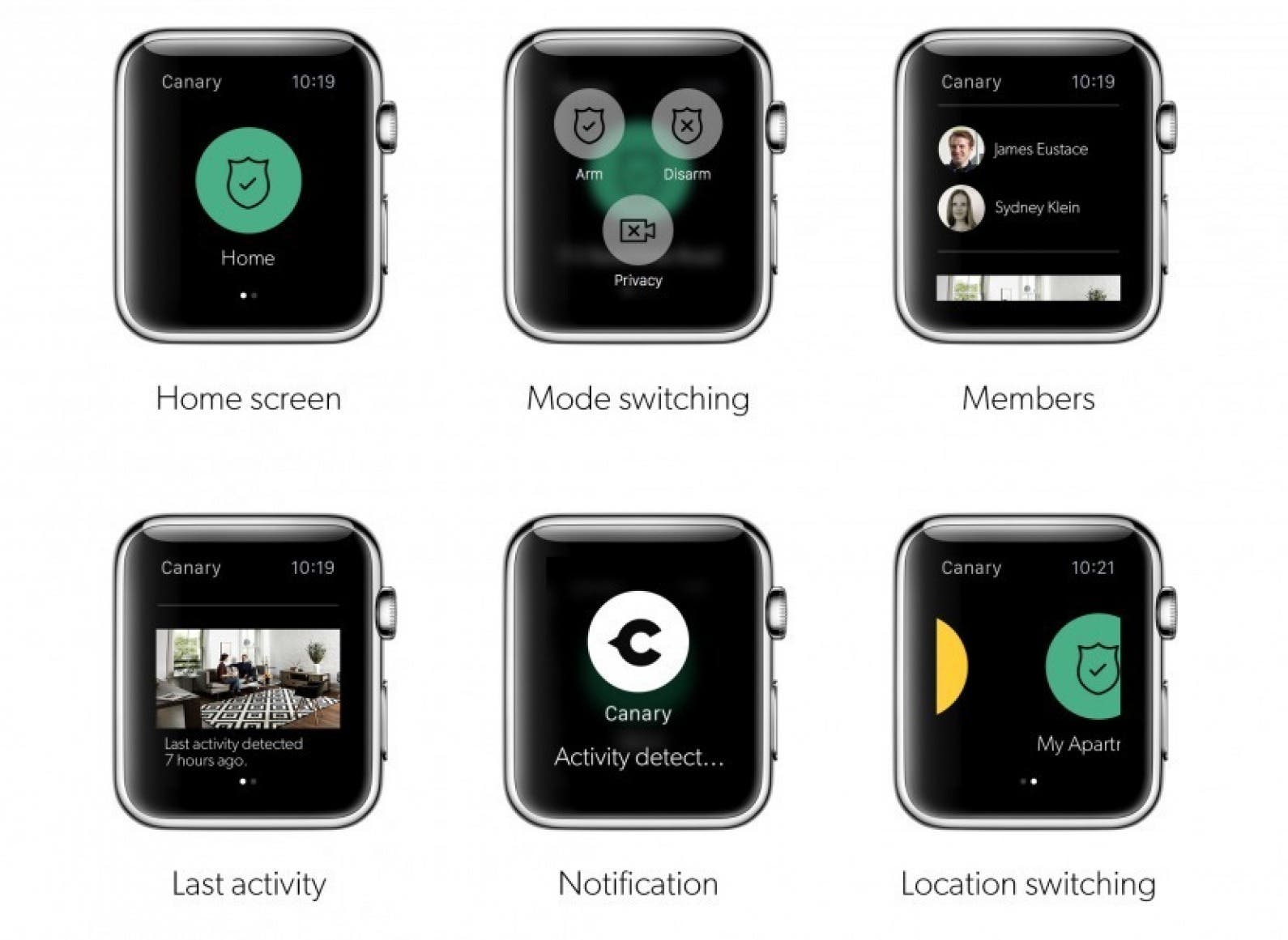 Canary supports Smart Home integration with Wink (maker of Smart home hubs and monitor and control gadgets). I was not able to test the Canary with any Wink-supported hardware. It would be interesting to test, but the company informed me that Wink triggers are supported, and future updates will also feature home health updates. I noticed that the Canary environmental statistics indicated a clear downward trend in air quality when my air conditioner was running (though still well in the normal range), which would make sense since the airflow is probably stirring more particulate matter in the house at those times. This, in fact, reminded me to check and clean my air-filter system. One of the Canary reps told me that Canary can alert you to fire or similar hazards through this same air quality detection (though a specific smoke detector or carbon dioxide alarm are not part of the package). Interesting, but I did not try to verify this, not wanting to start a fire in my house. I can definitely see the power of having these sophisticated monitoring capabilities all working together, and with the Apple Watch app, all those features are as close as your wrist!
Pros
Easy to use app and services
Smart array of sensors
Superior design
Cons
Not accessible with non-mobile platforms
No 360-degree view or pan/tilt
Final Verdict
Like a real canary in a coal mine, theCanary All-In One Security can help you monitor your home. It performed accurately in my testing, and I give it the iPhone Life stamp of approval. If you're looking for a more manually controllable camera system, Canary is not for you. However, out of the box, I have not found a simpler way to set up a home monitoring and alerting solution, and the device performed as advertised. The Canary also features an Apple watch companion app that allows you to monitor sensors and respond to alerts from your wrist, which ratchets up the coolness and practicality of its potential value. Since the WWDC announcement, you might be tempted to wait for the rebooted Canary Plus (which is understandable), but if you are looking for a unique and truly smart way to monitor your humble smart abode, the current Canary device is a great investment!
4.5 Stars