By

Amy Spitzfaden Both
Updated 01/02/2023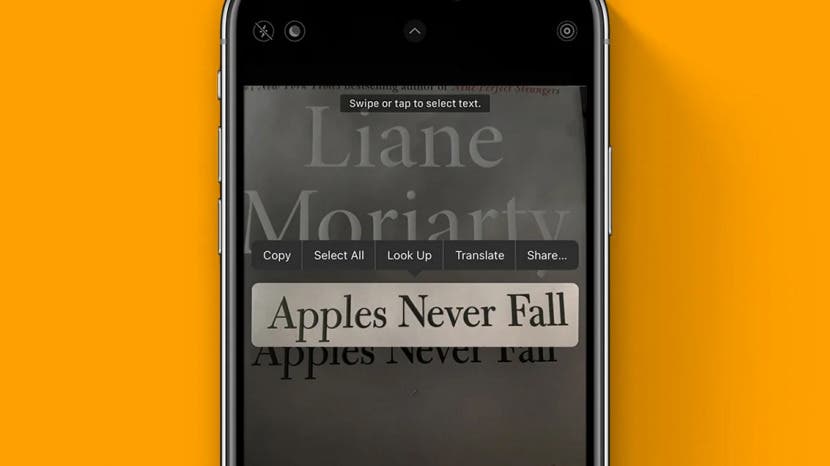 Live Text on iOS 16 is a helpful and convenient feature, but what do you do if it isn't working? Live Text lets you select text from an image and copy, paste, search, and more, but you might run into a frustrating situation where it doesn't work. If Live Text doesn't work for you, we'll go over all the reasons why that might be happening and how to fix it.
Jump To:
Live Text Support: What to Do If Live Text Is Not Working
If you need a refresher in Live Text basics, Live Text is a function that allows your iPhone to recognize text in an image or on your camera viewfinder. You can then select that text and copy, paste, search, or translate it. We're going to go over some Apple Live Text support options now and take a look at what to do if this handy feature isn't working. Once you try it, if you decide it isn't for you, you can learn how to disable Live Text. For more on how to get the most out of iOS 16 check out our Tip of the Day!
Related: How to Know If Someone Blocked Your Number on iPhone

Discover your iPhone's hidden features
Get one daily tip each day (with screenshots and clear instructions) so you can master your iPhone in just one minute a day.
Make Sure Your Device Is Compatible
Live Text isn't available on every device. Below is a list of devices that support Live Text, and if your device is not listed then you cannot use this function:
iPhone 14, iPhone 14 Plus, iPhone 14 Pro, and iPhone 14 Pro Max
iPhone 13, iPhone 13 mini, iPhone 13 Pro, and iPhone 13 Pro Max
iPhone 12, iPhone 12 mini, iPhone 12 Pro, and iPhone 12 Pro Max
iPhone 11, iPhone 11 Pro, iPhone 11 Pro Max
iPhone XS, iPhone XS Max, iPhone XR
12.9-inch iPad (from 2018 or later)
8th generation iPad
11-inch iPad Pro (from 2018 or later)
2021 iPad Pro or newer
3rd and 4th generation iPad Air
Make Sure You're Running iOS 16 or iPadOS 16
Live Text is not available in iOS 14 and iPadOS 14 or earlier. In order to use it, you must be running iOS 15 or iOS 16. If you need to, you can check what OS you're running and find out how to update to iOS 16. If your device is updated to the latest version of iOS and your iPhone's Live Text function is still not working, there are some other solutions to try.
How to Turn On Live Text
Live Text comes automatically enabled but sometimes settings can get switched around accidentally. If Live Text on iOS 16 isn't working, here's how to make sure it's enabled.
Open Settings and tap Camera.


Make sure Show Detected Text is toggled on.



Once you have this toggle switched on, reopen the Camera or Photos app and check if the Live Text button appears. Check out how to quickly open your Camera app so that you can save yourself a bit of time!
If Live Text is not working even after switching the toggle on, check below for more solutions.
Make Sure Your Text Is Visible
If you're trying to read text on something like a t-shirt or a crumpled piece of paper, your iPhone might have trouble recognizing it. If you can, either flatten out the surface the text is on, or choose a photo where the text is more visible.
Look for the Live Text Icon
If your camera is detecting text, you will see a Live Text button appear in the lower right corner (shown below). If you don't see the Live Text icon, you might need to refocus your camera or get closer to your subject.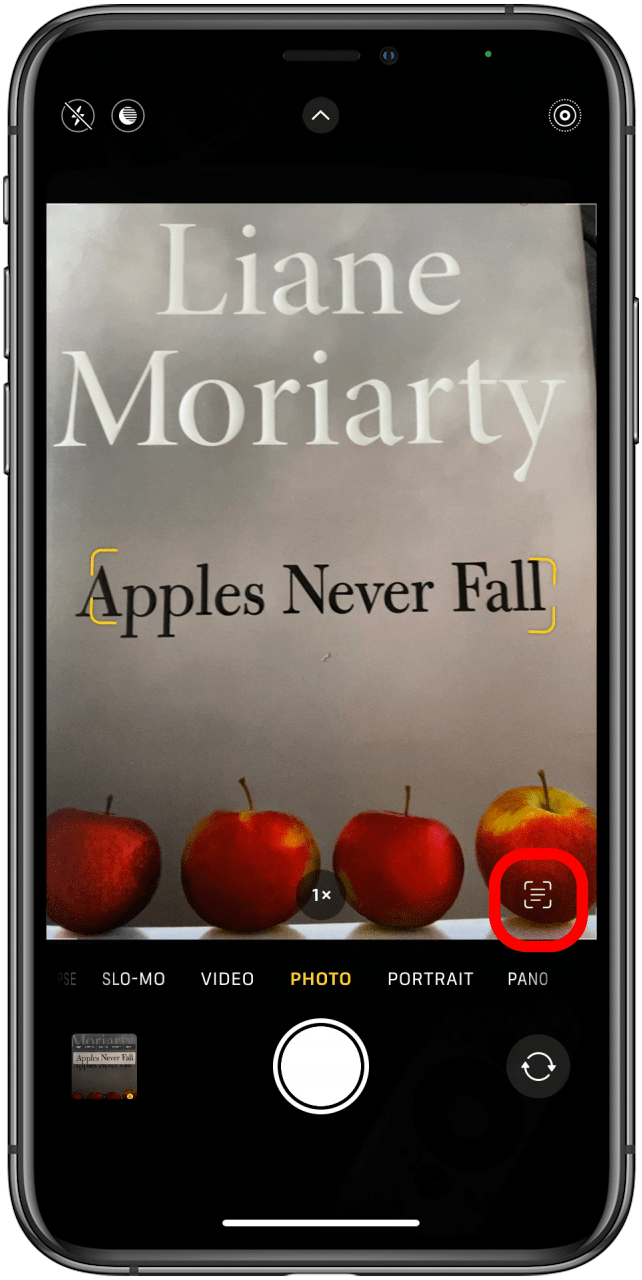 The Live Text icon will also appear in the Photos app when viewing a photo with text in it (shown below). You can also tap and hold to select text in photos. If the icon is not appearing or you are unable to select the text you want, you might need to retake the photo.


Reopen Your Photo or Camera App
If you've tried all of the above, and Live Text still isn't working, try closing and reopening your app. Also, try closing any other apps that are open that aren't in use, because when too many things are happening on your iPhone, it can affect its functionality.
Restart Your Device
When all else fails, restart your iPhone or iPad. Sometimes this is the kick in the pants your device needs to get critical functions working again. If none of these steps get Live Text working on your iPhone, it could be an issue with your camera hardware, in which case you will need to try contacting Apple support for further assistance.
Live Text is most famously known as an iPad or iPhone feature, however, did you know you can also use Live Text & Visual Lookup on a Mac? Next, learn how to add captions to your iPhone photos so that you can find them more easily.