iOS 15 lets you convert an image to Live Text, meaning it can identify and grab text form a photo, screenshot, and more. Here's everything you can do with it.
By

Amy Spitzfaden–Both
Updated 02/02/2023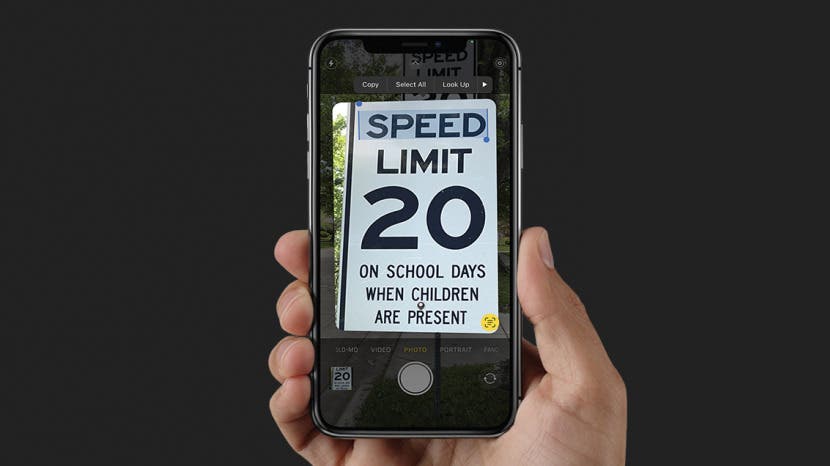 What is Live Text? Live Text is Apple's handy new feature that identifies text in an image and lets you copy, paste, search for, and even translate it just as you would with the text you'd find on a website, in a message, etc. This means, you can take a picture of a written phone number and enter it into your contacts, copy a written shopping list into Notes, translate text in a picture you took, and more via Live Text. Let's learn how to use it.
Jump To:
What Is Live Text?
Live Text is a new feature in iOS 15 that reads text in images just as it would on a website, in a note, or in a text input field. This means you can highlight text, copy and paste it, search for it, and even translate it. This means a lot of exciting new things for those of us who like to store information in photos. Not only can you take a picture of writing and copy it into your Notes app or a search field, but you can also look up signs in pictures you took on vacation, grab texts from screenshots, and even search for photos by words shown in them.
There is no Live Text app, but instead it's a feature of your Camera and Photos apps.
As of now, Live Text isn't an entirely accurate feature, but hopefully Apple will smooth out a lot of the bugs by iOS 15's full release this fall. For more iOS 15 tips, check out or Tip of the Day!
How to Use Live Text in Your Camera App
As of writing this, Live Text only works in the Camera app on an iPhone, not an iPad. This may be an issue with the iOS 15 beta that will be resolved when the full version comes out, but as it stands, you'll have to use your iPhone for this and you must have installed iOS 15 for it to work.
Open your Camera app, point it at the text, then press the Live Text button. It looks like three lines in a box.


Once your Camera recognizes text, a box will appear around the text you can select.


Select your desired text to copy, paste, look up, etc.


How to Use Live Text in Your Photos
The Live Text feature is a little more reliable in the Photos app, with both iPhone and iPad being able to recognize it, however, it's still finicky and you may not have total success. To use Live Text in your photos:
Open your Photos app. 
Select a photo with text.
Tap the Live Text button.
View the recognized text and tap your selection.
Your iPhone will select whatever it recognizes from text and let you search, copy, call, etc.
How to Translate Text with Live Text
Translating with Live Text works much like the other functions, but you have to scroll through the menu to select Translate. Currently, the number of languages offered is limited (English, Chinese, German, Portuguese, Italian, Spanish, and French), but hopefully we'll see this expand. However, my own attempt to write "Bonjour" on a sheet of paper and have Live Text translate it failed miserably.
Overall, Live Text has a lot of promise, but hopefully some serious performance improvements will happen by the time iOS 15 is fully released. Once you try it, if you decide it isn't for you, you can learn how to disable Live Text or use your camera to add Medications to your Health app.