By

Conner Carey
Thu, 11/24/2016
* This post is part of iPhone Life's Tip of the Day newsletter. Sign Up. *
If you have an iPhone with iOS 10 and a Mac with MacOS Sierra, you can copy or cut something from one device and paste it to the other. This new productivity feature is extremely helpful for starting something on one device and completing it on the other device. Apple calls this the Universal Clipboard, and the only catch is that both devices must be logged into the same iCloud/Apple ID account. The feature couldn't be easier to use: simply copy on iPhone and open an app or browser on Mac and paste. Here's how to cut on iPhone and paste it on Mac with Universal Clipboard.
Related: How to Use AirDrop or iTunes to Transfer Files Between Your iPhone and Computer
First, make sure you know how to copy and paste on an iPhone. Then, there are a few things you need to make sure are on in order for it to work:
Have an iPhone or iPad with iOS 10 and Mac with MacOS Sierra.

Be logged into the same iCloud/Apple ID account on both devices.

Make sure Handoff is turned on within Settings (under General) on iPhone.

Have both Bluetooth and Wi-Fi enabled on both devices.

You can use this feature to cut, copy and paste between iPhone and Mac, or iPhone and iPad, or iPad and Mac. You could even use it from iPhone to iPhone as long as all the other conditions above are met.
How to Use Universal Clipboard to Cut on iPhone and Paste on Mac (or Vice Versa)
I've read, on multiple occasion, that pasting text works best with the Universal Clipboard. It seems images do decently well and videos will take some time. It's definitely good to be aware of when AirDrop would be faster than the Universal Clipboard for images and videos.
Highlight the text or image you want to copy or cut and paste. Select either copy or cut on one device.
Now switch to the device you want to paste the text or image into. Select where you'd like to paste it. Tap and hold; select Paste.
If you copy and paste an image or video, it will take your device some time to paste it.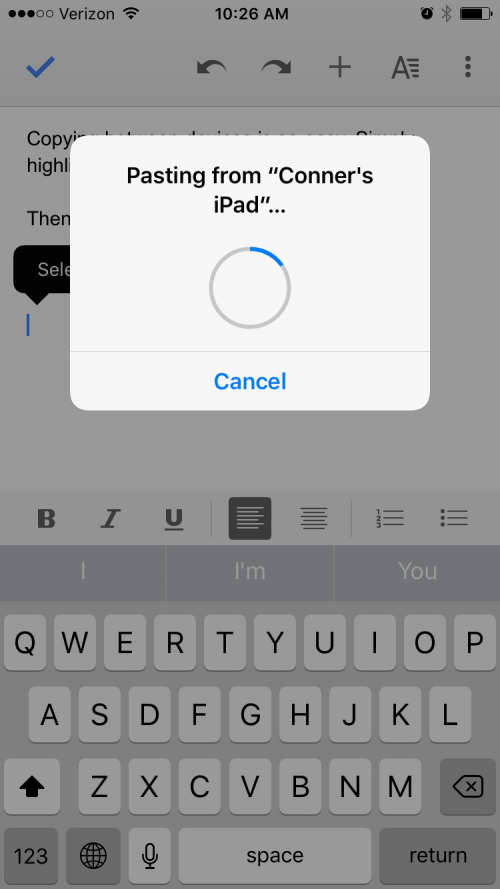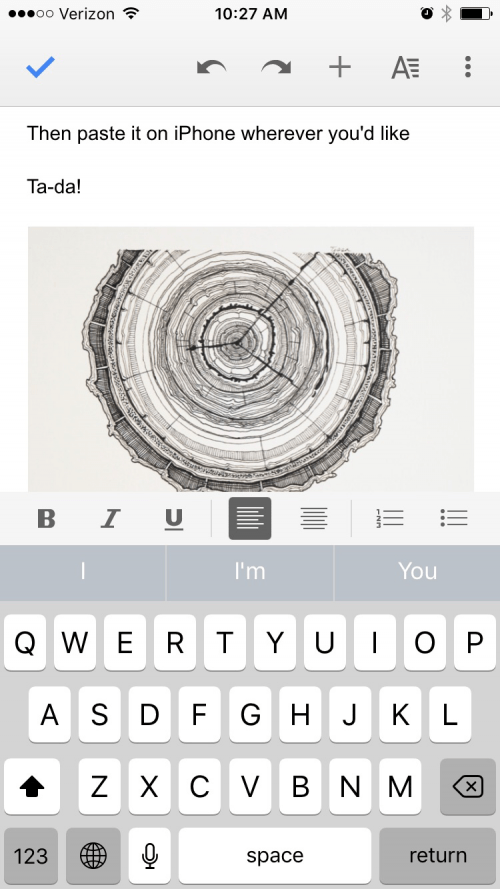 Overall, Universal Clipboard makes copying and pasting things from one device to the other ridiculously easy.