Set your Apple Watch alarm to vibrate for a gentle awakening that won't bother those around you.
By

Elisabeth Garry
Updated 06/22/2022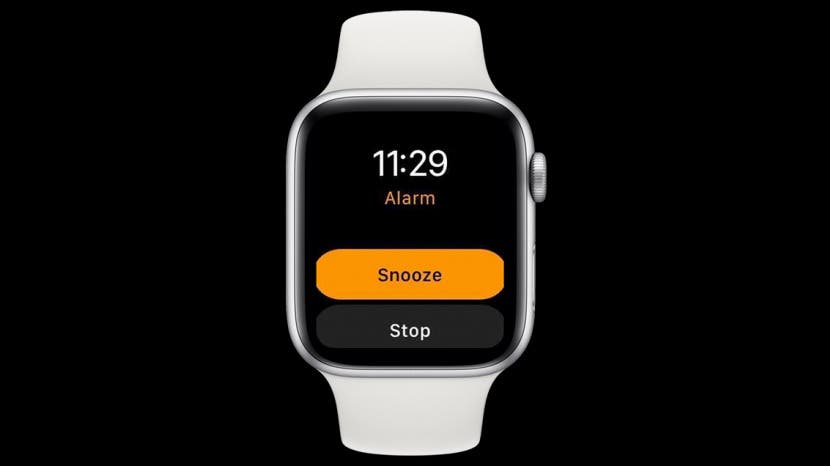 Did you know you can set an Apple Watch alarm to silently wake you via gentle vibrations on your wrist? Making your Apple Watch alarm vibrate instead of waking you with a loud alarm tone is quick and easy, and reduces disturbances to others around you. We'll show you how to set a silent Apple Watch alarm.
Related: How to Set an Alarm on Your iPhone or iPad
Why You'll Love This Tip
Set an alarm to go off while you're in a crowded place—like an airplane—without disturbing those around you.
If you have trouble waking up using traditional alarms, the vibrations on your wrist might actually wake you up more effectively than noise does.
How Use Your Apple Watch as a Silent Alarm Clock
Unfortunately, there's not a way to make a silent Apple Watch alarm without setting the entire watch to Silent mode, but it's still a great solution for those who keep their Apple Watch set to Silent mode anyway! To learn more about different ways you can use your Apple Watch, sign up for our Tip of the Day newsletter.
Here's how to set your Apple Watch alarm to vibrate only:
Swipe up on the Apple Watch face.


 
Tap on the bell icon to switch your Apple Watch to Silent Mode.
The icon will turn red, and the bell will now have a strike through it.


 
Press the Digital Crown to go to your Apple Watch's app menu.
Tap on the Alarm app.


 
Scroll all the way to the bottom and tap Add Alarm.


 
If it's not already outlined in green, tap the hours box and then turn the Digital Crown to set the alarm hour.


 
Tap the minutes box and then turn the Digital Crown to set the alarm minutes.


 
If you have a 24-hour clock, you can skip this step. If not, tap AM or PM to set the time of day.


 
Tap the check mark at the bottom of the screen.


And that's it! You can always toggle Apple Watch alarms on or off in the Alarm app main screen, as well. For more help, check out our guide on troubleshooting iPhone vibration issues. Next, learn how to set a timer on your Apple Watch or how to make your watch vibrate for calls and texts.